Everything unveiled at Apple's iPhone 12 event - and what AppleInsider thought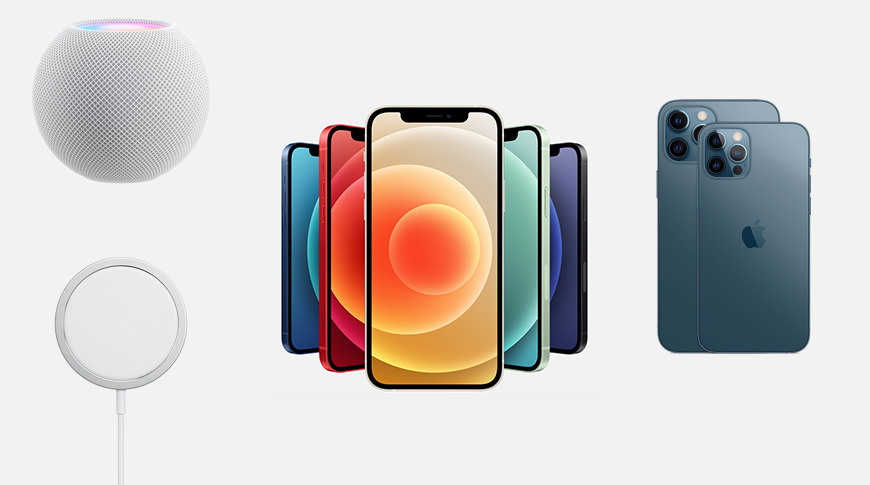 There was a lot to process during Tuesday's "High Speed" Apple event. Here's everything you need to know about what was released — and what we think were the best and worst releases of the day.
On Tuesday, Apple held its annual iPhone release event— this time dubbed the "Hi, Speed," event. Not one, but four iPhone 12 phones were announced, as well as a new HomePod mini, and the debut of Apple's new MagSafe line of accessories.
iPhone 12
Apple made the iPhone 12 family of devices official after a year of rumors. Preorders for the model begin on October 16 and shipments will take place a week later on October 23.
While the iPhone 12 name is applied to this generation's smartphone lineup, it also serves to name the basic iPhone 12 model.
The base iPhone 12 is Apple's "for everyone" phone— it combines the newest features at a moderate price point. It boasts a 6.1 OLED, 460ppi display with Apple's Super Retina XDR technology and is the first generation of iPhone to support 5G networks.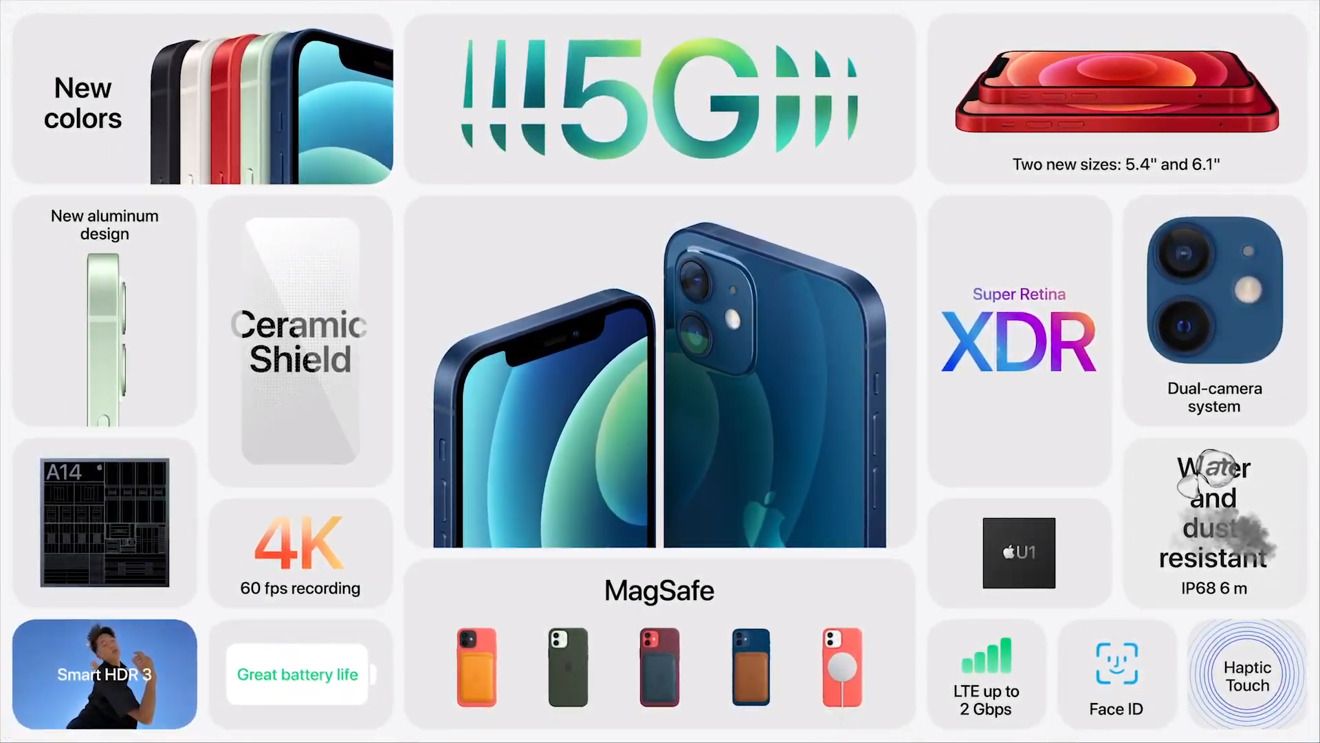 All phones in the iPhone 12 lineup feature a 2 million-to-1 contrast ratio with better HDR and true blacks. Additionally, all phones also include Apple's new "Ceramic Shield" — an exceptionally tough display material that improves drop protection up to four times compared to previous models.
The cameras in the iPhone 12 include two 12-megapixel rear cameras — one wide and one ultra-wide. The iPhone 12 also features a larger sensor and wider aperture on both lenses over the previous generation. The wider aperture allows for 27% more light, providing higher quality low-light photos and videos.
The iPhone 12 lineup also includes the custom Apple Silicon A14 Bionic processor, which has over 11.8 billion transistors. The Neural Engine features a 16-core processor that is up to 80% faster than the A13 Bionic and can perform over 11 trillion operations per second.
The iPhone 12 is available in five colors — white, black, blue, green, and (PRODUCT)RED. It can be configured with three different storage sizes — 64GB, 128GB, and 256GB, at $749, $799, and $899 respectively.
iPhone 12 mini
The iPhone 12 mini is, effectively, the same device as the base model iPhone 12, but packed into a smaller footprint.
The display measures 5.4-inches across the diagonal, giving it a larger screen than the current iPhone SE's 4.7-inch screen, but a smaller body overall.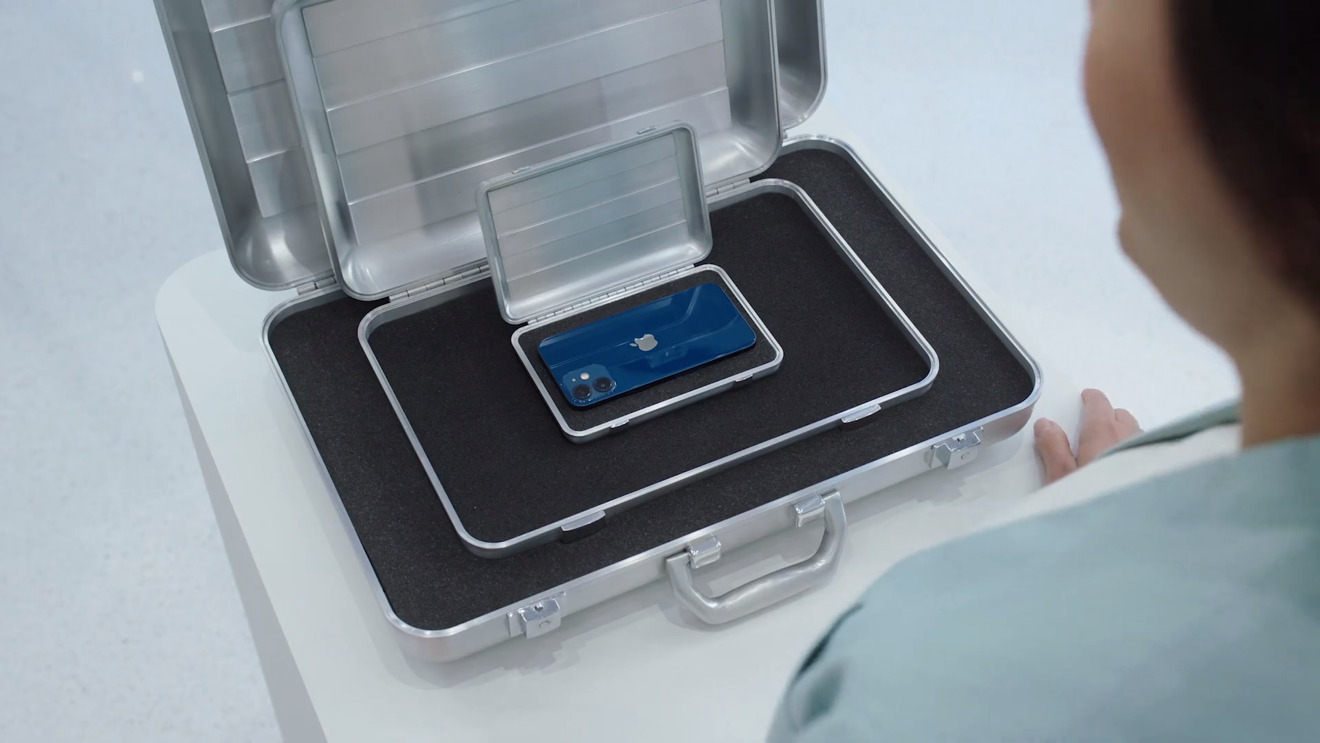 Customers will be able to order an iPhone 12 mini in blue, green, black, white, and (PRODUCT)RED. Storage sizes will be 64GB, 128GB, and 256GB, starting at $699, $749, or $849, respectively.
The iPhone 12 mini will be available to preorder on November 6 and is anticipated to start shipping on November 13.
iPhone 12 Pro, iPhone 12 Pro Max
Apple has also announced the release of the higher-end iPhone 12 Pro models. Both of the high-end models have a stainless steel body with a Ceramic Shield front cover.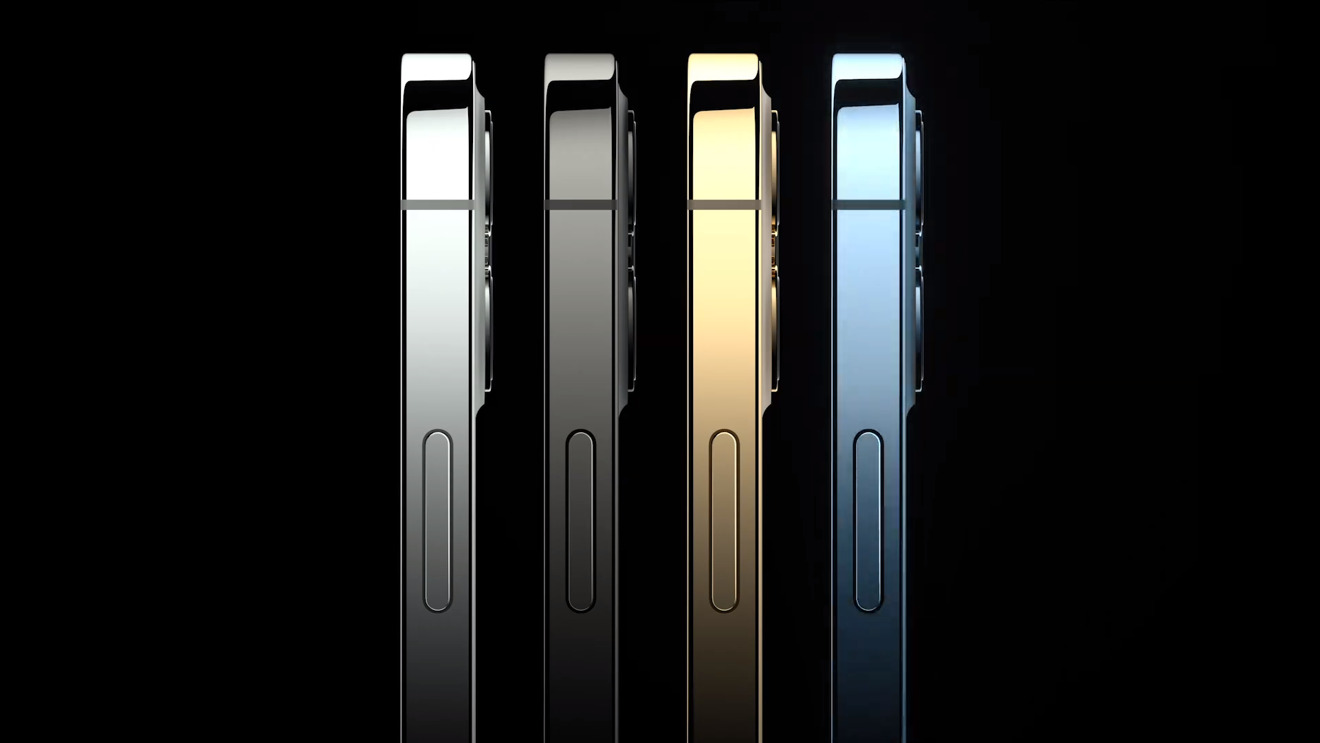 Again, both Pro models also received camera and video upgrades compared to their more modestly-priced counterparts. Three 12-megapixel cameras cover Ultra Wide, Wide, and Telephoto ranges, with 4x optical zoom in, 2x optical zoom out, and 10x digital zoom in. Equipped with dual optical image stabilization, the smartphones have Portrait Mode and Portrait Lighting effects, a Night mode, Smart HDR, and Panorama features.
The optical image stabilization has been upgraded to a DSLR-style Sensor Shift, where the sensor moves, but the lens does not, enabling the image to stay sharper and longer exposures. It can adjust up to 5,000 times per second, approximately five times as many adjustments than similar systems used in the iPhone 11 Pro range.
Apple has also introduced Apple ProRaw for the iPhone 12 Pro and iPhone 12 Pro Max. It combines RAW photography with computational photography features like Deep Fusion and Smart HDR.
These phones also feature the ability to record in 10-bit HDR, as well as Dolby Vision HDR.
The front-facing camera captures 12-megapixel images complete with Portrait Mode and Portrait Lighting effects, 4K video recording up to 60fps with cinematic video stabilization, 4k 30fps HDR with Dolby Vision, and 1080p slo-mo video at 120fps.
A new LiDAR Scanner allows the iPhone to generate a 3D map of the surrounding area. It also provides improved Portrait Mode imagery and boosts the effectiveness of autofocus in low-light situations.
The 6.1-inch iPhone 12 Pro comes in graphite, silver, gold, and pacific blue. Storage capacities are 128GB, 256GB, and 512GB, for $999, $1,099, and $1,299, respectively.
For those looking to purchase the iPhone 12 Pro, preorders begin October 16, with shipments expected to start on October 23.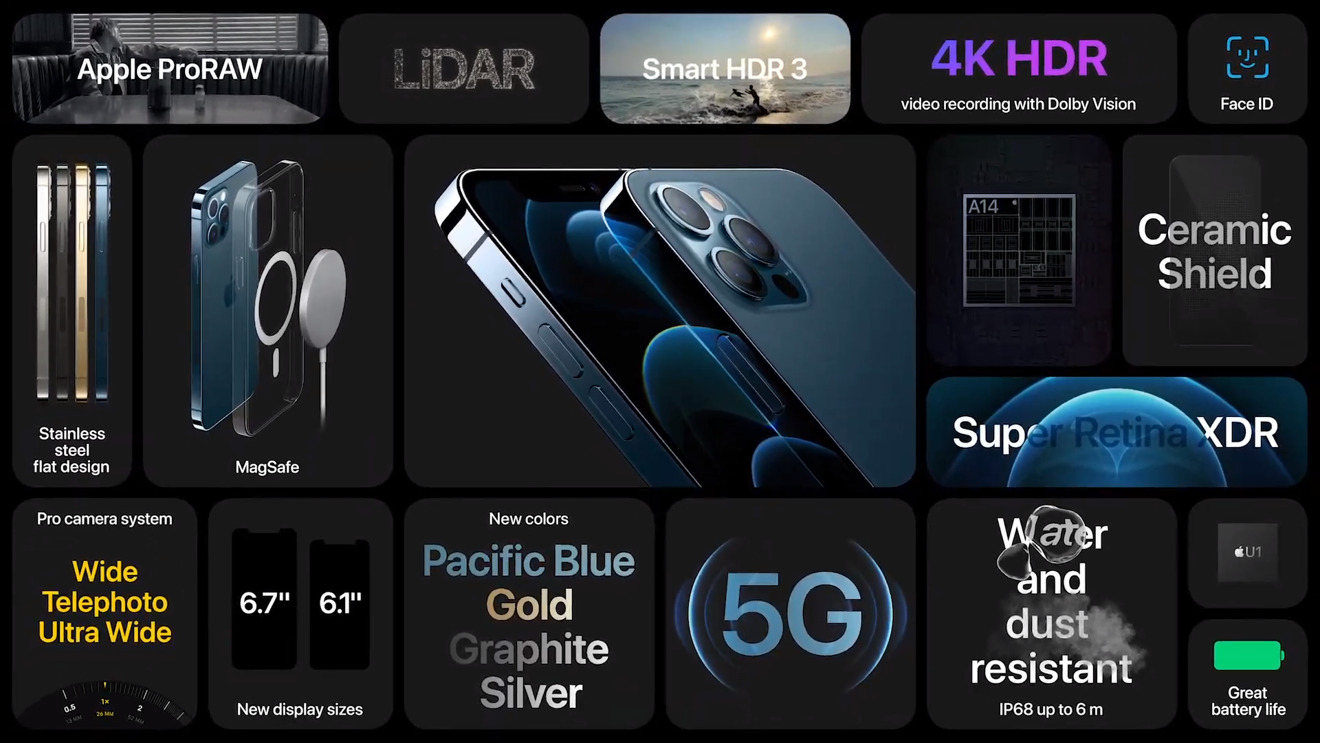 Users will be able to purchase the iPhone 12 Pro Max in graphite, silver, gold, and pacific blue. It's available in storage capacities of 128GB, 256GB, and 512GB starting at $1,099, $1,999, or $1,399, respectively.
The 6.7-inch iPhone 12 Pro Max will be available to preorder on November 6, with shipments anticipated to begin the following Friday.
HomePod mini
Also announced was Apple's newest addition to the HomePod lineup — the HomePod mini. This diminutive speaker serves as a budget-friendly alternative to Apple's higher-end HomePod — it only costs $99, versus its predecessors $299 price tag.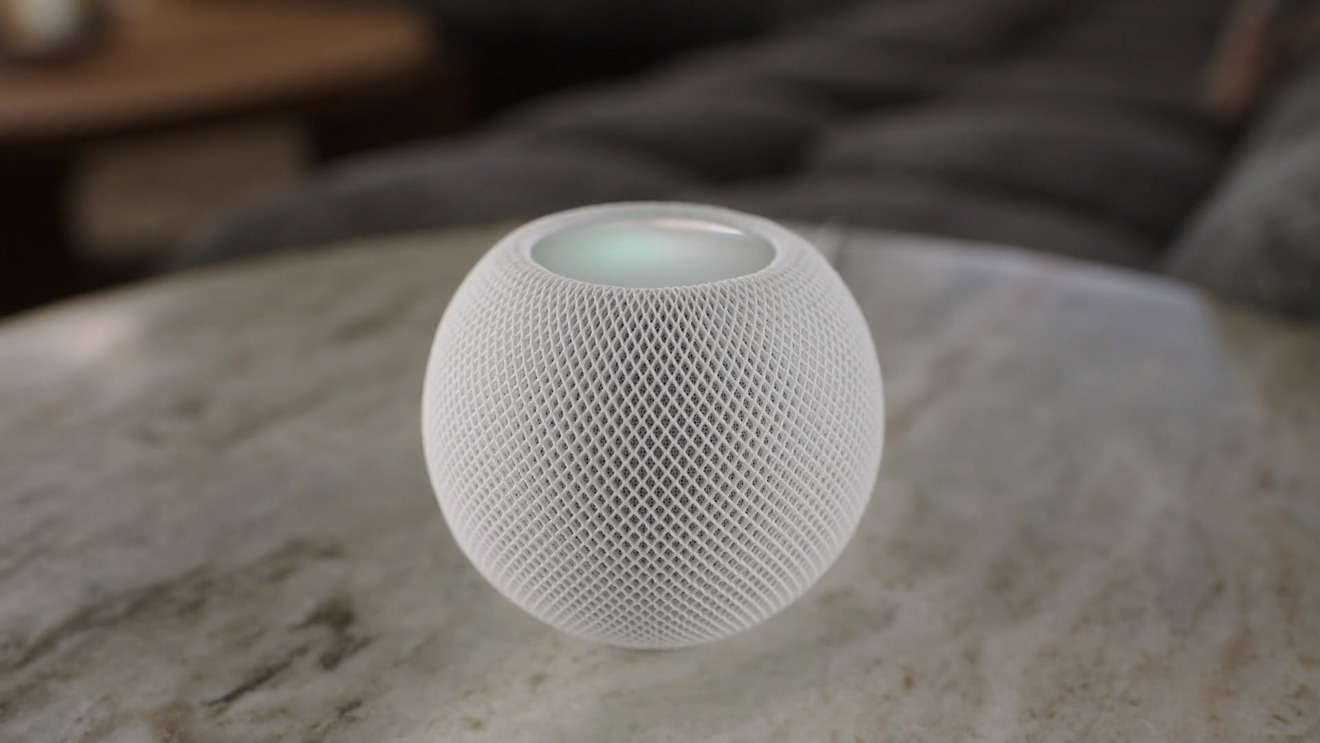 Like its bigger sibling, the HomePod mini features a backlit touch surface with touch controls at the top.
New to the device are computational audio features and less expensive audio hardware. While not as expensive, Apple has emphasized that the HomePod mini still provides a high-quality listening experience. The device comes with a full-range dynamic driver and two passive radiators for better bass response.
Also new to the speaker is the ability to act as an Ultra-Wideband base station, allowing it to precisely locate U1-equipped devices, such as the iPhone and the Apple Watch Series 6.
The low price point could also encourage users to purchase more than one HomePod mini. This would allow buyers to take advantage of the new Intercom feature, as well as automatically pairing multiple HomePod minis together for true stereo sound.
The HomePod mini retails for $99 and will be available for preorder on November 6. Apple anticipates that the speakers will begin shipping out to customers the week of November 16.
MagSafe
Lastly, Apple also announced the revamped MagSafe line of accessories. While MagSafe originally denoted magnetic chargers used in Apple's MacBook Lines, the new version refers to accessories that are compatible with the iPhone 12.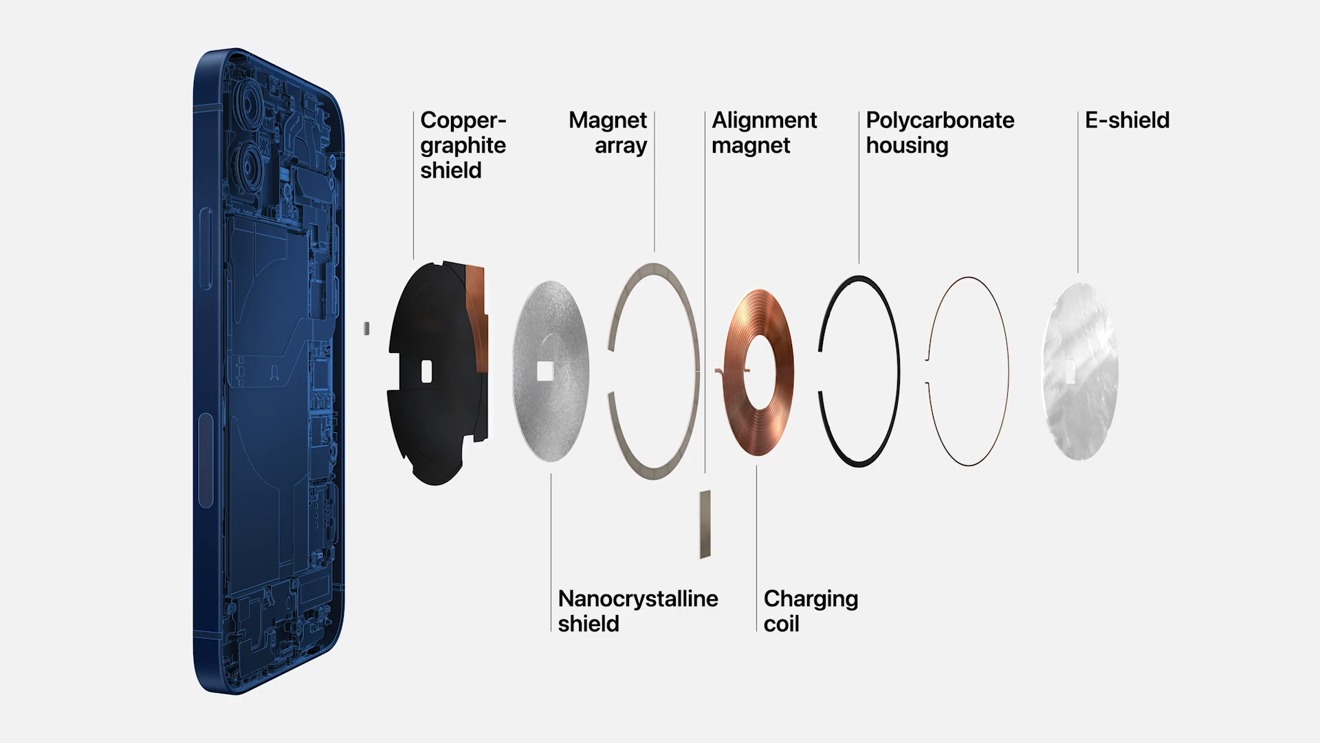 The new MagSafe accessories include the MagSafe Charger and the MagSafe Duo — a charger for the iPhone 12 and the iPhone 12 and the Apple Watch, respectively.
Also included are new cases, wallets, and sleeves. These accessories easily snap on and off the iPhone 12 and are compatible with the MagSafe Charger.
AppleInsider's thoughts on the October Event
Mike Wuerthele
My biggest concern about the iPhone 12 family has little to do with the hardware itself. While I'm not opposed to four different models announced yesterday, plus two more retained from the previous lineup from this chair, some folks that I've already spoken to are puzzled by the variances between the models beyond screen sizes.
We're going to do our damnedest to explain it to you, the AppleInsider reader, and you'll get it. But, we're expecting some confusion at retail about it, and early chats with folks we know at carriers suggest that this is already happening.
This is an upgrade year for me. I suspect I'll be going for the iPhone 12 Pro versus the iPhone 12 Pro Max. I like the larger sensor on the bigger device and what it brings to the table, but I feel like a device that large doesn't fit my own use of it.
Maybe I'd jump if I was an "iOS primary" user, but I'm not — my workflow even pre-pandemic is Mac-primary, iPhone adjunct, so I just don't need what the size of the iPhone 12 Pro Max brings to the table.
Can we talk about mmWave support though? It's baffling to me why international markets that mostly have more complete 5G build-outs and better mmWave coverage don't get an iPhone that can take advantage of it. While there are networking improvements to the sub-6Ghz 5G in those phones, versus staying with 4G, the omission doesn't make any sense.
Making matters worse, Apple isn't charging any less for devices overseas, minus the feature.
Those HomePod minis, though? Yeah. For $99 each, I'm going to get around five of them and sprinkle them throughout the house. I adore my HomePods, but they just don't need to be everywhere at $299 retail or as low as a $199 sale price.
Malcolm Owen
Apple's new iPhones are a leap forward, but for me, it's less about the titular speed and more about the other features. For example, the iPhone 12 and iPhone 12 mini have finally dropped LCD and moved over to OLED, enjoying the brightness, contrast, and higher resolutions that Pro users have experienced for a few generations.
Then there's the camera improvements, especially in the iPhone 12 Pro Max, making it especially useful for photographers and videographers. The low-light improvements will certainly help combat the dreary weather of the U.K, while the improved optical image stabilization will hopefully result in a drop in shake-induced blurry images.
The introduction of the HomePod mini is also exciting, both from a cost perspective and from a usability standpoint. On the former, it's easy to imagine someone buying more smaller models to put one in each room of a house instead of acquiring fewer full-size HomePod units.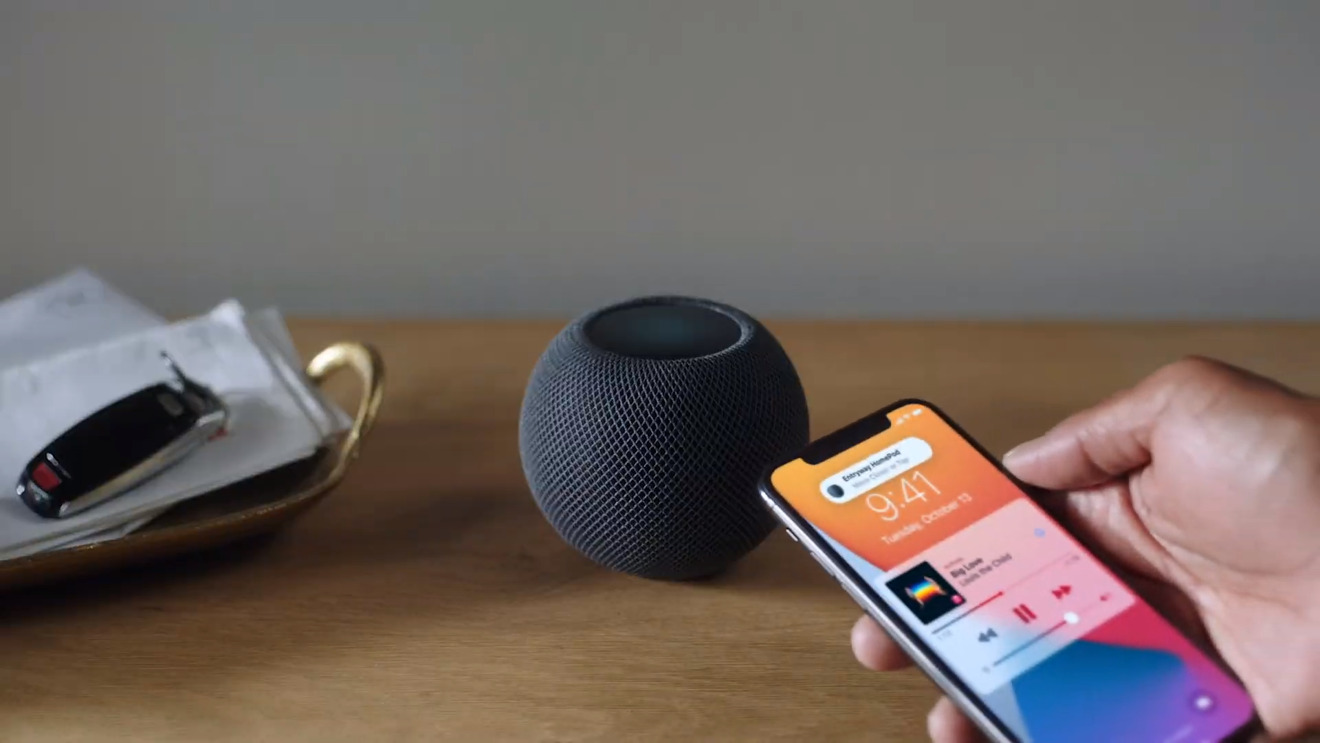 For me, as I will be moving into a more compact office space in the future, the big HomePod seems like a waste for such a tiny room, making the HomePod mini seem more sensible to acquire.
The biggest winner has to be Apple's event production team. Taking advantage of being free from the limitations of live broadcasts, Apple built elaborate sets and put considerable work into creating a slick presentation that matched the quality of its advertising at times.
While it is likely Apple will switch back to live events when it is practicable, I only hope that it continues to create presentations like this for some of its future releases.
William Gallagher
No AirTags, no Apple Silicon, and no Craig Federighi. Really it's only that last that I missed, as I thought this was one of Apple's best events. The company continues to be extraordinarily strong on making videos — as a drama writer, I want that house set. As a human being, I want that house. Possibly with a few more walls, but otherwise I'm ready to move in.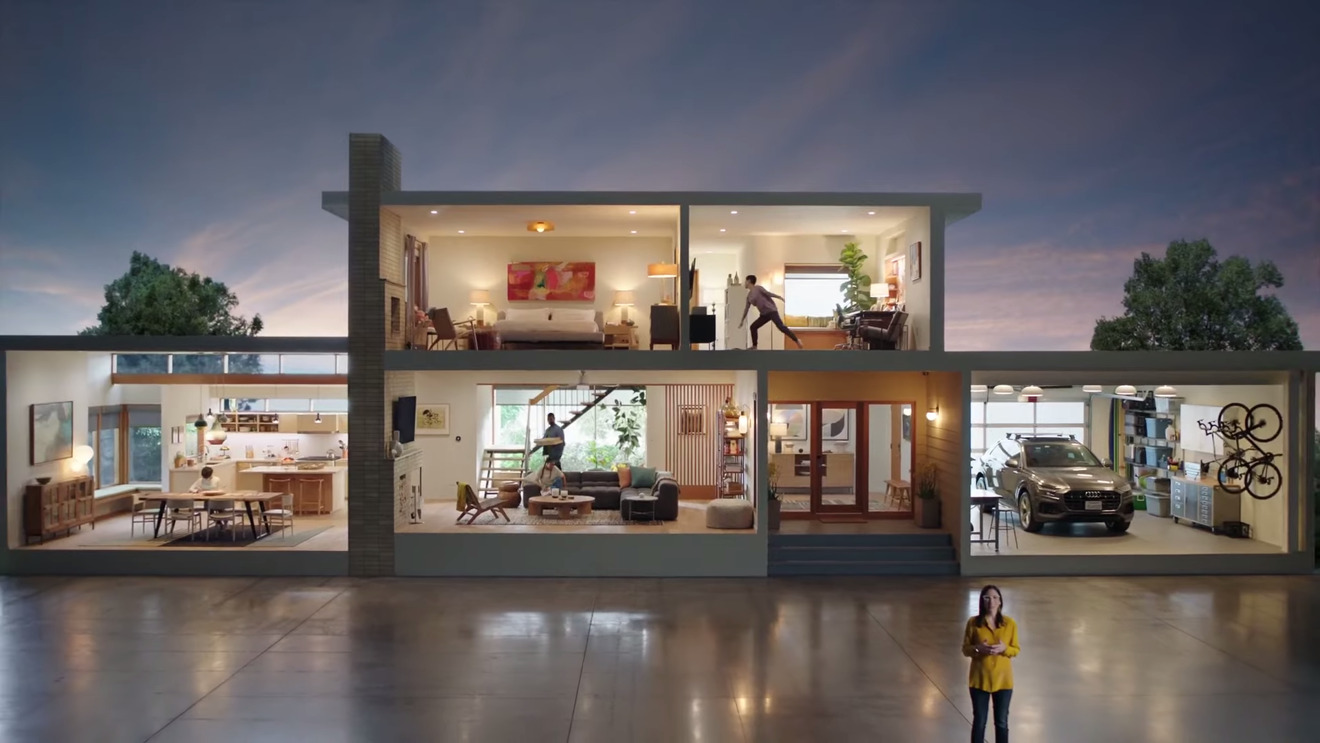 As well as being utterly beautifully done, it also — for the most part — got on with things with speed and verve. The segment with Verizon felt like a throwback to the old live on-stage presentations and it dragged, but that's possibly because 5G doesn't feel like the gigantic punch we expected or that it will be.
We're a couple of years into people decrying that Apple hasn't got a 5G iPhone and yet now it has, 5G still isn't ready for all that many people. As a U.K. resident, I am hugely disappointed that Apple won't include 5G mmWave for any iPhones outside the US, but at this moment, I can't get any 5G signal where I am at all.
I am planning to get an iPhone 12 Pro, though. That's partly because I have an iPhone XS Max that I can trade in, which makes the price more comparable to the lower-cost iPhone 12 and iPhone 12 mini. But it's really also because I appear to be a sucker for the cameras. That's what got me last year, it's what will get me this year.
This year did feel different, though, in how Apple spread the love a bit more. Giving 5G to every iPhone, giving so much the same to every device, that's new. It makes the division between the models a little harder in some respects, but also easier in others. You can choose first based on the size you want to carry around and the price you can afford, and know that you're getting an exceptional iPhone.
Even less thought is needed for the HomePod mini, though. They had me long before they got to say it's $99. After they said that, it's become a very serious question of which color and how many.
Andrew O'Hara
I think we pretty much knew what was coming, heading into Apple's "Hi, Speed" event. Yet, Apple still managed to get me excited for the iPhone 12 line as a whole, as well as the new HomePod mini. As a photographer and videographer, the camera perks for the iPhone 12 Pro Max were high on my list, and Apple didn't disappoint. Apple ProRAW is going to be huge. But in terms of big takeaways, the HomePod mini and MagSafe were my two biggest.
Recently, I both bought a new home and built a new production studio. All the new rooms has had me at odds for months on whether or not to invest in multiple high-priced HomePods. With the new HomePod mini, that is entirely decided. I'll be able to place multiple HomePod minis throughout my home and studio for a fraction of the cost.
HomePod, in general, has continued to get smarter with its personalized requests, integration with features such as CarPlay, and HomeKit. Not to mention the new intercom feature that works across CarPlay, HomePod, iPhone, and Apple Watch. As long as HomePod mini sounds good, this will be a must-have for me.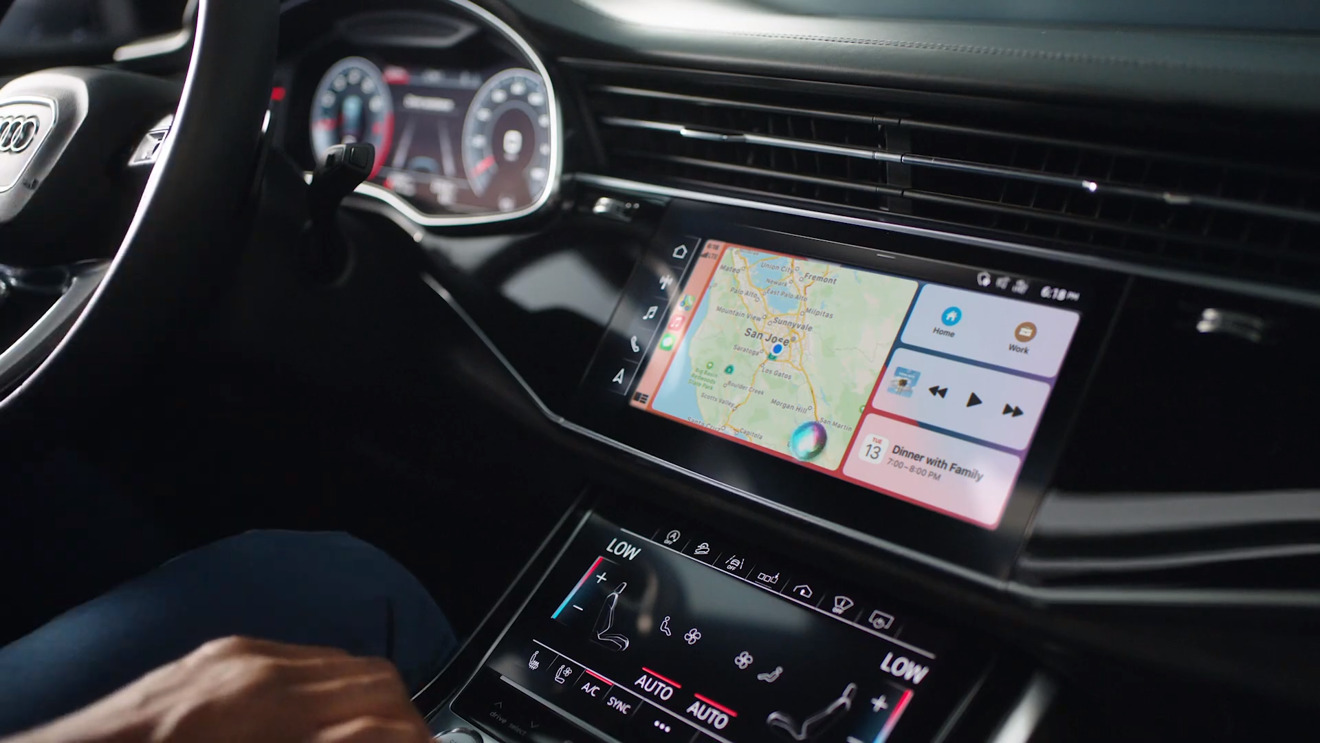 I was equally delighted by MagSafe. I've tried wallet cases, but then got disappointed when wireless charging didn't work. I've tried magnetic mounts that always let me down or have awkward metal plates I have to add to my phone. And of course, wireless charging is still a mess. The slow speeds are frustrating at times when I want it to go faster but don't have a cable handy.
Thanks to the addition of MagSafe I have a new elegant way to mount my phone by my desk, in the car, bedside, and everywhere else. It opens a whole new world of accessories that have yet to be created. Plus, I get my wallet right on the back of my phone that pops off to wirelessly charge and I get very fast 15W wireless charging.
While I was hoping for more announcements, this was a very solid event for me.
Amber Neely
This year isn't an upgrade year for me — I had purchased the iPhone 11 last year as an upgrade for my iPhone 6S. I tend to buy one device and hold it for a fair amount of time before I trade it in for something newer. After all, a smartphone is mostly a glorified camera that allows me to call my parents a couple of times a week.
Even still, the iPhone 12 mini was probably my favorite item of the event. I'm a fan of smaller phones. As many regular readers may have picked up on it, my favorite iPhone was — and still is — Apple's iPhone 5c.
The small size of the iPhone 12 mini coupled with the improved cameras makes it a device, that had I not purchased a phone a year prior, would have been a no-brainer.
Overall, I thought the event was good, but I'm more of an iPad and MacBook Pro user myself. Phones, speakers, and accessories are secondary devices in my life, at best.
Mike Peterson
The "mini" devices were the standout, personally. The 5-inch form factor was one of my favorites, and I've always wondered how an edge-to-edge display would fit on such a small device. To offer a device packed with all of the latest features in that size — with no compromises — is going to make fans of the original iPhone SE happy.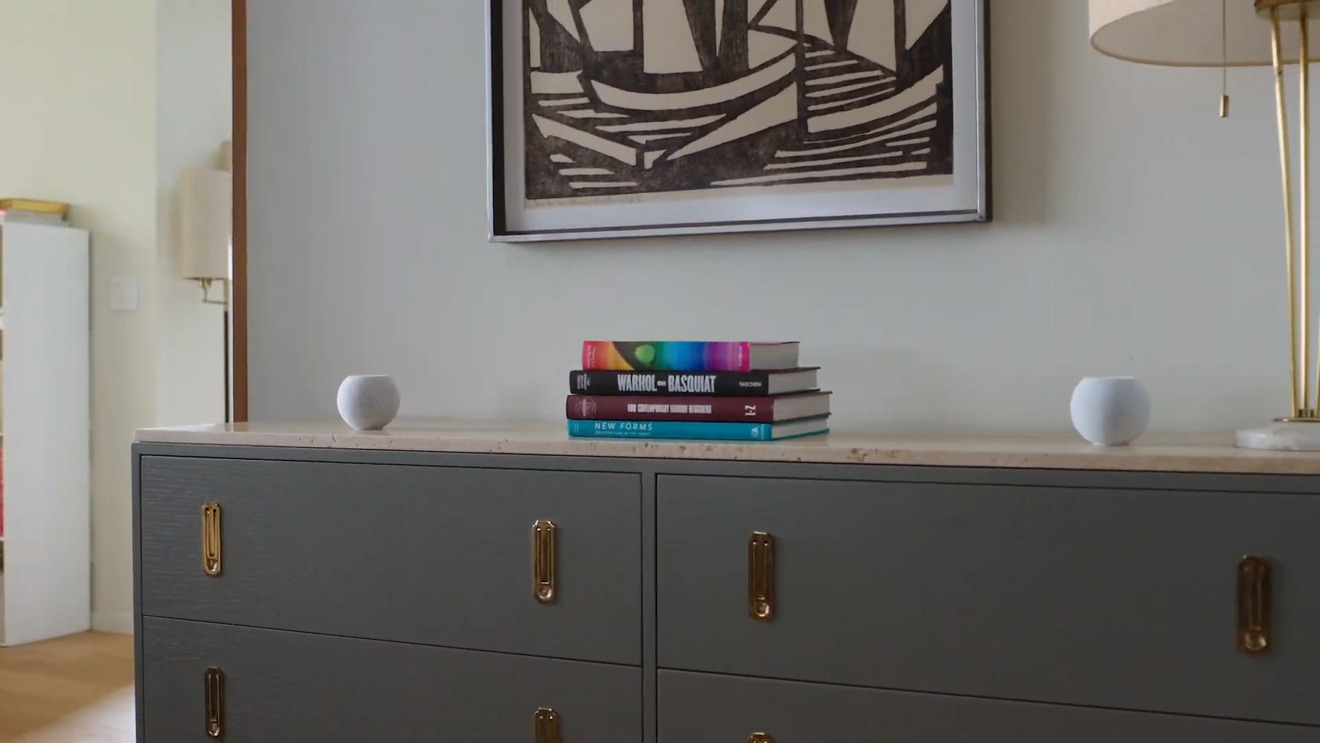 The HomePod mini was also a no-brainer with a $99 price tag and further integrations with third-party apps (though no Spotify yet). It may not be enough to conquer the smart speaker market, but it will allow Apple to actually compete on more level ground with Google and Amazon.
Whether or not 5G is currently accessible for most people, the fact that mmWave is available across the lineup in the U.S. is pretty remarkable. In fact, that move may well speed adoption of 5G across the board in the U.S.
Also, and this is probably an unpopular opinion, but I applaud Apple for nixing the bundled power adapter and EarPods. I don't buy an iPhone every year, but I already have enough of those power adapters around the house. That's also beside the fact that the 5W charger delivered mediocre charging speeds.
Wes Hilliard
Apple continues to try to one-up its own production value. I can foresee future Apple events with press watching these videos on a screen in Steve Jobs Theater rather than having a live presentation. There is no going back to the old format.
The HomePod mini looks great. I love the idea of a $99 speaker I can place in every nook and cranny and will definitely buy two right away.
The iPhone 12 lineup is everything we expected hardware-wise, but that new software holds a lot of promise. Apple's RAW camera format along with an API will change the game again in mobile photography. It's going to be very difficult to find a reason to pick up my full-frame Sony camera going forward.
My only big disappointment is the color. I was hoping for a more deep steel blue or navy blue on the pro models. The color is too subtle for my liking, so I'll be sticking with space gray this generation.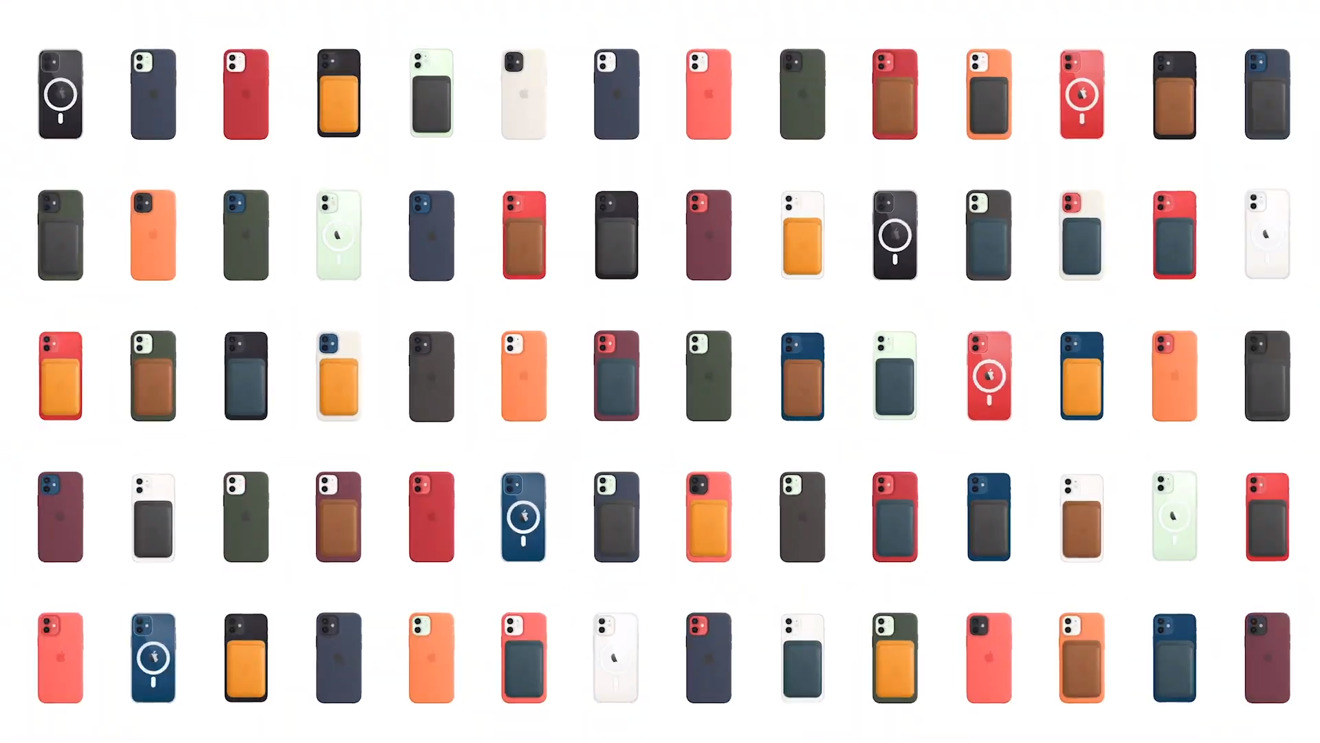 MagSafe is going to fundamentally change the iPhone accessory market, and I'm all for it. I can't wait to see all the innovative and weird things third-party manufacturers come up with. Personally, I'll be getting the wallet attachment and going case-less.
Victor Marks
The HomePod mini has finally arrived, but is it enough? After all, Amazon Alexa and Nest Mini regularly get discounted to 24 dollars and 29 dollar, respectively.
Having a Siri speaker to turn HomeKit on and off is great. Intercom is a balance between texting family members, and Amazon's Drop-in feature, where you just start talking to people through their speakers.
You get better sound quality from a HomePod Mini than Alexa Dot or Nest Home Mini, but is that worth 70 dollars more? Or is the privacy? Clearly, you get a lot for what it is, if you're already firmly in Apple's ecosystems. As an impulse purchase to draw more people in, this isn't it.
And there's still the very real issues with Siri and its competitors. As an assistant, Siri has some glaring misses. From a music source standpoint, having Pandora, Amazon Music, and iHeartRadio on HomePod is very good.
I know it's probably unrealistic, but if it had been possible to do HomePod Mini at $49, it would have been an easy impulse buy.
The iPhone is a phone in transition. 5G networks won't come without 5G phones. The fastest way to get 5G phones to be a majority is to make every iPhone a 5G iPhone, even if 5G drains battery life, even if 5G only exists at the intersection near the mall with an Apple retail store.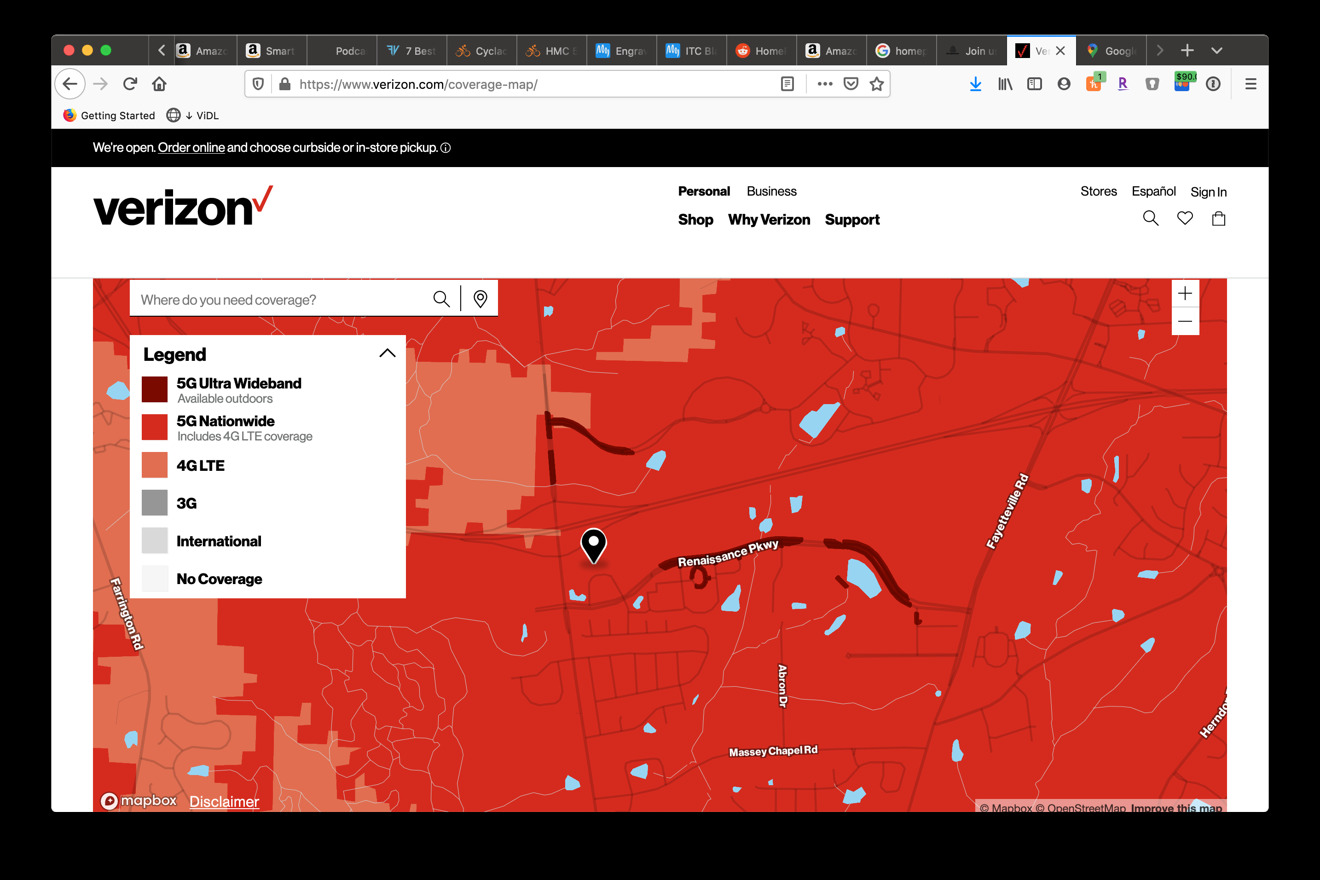 The iPhone is using Qualcomm's 5G radio. We're a year or two away from Apple transitioning to making their own 5G radio.
And with the introduction of MagSafe for iPhone, we're a few years from Apple taking away the Lightning connector. It's possible they'd transition to USB-C only, or switch to solely wireless charging. What holds that back is the fees they get from MFi licensing the connector, whether you need a port for provisioning devices for MDM, and whether or not the number of wired-only CarPlay installs holds this back. Syncing iTunes libraries isn't a consideration.
Will Shanklin
I love the idea of the iPhone 12 mini, a smaller phone with high-end hardware. There's something satisfying about reaching into your pocket and grabbing a little device that slides into the palm of your hand. I'm enamored enough with this that I'm considering downsizing from my iPhone 11 Pro Max to the 12 mini.
I was hoping we'd see the iPad Air's Touch ID power button added to the new iPhones - in addition to Face ID. Yeah, I know, bill of materials and all that, but if there were ever a time to have both options, it's during the pandemic when we're all wearing masks. I suppose we'll still have to keep entering those pesky passcodes.