Which iPhone to buy: iPhone 12 or iPhone 12 Pro compared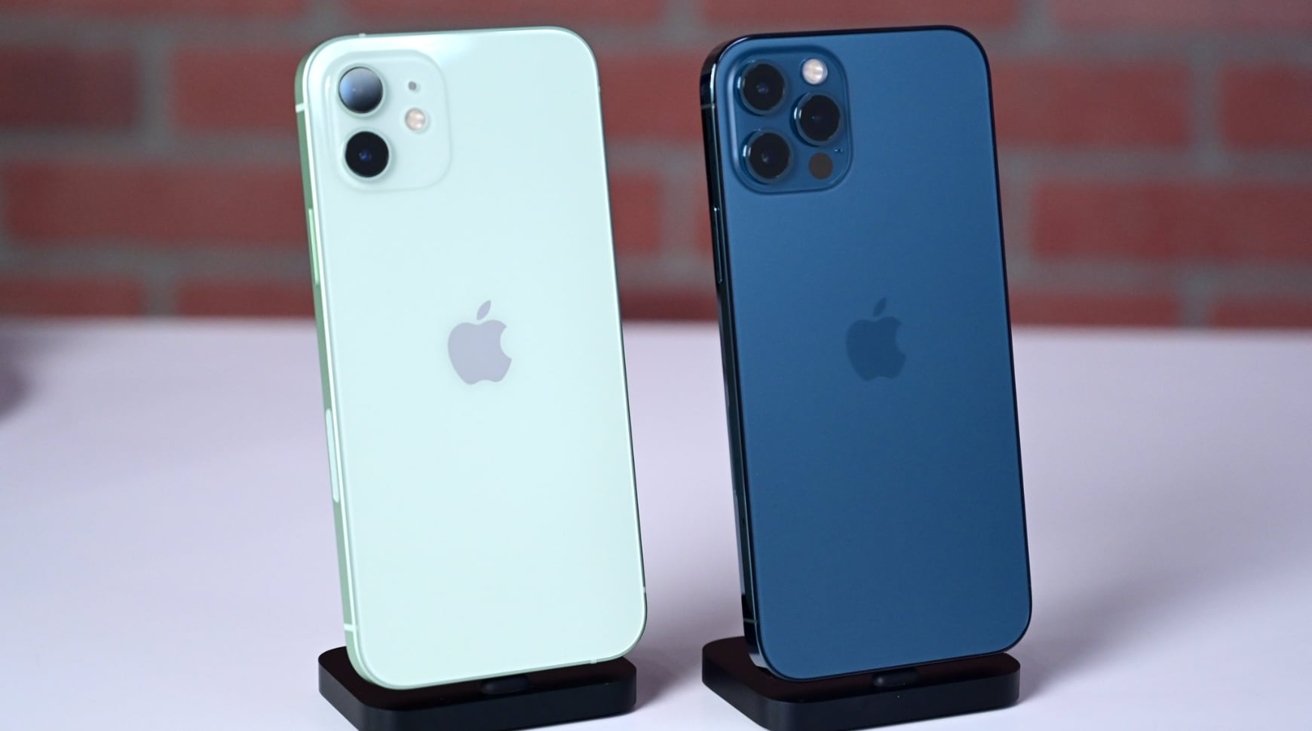 AppleInsider may earn an affiliate commission on purchases made through links on our site.
With iPhone 12 or the iPhone 12 Pro now available, many prospective buyers are wondering which model is best for them. We compare the two feature sets to help you make a decision.
Design and appearance
On the outside — apart from the colors — these two handsets look remarkably similar. They both sport 6.1-inch Super Retina XDR displays and have the same physical dimensions. Any protective case you pick up for the iPhone 12 will also fit the iPhone 12 Pro, and the inverse is true as well.
Last year, display type was a big differentiator with iPhone 11's traditional LED screen and iPhone 11 being an LED while the iPhone 11 Pro's OLED. Apple evened the playing field in 2020 and gave both iPhone 12 and 12 Pro OLED displays, though the unit in iPhone 12 Pro does have a higher average max brightness of 800 nits versus the iPhone 12's 625 nits.
Holding them in your hand, you will notice one of the most apparent differences — chassis material. Apple is using aircraft-grade anodized aluminum for iPhone 12 while iPhone 12 Pro is made of surgical-grade stainless steel. The steel is a much more premium material, similar to what we saw on the iPhone 11 line, and has a bit more heft and high-end feel when compared with aluminum. Its finish is also glossy, not matte.
There are different colorways for each too. For iPhone 12 there is black, white, (PRODUCT)Red, blue, purple, and green, while iPhone 12 Pro comes in Pacific Blue, gold, graphite, and silver.
What's on the inside
Internally, they both support sub-6GHz 5G (and mmWave 5G in the U.S.) and rock the same A14 Bionic processor. Each supports Face ID, boasts similar battery life, are equally water-resistant, and integrate Lightning connectivity.
By choosing iPhone 12 Pro you get 6GB of RAM versus the usual 4GB in the iPhone 12, but most won't notice the difference day-to-day.
If storage is a big deal then the iPhone 12 Pro may be the best choice. Users can choose up to 512GB of internal storage on iPhone 12 Pro, whereas the iPhone 12 maxes out at 256GB. Additionally, iPhone 12 Pro starts off with 128GB, while the iPhone 12 is stuck at 64GB of starting memory.
The only difference that matters — cameras
While the distinctions above — steel versus aluminum, storage capacities, brighter display, different colors — are relatively minor, what makes the biggest practical difference for users will be the cameras.
There are only two cameras on iPhone 12: a 12MP ultra-wide and a 12MP wide camera. There are three on iPhone 12 Pro: a 12MP ultra-wide, a 12MP wide, and a 12MP tele lens. The telephoto lens is a key addition, enabling higher optical zoom levels — up to 10X digital zoom on your shots with iPhone 12 Pro.
A LiDAR scanner also sits on the back of iPhone 12 Pro which provides much faster autofocus in low light and even enables Night Mode portrait shots.
Skilled photographers will be familiar with RAW. On iPhone 12, when shooting in RAW you lose the advantages of Apple's computational photography features like Deep Fusion and Smart HDR. You have the choice of RAW with its additional details or Apple's computational features. On iPhone 12 Pro a new Apple ProRAW format combines the two. You have all the advantages of those smart computational photography features as well as the detail and control of RAW.
For video, iPhone 12 and iPhone 12 Pro can film Dolby Vision HDR 4K video, but the former is capped at 30 frames per second and the latter can achieve 60 frames per second.
The choice is yours
In our opinion, after looking through all the differences, most users will be thrilled with iPhone 12. It is cheaper, colorful, and just as powerful as the pricier models.
At the same time, photographers in need of a powerful portable platform will immediately recognize the new camera capabilities of the 12 Pro.