Peak Design launches first iPhone case with mounting system & MagSafe support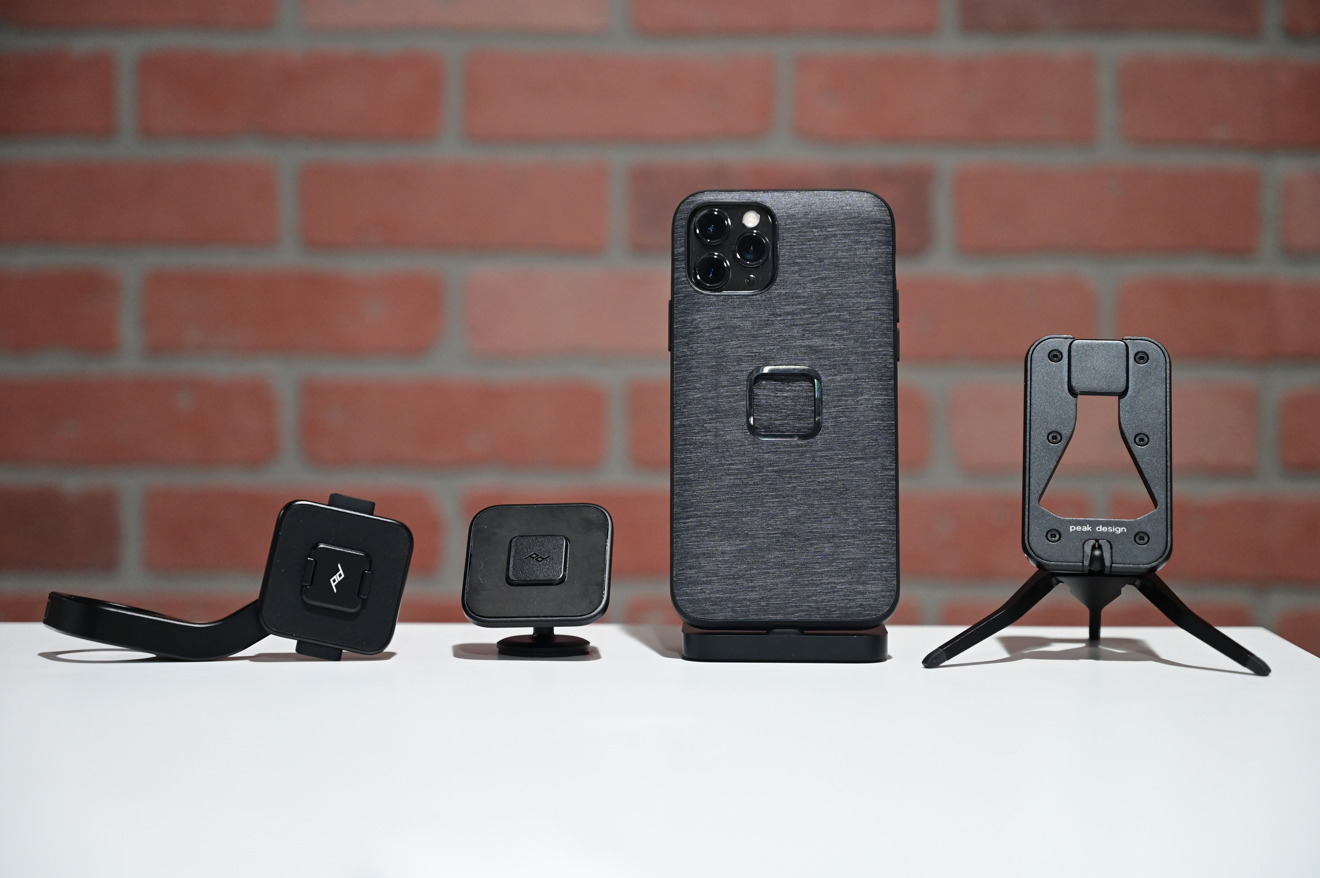 Mobile iPhone case and accessory system is perhaps the most ambitious and polished product from Peak Design yet. It is poised to make an impact with a whole new accessory ecosystem that even supports Apple's MagSafe — and we've been using it for a few days.
Peak Design's first iPhone case
Peak Design is well-known in the photography world. Creating inarguably the best gear bags around, as well as the most amazing travel tripod. There's a wealth of other products in its portfolio, most with their roots in photography.
For the first time, Peak Design is branching out by creating its first mobile phone case. In typical Peak Design fashion, it isn't just launching a simple case in its own unique style, but rather is creating a whole ecosystem of interconnected products including tripods, mounts, a wallet, and more.
Preorders are beginning for Mobile and it consists of several individual components, all of which feature Peak's SlimLink mounting system.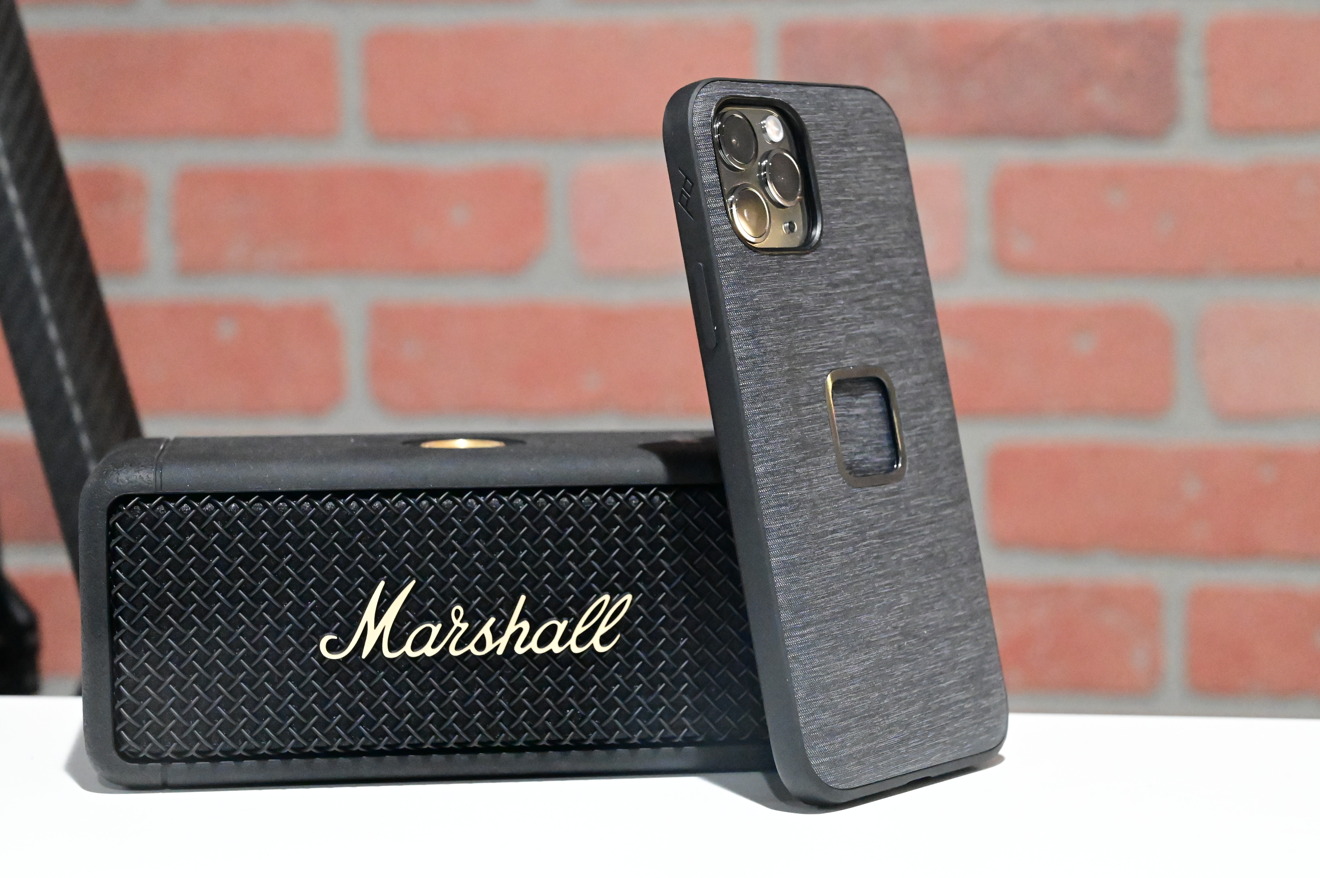 We checked out the is the Mobile Everyday Case (or Universal Adapter) for the iPhone, which then connects to the company's Mobile Tripod, Car Mount, Out-Front Bike Mount, and the Wall Mount. Also available are the universal GoPro mount called the Mobile Creator Kit, Universal Bike Mount, Charging Car Mount, Motorcycle Bar Mount, Motorcycle Stem Mount, Mobile Kickstand Wallet, and the Charging Stand.
In total, that's 11 different accessories — so far — that can mount to Peak Design's Mobile line.
Putting Mobile to the test
Ahead of the preorders, we got our hands on early pre-production units of the Everyday Case as well as some of the accessories mentioned above. While these units are very polished, Peak Design did warn us that things may change on the designs before they hit customer's hands.
Even more so now that Apple has launched MagSafe, which Peak Design sees as a big opportunity for Mobile.
Everyday Case
It begins with the Everyday Case or the Universal Adapter. The Everyday Case has a sleek, heathered gray material on the back as well as on the inside. The sides are flat and provide good grip as well as drop protection. Right in the center is the SlimLink mount. Even with SlimLink, the case is only 2.4mm thin.
SlimLink has a couple different components within it. There is a series of magnets which allow for soft locking of various accessories. Then there is the zirconium ceramic rounded square in the center which is used for more adventurous mounts. The bike mount for example uses this hard lock with small clasps that create a secure and unbreaking grip.
As the ring is ceramic, it allows the case to still support Qi wireless charging and MagSafe wireless charging.
It is a handsome case that is protective and versatile. We wish there were other fabric choices for the outside, and it is possible to see the magnet outlines through the back, but — again — we have early production units. Hopefully, Peak brings other fabrics and stops the outlines from showing through on the final versions.
Mobile Tripod
Of all the accessories, while many are cool, the Mobile Tripod may be our favorite. It is amazingly engineered, down to the last detail.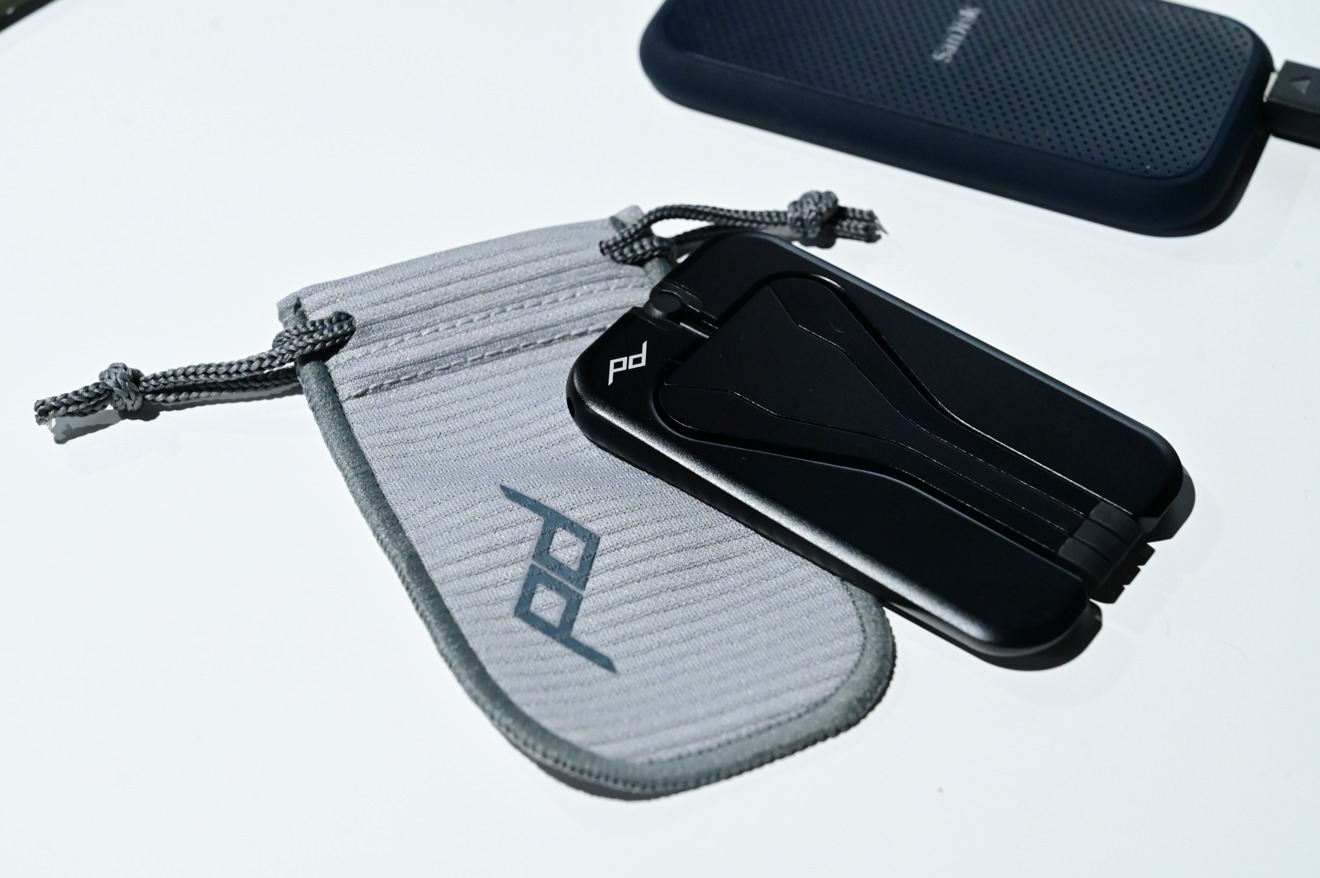 Mobile Tripod is made from anodized aluminum and has a clean black finish. It folds entirely flat where it can be stored in a handy carrying pouch or left attached to the back of your phone.
When magnetically soft locked to your phone, the legs can extend out a variety of ways. The legs can all stay together to prop the phone up for a fast video call or your phone can be put on its side and used as a kickstand to watch a movie.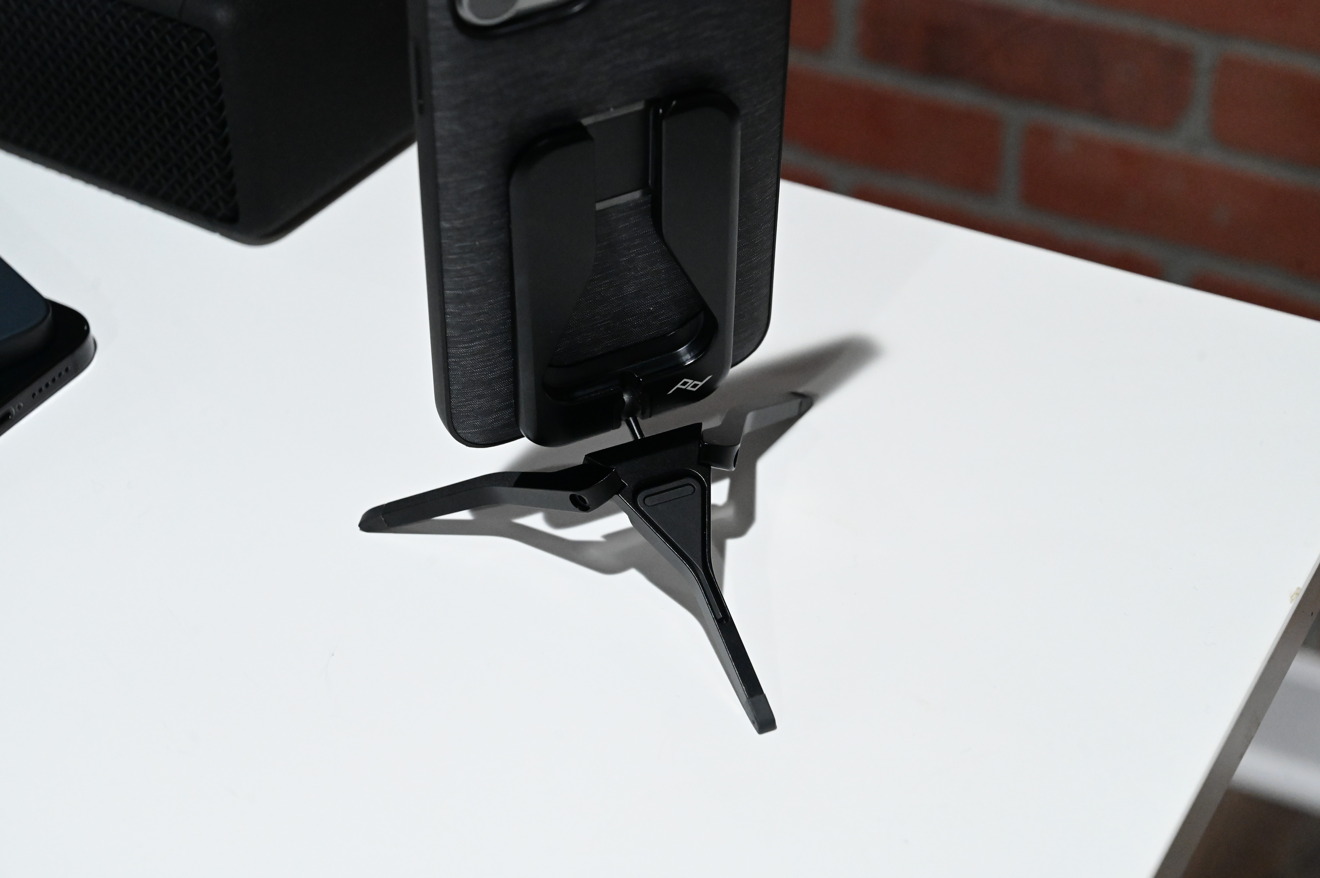 For a more secure hold, the three legs swivel out to create a more traditional tripod. Each of the legs has silicone feet to prevent slippage.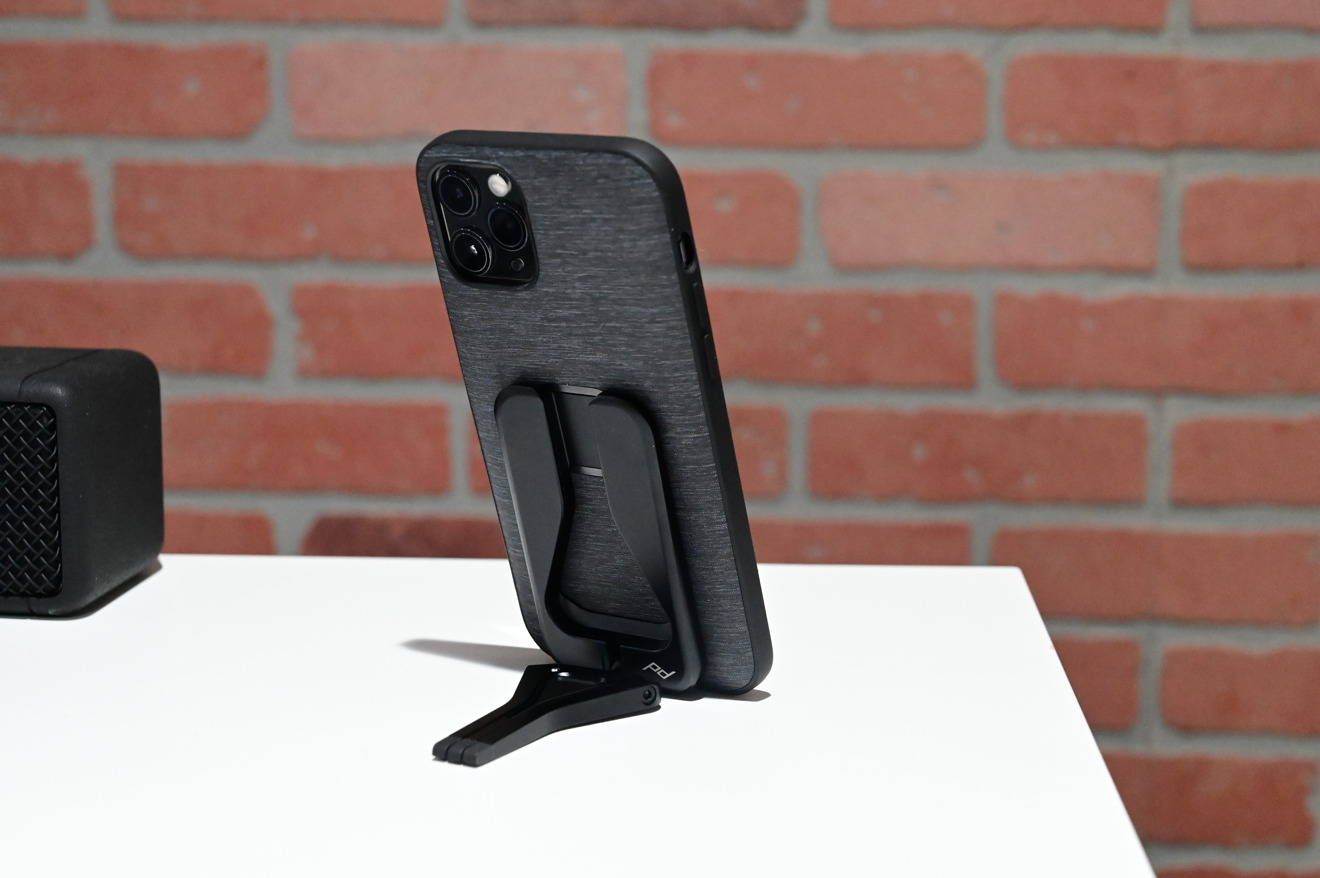 All of this is held together by a miniature ball socket, just as on a real full-size tripod. It allows you to move your phone in many different ways. No other mobile tripod has the flexibility here.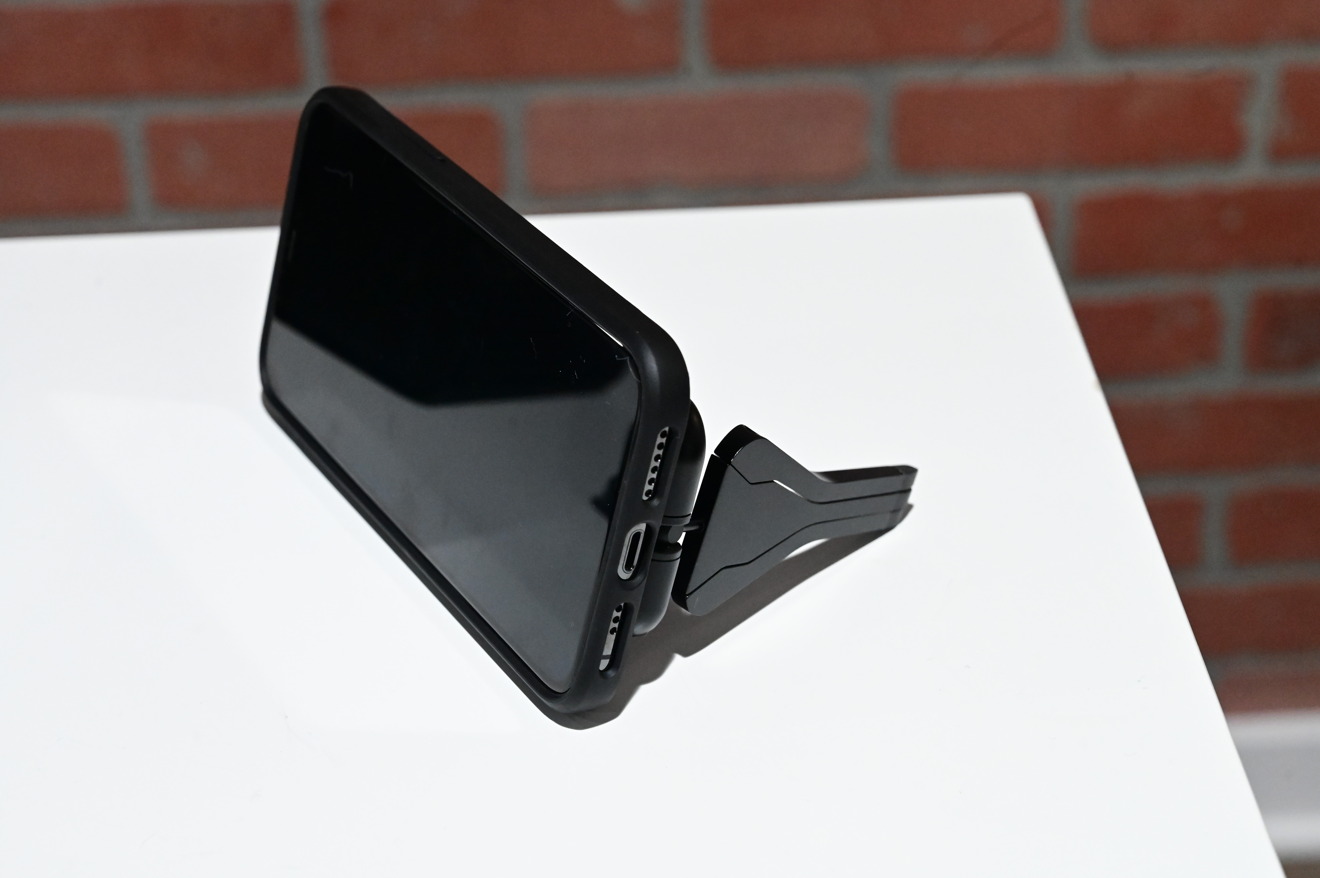 On top of all of that, your phone can go sideways and you can hold onto it as a grip for shooting video.
The ball socket comes pre-tuned, but if it ever goes loose or you need to tighten it, there is a tiny tool hidden away on the back of the tripod. It is held in place via magnets and pressing on one end allows it to pop out for use.
In our trials, we found iteasy to pop up for use, and collapse for storage.
Wall Mount and Car Mount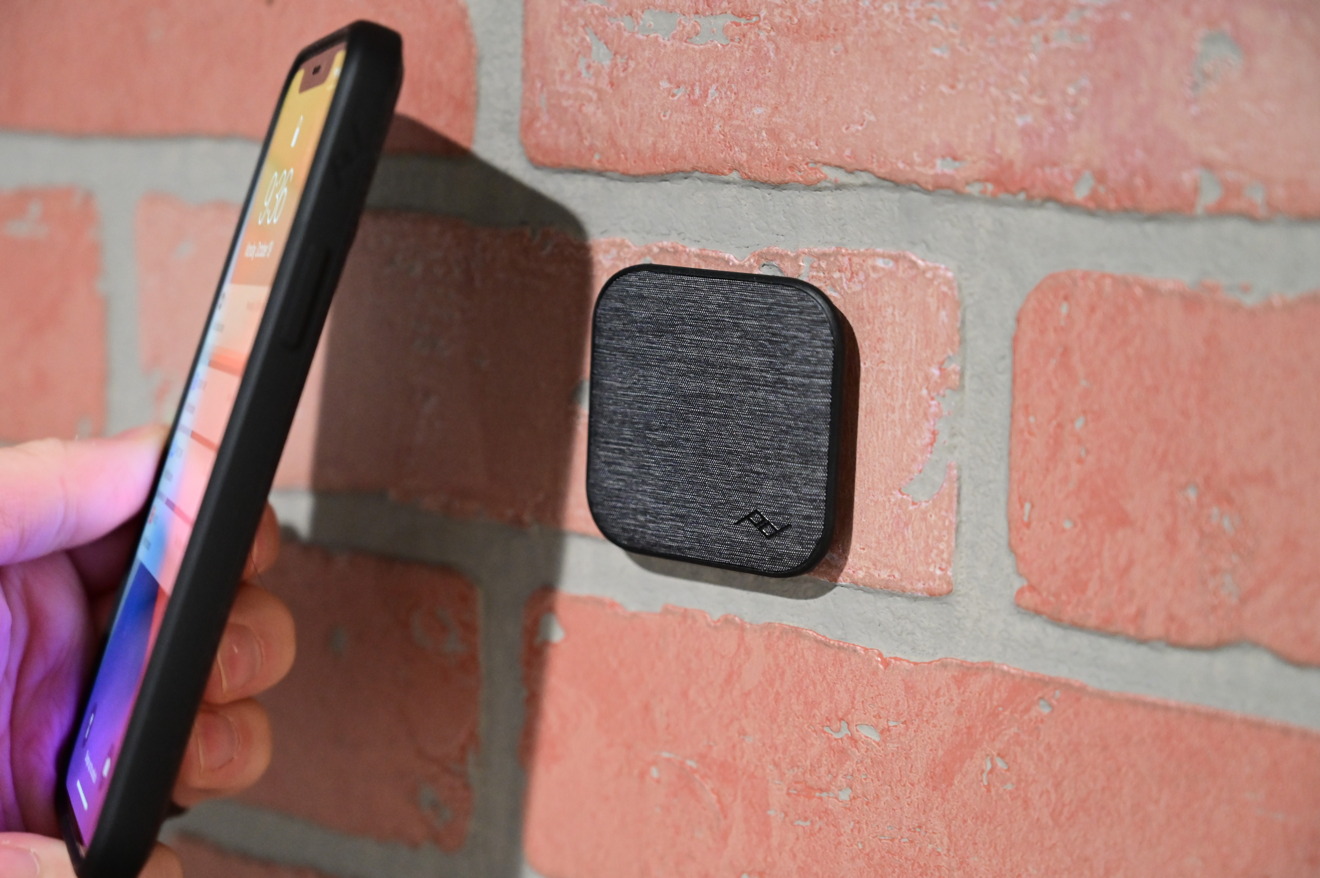 The Wall Mount is a simple device, just a smooth plate that can be mounted using 3M adhesive to quickly stick your phone. Maybe on a monitor, a desk, the wall, a cupboard, wherever.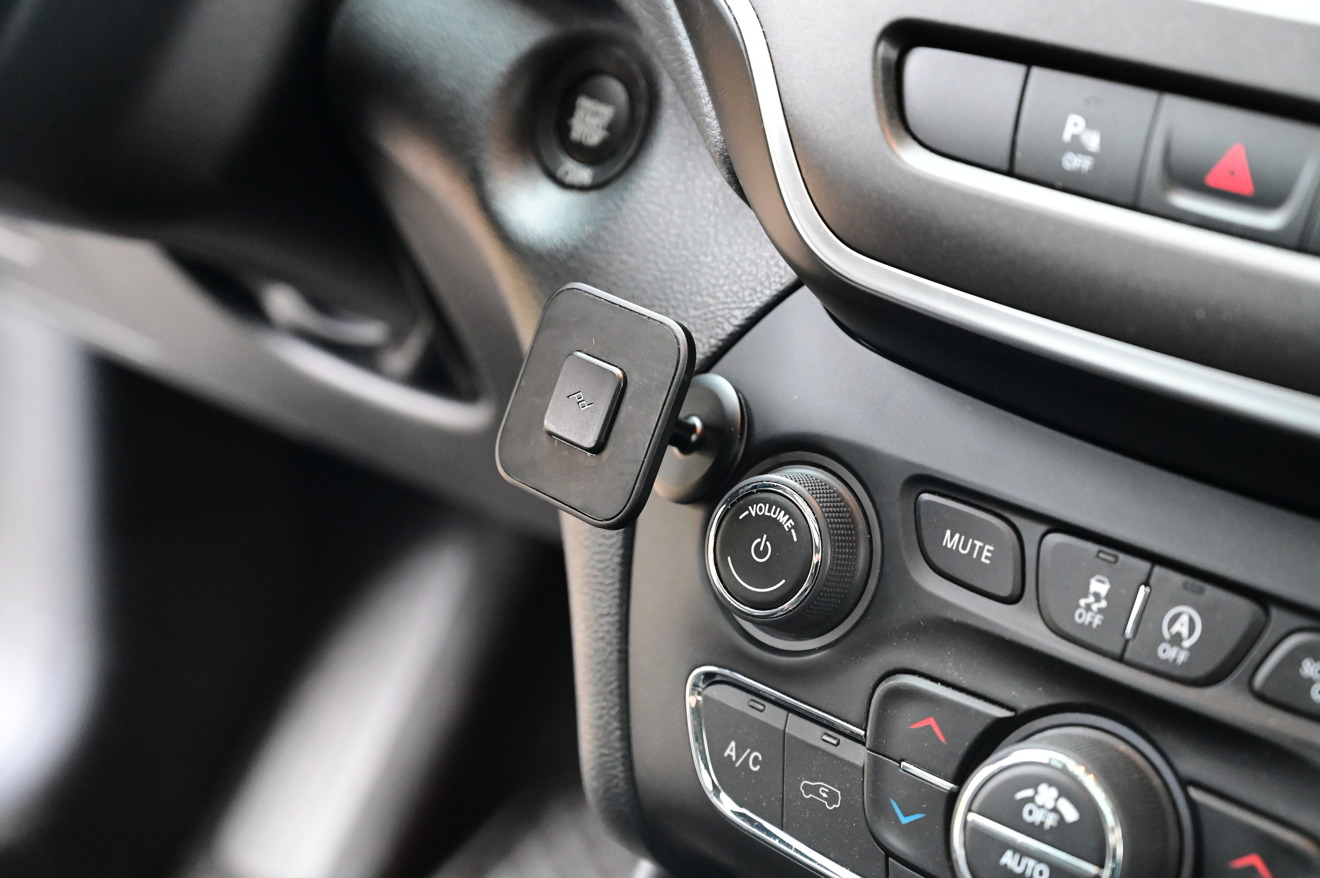 For the Car Mount, it has its own ball socket for easy positioning. It has a very small nickel-size mount to stick to your car's surface. Bring your phone near and the magnets come into play, properly aligning your device. The square center of the SlimLink adds extra strength, even when not using the hard lock lock.
The Car Mount is metal and feels very solid and has been our go-to in-car solution since we've been using it. The only way to make it better is to pick up the Qi charging version Peak Design has also promised.
Out-Front Bike Mount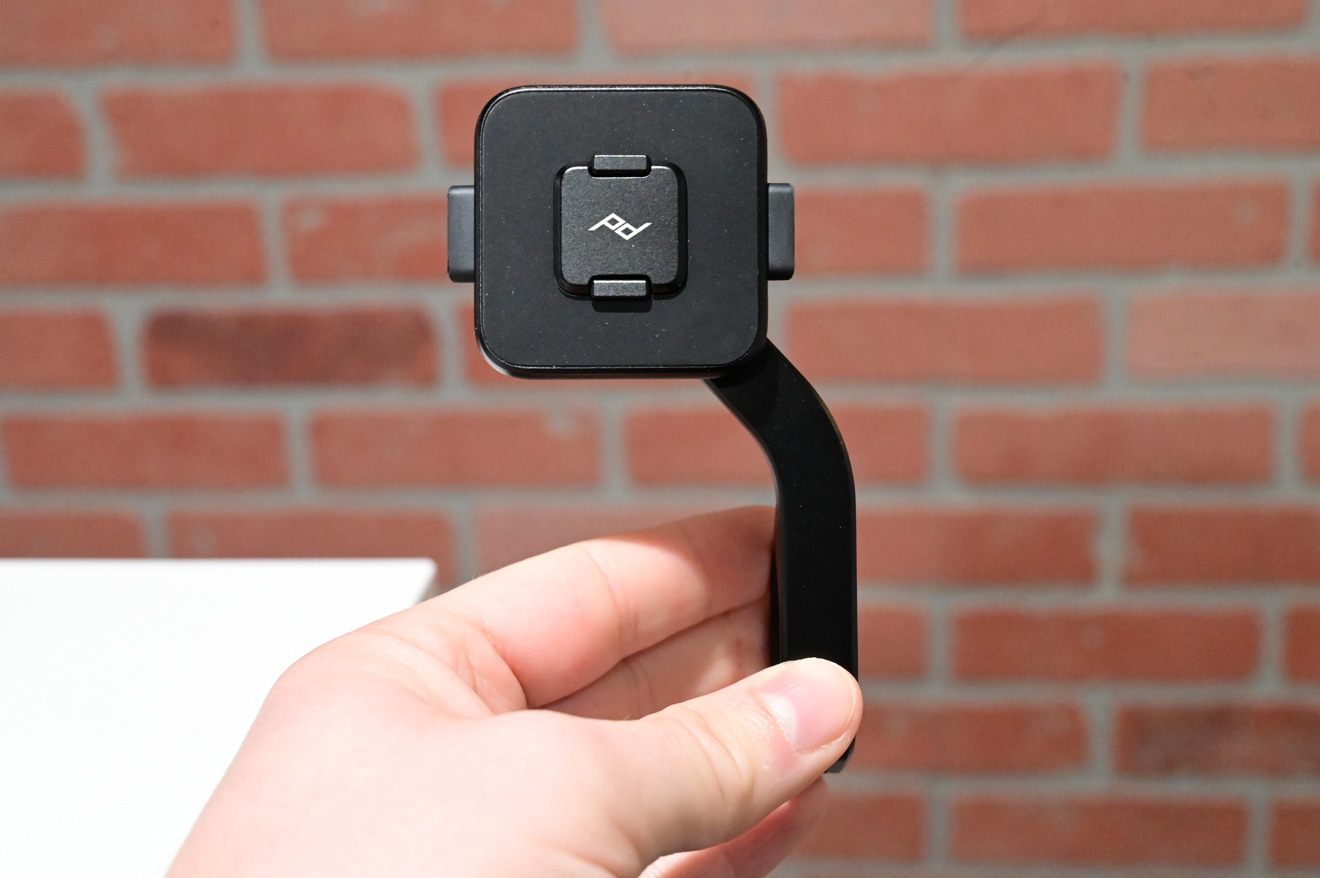 The Out-Front Bike Mount is the only one we got to test that uses the more secure hard lock. There are small spring-loaded clasps that automatically snap into place as soon as you bring your phone towards the mount. Thanks once more to the magnets, there is no aligning necessary. SlimLink handles it all.
This mount works in any orientation as well, working both horizontally or vertically.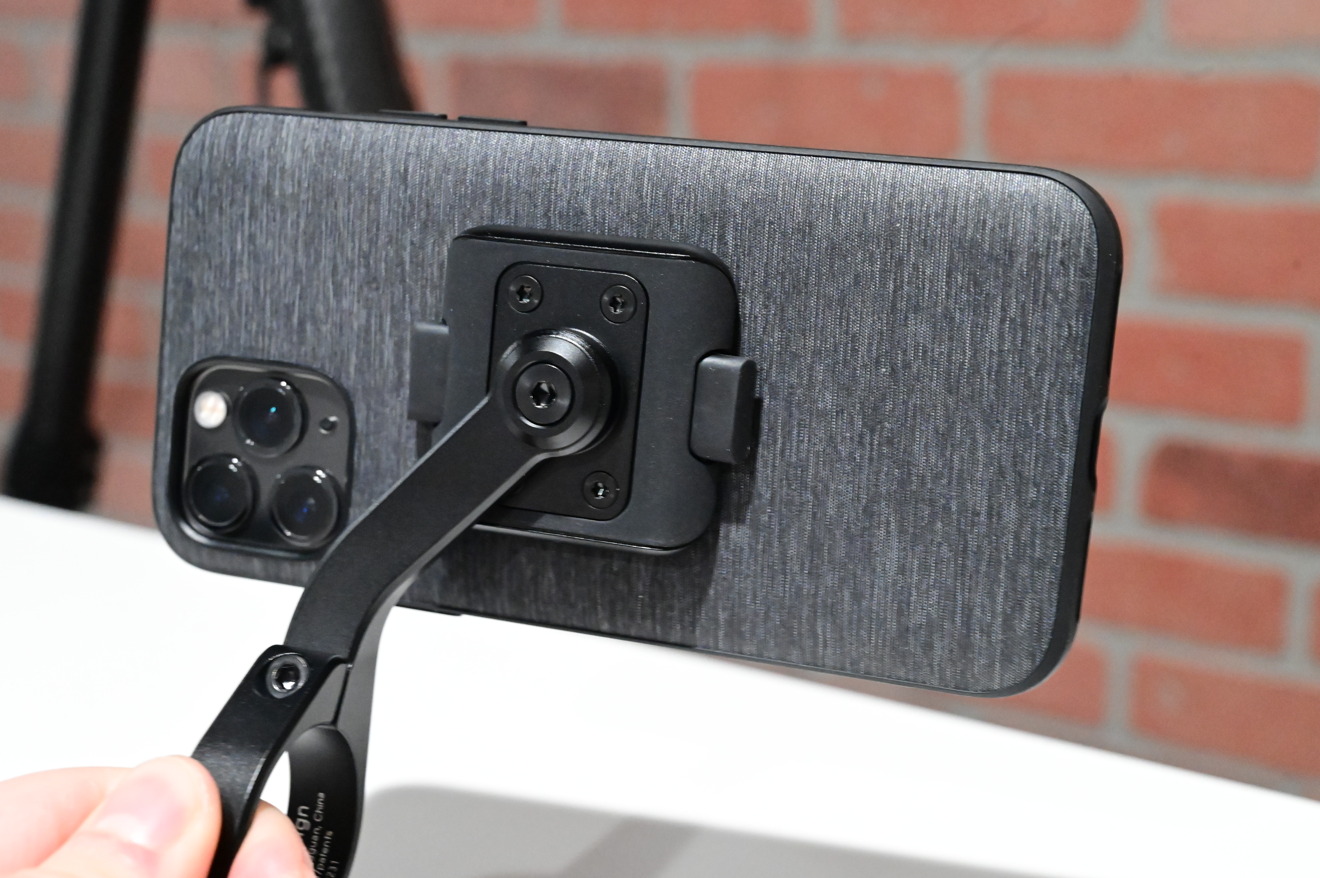 This secure hard lock is extremely strong. We clipped our phone to it, held the other end and shook violently. Nothing would dislodge it. If something was strong enough to pull this free, your phone will be taking some heavy damage regardless. It is absolutely the best bike mount we've tried (and we've tested a lot).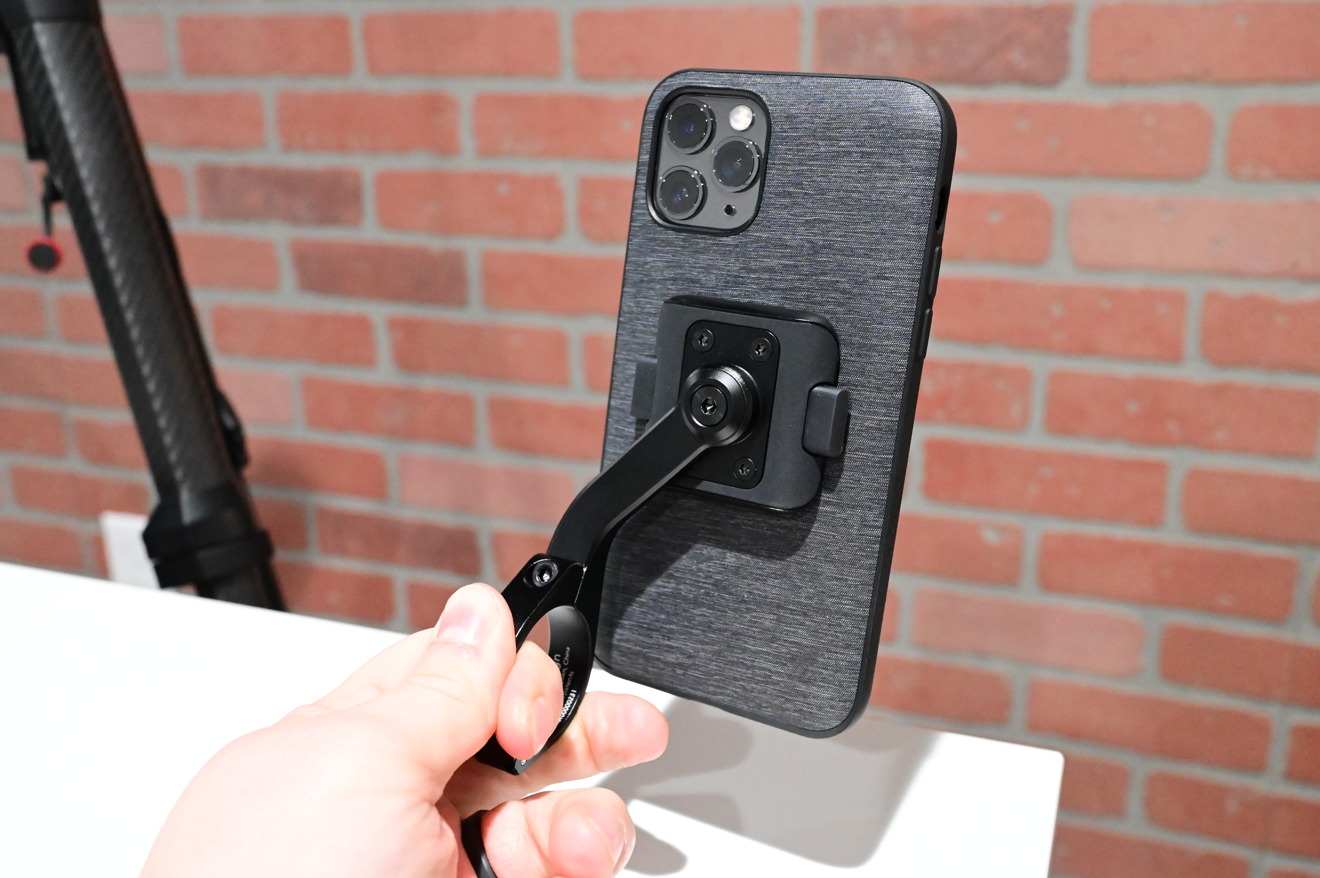 Removing the case is easy too. There are two buttons on either side and you can grab your phone and press the buttons behind and off it comes. Requires no effort and makes it easy to pull up your phone to lock and to very quickly lock it back in place.
A bevy of supported devices
If you have a particular phone that Peak Design doesn't make an Everyday Case for, you are free to use the Universal Adapter. It will work with any case that uses a solid, smooth back. Leather and silicone aren't recommended but shell cases, plastic cases, are all good.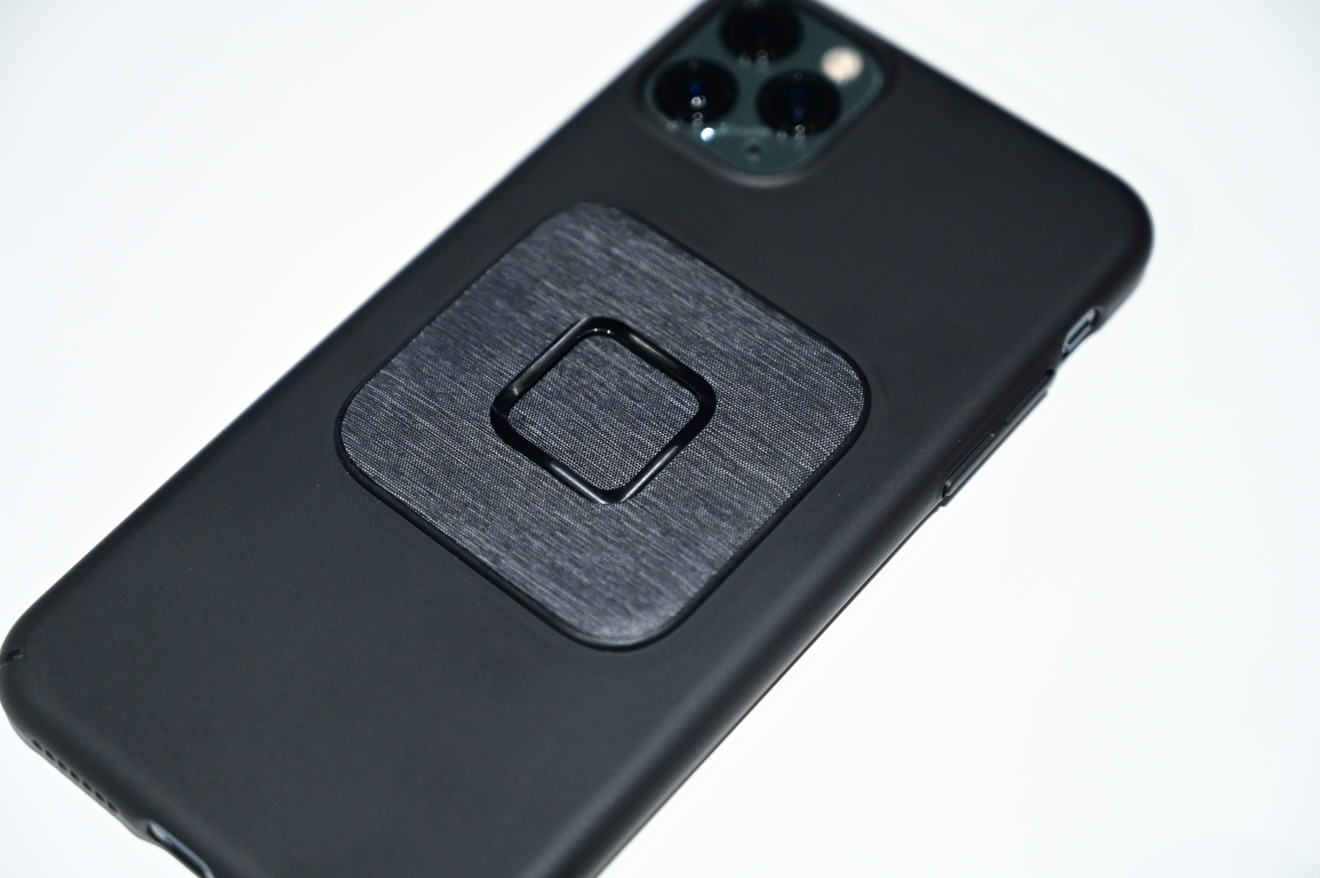 The Universal Adapter has the same heathered gray exterior as the Everyday Case and has the SlimLink ceramic ring in the center. Around the ring sit the four magnets for soft mounts and alignment.
We spent time using both the Everyday Case on an iPhone 11 Pro as well as the Universal Adapter on a thin plastic case for our iPhone 12 Pro Max. Between the two, the Everyday Case was a better experience.
It was a slight pain to set up, using a thin cardboard alignment tool. You had to match all the measurements twice on each side to perfectly align and center the adapter on your phone or case. This wasn't easy and our mount still may be just slightly angled. Hopefully, Peak Design has a better way to align this in the future for those who need it.
Using the Universal Adapter created a bump on the back of our phone which was slightly annoying. The case is more seamless and absolutely the preferred option. I am glad Peak Design gives the option though.
Just like the Everyday Case, the Universal Adapter should support wireless charging. In our test, it worked at times and not others. This may just be due to the placement on our phone. Peak Design is continuing to test this.
Between the several Everyday Case options available, the new iPhone 12 cases, and Universal Adapter, pretty much any phone will support Mobile by Peak Design.
SlimLink or MagSafe?
SlimLink is an incredible mounting system. It is so small and compact yet remarkably strong. Peak Design has undoubtedly been working on it for years.
Then came the release of MagSafe. On its surface, it almost appears MagSafe and SlimLink are contradictory methods of doing the same thing, but in reality, they are complementary.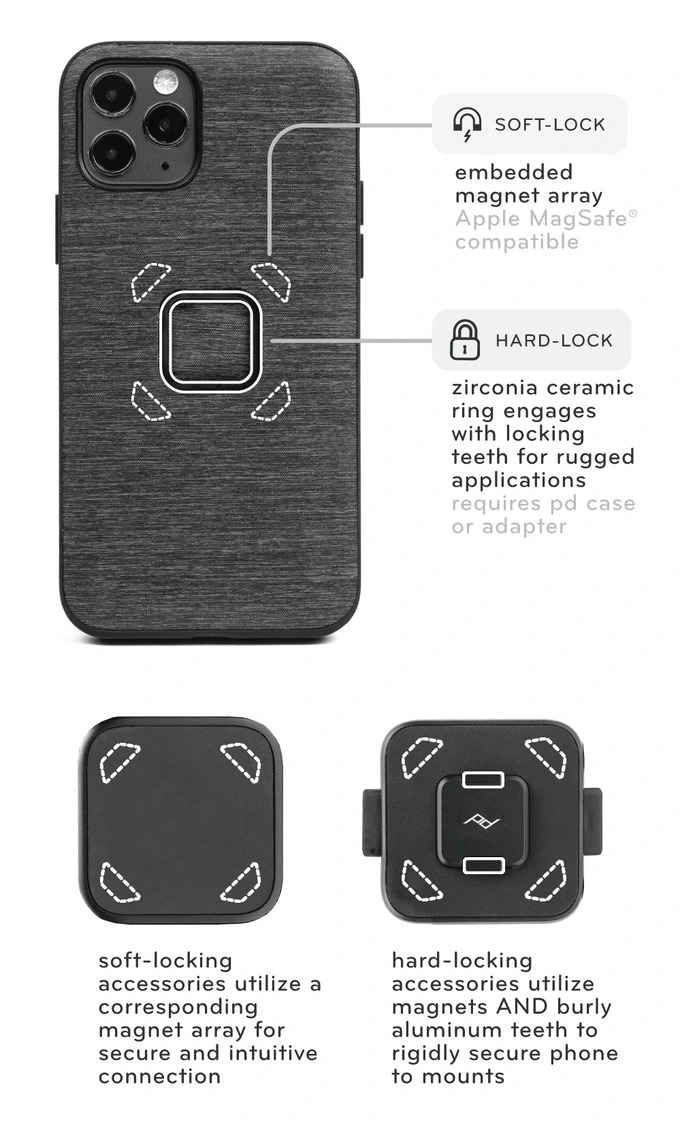 Mobile will fully support MagSafe in a number of ways. While using a Mobile Everyday Case, you are able to use MagSafe accessories such as Apple's leather wallet or charger. Peak Design will also be redesigning its Car Mount and Mobile Tripod to use MagSafe rather than the soft lock SlimLink so that they will work not only with Peak Design's cases but any MagSafe case.
Where MagSafe falls short is with a more secure mount. Here is where SlimLink shines. Bike mounts, motorcycle mounts, and others that use the clasps to lock are much more secure. With SlimLink, you have the best of both worlds. Support for all MagSafe accessories as well as a new hard lock for extreme situations.
All while retaining wireless charging and introducing new accessories that work with other non-Peak Design gear.
Feel good about your purchase
If you choose to pick up Peak Design Mobile, there are a number of reasons you can feel good about your choice. For one, each accessory and case is individually serialized and guaranteed for life, giving you piece of mind your gear will be reliable.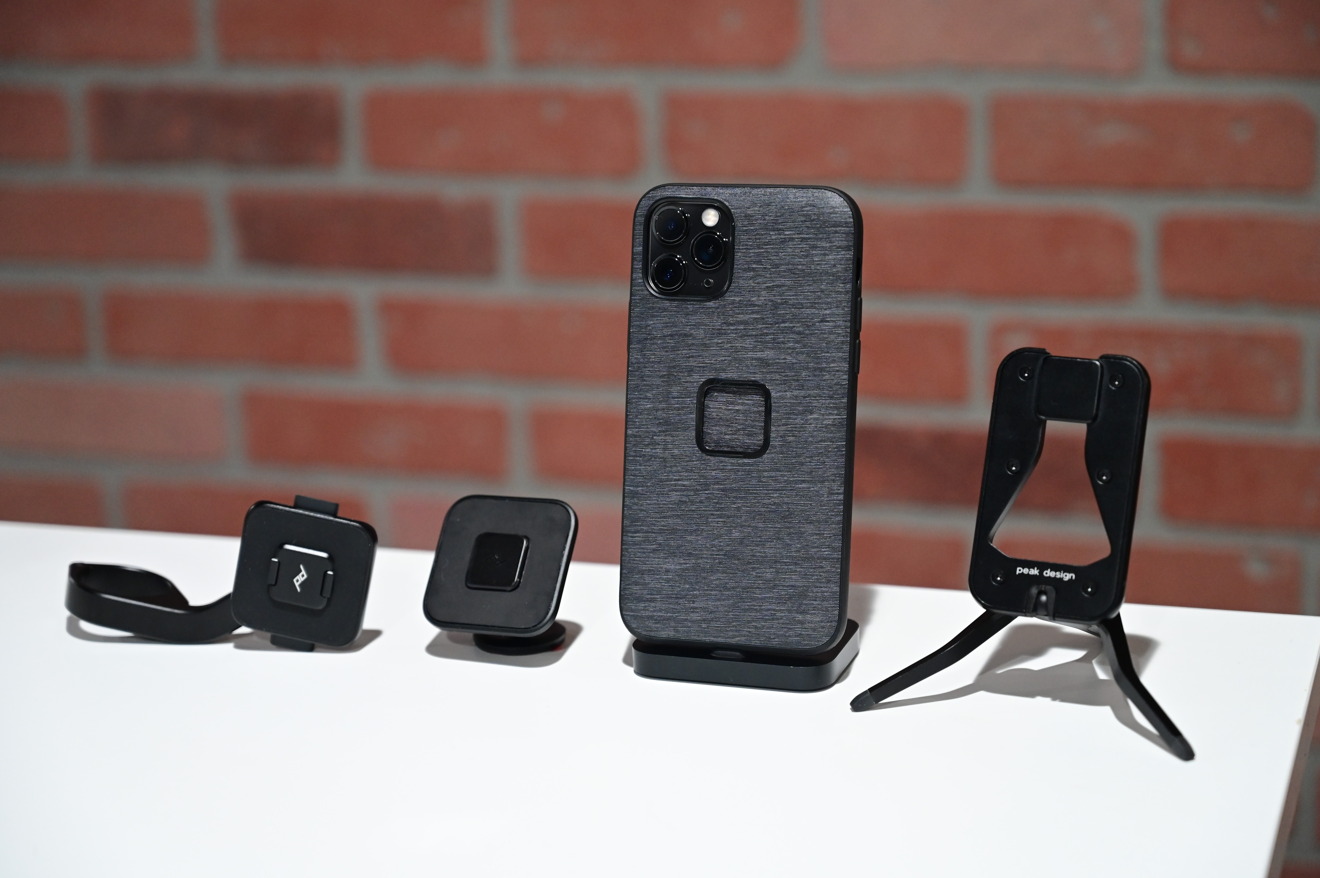 Peak Design is also a certified B Corporation and a founding member of 1% For The Planet which means that Mobile, like Peak's other products, is entirely carbon-neutral. The fabric is Bluesign-certified, a certification that ensures it is eco-friendly.
Peak Design has also gone to bat for its workers, negotiating safe working conditions and above-average pay for manufacturing partners.
Regardless if you are worried about your own gear, the planet, or those making it — Peak Design is doing its part to put your mind at ease and making our planet a better place.
Get ready to go mobile
Available to preorder now, this is Peak Design's tenth Kickstarter campaign. Peak Design has an exceptional track record with its previous campaigns, not only well-exceeding its goal, but delivering for backers. At this point, Peak Design uses Kickstarter as a way to drum up excitement for its new products as well as a preorder system.
The campaign has just started and production is currently underway. Backer choices start at $32 which includes the case on its own and allow you to build your own kit with any additional add-ons you'd like, all at a discount from their final retail price.
Remember, this is a Kickstarter and delivery of the perks isn't guaranteed, but Peak Design has raised over $32 million and completed nine campaigns successfully so chances are about as good as they can be that it will follow through with delivery.