Epic argues Apple has 'no rights to the fruits' of its labor in 'Fortnite' filing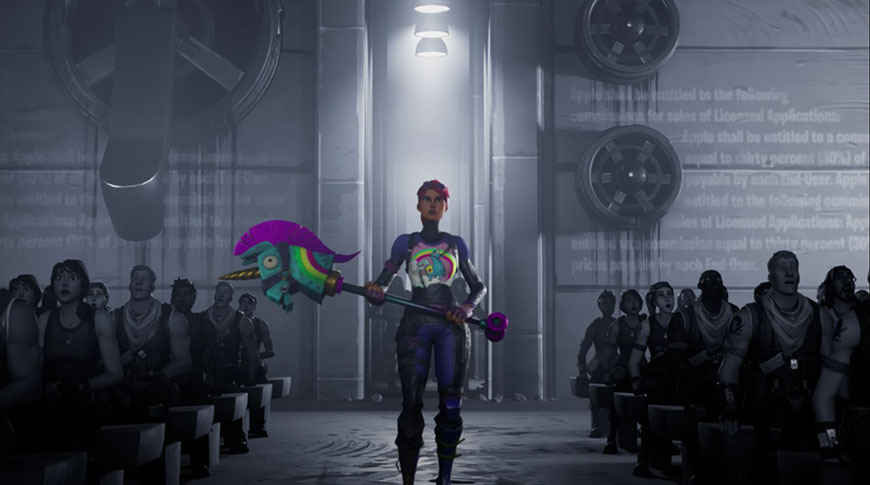 Apple's claims of theft in Epic's lawsuit against the company over App Store rules have been argued against by the game developer once again, with a Friday filing putting forward the idea that Epic didn't "steal" anything from Apple at all.
The latest filing in the ongoing legal battle between Epic Games and Apple over "Fortnite" and monetization in the App Store features more accusations by Epic that it is innocent of claims by Apple that it was failing to fulfill contractual commitments. Instead, Epic asserts that Apple's theft claims are absurd when applied to purchases made through its own servers.
The lawsuit covers a number of topics, but largely boils down to whether Epic should be allowed to take payments related to the iOS game through its own payment mechanism, bypassing the App Store's own transaction system that Apple mandates apps like "Fortnite" must use. Apple tossed "Fortnite" from the App Store, prompting a lawsuit from Epic that triggered the whole affair.
Apple has so far insisted its actions were for legitimate business reasons, including the threat of closing developer accounts relating to the Unreal Engine. However, Friday's filing objects to the suggestion from Apple that "Epic's flagrant disregard for its contractual commitments and other misconduct has caused significant harm to Apple."
In its response, spotted by The Verge, Epic enters an argument that its actions are a "far cry from the tortious - even purportedly criminal - conduct that Apple's Opposition depicts."
"Simply put, Epic did not 'steal' anything that belonged to Apple. Epic could not and did not 'steal' the proceeds from the sales of its own creative efforts. Nor did Epic interfere with any prospective economic advantage Apple sought to gain from 'Fortnite' users separate and apart from their interest in 'Fortnite," the filing claims.
Later in the 20-page document, Epic likens Apple to "Epic's agent" for App Store transactions, in providing the App Store, but it "is not a party to the sales contract or user agreement" itself, in reference to iTunes legal documents.
Epic then accuses Apple's theft accusation of boiling down to the "extraordinary assertion that Epic's collection of payments by players of Epic's game to enjoy the works of Epic's artists, designers, and engineers is the taking of something that belongs to Apple."
It is then alleged that Epic was "forced to agree to make Apple its agent" for App Store sales as part of the license agreement, before openly admitting that "by offering 'Fortnite' users the choice of making purchases directly from Epic, Epic breached those contractual provisions (assuming they are legal."
Epic then doubles down, reasserting "Epic did not steal or convert Apple's property."
Following the most recent hearing on the matter on September 28, the lawsuit will be heading to a full trial, which should take place sometime in July 2021. A deadline has been set by Judge Yvonne Gonzalez Rogers to file data for the trial, but though Rogers suggested it should be a trial by jury, both Apple and Epic agreed the decision should be made by the court itself and not the public.