Razor-thin margins have strained Foxconn's relationship with Apple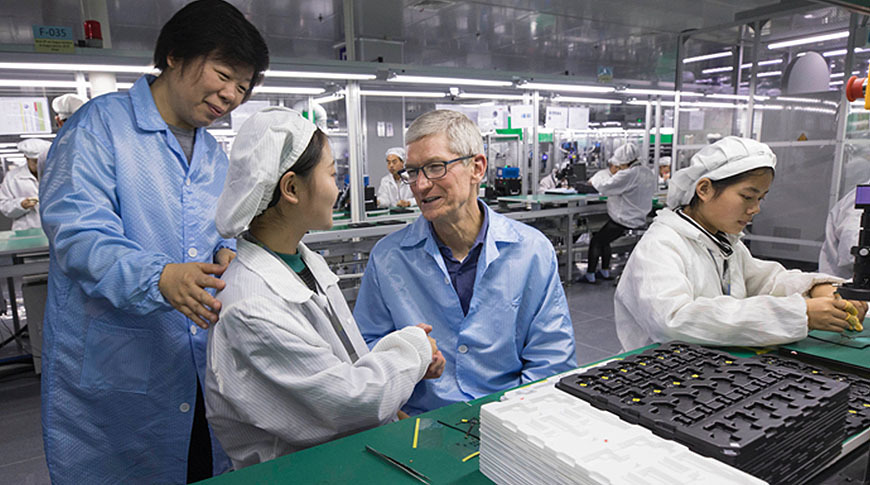 In the midst of a changing relationship with Apple, Foxconn has sometimes resorted to methods like exaggerating hiring counts to cut costs and boost margins.
When Foxconn was undergoing production trials for the 2018 iPad Pro, for example, the company told Apple it needed more workers than it actually did. According to The Information, that tactic to eke out more profit has become routine.
The relationship between the two companies stretches back decades, and has allowed both to flourish. But, over the years, the two companies have diverged in terms of profit. Foxconn's gross profit margins are in the single-digit percentage points, while Apple's are about 40%.
Along with over-reporting how many workers it needs, Foxconn has tried out strategies to boost those margins. That includes using Apple-owned equipment for other clients and taking shortcuts on component and product testing, The Information reported.
As a result, Apple has stepped up its monitoring and tracking of Foxconn employees and its own equipment at Foxconn facilities. Since Tim Cook replaced Steve Jobs as Apple's CEO, the Cupertino tech giant's audits and manufacturing demands for cost-cutting has increased aggressively.
In 2015, Foxconn used idle Apple-owned equipment to produce devices for Huawei. The equipment was then shipped back before Apple carried out an audit of Foxconn's production lines. According to former Apple and Foxconn staffers, the practice became harder when Apple started attaching tracking tags to its equipment.
As another example, bits of metal or loose screws can be detected within a iPhone on the production line. Foxconn employees are supposed to scrap these units and build new ones from scratch using the components. Instead, Foxconn workers simply opened them up and removed the bits themselves.
The Taiwanese contract manufacturer has other ways of bolstering its profits, too. Over time, Foxconn has acquired many suppliers that also created components for Apple. It's also worked to create first-party components and resources to replace previously imported ones — and it pockets the savings.
This image of a changing and strained relationship between Apple and Foxconn has manifested in other ways.
Before the 12-inch MacBook was released, Apple accused Foxconn of giving Google a tour of a factory that produced the metal frames for the device. When Apple asked Foxconn for visitor logs and security feeds, it refused.
All of these incidents also come in the midst of Apple and other companies looking to diversify their supply chains. Foxconn once had a monopoly on producing Apple products, but has since lost some of its business to rivals like Pegatron, Wistron, and China-based firms.
Apple has also benefited from Foxconn's success. While its ability to rally large numbers of workers remains top-notch, Apple has reportedly applied some of the manufacturing lessons it has learned to guide rival companies — including many in China.
In 2020, amid the coronavirus pandemic, Foxconn's revenue fell 2.7% as Apple's rose 11% year-over-year.
Seamus Grimes, a professor at National University of Ireland and an Apple supply chain watcher, says that Foxconn is "too dependent" on Apple.
"They've had a very good run for a long period, but I think Foxconn is now going to face a lot of competition from Chinese companies," Grimes said.