Supposed 'AirPods 3' parts photo reveals AirPods Pro design similarities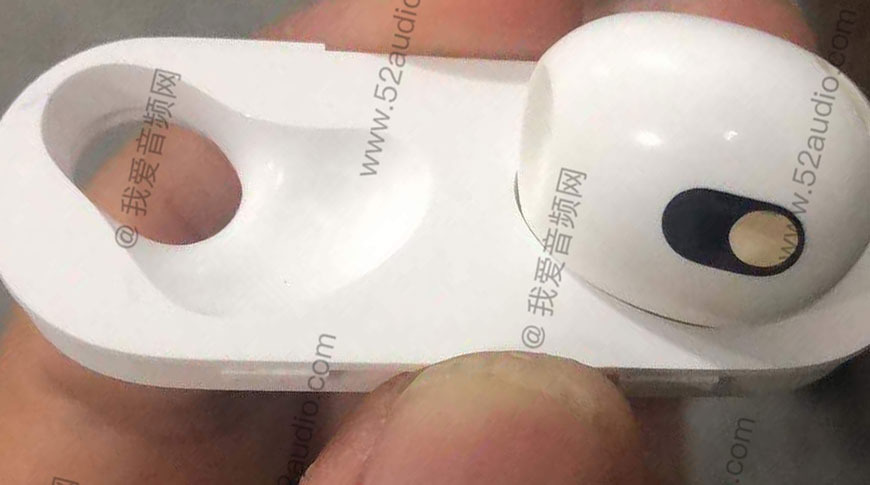 A photo depicting supposedly leaked parts for Apple's rumored "AirPods 3" surfaced online this week, showing what appears to be a complete redesign of the classic headphone shape.
According to information provided by Chinese language blog 52Audio, as spotted by Japanese Apple blog Mac Otakara, the rumored third-generation AirPods model bears more than a passing resemblance to AirPods Pro.
The report discloses supposedly leaked AirPods shell and case parts that are similar, but not identical, to the design adopted with AirPods Pro. Specifically, the purportedly updated earbud takes on a more conical shape than current AirPods devices, while windows in the housing are thought to accept microphones, IR sensors or serve as pressure exhaust ports.
Further, the driver output hole is largely circular, unlike the AirPods design which sees the earbud's exterior narrow to an ovaloid outlet. AirPods Pro employs a similar circular opening onto which users can attach silicone ear tips to customize fit.
According to 52Audio, the new AirPods model will retain AirPods Pro's pressure-sensitive control stems and might boast Apple's H1 chip with Siri support.
The report also highlights purported X-ray views of both "AirPods 3" and AirPods Pro, though the representation is highly suspicious. A quick evaluation reveals the size, shape and placement of internal parts in both pictures are identical, suggesting the alleged "AirPods 3" image is simply a manipulated version of a legitimate AirPods Pro X-ray.
Apple has for months been rumored to refresh its audio product line with new models. Late last month, a report claimed the company plans to launch a third-generation AirPods device and second-generation AirPods Pro in early 2021. Both are expected to see major overhauls, with "AirPods 3" borrowing its design from current AirPods Pro, and the next-generation AirPods Pro featuring a more compact silhouette that ditches the stem.