Apple debuts new MacBook Air with Apple Silicon M1 chip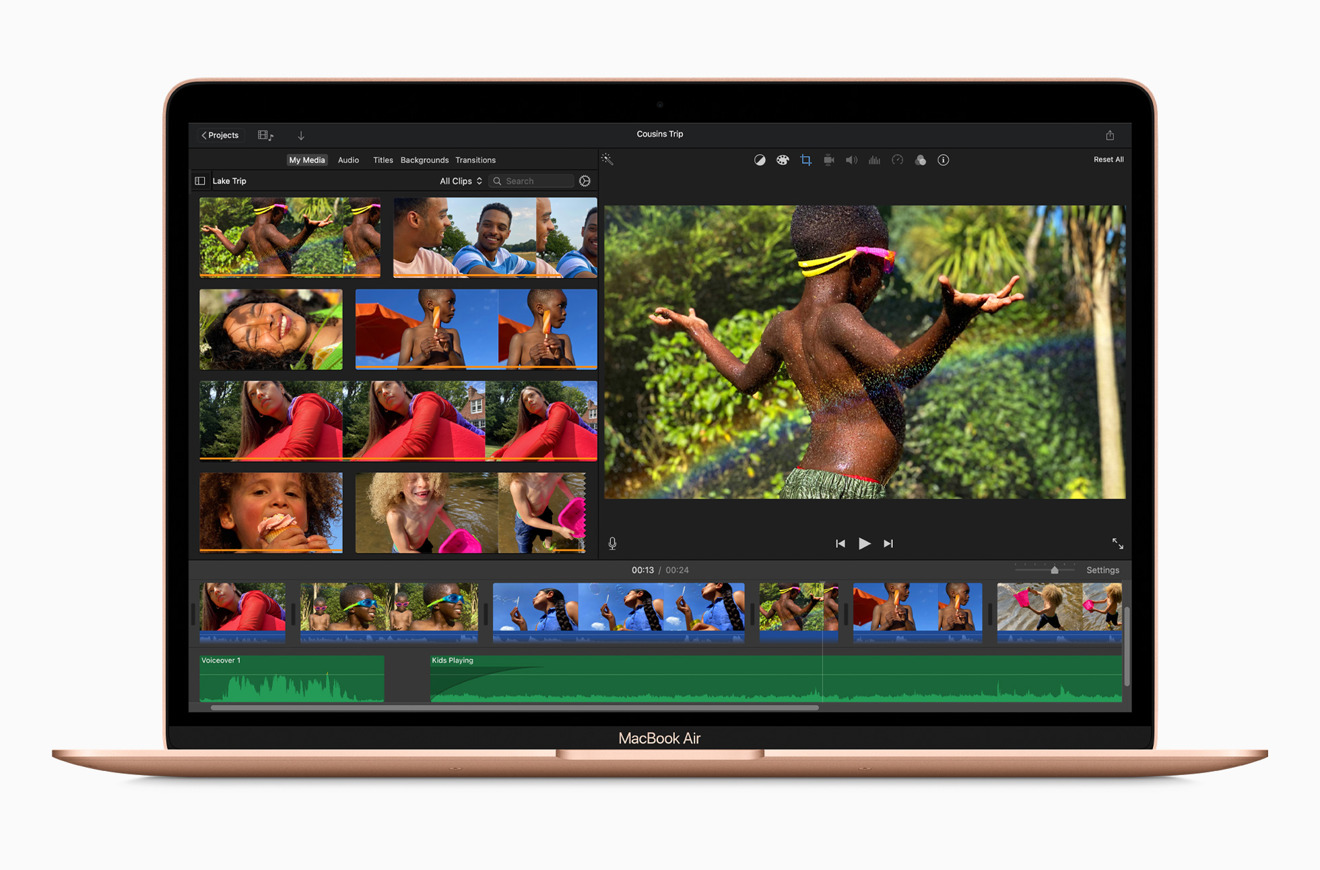 Apple's M1 chip "changes everything" in a new MacBook Air, which Apple claims is three times faster than 98% of the PC laptops sold in the last year — and without a fan.
Announced at its November 10 event, the first device with Apple Silicon is the MacBook Air. Reusing the same chassis as the previous model, Apple said that the new MacBook air is up to 3.5x faster than the previous generation.
The new MacBook Air retains the pricing of the previous model, starting at $999, or $899 for education buyers. Apple has announced that pre-orders begin today.
"MacBook Air is the most popular Mac," said Apple's Mac Product Line Manager, Laura Metz. "In fact, it's the world's best selling 13 inch notebook users love it stunning Retina display, great everyday performance and incredible portability, all in a sleek wedge shaped design."
The MacBook Air with Apple Silicon M1 has an 8-core CPU, and comes with up to an 8-core GPU. Apple says this makes graphics up to 5x faster than the previous generation, while Machine Learning runs at up to 9x faster.
"These days, users are working more from home, learning remotely, and using the Air to stay connected. making performance and battery life, extremely important," continued Metz. "We're thrilled that our first chip for the Mac enables the MacBook Air to do things that were previously impossible on such a thin and light notebook."
"So if you're editing family photos or exporting a video for the web with iMovie, the new air blazes right through it," he continued. "Or if you're working in Lightroom, you can manage huge raw libraries that are unheard of speeds, turning your Air into a mobile photo studio."
The new MacBook Air with Apple Silicon M1 has no fans, which Apple says means it runs completely silently. Apple also claims that it has the longest battery life ever in a MacBook Air, with a quoted 15 hours maximum wireless web browsing, and 18 hours of video playback.
The display is the same 2560x1600 resolution as the previous MacBook Air. The webcam is a 720p model, also the same as the earlier MacBook Air. Wi-Fi has been upgraded to Wi-Fi 6, and Bluetooth remains at version 5.0
The new GPU in the MacBook Air is capable of supporting the Apple Pro Display XDR, at 6K resolution at 60Hz.
Preorders for the new MacBook Air have already started. Prices begin at $999 for a model with the M1 chip with seven GPU cores, 8GB of integrated RAM, and 256 GB of SSD storage. A model with the M1 chip, eight GPU cores, and 512GB of SSD storage retails for $1249.
An upgrade to 16GB of unified memory costs $200 on all models.