Nanoleaf launches Apple-exclusive Essentials smart lights with HomeKit & Thread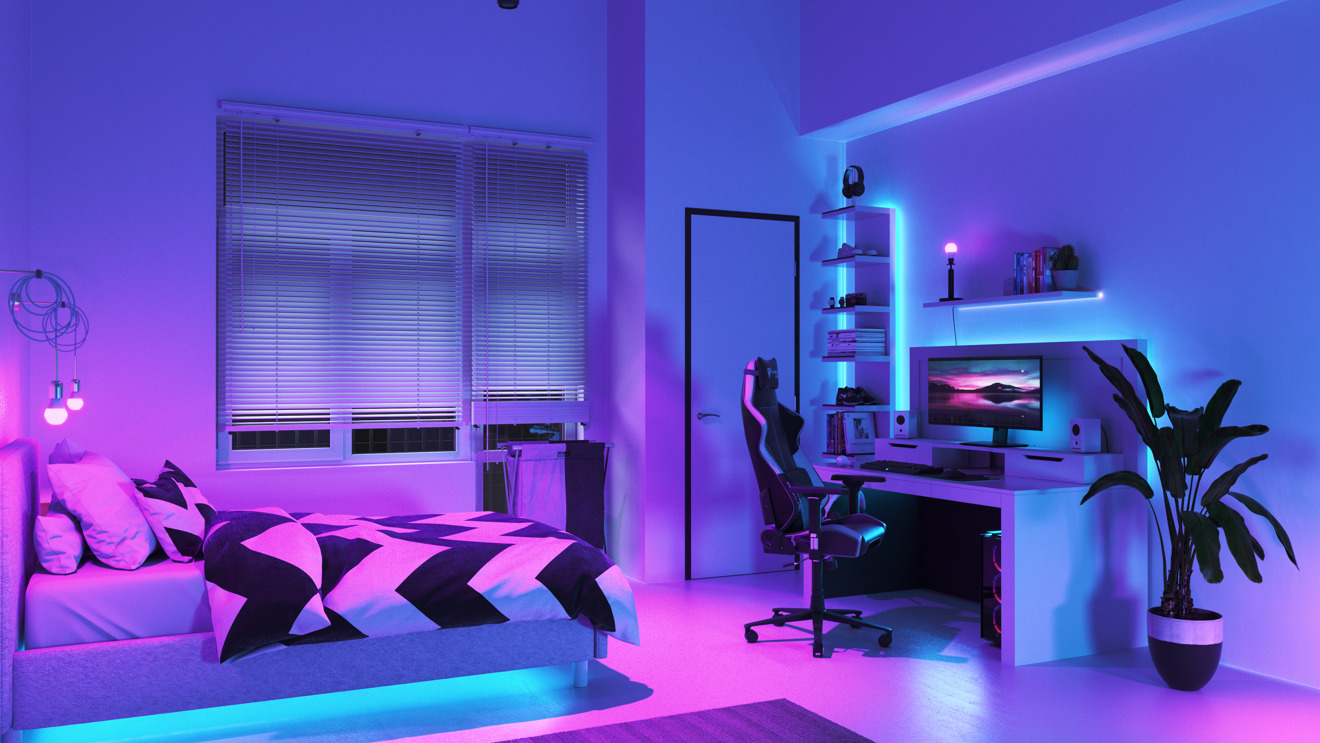 Nanoleaf is pushing the boundaries with its new Essentials smart lights that leverage Thread connectivity alongside Apple's HomeKit and are also some of the brightest around.
Nanoleaf Essentials
The Nanoleaf Essentials lineup is currently comprised of a light bulb and a light strip, a departure from the light panels the company is known for. These lights represent a more universal design that fills the need for everyday lights that work anywhere in the home.
With the goal of being functional, these lights can achieve exceptional brightness levels, possibly the brightest whites on the market while still maintaining vivid colors. The Essentials Bulb has a maximum brightness of 1,100 lumens while the Essentials Light Strip can reach up to 2,200 lumens.
Like others on the market, the Nanoleaf Essentials Light Strip can be extended with additional add-on strips and trimmed to size.
They each have their own Circadian Lighting feature that allows the lights to adjust their color temperature throughout the day. Importantly, they support Adaptive Lighting, HomeKit's new feature that controls the color temperature as the day passes, moving from warmer to cooler light, then back to warmer.
The Circadian Lighting can also be set to run manually over a user-selected period of time to match their body clock better, and can even be set to run on a different time zone. This would be handy for those needing to alleviate jet lag, or work night shifts and need to change their body clock.
The Essentials bulb is unique, with an eye-catching rhombicosidodecahedron shape that looks great, even when not hidden by a lampshade.
Connected by Thread
Essentials are the first consumer smart lights to support Thread, which is a game-changer for smart home products.
Thread creates a mesh network between all devices, and doesn't require a hub. This means it has no single point of failure, so if one device goes down, the mesh network remains.
Apple just added Thread to its new HomePod mini, which can act as a Thread bridge to enable remote access and HomeKit automation routines to the Nanoleaf Essentials lights.
There are plans to take advantage of Thread in the HomePod mini to power other features, such as a Screen Mirror capability, Rhythm Music Sync, Color Scenes, and Scene integration.
In the event that a HomePod mini isn't on hand, Essentials can still be set up using Bluetooth.
Available at Apple
Nanoleaf Essentials are launching exclusively through Apple Stores. The Essentials Light Bulb will run $19.99, the Essentials Light Strip runs $49.99, and Light Strip extensions run $24.99.