Apple II lid signed by Steve Jobs, Steve Wozniak going up for auction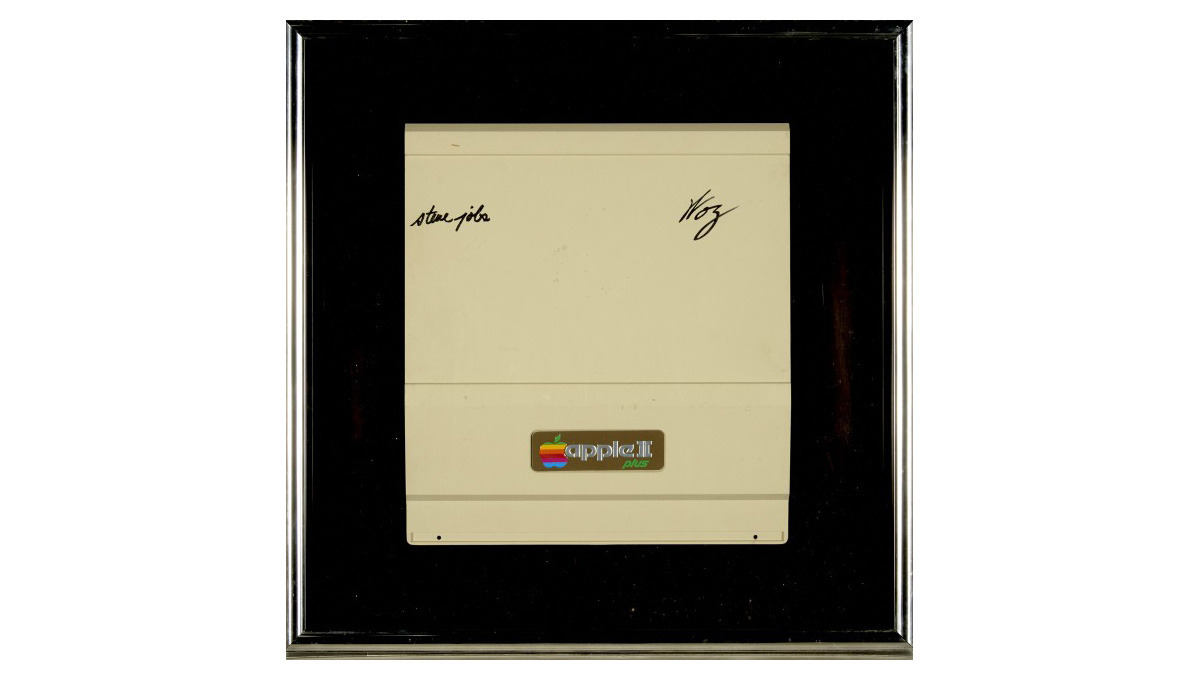 A lid from an Apple II computer signed by company cofounders Steve Jobs and Steve Wozniak is set to go up for auction later in November.
The signed lid, a part of a "Rare Books, Autographs & Maps" collection at auction house Doyle, will start at a bid between $20,000 to $30,200.
According to Doyle, the lid was prepared for the late Thomas Earl Neudecker II from the University of Pittsburgh at a release event for the Macintosh computer on Jan. 24, 1984. Both Jobs and Wozniak signed the lid using a felt tip, with the latter Apple cofounder signing it as "Woz."
The framed lid is bundled together with a fabric Macintosh banner that was likely used at the event and features a Clemont Mok design of a cyclist carrying a Mac computer.
Neudecker, a University of Pittsburgh professor who studied the effects of technology in schools, had the Apple II signed at the 1984 launch event, where he represented his institution.
"At the reception following, attended by the founders of Apple, he made it a point to meet Steve Jobs and Steve Wozniak. In preparation for this he carried the lid from the family Apple II Plus in his briefcase," Doyle explains in the lot description. "When he met them he had them sign the lid. It became a prized possession, and he had it framed and hung it in his home office."
Apple products and other memorabilia signed by Jobs typically fetch high prices at auction. A first-print issue of Macworld signed by Jobs sold for $47,775 in 2018, for example. A floppy disk signed by Jobs expected to sell for at least $7,500 at auction in 2019.
Items signed by both Jobs and Woz are even rarer, since the two had a "falling-out" after Jobs stepped down from Apple in 1985.