Developers delighted at Apple's reduced App Store commission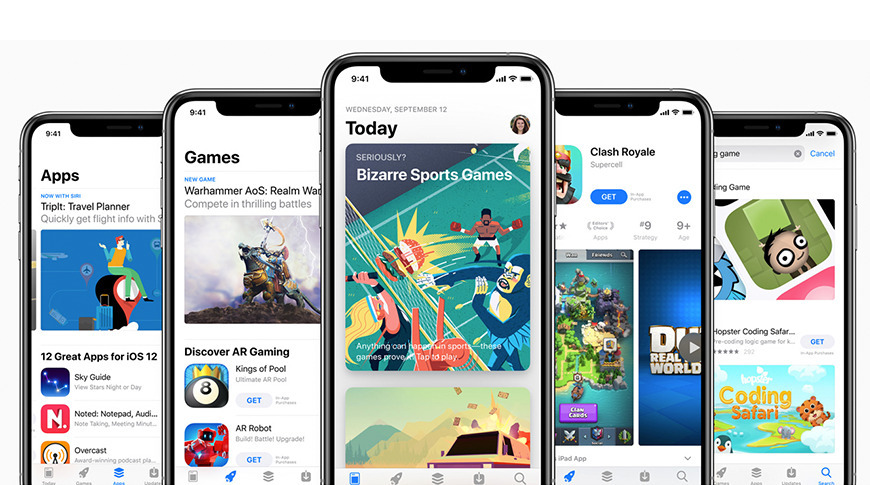 Although it's seen as much about appeasing critics as it is about growing independent software makers, developers have told AppleInsider that Apple's reduced App Store commission is good for the industry.
Apple's announcement that it will cut App Store commission to 15% for smaller developers has yet to be followed up with details of how it will work. Nonetheless, even as developers have questions about the process, most of the ones AppleInsider spoke to were delighted.
"This is incredible news and makes me legitimately so happy (and very fortunate given the pandemic)," Christian Selig, developer of Apollo Reddit told AppleInsider. "And I'm also so stoked that the indie developer community will grow with more people being able to take the plunge as a full-time developer. Thank you Apple!"
"It's nice to see Apple clearly is listening and caring for indie devs," sad Ryan Ashcraft, developer of food and calorie tracking app Food Noms. "The 15% is significant; there's a lot I can do with that additional revenue to reinvest back into my business."
Many developers pointed out that this has come during a difficult year for everybody because of the coronavirus. "Right now, in the middle of a pandemic, it's going to be even more welcome," said James Thomson, developer of calculator app PCalc. "We've seen a noticeable decline in sales since March, and this will help to offset that."
Thomson is a long-time developer — PCalc runs on Mac, iOS, Apple Watch, and even Apple TV — and sees Apple's move as good for everyone. "I think this is going to be a significant improvement for us, and the Apple developer community at large," he says.
"It actively helps the smaller indie devs who have always been the heart of the community," continues Thomson. "And that 15% change represents over 20% more revenue than we were getting before, so it's an even bigger deal than it sounds."
Good for the app industry
Every developer spoke about the specific, immediate difference this should make to their income. Most, though, also wanted to say that this will have attract more developers, that it is a great move that will grow the industry as a whole.
"I see it as a win-win situation for Apple," said Ashcraft. "Energize more indie devs, who tend to be more aligned with Apple in terms of privacy, design and platform — specific features, to build more innovative apps for Apple's platforms."
"Now I think time will tell actually how much this change re-energizes the indie dev community," he continues. "Hopefully this is a piece in a larger strategy to attract and focus more on smaller devs."
Several developers, who spoke both on and off the record, wondered about whether this could be part of Apple's efforts to attract developers — or just to answer critics. And some pointed out that whatever prompted Apple to do this, the result is going to help small developers.
"Taken at face value and out of the context of the looming antitrust environment, I think this is genuinely huge for the future of the App Store," said Dark Noise developer Charlie Chapman.
"There's a large group of independent developers who have crunched the numbers and know exactly where the revenue line is they have to cross to be able to pull off going full time," he continues. "This moves that line substantially overnight, and could really bring a slew of new indies full time and give us more apps like Apollo, Carrot Weather, Halide, etc. with small teams or individuals who really treat their apps as a craft."
"That's what honestly excites me the most... plus you know a bigger paycheck each month for myself," he concluded.
Process questions
Apple says that under its new App Store Small Business Program, it will reduce its 30% commission to 15% for any firm that it pays less than a million dollars annually. So if a company is paid overall more than a million from selling its Mac apps directly from its website, say, it will still qualify for the reduced rate.
There are issues over what happens, though, if a company has a very good month that means its earnings for the year just creep over the million. "My assumption right now is that you're going to pay 15% on everything up to a million, and 30% on everything after that, like a progressive tax," says Thomson. "Otherwise, yes, there may be weird edge cases."
"For us, we're nowhere near the limit, and I doubt the vast majority of apps on the store are either," he continues. "It seems to be a good compromise — it doesn't cost Apple very much, because the few big apps bring in most of the App Store revenue, but it benefits the biggest number of people."
The cost to Apple
That point about this actually not costing Apple a great deal in lost revenue has not been missed by developers, or analysts. Nor is the fact that this biggest ever change in the App Store has come after Apple has faced increasing criticism.
"Ultimately I'm not sure this will appease most of the people speaking out against the App Store right now," said Dark Noise's Charlie Chapman. "Those are often the bigger players who already have their own marketing, distribution, and payment infrastructure and find the restrictions of the App Store more painful than the benefits, much less worth 30%."
"For us smaller players those trade offs were already worth it because we don't already have all that infrastructure and it gives us access to a huge market," he continued. "This is just icing on the cake."
Longstanding critics
It isn't just smaller developers who have opinions about this move. Larger developers who won't be affected tended to tell AppleInsider, off the record, that they are pleased how it will help the industry.
However, some of Apple's regular critics have been been scornful about the move. That includes Epic Games, the company which is currently involved in an extensive legal dispute with Apple over the App Store.
"This would be something to celebrate were it not a calculated move by Apple to divide app creators and preserve their monopoly on stores and payments, again breaking the promise of treating all developers equally," said Epic CEO Tim Sweeney in a statement.
"By giving special 15% terms to select robber barons like Amazon, and now also to small indies, Apple is hoping to remove enough critics that they can get away with their blockade on competition and 30% tax on most in-app purchases," he continued. "But consumers will still pay inflated prices marked up by the Apple tax."
Similarly, Apple Music competitor Spotify argues that this move is just another attempt to control the market. "Apple's anti-competitive behavior threatens all developers on iOS, and this latest move further demonstrates that their App Store policies are arbitrary and capricious," said the company in a statement.
"While we find their fees to be excessive and discriminatory," it continued, "Apple's tying of its own payment system to the App Store and the communications restrictions it uses to punish developers who choose not to use it, put apps like Spotify at a significant disadvantage to their own competing service."
"Ensuring that the market remains competitive is a critical task," said Spotify's statement. "We hope that regulators will ignore Apple's 'window dressing' and act with urgency to protect consumer choice, ensure fair competition, and create a level playing field for all."
Cause and effect of Apple's move
If it seems doubtless that Apple has made this move following criticism, and following its previous attempts to justify its App Store policies, developers don't care.
"It does seem like a coincidence to be happening so soon after the 'Fortnite' antitrust allegations," said Shihab Mehboob, developer of Aviary, "and probably quite sad that it took public outrage to kick things in, but I'm just glad it's happening."
"Some would argue that it could have come sooner, or it's a nice gesture more than anything else," said Shihab Mehboob, developer of Aviary. "But either way it impacts the vast majority of us indie developers positively and is very welcome."
"Seeing as approximately 95% of developers make under $1 million per year it doesn't hurt Apple's bottom line, but massively impacts developers and their stance for or against Apple," Mehboob continued. "And inevitably the extra 15% savings will be pumped back into the Apple ecosystem via device purchases."