Spending time with HomePod mini and why we're already hooked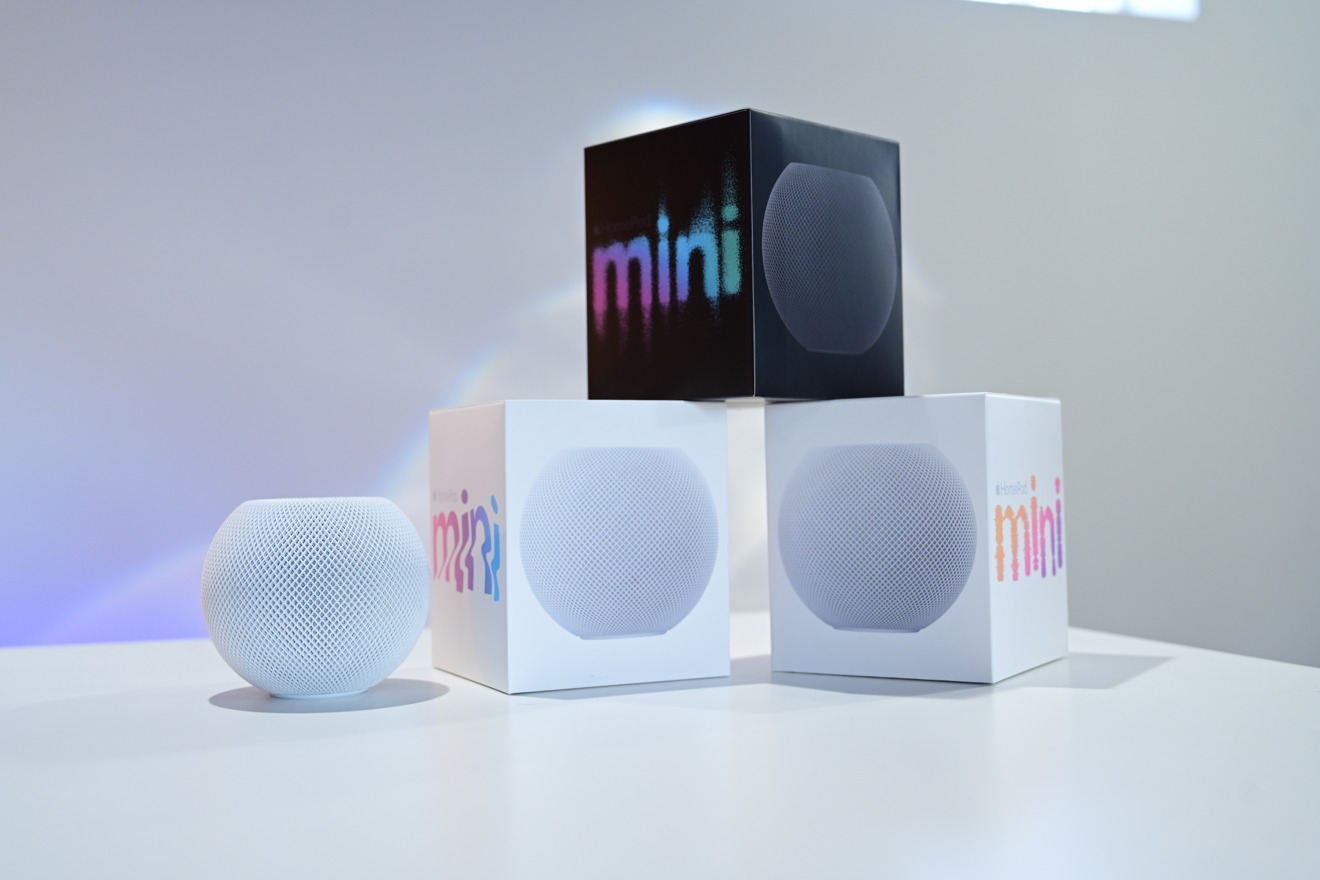 Apple's HomePod mini started to arrive at customers' doorsteps a couple days ago and we've been jamming with it ever since. Even in our limited time with the new diminutive speaker, we're already hooked.
Mini in size, not sound
Once we got our HomePod minis, we instantly noted its size. We had perused Apple's tech specs that spells out its footprint and tried Apple's AR feature to see the HomePod mini in our own home, yet we were still surprised at how small the device was. We expected it to be roughly the size of a softball, yet in real life it's just a hair larger than a baseball.
Thanks to its new smaller size it fits in far more places than the original HomePod. It fits so much better on our crowded desk, on a nightstand, on a shelf full of decor, and many places that our full-size HomePod just never could. Some rooms might need a lot of sound, but in our home, the mini works perfectly in bedrooms, the office, or our kitchen, where it fills rooms with sound.
HomePod mini certainly lacks in volume and bass compared to HomePod, but for its size the sound is very pleasing. We'd gladly listen to it over an Echo Dot.
If you do need more sound, two HomePod minis can be set up in a stereo pair for additional volume.
Apple's U1 chip
One of the as-of-yet underutilized features of HomePod mini is the U1 chip, Apple's own ultra-wideband silicon. The possibilities for this chip are vast, such as tracking users throughout the home to trigger HomeKit automation, but right now it is primarily used for HandOff.
HomePod has long supported HandOff, but it is a much better experience with HomePod mini. The transfer is near-instantaneous as you bring your phone near the speaker. We just point it at the device and the U1 chip is able to track the phone, recognize its intent, and pass off any audio you're listening to. We just sat there and played catch with our HomePod mini, sending phone calls, Apple Music, podcasts, and more to our back and forth between the speaker and our iPhone.
That U1 chip is already quite helpful in this one small task and we are excited by what Apple has in store.
Thread
Another emerging technology in the HomePod mini is support for Thread. This is a new smart home connectivity standard that has many benefits over Bluetooth, Wi-Fi, ZigBee, and Z-Wave. HomePod mini is Apple's first device to include support for Thread and so far we've had one HomeKit line launch with support for the technology.
Nanoleaf's new Essentials line includes Thread support and Eve has promised to bring Thread to its product line as well.
To test, we tried turning our light on and off a few times before setting up HomePod mini. Without Thread, it connects over Bluetooth. Our Nanoleaf Essentials Bulb was fast, but not instantaneous. Once we set up our HomePod mini — and updated to the 14.2 firmware — we noticed that the Thread-enabled device was the most responsive we've seen. As soon as we tapped the light in the Home app, the bulb responded. It was as if it was connected by a wire. Absolutely faster than Bluetooth or our Hue bulbs which rely on ZigBee.
USB-C support
The new HomePod mini is powered up by USB-C. Apple includes a 20W USB-C power brick in the box though you can use any USB-C charger that provides adequate power. Apple still considers the HomePod mini a "premium" product and helps deliver on that classification by integrating a nylon-braided cable.
One benefit of the USB-C cable is that it can be connected to your Mac and restored through Finder if need be.
The biggest benefit, though, is that the USB-C cable can connect to any large USB-C PD battery pack. We used our Zendure SuperTank Pro which has four USB-C ports and a massive capacity. Two of the four USB-C ports can output up to 100W of power and the other two still manage enough for the HomePod mini.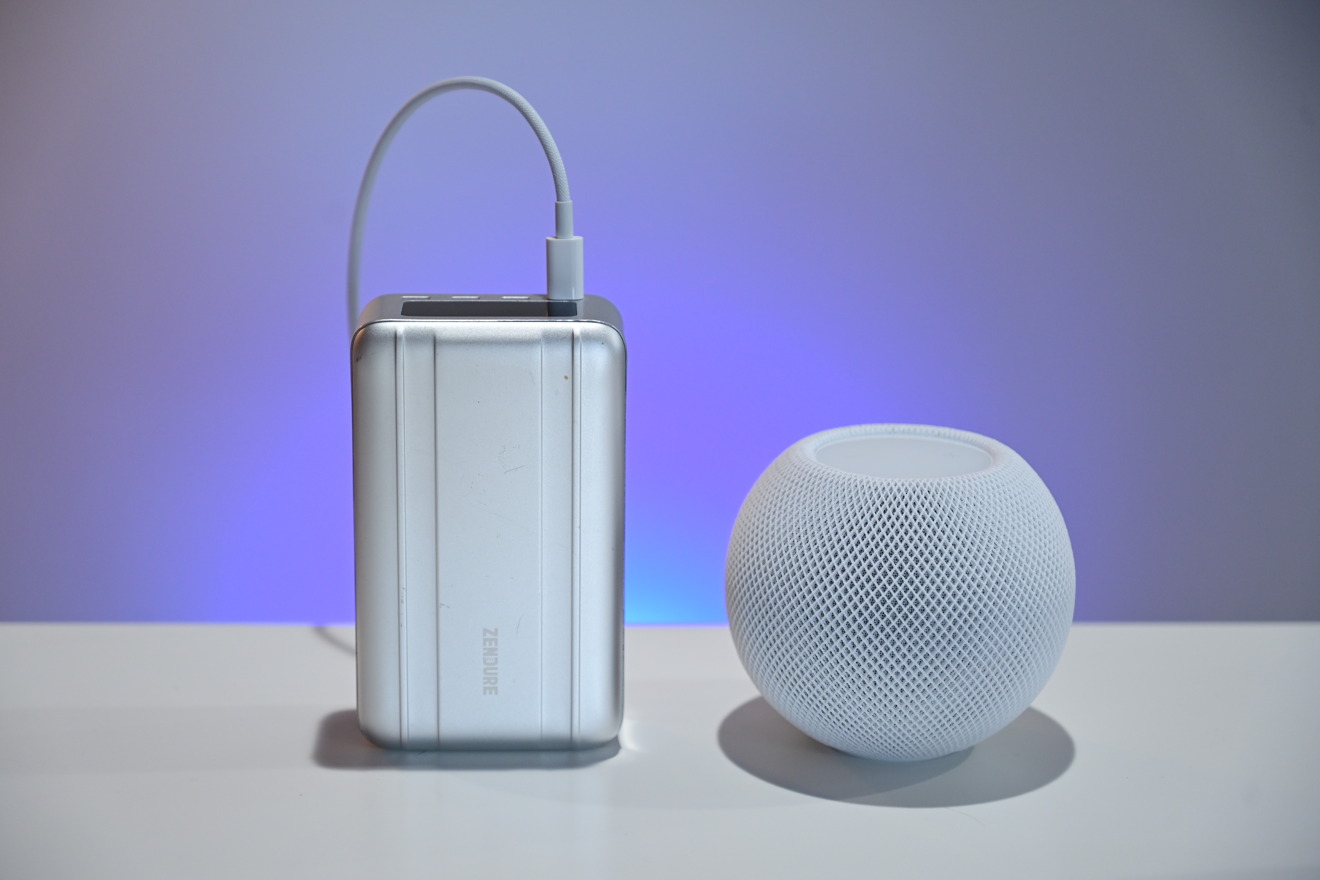 We connected our HomePod mini to our Zendure SuperTank Pro and were able to play music for hours with the battery hardly taking a hit. If you have something like the Aukey PowerStudio, you can get even longer battery life. HomePod mini doesn't support Bluetooth audio so you can't take it on the road but it will certainly travel throughout your home, on the porch, backyard, and other places that still have a Wi-Fi connection.
Where to buy Apple's HomePod mini
Apple's HomePod mini is available to purchase from Apple resellers, with the latest deals and up-to-date pricing at your fingertips in the AppleInsider HomePod Price Guide.
Stay on top of all Apple news right from your HomePod or HomePod mini. Say, "Hey, Siri, play AppleInsider Daily," and you'll get a fast update direct from the AppleInsider team.