Apple Silicon M1 Mac detection of Thunderbolt 3 eGPU gives hope for future support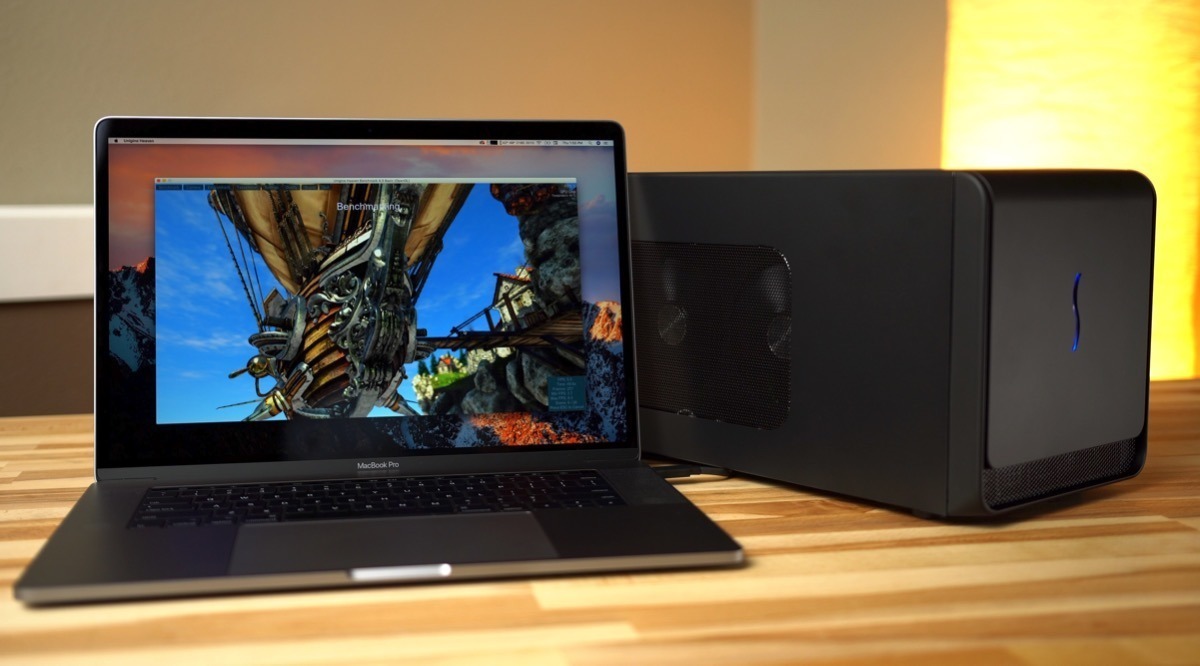 The lack of support for external GPUs in Apple Silicon M1 Macs may only be temporary, as a connected eGPU is still detected, but doesn't do anything.
The introduction of the M1-equipped Macs, including the Mac mini, MacBook Air, and 13-inch MacBook Pro promoted the on-processor GPU, but signs indicated that support for eGPUs were on the way out. Developer support documentation and later experimentation confirmed that support for non-Apple GPUs wouldn't be enabled in hardware using Apple Silicon, effectively making eGPUs largely unusable.
However, testing by Mac4Ever corroborated by AppleInsider's own trials, offers hope to eGPU owners. While eGPUs are not officially supported by the latest M1 MacBook Air, MacBook Pro, and Mac mini, macOS 11 still sees the enclosure, and the PCI-E card inside.
In plugging a Pro Display XDR into a Blackmagic eGPU inserted into a Thunderbolt 3 port, it was found the eGPU enclosure was still detected and functions. The display communicates with the MacBook Pro as normal, complete with video playback.
Additionally, AppleInsider has seen the Razer Core X, and the Sonnet eGFX Breakaway Box identify itself properly to macOS with an assortment of cards, including the RX 590, Vega 64, and Radeon VII. However, monitors connected directly the cards do nothing.
The Radeon 580 GPU included in the above enclosure isn't actively being used for graphics acceleration, nor are any of the cards we've been testing. A lack of drivers is the most obvious reason for the lack of support, but oddities in how Apple has implemented Thunderbolt or external PCI-E addressing may also be contributing factors.
This discovery leads to the possibility that Apple may reintroduce eGPU support in the future. It would have to arrive as an update to macOS Big Sur, a new M-series chip launch, or possibly both.
Apple's support for eGPUs came with a spring update to macOS Mojave — with a complete lack of support for Nvidia cards. The core technology functions properly in macOS Big Sur with an assortment of Intel Macs.