All-in-one Apple hardware and software subscription inevitable, says analyst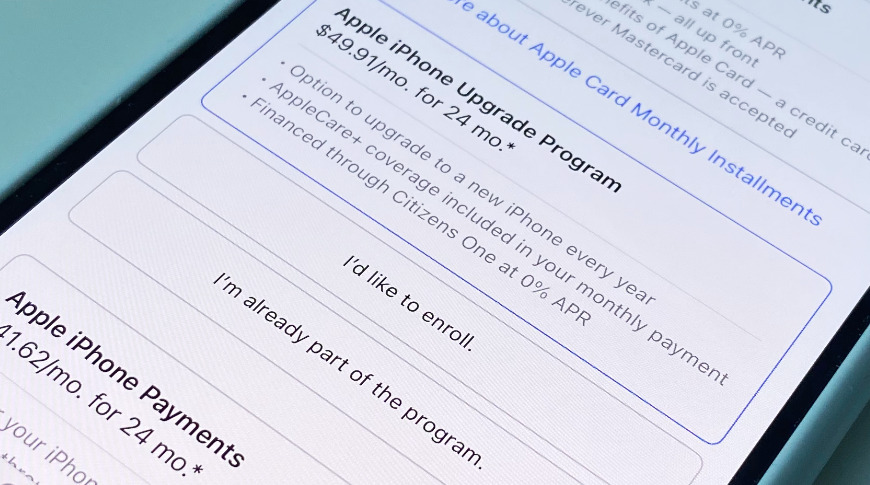 Apple is getting closer to being able to offer a bundle combining its hardware and software services in a single package, Loup Ventures analysts believe, suggesting the company may provide more options for consumers to acquire an iPad, Mac, or Apple Watch via a hardware subscription.
Presently, Apple offers the iPhone Upgrade Program to consumers, enabling participants to pay a monthly subscription fee to possess a current-generation model of the smartphone, and to update it each year as newer models come out. According to analysts Gene Munster and David Stokman of Loup Ventures, this could be expanded to cover other hardware, and possibly even software services like Apple One.
"Apple has a history of perfecting a playbook and then reapplying it to new parts of its business," the analysts start, before proposing the iPhone Upgrade Program could be reused for the Mac, iPad, and Apple Watch lines to create "hardware subscription offerings" for each range.
"Eventually, we envision the company merging its services offerings, alongside hardware subscriptions, to create a 360-degree bundle," the firm suggests. "Think of this as paying a monthly fee to Apple for most of your tech needs."
Consumer shifts
It is reckoned the move would capitalize on macro trends of "an ongoing digital transformation and changing consumer buying preferences," with Apple thought to be one of the only companies that could make it work due to their ecosystem and maintenance logistics.
For Apple, such a subscription would be great from a financial point of view, as it would increase the revenue generated by subscriptions from around 55% to approaching 85%. This could potentially increase Apple's revenue as well as representing a more stable income source than the current seasonal hardware-centric approach.
The digital transformation is apparently being accelerated by the COVID-19 pandemic, which will help push for more workers to stay at home. It is suggested that home working after the pandemic subsides will be roughly three times higher than before, while the shift of education back to schools will still require educators and parents to have the capability to move back to learning-from-home at a short notice.
"With these shifts come a greater emphasis on the reliability and utility of hardware, software, and services we depend on," the investor note reads.
As evidence of this transformation, Loup Ventures points out how Mac revenue grew 29% year-on-year in the September quarter, up from 22% in the June quarter and from the flat growth three quarters previously. The same could be said about iPad, where revenue grew 46% and 31% in the same respective quarters, whereas nine months previously the growth was around 4%.
"Going forward, we believe Mac and iPad growth rates will stabilize around 10% over the next few years," according to Loup Ventures, "representing a step up from flattish growth pre-pandemic."
On consumer purchasing habits, it is thought that this too would improve on two fronts. First, the pace of tech innovation pushes consumers into wanting to own the latest hardware, something that can be answered with subscriptions due to consumers not needing to swallow the full purchase cost in one go.
Secondly, consumers are said to be moving towards a "rent vs buy mentality," citing a survey from 2019 where 31% of Millennials use subscription services compared to 21% of Gen X consumers and 8% of Baby Boomers. The trend affects multiple industries and price levels, the firm suggests, making an all-in-one subscription more plausible.
For consumers, a subscription could offer better value, given this mentality. Using the iPhone 12 as an example, the iPhone Upgrade Program offers the prospect of annual upgrades and incorporates AppleCare for $34 per month, whereas using Apple Card for an installment plan would be $40 per month without Apple Care, making it a more expensive alternative.
Apple logistics
Apple is "uniquely positioned to expand its hardware subscriptions" from the viewpoint of servicing and maintenance. As a hardware subscription would require more "frequent exchanges between buyer and seller," there needs to be a "seamless return mechanism," something Apple already offers through its various trade-in programs.
While Google and Samsung have relatively similar products and services they each offer, Loup Ventures considers Apple to be in a far better position to perform such an all-encompassing subscription.
For Google, the rate of declining value for its hardware versus Apple's products makes it harder for the search company to do so financially, with trade-in values for hardware like the Pixel 4 versus the starting price being at around 28% while the iPhone is nearer 50%. This impacts its ability to refurbish the older hardware for resale, and the consumer's perceived value of the hardware over time.
On Samsung's side, while the trade-in offers are "in line with Apple's," the lack of integration between hardware and software is the problem. "Apple's tightly integrated ecosystem provides a better user experience and helps keep consumers loyal to its products," the note adds.
Loup Ventures concludes that for such hardware subscriptions to be adopted, the product family needs to work seamlessly together, the service infrastructure has to be in place, and hardware also needs to hold its value. "Apple is the only company that can bring all three of those together."
The note is a continuation of Munster's long-held opinion that Apple wants to be known as a services company rather than one focused on hardware. While this has largely involved years of commentary about Apple's services, this has also included the possibility of bundling "hardware and software together as value-added packages."