How to get an iPhone 12 with Apple's iPhone Upgrade Program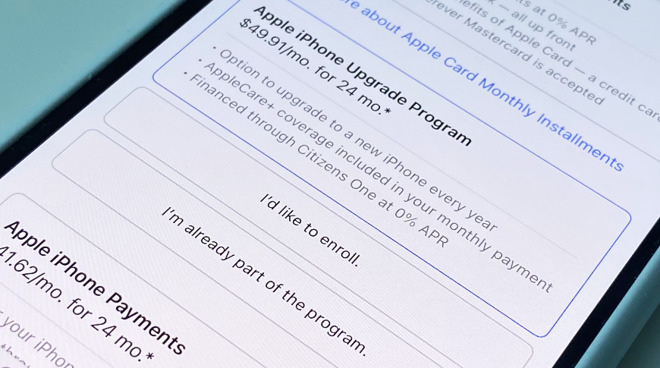 AppleInsider may earn an affiliate commission on purchases made through links on our site.
Whether you're new to the program or already on it with an iPhone 11 model, you can now move to the new iPhone 12 range with monthly payments in Apple's upgrade plan.
Now that the iPhone 12 range has been announced, Apple has added all of the new phones to its iPhone Upgrade Program. Under this program, qualifying members get to pay a monthly fee and receive not only an iPhone 12 model, but then their choice of new iPhone every year.
That is very specifically each year. While you don't have to upgrade, you also cannot before you have made 12 monthly payments. Consequently in some years, and depending on when you join the program, you may not be eligible to upgrade to the new phone on launch day.
This year's delays because of the coronavirus mean that the first iPhone 12 pre-orders are around a month later than last year's. So more existing Program users will be eligible to upgrade immediately.
If you're applying for the first time, you can sign up to iPhone Upgrade Program even before pre-ordering and shipping of all the iPhone 12 models has begun. Apple recommends signing up ahead of pre-orders so that you can then "speed through checkout" when the model you want is available.
The Program is a financial lease
Apple's website includes a promotion page regarding the iPhone Upgrade Program, and even starts the process by asking which model iPhone 12 you want to buy. However, it's an oddly pointless question as regardless of your choice, you are then told to join the Program via the Apple Store app on iPhone.
One reason for this extra step is that while the iPhone Upgrade Program operates in the same way wherever it's available, different regions have different financial requirements. In the UK, for instance, it's not possible to sign up online.
There you have to apply in an Apple Store and your credit check is done in front of you. Trust the British to create a potentially embarrassing situation.
Similarly, regions outside the US may limit your iPhone choices. The UK offers only the iPhone 12 and iPhone 12 Pro, for example, and requires a subtly different 20-month instalment agreement.
That's because regardless of where the iPhone Upgrade Program operates, it is really a lease agreement. "You're buying directly from Apple," explains the US program online. "Which means no more financing your iPhone through your carrier or committing to a multiyear service contract."
With the US, you are actually signing up for a 24-month loan. It's different to other such loans, though, in that it's 0% finance, and also after 12 monthly payments you are eligible to upgrade to the next iPhone.
How to sign up for the iPhone Upgrade Program
Open the Apple Store app on your iPhone
Tap on the iPhone section
Choose an iPhone model
Pick your color
Choose a carrier — and you must choose one, you can't select None
Choose what capacity iPhone you want
Say yes or no to whether you want to trade-in an old iPhone
Select Pay Monthly
Choose Apple iPhone Upgrade Program
Select I'd like to enroll
Choose AppleCare+ or for an additional fee AppleCare+ Theft and Loss
Choose Get Ready for Pre-Order
Really what you're doing first is going through the same steps you would to buy a new iPhone. The first exception to that may be at the carrier stage. If you select the option marked or activate with any carrier later, then you won't get the choice of the iPhone Upgrade Program later in the process.
It's not that you're locked to a carrier, though. Even though it seems so because you must pick one at this point, once you're on the program, you can swap carriers at any time.
If you join the iPhone Upgrade Program and get an iPhone, you also get AppleCare+. It is not possible to skip it. However, you can add to it with the more comprehensive AppleCare+ Theft and Loss option, which is an additional fee that gets added to your monthly instalments.
The wording on the option Get Ready for Pre-order will change once the current round of pre-orders have completed. However, it will always be a similar phrase meaning you're about to submit your order to the application system.
How that works may vary depending on where you are, but it is a regular credit check. If you pass it, you are enrolled onto the program. If you don't for any reason, you can't join the program, but Apple will of course show you any other possible options for buying, such as carrier deals.
What happens next
The costs for the iPhone Upgrade Program obviously vary depending on which phone you get. Currently with the iPhone 12 range, the program costs from $35.33 per month. However, regardless of what your monthly fee is, expect to pay the first one up front, plus any taxes.
Assuming you're approved for the program, there is one more important point. Each of the choices you made about which iPhone, what color, the capacity and the carrier, is locked — for now.
You cannot change any of these choices until the pre-order begins for your particular model. "At that time," explains Apple, "you'll be able to make changes to the model selected and your AppleCare+ coverage."
Once your iPhone 12 model is available, one will be shipped to you.
What happens after one year on the iPhone Upgrade Program
It's up to you. If you're happy with your iPhone 12 and don't happen to be very fussed about the "iPhone 13," you can simply do nothing. Unless you positively choose to upgrade, your monthly instalments just carry on as ever.
That continues to be the case for a total of 24 months since your first payment. After that time, your monthly payments cease because you now officially own the phone.
It might seem like a waste to buy this way and not then upgrade. However, if you're finance shopping, it's possible that Apple's program might just represent the best monthly cost to you.
You're more likely to have joined the program in order to upgrade, though. In which case, you do have a very easy path to upgrading — it's just remarkably similar to the one you went through to join.
How to upgrade once you're on the iPhone Upgrade Program
Wait until you have made your 12th monthly payment
Open the Apple Store app on your iPhone
Go through all the same steps of choosing your new iPhone model
That must also include picking a carrier and selecting Pay Monthly
This time, tap on I'm already part of the program
After that, you will go through another credit check. Being accepted on the iPhone Upgrade Program is not a guarantee that you will continue to be eligible for it next year.
Assuming that you are, though, you again receive your new iPhone when it's available. The process then starts again — in every sense. Your original year was really a 24-month lease that you have opted out of half way. You have now made a new deal which is again a 24-month one.
To upgrade or not upgrade
There are disadvantages to using the iPhone Upgrade Program. One is that you are carrying that AppleCare+ cost even if you don't happen to want it.
While the prices vary depending on the particular configuration of iPhone you've chosen, buying on Apple Card can mean paying less per month — if you opt not to have AppleCare+.
Another issue is that you probably joined this because you see how it's easier than paying out full price for a new iPhone every year — and you want a new iPhone every year. When you are sufficiently into Apple or technology that you change phones every year, it could be frustrating how you have to wait for precisely 12 months.
For example, you could have joined in time to buy the iPhone X when it came out on November 3, 2017. But if you did, then you couldn't have upgraded to the iPhone XS when it was released on September 21, 2018.
In that case, you'd have had to wait six weeks before you could upgrade. And joining the program any later would have increased the wait time.
Nonetheless, there is a convenience to always having the latest possible iPhone. Plus there is a convenience to paying monthly instead of outright.
Of course, if you do buy outright, then you have options for trading in or reselling when you next want to upgrade. However, there are other ways to pay monthly for an iPhone, such as through carrier or other third-party deals, and there you don't get the benefit of so easily upgrading to the next model.