Mobile ECG device firm AliveCor sues Apple for alleged patent infringement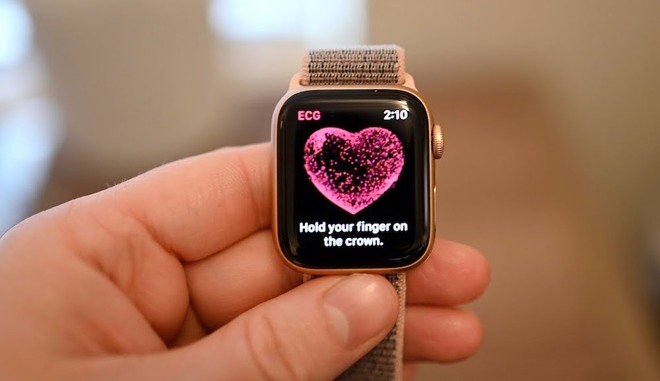 Medical device company AliveCor has levied a lawsuit against Apple alleging that the Apple Watch electrocardiogram feature infringes on a trio of its patents.
The lawsuit, lodged in the U.S. District Court for the Western District of Texas on Monday, claims that the ECG functionality on the Apple Watch Series 4 and later infringes on its intellectual property related to use wearable sensors to improve cardiac monitoring technology.
According to the complaint, AliveCor's patents — numbered 10,595,761 10,638,941, and 9,572,499 — "explain state of the art in arrhythmia diagnosis, the limitations in known diagnostic techniques and diagnostic equipment, and the need for the inventors' improvement in diagnostic techniques and equipment."
All three patents focus on monitoring for cardiac arrhythmias, or an irregular heartbeat. The patented technology includes the use of data from wearable devices to aid in diagnosing the condition.
"The claims of the [patents] are novel, unconventional and focus on specific means and methods of using specialized sensors in a wearable device to improve upon existing cardiac monitoring technology," the lawsuit reads.
AliveCor claims that Apple has knowledge of all three patents. As such, it alleges that Apple has willfully infringed, and continues to willfully infringe, on those patents with its Apple Watch line, including the Apple Watch Series 5, which is specifically named in the lawsuit.
AliveCor is the maker of various cardiac monitoring devices, and was the first to debut a consumer ECG device cleared by the Food and Drug Administration. Unlike the Apple Watch, however, use of the KardiaBand needed to be approved by a user's doctor.
After the debut of the ECG capability on the Apple Watch Series 4, AliveCor pulled the KardiaBand from sale, saying it was focused on expanding capabilities in its other mobile cardiac monitoring systems.
The lawsuit on Monday asks for an enjoinment on Apple's alleged infringement, as well as damages, attorney fees, and other legal costs.