Apple Fitness+ workouts arriving on December 14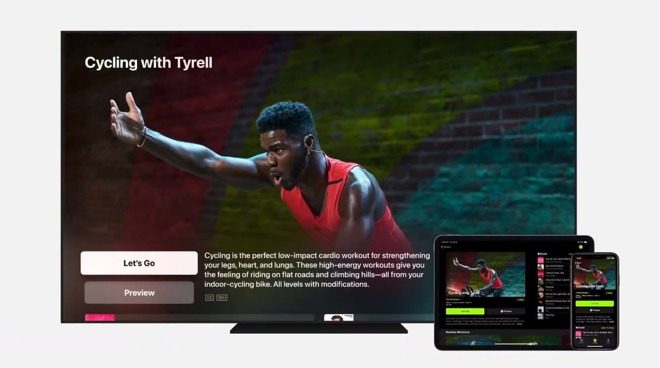 AppleInsider may earn an affiliate commission on purchases made through links on our site.
Apple Fitness+, the iPhone maker's workout app offering Apple Watch-connected video workouts, will be launching on December 14 with a collection of 10 workout types.
First introduced during the "Time Flies" event, Apple Fitness is an app meant to allow users to work out at home or wherever they are, with the added bonus of live feedback. Workouts will be played as a video on an iPhone, iPad, or Apple TV, with the studio workout hosted by a roster of trainers.
Rather than just providing a video stream to watch and follow along with, Apple Fitness+ will also keep track of a user's progress by tapping into sensors on the Apple Watch. Metrics from the Apple Watch will be displayed on the screen as an overlay, so users can easily see how their body is coping without needing to look away from the larger screen to their wearable device.
The data will also be used to ensure the user is sticking to the workout routine being shown, to keep movements in time with the instructor. Notifications about reaching fitness goals on their rings and other items will also be displayed.
For some workouts, including HIIT, Treadmill, Cycling, and Rowing, an optional Burn Bar will show onscreen, comparing the user's effort against anyone else who has previously completed the same workout. This may benefit some competitive users, as they try to get to the higher end of the bar.
A new tab will appear in the Fitness app dedicated to the Fitness+ workouts, offering users the chance to explore what's on offer. These also include Getting Started videos for the Rowing, Cycling, and Treadmill workouts, to help with setting up equipment and advising on proper form and technique.
Activity Sharing is also available, so family and friends can see others complete workouts, while workouts can also be shared to the user's social media accounts.
As music is a core part of a workout, users can select between nine different musical styles to listen to throughout the workout, and can also look at the full workout playlist before commencing. While an Apple Music subscription isn't required to listen to the music in Fitness+, subscribers will be able to access songs played and entire playlists via the service.
The first wave of exercises offered in the app consist of:
High Intensity Interval Training (HIIT)
Strength
Yoga
Dance
Core
Cycling
Treadmill (for running and walking)
Rowing
Mindful Cooldown.
Many of the workouts are able to be performed anywhere the user has space and time, using their Apple devices, with most not needing any extra equipment or simply a set of dumbbells. For routines requiring specific equipment, such as a treadmill, exercises can be done on hardware from any manufacturer.
Workouts are offered in increments of 10, 20, 30, and 45 minutes, allowing users to have a long workout or a quick one if time is a pressure.
Apple Fitness+ will cost $9.99 per month or $79.99 per year, is also available as part of the Apple One subscription, and is offered with Family Sharing enabled. Existing Apple Watch owners will be able to use it free for one month, with three months available for new purchases of the Apple Watch Series 3 or later.
The app will require a combination of iOS 14.3, watchOS 7.2, iPadOS 14.3, or tvOS 14.3 to function.