Plugable announces the availability of a new 7-in-one hub with Ethernet and 4K 30Hz capabilities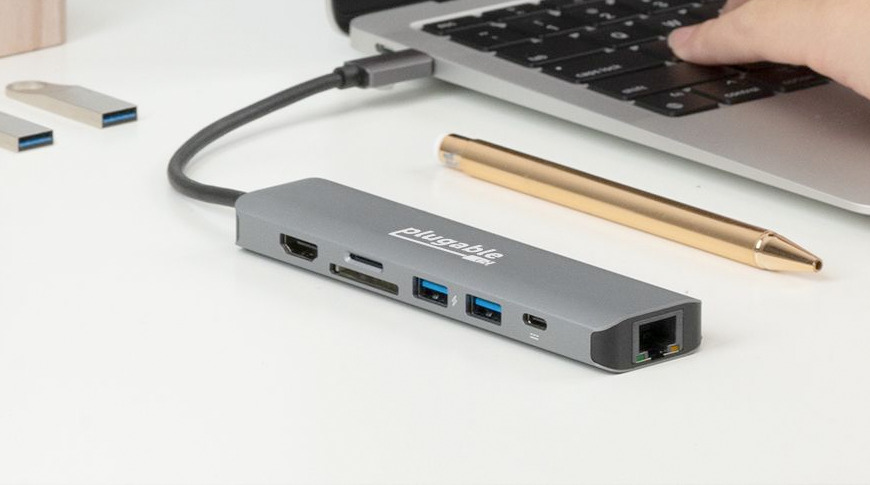 Plugable has launched a new USB-C hub to provide users with seven commonly used ports, including Ethernet, HDMI, and USB-A 3.0 ports.
While we love our MacBooks, there are times when the included ports just aren't enough. That's why we always keep an eye out for great docks and hubs.
Accessory-maker Plugable has just released a new 7-in-1 USB-C Hub, dubbed the USBC-7IN1E. Its small size allows it to be easily placed within a bag, making it the perfect travel accessory for creatives on the go.
The USBC-7IN1E includes a gigabit Ethernet port for fast data transfer, SD card and microSD card slots, and two USB-A 3.0 ports for legacy devices.
Additionally, it includes one 4K HDMI port, capable of supporting an additional display at resolutions of up to 3840x2160 at 30Hz. If you've got a device that supports DisplayPort 1.4, such as a Microsoft Surface Pro, the USBC-7IN1E can support an HDMI display at 4K at 60Hz.
It also includes an 87W Power Delivery pass-through charging port, keeping your computer charged up without needing to use a separate port on your device.