WhatsApp to require Face ID and Touch ID when syncing to Mac app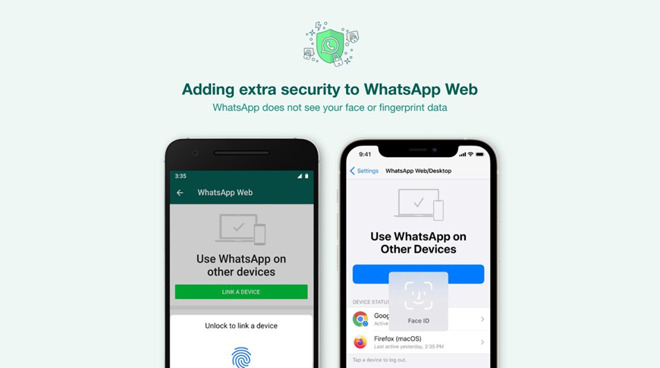 AppleInsider may earn an affiliate commission on purchases made through links on our site.
WhatsApp Web and WhatsApp Desktop are getting a significant security boost as developers roll out support for biometric authentication when syncing messages.
Starting on Thursday, WhatsApp announced that they would begin rolling out a new security feature that allows users to require biometric verification — such as Face ID or Touch ID — before syncing messages between the desktop or web versions of WhatsApp.
When syncing WhatsApp mobile with WhatsApp Desktop or WhatsApp Web, users will be asked to use biometrics before scanning the QR code required to sync between devices.
This security measure is especially handy, preventing anyone with access to your phone from easily syncing your account to their computer or browser.
WhatsApp makes a particular point of noting that the app has no access to your biometric information, such as face or fingerprint data.
Users will need to follow WhatsApp's guide to log out of their browser and desktop-based versions of WhatsApp, which will allow them to resync with the additional layer of security.
Mark Zuckerberg told analysts on a recent Facebook earning call that Apple was using its position and platform to dominate other services. He later stated that WhatsApp is more secure than Apple's Messages and that he sees Apple as one of Facebook Inc's biggest competitors.
In December, a WhatsApp spokesperson claimed that Apple's new privacy nutrition labels were anticompetitive, despite the fact that Apple includes privacy labels for its own apps as well.