Watch Tim Cook address data privacy at CPDP conference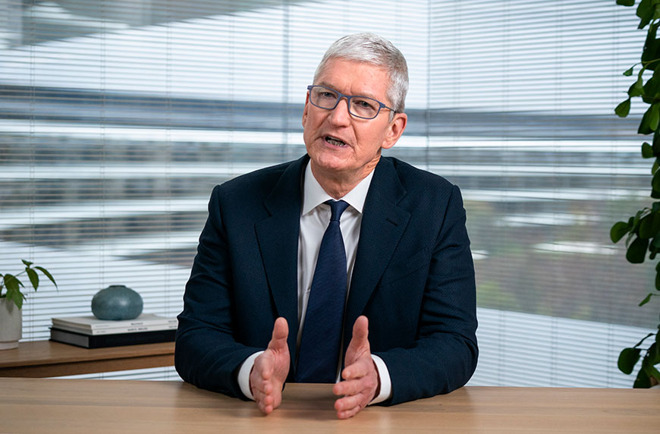 AppleInsider is supported by its audience and may earn commission as an Amazon Associate and affiliate partner on qualifying purchases. These affiliate partnerships do not influence our editorial content.
Apple on Tuesday published a video of CEO Tim Cook's opening remarks at last week's European Computers, Privacy & Data Protection (CPDP) conference in Brussels, an annual gathering that focuses on privacy and technology.
In the 12-minute video, which originally aired online on Jan. 28, Cook addresses a number of pressing issues related to data privacy and information security. The Apple chief also criticized companies that benefit from gathering customer data, a thinly veiled attack on Facebook.
"At a moment of rampant disinformation and conspiracy theories juiced by algorithms, we can no longer turn a blind eye to a theory of technology that says all engagement is good engagement — the longer the better — and all with the goal of collecting as much data as possible," Cook said. "Too many are still asking the question, how much can we get away with?,' when they need to be asking, what are the consequences?'"
He later added, "A social dilemma cannot be allowed to become a social catastrophe."
In his CPDP speech, Cook outlined Apple technologies and efforts to curtail tracking and unwanted snooping, cogs in a larger privacy push that has become a major initiative at the company in recent years. App Tracking Transparency is one tool in Apple's arsenal.
Announced last year and initially slated to debut with iOS 14, ATT opts users out of ad tracking services by default and requires developers to obtain explicit permission before applying tracking tools. Apple will begin to enforce the new rules in early spring, potentially with the release of iOS 14.5.
Facebook bristled at the prospect of obtaining user consent to ad tracking, arguing that ATT will negatively impact business reliant on ad revenue. The social network is reportedly considering an antitrust complaint over the iOS change, but for now is content to argue the matter in the court of public opinion.
Cook also discusses legal reform and Europe's GDPR in the speech.