'Servant' producer M. Night Shyamalan to host Reddit AMA this week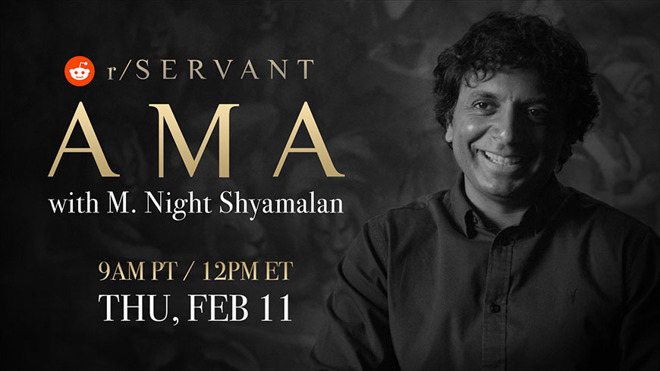 AppleInsider may earn an affiliate commission on purchases made through links on our site.
M. Night Shyamalan, executive producer of Apple TV+ original "Servant," is slated to host a Reddit "Ask Me Anything" session on Thursday, Feb. 11, to discuss the show and the wider horror genre.
In his first ever Reddit AMA, Shyamalan will interact with fans in a real-time question-and-answer session scheduled for noon Eastern. True to its name, the AMA will allow fans and viewers to query the director about anything, though subject matter is expected to revolve around "Servant" and moviemaking, Apple says.
Shyamalan has directed three of the show's episodes, including last week's which was the fourth of season two. He also serves as executive producer and has become the de facto public face of the production.
With the release of many Apple TV+ original series pushed back or otherwise delayed due to the ongoing coronavirus pandemic, Apple has over the past few weeks pushed "Servant" on social media and through its official Apple TV+ YouTube channel. The first episode of season two aired on Jan. 15.
Shyamalan has been making the rounds with press outlets. In January, the director discussed his experience with Apple, saying the tech giant has been "super supportive" throughout the production process.
"Just been an excellent relationship and given us a chance to tell a very unique story in a very singular way," he said in an interview with 3rd Hour Today.
Shyamalan also talked about his daughters, Saleka and Ishani, both of whom contributed to "Servant" in its second season. Saleka wrote and performed a song for the show, while Ishani wrote and directed two episodes including its finale.
"Servant" will see weekly episodes released on Apple TV+ through March. Shooting for the third season is expected to begin that same month.