Rumor: Apple's MagSafe battery pack for iPhone could support reverse charging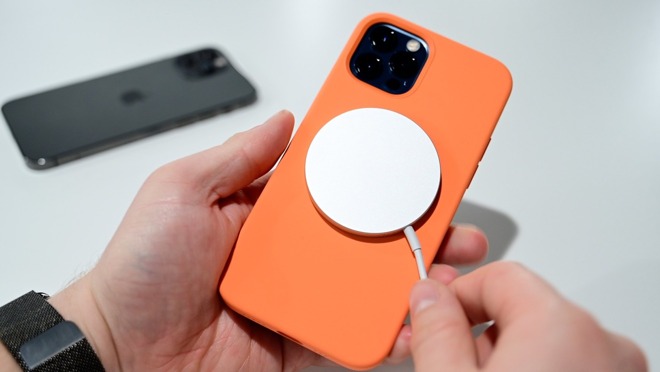 Apple is rumored to be developing two MagSafe battery pack models for iPhone 12, one of which could support reverse charging, or accepting power from iPhone, while on the go.
Serial leaker Jon Prosser aired the supposed details in an episode of the Genius Bar podcast on Monday, saying Apple is working on two MagSafe battery pack variants. According to his sources, a more feature-rich "premium" model will integrate reverse charging, also known as bilateral wireless charging, though it is unclear if Apple intends to bring both battery pack versions to market.
A Federal Communications Commission filing published shortly after the iPhone 12 series debuted last year revealed Apple's MagSafe protocol supports bilateral charging. Previously rumored for introduction with iPhone 11 in 2019, the hardware feature enables smartphones to use their inductive charging coil to juice up smaller accessories or even other phones.
Prior speculation suggested Apple would roll out bilateral charging on iPhone as a method of powering up AirPods. How or why reverse charging would be beneficial for a small format battery pack remains unclear, especially considering the energy lost during the wireless charging process.
Prosser offered no further details on the matter, but said he would have renders of the two devices ready later this week.
A novice Apple leaker, Prosser has somewhat of a mixed track record when it comes to predicting product launches. That said, his sources have in the past delivered highly accurate information regarding hardware specifications and design.
While Apple has not announced work on a branded mobile charging accessory for iPhone, code discovered in the second iOS 14.5 beta references a "battery pack" that points to a MagSafe-compatible device. A subsequent report confirmed the company is developing a standalone charging device for iPhone, but the project currently faces engineering hurdles and is not expected for release anytime soon.