Apple's 2021 iPhone build orders higher than they've been in years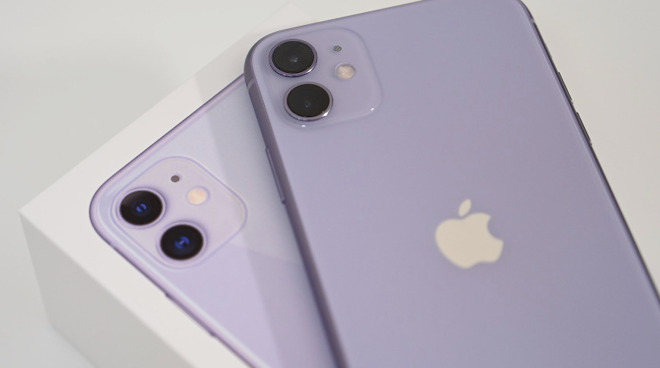 AppleInsider may earn an affiliate commission on purchases made through links on our site.
Apple's success with the iPhone 12 and iPhone 12 Pro is continuing to exceed analyst expectations, with orders climbing by over 50% year-over-year.
The iPhone 12 has been praised repeatedly for being a high-seller by analysts and industry observers, making Apple the top smartphone seller in Q4 2020. According to an investor note from Cowen seen by AppleInsider, that high demand is translating into increased orders to the Apple supply chain.
After discounting claims of "near-term trimming in builds," Cowen has revised its iPhone build estimate for the March 2021 quarter upward for the fourth month in a row. While Cowen's estimate was 55 million in January, it has risen by 2 million to 57 million units in the quarter.
This increase of units is said to be a 54% year-on-year increase from iPhone builds in the same quarter in 2020.
The main drivers for demand are the iPhone, with the iPhone 12 and iPhone 12 Pro claimed to be increasing the count by 1 million units apiece.
China is also a big influence, with demand said to be "healthy in the current environment." Figures from CAICT are said to show approximately 6.4 million iPhone units were sold in January alone, a rise of 157% year-on-year.
The industry as a whole saw monthly smartphone shipments to China increase 93% year-on-year to 40.1 million units for January, with the Lunar New Year increasing demand. Of the 6.4 million foreign brands in the mix, iPhone is thought to compromise "a significant portion" of those sales.
For the following June 2021 quarter, Cowen does feel that Apple will reduce iPhone build orders, but not to the same level as 2020. Its initial forecast of 44 million units in the quarter is up 26% year-on-year.
Current forecasts could lead to Apple producing 101 million iPhones in the first half of 2021 alone, well above market expectations of 90 million.
As for December quarter builds, Cowen claims Apple achieved 79 million units, up 13% year-on-year. Full-year 2020 builds totaled 193 million, up 3% year-on-year.
iPhone demand's supply chain impact
Despite the higher shipments of iPhones, the analyst's expectations of semiconductor firms in the Apple supply chain remain unchanged.
For Broadcom, its upcoming results are expected to be heavily impacted by Apple's sales. In its previous earnings call, it reported a segment contraction of 9% year-on-year due to a later than typical Phone launch, which could be beneficial for the later quarter's result.
STMicroelectronics is benefiting heavily from Apple's wireless charging features, with Apple a 23.9% customer for 2020. STM revenue is up 45% year-on-year from 2019, when Apple only made up 17.6% of its client base.
Apple makes up approximately 75% of Cirrus Logic's revenue, meaning it is more exposed to Apple's sales changes. With the inclusion of its closed-loop components in the "iPhone 13," Cirrus Logic is expected to see revenue growth of 7% in 2021.