How to block channels in Apple News - and try to keep them blocked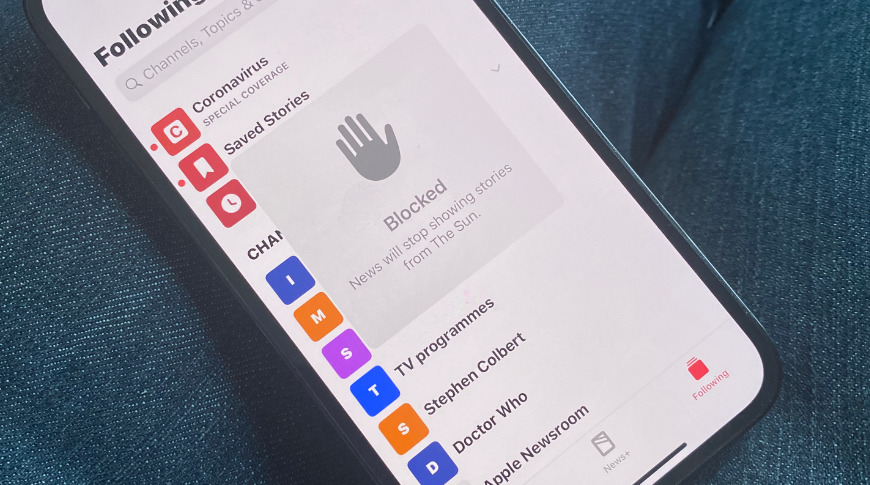 It's supposed to be simple enough to tell Apple News that you don't want to read a particular channel or publication, but in practice you have to keep telling it. Here's what to do.
Whether you're using the free Apple News app or the paid Apple News+ one, the service is meant to configure itself to suit you. If you live for sports, you will come to see a lot of sports stories. And if you don't, soon enough there won't be any sports news for you at all.
There is a bit of an issue over how this means we only see the news we like, but beyond that, it also means that there's always something good to read. Except if this is true at the level of articles, it doesn't seem to be true at the level of channels or publications.
You have to take steps to positively say you don't want a certain channel to show up. And unfortunately, Apple News seems to have a problem remembering this — and it most definitely has a bug.
For some reason, this bug has only become noticeable in the last few months, and chiefly on the iOS version. You've blocked a channel and Apple News does not show you any articles from it — but keeps showing you that there are such articles.
"You blocked The Sun," the app will repeatedly say. "Show story anyway?"
This message takes up the same amount of space that an article's headline and image would. Where the story would have taken up most of your iPhone screen, a white background with this message takes up most of your iPhone screen instead.
Consequently, it's impossible to miss — and especially so on a day when Apple News editors have picked out multiple stories from that channel.
Unfortunately it's also impossible to eradicate this permanently. There are steps, however, that you can work through to reduce how often it happens.
How to block any channel or publication on Apple News
On your iPhone or iPad, scroll until you find an article from the channel
Press and hold on it until a pop-up menu appears
First tap on Suggest Less Like This
Then hold on the article to bring up the menu again
Now scroll down and select Block Channel
In System Preferences, choose News
Tap to turn on Restrict Stories in Today
In theory, you're now done. That last part about restricting stories in the Today view is a bit of a blunt hammer that reduces everything you see. But, seemingly, that will include stopping these channels turning up.
However, in practice, these steps are not enough. Whether you block a channel or unblock it, it's as if Apple News can't tell. A newly un-blocked channel will stay blocked, and a newly blocked one will keep annoying you.
It's exasperating if you want to read a previously blocked channel, and practically antagonizing when you want to get rid of one. Given that at present, Apple has not commented on how this works, nor is there a foolproof way to prevent it happening, there are some last steps you can take to help.
What to do when Apple News won't block a channel
Make sure you have blocked it separately on all of your devices
Force quit and restart the Apple News app on each device
Restart each device
You shouldn't have to do this to make an app do what it says it will do. And sometimes in AppleInsider testing, blocking a channel has actually worked.
More often, though, if you are getting this problem then you keep getting it. The final option, recommended in various Apple support discussion forums, is to delete the Apple News app and re-install it.