Apple CEO Tim Cook 'can't wait' for employees to return to Apple Park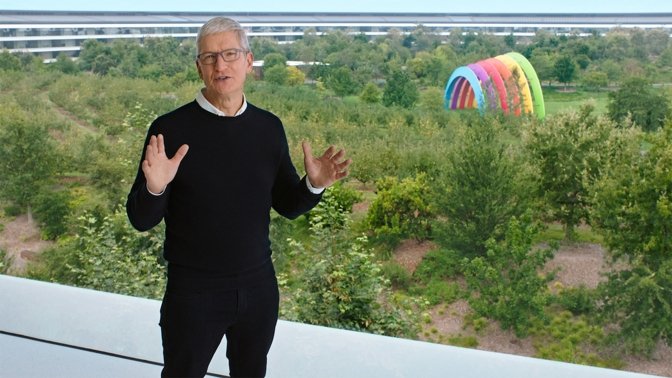 AppleInsider may earn an affiliate commission on purchases made through links on our site.
Apple CEO Tim Cook says he "can't wait" for employees to return to in-person work as the company charts a course to make that happen.
In an interview with People covering topics ranging from his personal routine to a post-pandemic return to the office, Cook touted the benefits of in-person interaction for Apple staffers
"My gut says that, for us, it's still very important to physically be in touch with one another because collaboration isn't always a planned activity. Innovation isn't always a planned activity," Cook said. "It's bumping into each other over the course of the day and advancing an idea that you just had. And you really need to be together to do that."
The Apple chief executive said that he expects the company to implement a "hybrid environment" within the coming months. He admitted, however, that the company is figuring out how to maintain social distancing with the open office floor plan at Apple Park.
When the coronavirus pandemic first hit in 2020, Apple and other technology companies were among the first to move to remote work. Cook was quick to point out how much Apple accomplished, even while maintaining social distancing.
"You look back, and the shutdown occurred in mid-March. Post that, we had this enormous, prolific product period, [introducing] the first 5G iPhone. We introduced the M1 chip in the Mac. These are major, major accomplishments," Cook said.
"We did all of that while reinventing the way we were working. We're very much an in-person team because we believe that's best for collaboration. But we knew that was no longer possible, or not possible for this period of time. And so we had to reinvent ourselves. And I really give the team credit for really rising to the occasion," Cook said.
Even after the pandemic is over, Cook says that the company has "realized and learned that are some things that are perfectly great to do virtually across Zoom or WebEx, whatever, or FaceTime, whatever you might have."
Despite that, Cook says he's excited for the return to business as usual for Apple staffers, saying that "largely, I think that we're going to be back at work again, and I can't wait until that happens."