Hands On: The Nomatic Navigator bags transport your tech with sleek style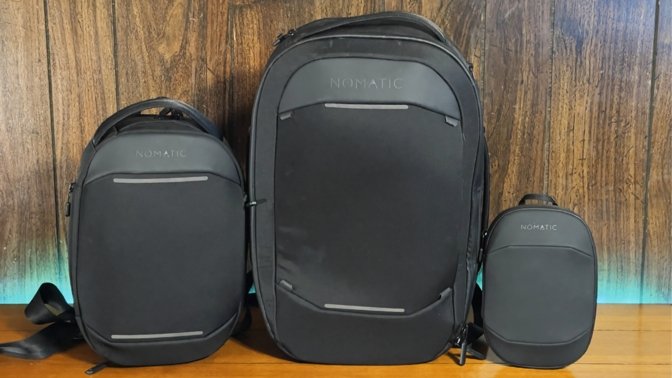 The Nomatic Navigator 15L Backpack, 6L Sling, and Tech Organizer are premium bags for transporting your tech while keeping a slim and modern look.
Nomatic has been making backpacks, luggage, and tech accessories for years. The latest Navigator series has a minimalist design, more durable materials, and a multitude of small features that add up to amazing products.
These premium bags were made with protecting expensive gear in mind, with padded compartments and tamper-proof zippers used to keep your Apple gear safe.
Nomatic Navigator 15L Backpack
This slim backpack can hold everything you'd need for a day trip or overnight stay. If 15L isn't enough, unzip an external compression zipper and expand the main section by 6L.
Main Compartment
The main compartment has 5 mesh pockets, a large zippered pocket, and an RFID safe pocket.
The small mesh pockets are perfect for holding small objects like mice or power adapters. The large pockets at the bottom of the bag are not great for much, however, whatever you store in the compartment itself will press against these pockets.
We tested multiple packing options, including what you'd need for an overnight stay or a commute to work. There was plenty of space for a change of clothes, AirPods Max, and a game controller.
The available 6L of expansion helped this bag overcome its smaller size, and everything fit snugly.
This bag is not meant to hold everything you own, but the available pockets and spacious main compartment hold enough for its size. Even with the bag packed full, it didn't distort its shape or get uncomfortable to wear.
Other compartments
The front compartment has a small zippered pocket inside for securing small documents or cards. There is a buckle that will hold your keychain in place as well.
Perhaps one of the more unique features of the bag is the water bottle compartment. Rather than having a pocket on the outside of the bag, there is an isolated compartment on the inside of the bag. Slip your water bottle in here and it will be hidden from view, but maintains the sleek external shape of your bag.
The drawback of this design is that it takes up internal compartment space. The compartment has to be unzipped any time you want to grab the water bottle too.
If anything spills inside of the water bottle compartment, it will drain out of a hole in the bottom of the bag.
We've enjoyed using this bag over the past few weeks and highly recommend it to anyone looking for a great premium backpack. The Nomatic Navigator 15L Backpack is available to purchase on Amazon for $249.99.
Nomatic Navigator 6L Sling
For the 6L Sling, Nomatic took the design from the 15L backpack and shrunk it down a few notches. It has the same great design and comfort as its bigger companion with a few tricks to compensate for space.
This bag is perfect for a day out in town or grabbing while on a quick errand. Its small size will fit in anywhere while carrying anything you'd want for a few hours.
The bag can't hold anything larger than an 11-inch tablet, but it has space for bulky cases in the tablet compartment. We tested the bag as a carrying case for the 11-inch iPad Air 4 and some accessories.
We packed the bag with an iPad Air 4, AirPods Max, a charging hub, cables, and a game controller with space to breathe. It fitted in everything we'd want to take for a brief visit with a friend or a bus ride through town.
Compartments
The main compartment has two mesh pockets, one zippered pocket, and one RFID safe pocket. The pockets are roomy and leave plenty of space in the middle for other objects.
The tablet compartment has two small pockets that can hold a tiny notebook or cables for the tablet. The front pocket has a buckle for keys and space for a phone or wallet.
A card slot is built into the strap for quick access to a transit pass or ID. You can clip a stabilizing strap to the main strap while riding a bike, so the bag is more secure.
There is a hidden water bottle pocket that can be pulled out of the bag when in use. Unlike the 15L backpack, this is a more traditional water bottle holder that can be put away.
Of the bags in this roundup, we've enjoyed this one the most. Between its small size and just-right storage space, we love how easy it is to grab this bag and go. The Nomatic Navigator 6L Sling is available to purchase on Amazon for $129.99.
Nomatic Navigator Tech Organizer
The Tech Organizer is a simple carrying case for your cables and accessories. Rather than transferring each cable, power adapter, and dongle every time you'd like to switch bags, just use this case.
We used the Tech Organizer alongside the Navigator backpack and sling and loved the versatility of the case. It can fit in either bag when space isn't a concern, or it can be attached to a strap or carabiner safely.
The durable-waterproof material of the case and snug pocket design will keep your accessories safe in either situation.
When you open the Tech Organizer, you are met with three zippered compartments made of clear plastic material. We are not fans of how opaque the material is, but it has proven to be durable while holding small devices that might have sharp edges like adapters or docks.
Turn the middle divider over and it has three elastic pockets for holding wound-up cables. We've opted for Lightning, USB-C, and MagSafe during our testing.
The main compartment is deep and has two mesh pockets. We've been carrying the Satechi GaN 100W charging hub in this section.
We love the idea of having one tech case to carry all of our necessary chargers and dongles in one space. The Nomatic Navigator Tech Organizer is available to purchase on Amazon for $59.99.