Weekend steal: $899 M1 MacBook Air is back at Amazon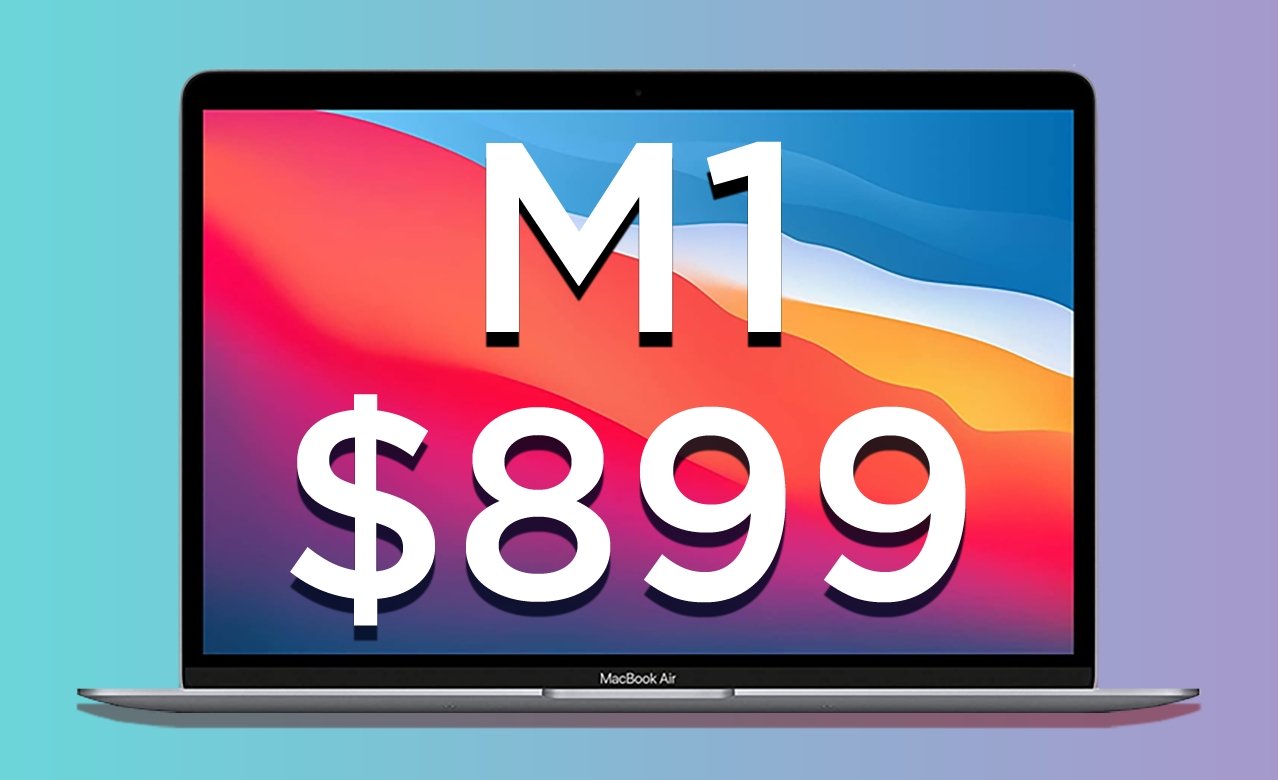 Apple's current MacBook Air with the speedy M1 chip is back on sale for $899 at Amazon heading into the Mother's Day weekend.
$899 M1 MacBook Air is back
Shoppers looking for the best MacBook Air deal can pick up the standard model with 8GB of RAM and a 256GB SSD at Amazon for just $899.99. This $100 weekend discount marks the return of the cheapest M1 Air price we've seen to date, with all three finishes eligible for the $899.99 price.
A great gift idea for graduating students, units are in stock and ready to ship at press time. And if you're wanting to future proof your Air purchase by opting for 16GB of RAM or additional storage, AppleInsider has exclusive coupon deals available on every CTO model in our M1 MacBook Air Price Guide.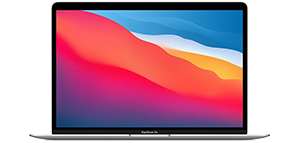 M1 MacBook Air Prices
---
Configurations
Discount
M1, 8GB, 256GB, 7-core GPU Space Gray

$999.00

$935.00

Coupon

Price with $64 promo code APINSIDER. As always, if you have any issues, you can reach out to us at [email protected] and we'll try and help.

$948.00

$899.99

$949.00

$949.99

$999.00

$994.00
$99.01
MacBook Air (M1, 8GB, 256GB, 7-core GPU) Silver

$999.00

$935.00

Coupon

Price with $64 promo code APINSIDER. As always, if you have any issues, you can reach out to us at [email protected] and we'll try and help.

$948.00

$899.99

$949.00

$949.99

$949.00

$994.00
$99.01
MacBook Air (M1, 8GB, 256GB, 7-core GPU) Gold

$999.00

$929.00

Coupon

Price with $70 promo code APINSIDER. As always, if you have any issues, you can reach out to us at [email protected] and we'll try and help.

$948.00

$899.99

$949.00

$949.99

$949.00

$994.00
$99.01
MacBook Air (M1, 8GB, 512GB, 8-core GPU) Space Gray

$1,249.00

$1,185.00

Coupon

Price with $64 promo code APINSIDER. As always, if you have any issues, you can reach out to us at [email protected] and we'll try and help.

$1,186.00

$1,099.99

$1,199.00

$1,199.99

$1,199.00

$1,244.00
$149.01
MacBook Air (M1, 8GB, 512GB, 8-core GPU) Silver

$1,249.00

$1,135.99

Coupon

Price with $64 promo code APINSIDER. As always, if you have any issues, you can reach out to us at [email protected] and we'll try and help.

$1,186.00

$1,099.99

$1,249.00

$1,199.99

$1,249.00

$1,244.00
$149.01
MacBook Air (M1, 8GB, 512GB, 8-core GPU) Gold

$1,249.00

$1,099.00

Coupon

Price with $50 promo code APINSIDER. As always, if you have any issues, you can reach out to us at [email protected] and we'll try and help.

$1,186.00

$1,099.99

$1,149.00

$1,199.99

$1,162.00

$1,244.00
$150.00
MacBook Air (M1, 8GB, 512GB, 7-core GPU) Space Gray

$1,199.00

$1,119.00

Coupon

Price with $80 promo code APINSIDER. Plus, save $40 on AppleCare with the same code. As always, if you have any issues, you can reach out to us at [email protected] and we'll try and help.

$1,132.00

n/a

$1,199.00

n/a

n/a

n/a
$80.00
MacBook Air (M1, 8GB, 512GB, 7-core GPU) Silver

$1,199.00

$1,119.00

Coupon

Price with $80 promo code APINSIDER. Plus, save $40 on AppleCare with the same code. As always, if you have any issues, you can reach out to us at [email protected] and we'll try and help.

$1,132.00

n/a

$1,199.00

n/a

n/a

n/a
$80.00
M1, 8GB, 512GB, 7-core GPU Gold

$1,199.00

$1,149.00

Coupon

Price with $50 promo code APINSIDER. As always, if you have any issues, you can reach out to us at [email protected] and we'll try and help.

$1,132.00

n/a

$1,199.00

n/a

n/a

n/a
$67.00
MacBook Air (M1, 8GB, 1TB, 7-core GPU) Space Gray

$1,399.00

$1,349.00

Coupon

Price with $50 promo code APINSIDER. As always, if you have any issues, you can reach out to us at [email protected] and we'll try and help.

$1,321.00

n/a

$1,399.00

n/a

n/a

n/a
$78.00
MacBook Air (M1, 8GB, 1TB, 7-core GPU) Silver

$1,399.00

$1,349.00

Coupon

Price with $50 promo code APINSIDER. As always, if you have any issues, you can reach out to us at [email protected] and we'll try and help.

$1,321.00

n/a

$1,399.00

n/a

n/a

n/a
$78.00
MacBook Air (M1, 8GB, 1TB, 7-core GPU) Gold

$1,399.00

$1,349.00

Coupon

Price with $50 promo code APINSIDER. As always, if you have any issues, you can reach out to us at [email protected] and we'll try and help.

$1,321.00

n/a

$1,399.00

n/a

n/a

n/a
$78.00
MacBook Air (M1, 8GB, 2TB, 7-core GPU) Space Gray

$1,799.00

$1,749.00

Coupon

Price with $50 promo code APINSIDER. As always, if you have any issues, you can reach out to us at [email protected] and we'll try and help.

$1,698.00

n/a

$1,799.00

n/a

n/a

n/a
$101.00
MacBook Air (M1, 8GB, 2TB, 7-core GPU) Silver

$1,799.00

$1,749.00

Coupon

Price with $50 promo code APINSIDER. As always, if you have any issues, you can reach out to us at [email protected] and we'll try and help.

$1,698.00

n/a

$1,799.00

n/a

n/a

n/a
$101.00
MacBook Air (M1, 8GB, 2TB, 7-core GPU) Gold

$1,799.00

$1,749.00

Coupon

Price with $50 promo code APINSIDER. As always, if you have any issues, you can reach out to us at [email protected] and we'll try and help.

$1,698.00

n/a

$1,799.00

n/a

n/a

n/a
$101.00
MacBook Air (M1, 16GB, 256GB, 7-core GPU) Space Gray

$1,199.00

$1,149.00

Coupon

Price with $50 promo code APINSIDER. As always, if you have any issues, you can reach out to us at [email protected] and we'll try and help.

$1,138.00

n/a

$1,199.00

n/a

n/a

n/a
$61.00
MacBook Air (M1, 16GB, 256GB, 7-core GPU) Silver

$1,199.00

$1,149.00

Coupon

Price with $50 promo code APINSIDER. As always, if you have any issues, you can reach out to us at [email protected] and we'll try and help.

$1,138.00

n/a

$1,199.00

n/a

n/a

n/a
$61.00
MacBook Air (M1, 16GB, 256GB, 7-core GPU) Gold

$1,199.00

$1,149.00

Coupon

Price with $50 promo code APINSIDER. As always, if you have any issues, you can reach out to us at [email protected] and we'll try and help.

$1,138.00

n/a

$1,199.00

n/a

n/a

n/a
$61.00
MacBook Air (M1, 16GB, 512GB, 7-core GPU) Space Gray

$1,399.00

$1,299.00

Coupon

Price with $100 promo code APINSIDER. Plus, save $40 on AppleCare with the same code. If you have any issues, you can reach out to us at [email protected] and we'll try and help.

$1,321.00

n/a

$1,399.00

n/a

n/a

n/a
$100.00
M1, 16GB, 512GB, 7-core GPU Silver

$1,399.00

$1,289.00

Coupon

Price with $110 promo code APINSIDER. As always, if you have any issues, you can reach out to us at [email protected] and we'll try and help.

$1,321.00

n/a

$1,399.00

n/a

n/a

n/a
$110.00
MacBook Air (M1, 16GB, 512GB, 7-core GPU) Gold

$1,399.00

$1,299.00

Coupon

Price with $100 promo code APINSIDER. Plus, save $40 on AppleCare with the same code. If you have any issues, you can reach out to us at [email protected] and we'll try and help.

$1,321.00

n/a

$1,399.00

n/a

n/a

n/a
$100.00
MacBook Air (M1, 16GB, 1TB, 7-core GPU) Space Gray

$1,599.00

$1,549.00

Coupon

Price with $50 promo code APINSIDER. As always, if you have any issues, you can reach out to us at [email protected] and we'll try and help.

$1,510.00

n/a

$1,599.00

n/a

n/a

n/a
$89.00
MacBook Air (M1, 16GB, 1TB, 7-core GPU) Silver

$1,599.00

$1,549.00

Coupon

Price with $50 promo code APINSIDER. As always, if you have any issues, you can reach out to us at [email protected] and we'll try and help.

$1,510.00

n/a

$1,599.00

n/a

n/a

n/a
$89.00
MacBook Air (M1, 16GB, 1TB, 7-core GPU) Gold

$1,599.00

$1,549.00

Coupon

Price with $50 promo code APINSIDER. As always, if you have any issues, you can reach out to us at [email protected] and we'll try and help.

$1,510.00

n/a

$1,599.00

n/a

n/a

n/a
$89.00
MacBook Air (M1, 16GB, 2TB, 7-core GPU) Space Gray

$1,999.00

$1,949.00

Coupon

Price with $50 promo code APINSIDER. As always, if you have any issues, you can reach out to us at [email protected] and we'll try and help.

$1,888.00

n/a

$1,999.00

n/a

n/a

n/a
$111.00
MacBook Air (M1, 16GB, 2TB, 7-core GPU) Silver

$1,999.00

$1,949.00

Coupon

Price with $50 promo code APINSIDER. As always, if you have any issues, you can reach out to us at [email protected] and we'll try and help.

$1,888.00

n/a

$1,999.00

n/a

n/a

n/a
$111.00
MacBook Air (M1, 16GB, 2TB, 7-core GPU) Gold

$1,999.00

$1,949.00

Coupon

Price with $50 promo code APINSIDER. As always, if you have any issues, you can reach out to us at [email protected] and we'll try and help.

$1,888.00

n/a

$1,999.00

n/a

n/a

n/a
$111.00
MacBook Air (M1, 8GB, 1TB, 8-core GPU) Space Gray

$1,449.00

$1,399.00

Coupon

Price with $50 promo code APINSIDER. As always, if you have any issues, you can reach out to us at [email protected] and we'll try and help.

$1,369.00

n/a

$1,449.00

n/a

n/a

n/a
$80.00
MacBook Air (M1, 8GB, 1TB, 8-core GPU) Silver

$1,449.00

$1,399.00

Coupon

Price with $50 promo code APINSIDER. As always, if you have any issues, you can reach out to us at [email protected] and we'll try and help.

$1,369.00

n/a

$1,449.00

n/a

n/a

n/a
$80.00
MacBook Air (M1, 8GB, 1TB, 8-core GPU) Gold

$1,449.00

$1,399.00

Coupon

Price with $50 promo code APINSIDER. As always, if you have any issues, you can reach out to us at [email protected] and we'll try and help.

$1,369.00

n/a

$1,449.00

n/a

n/a

n/a
$80.00
MacBook Air (M1, 8GB, 2TB, 8-core GPU) Space Gray

$1,849.00

$1,799.00

Coupon

Price with $50 promo code APINSIDER. As always, if you have any issues, you can reach out to us at [email protected] and we'll try and help.

$1,747.00

n/a

$1,849.00

n/a

n/a

n/a
$102.00
MacBook Air (M1, 8GB, 2TB, 8-core GPU) Silver

$1,849.00

$1,799.00

Coupon

Price with $50 promo code APINSIDER. As always, if you have any issues, you can reach out to us at [email protected] and we'll try and help.

$1,747.00

n/a

$1,849.00

n/a

n/a

n/a
$102.00
MacBook Air (M1, 8GB, 2TB, 8-core GPU) Gold

$1,849.00

$1,799.00

Coupon

Price with $50 promo code APINSIDER. As always, if you have any issues, you can reach out to us at [email protected] and we'll try and help.

$1,747.00

n/a

$1,849.00

n/a

n/a

n/a
$102.00
M1, 16GB, 512GB, 8-core GPU Space Gray

$1,449.00

$1,349.00

Coupon

Price with $100 promo code APINSIDER. Plus, save $40 on AppleCare with the same code. If you have any issues, you can reach out to us at [email protected] and we'll try and help.

$1,376.00

n/a

$1,449.00

n/a

n/a

n/a
$100.00
MacBook Air (M1, 16GB, 512GB, 8-core GPU) Silver

$1,449.00

$1,349.00

Coupon

Price with $100 promo code APINSIDER. Plus, save $40 on AppleCare with the same code. If you have any issues, you can reach out to us at [email protected] and we'll try and help.

$1,376.00

n/a

$1,449.00

n/a

n/a

n/a
$100.00
MacBook Air (M1, 16GB, 512GB, 8-core GPU) Gold

$1,449.00

$1,349.00

Coupon

Price with $100 promo code APINSIDER. Plus, save $40 on AppleCare with the same code. If you have any issues, you can reach out to us at [email protected] and we'll try and help.

$1,376.00

n/a

$1,449.00

n/a

n/a

n/a
$100.00
M1, 16GB, 1TB, 8-core GPU Space Gray

$1,649.00

$1,599.00

Coupon

Price with $50 promo code APINSIDER. As always, if you have any issues, you can reach out to us at [email protected] and we'll try and help.

$1,557.00

n/a

$1,649.00

n/a

n/a

n/a
$92.00
MacBook Air (M1, 16GB, 1TB, 8-core GPU) Silver

$1,649.00

$1,599.00

Coupon

Price with $50 promo code APINSIDER. As always, if you have any issues, you can reach out to us at [email protected] and we'll try and help.

$1,558.00

n/a

$1,649.00

n/a

n/a

n/a
$91.00
MacBook Air (M1, 16GB, 1TB, 8-core GPU) Gold

$1,649.00

$1,599.00

Coupon

Price with $50 promo code APINSIDER. As always, if you have any issues, you can reach out to us at [email protected] and we'll try and help.

$1,558.00

n/a

$1,649.00

n/a

n/a

n/a
$91.00
MacBook Air (M1, 16GB, 2TB, 8-core GPU) Space Gray

$2,049.00

$1,899.00

Coupon

Price with $150 promo code APINSIDER. As always, if you have any issues, you can reach out to us at [email protected] and we'll try and help.

$1,936.00

n/a

$2,049.00

n/a

n/a

n/a
$150.00
MacBook Air (M1, 16GB, 2TB, 8-core GPU) Silver

$2,049.00

$1,999.00

Coupon

Price with $50 promo code APINSIDER. As always, if you have any issues, you can reach out to us at [email protected] and we'll try and help.

$1,936.00

n/a

$2,049.00

n/a

n/a

n/a
$113.00
M1 (16GB, 2TB, 8-core GPU) Gold

$2,049.00

$1,999.00

Coupon

Price with $50 promo code APINSIDER. As always, if you have any issues, you can reach out to us at [email protected] and we'll try and help.

$1,936.00

n/a

$2,049.00

n/a

n/a

n/a
$113.00
Even more weekend Apple deals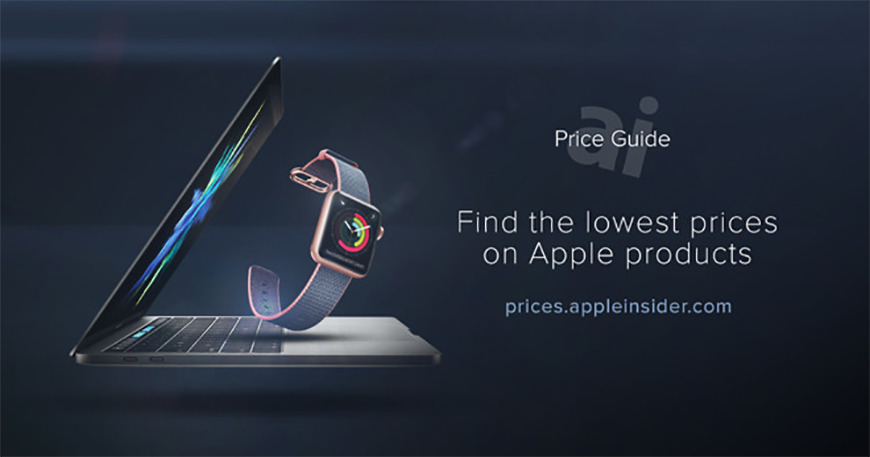 AppleInsider and Apple Authorized Resellers are also running additional exclusive deals on Apple devices that will not only deliver the lowest prices on many of the items, but also throw in bonus savings on AppleCare, peripherals and more. Here are just a few of the promotions running this May: