TerraMaster TD2 and D5 Thunderbolt review: Good hardware, bad software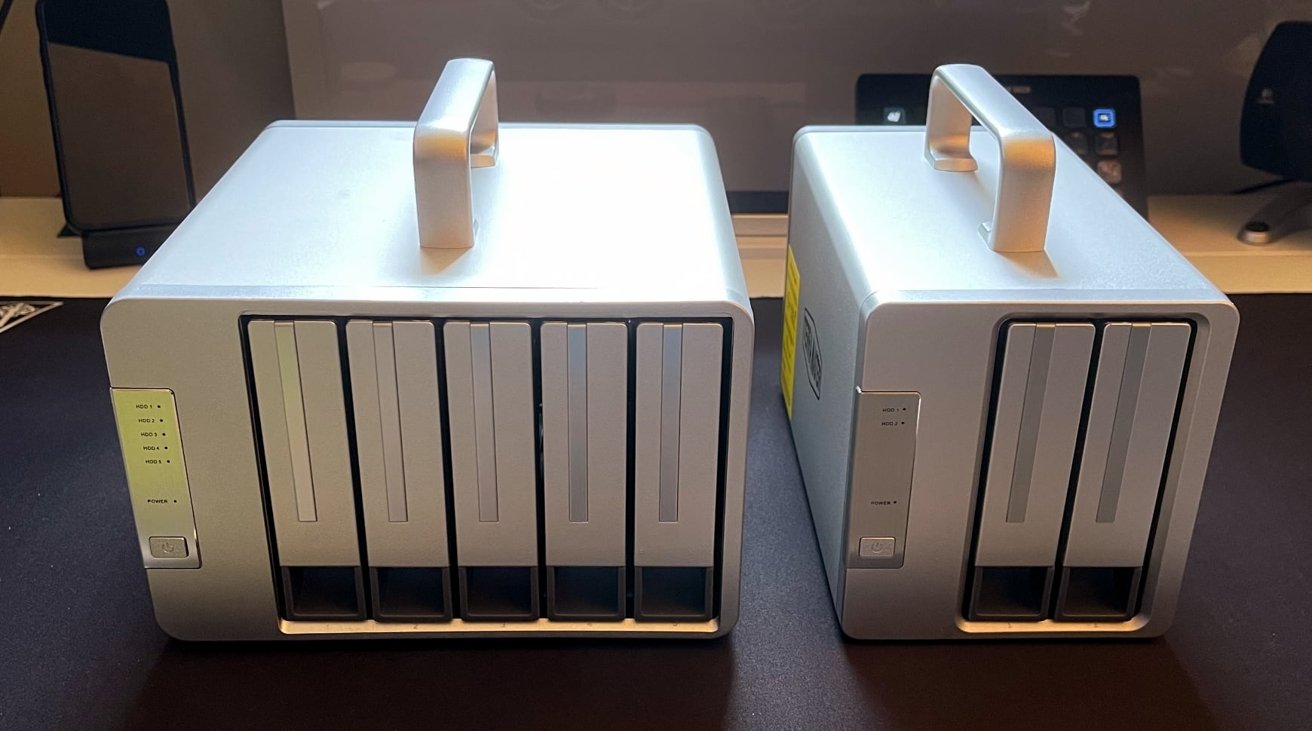 TerraMaster D5 Thunderbolt
2.5 / 5
---
AppleInsider may earn an affiliate commission on purchases made through links on our site.
The TerraMaster TD2 and D5 Thunderbolt 3 are well-engineered desktop hard drive enclosures that can expand your Mac's desktop storage — but the price you pay for what you get isn't where it needs to be.
Media professionals who deal with high file capacities, such as video editors, are likely to find their Mac mini or MacBook Pro's internal capacity filling up quickly. There have very nearly always been external enclosures for hard drives to bolster that capacity.
We've already examined a TerraMaster USB-C type 3.1 enclosure that can hold up to five drives. The company also has Thunderbolt 3 enclosures, and we're looking at the two-drive TD2 plus the D5 Thunderbolt 3 that reuses the enclosure of the five-bay USB-only one.
But, with spinning hard drives, the speed and the cost of Thunderbolt is mostly unnecessary.
TerraMaster TD2 and D5 Thunderbolt 3 enclosures — Key specs
TerraMaster TD2
TerraMaster D5
Drive Bays
2
5
Drives Supported
2.5-inch,
3.5-inch,
Hard drives and SSDs
2.5-inch,
3.5-inch,
Hard drives and SSDs
Maximum Capacity
32TB
80TB
RAID Support
Single-disk,
JBOD,
RAID 0,
RAID 1
Single-disk,
JBOD,
RAID 0,
RAID 1,
RAID 5,
RAID 10
Rear Ports
Two Thunderbolt 3,
DisplayPort 1.4
Two Thunderbolt 3,
DisplayPort 1.2
Claimed Read Speeds
810MB/s
1,035MB/s (RAID 0),
830MB/s (RAID5)
Claimed Write Speeds
806MB/s
917MB/s (RAID 0),
850MB/s (RAID 5)
Unladen Weight
3.1 pounds
5.1 pounds
TerraMaster TD2 and D5 Thunderbolt 3 enclosures — Design considerations
The aluminum storage appliances are a compact desk addition, with the TD2 taking up a mere 8.9 inches by 4.69 inches by 6.8 inches. Meanwhile, the D5 is 8.9 inches by 6.9 inches by 8.9 inches tall. The heights of each aren't for the entire unit, as there's a fixed handle in place on the top, making it somewhat portable if required.
We'd have preferred if that handle was removable, or designed with a hinge to fold down flat, cut the unit's height, and allow the units to be stacked.
The front has a selection of indicators for each drive, a power LED, and a power button, as well as a pair of drive slots. Around the back is one cooling fan on the TD2 and two on the D5, as well as a pair of Thunderbolt 3 ports, a DisplayPort connection, and a power port.
You get the enclosure, power cord, AC adapter, a Thunderbolt 3 cable, screws for attaching drives to sleds, and typical installation and warranty paperwork in the box.
The use plastic sleds with a pop-out cover to unseat the sled and drive that clicks back down to secure it in place. The sleds are made from fairly flimsy plastic, which is adequate for the task. We'd have preferred a metal tray.
Overall, besides the trays, the enclosures are sturdy and reliable. Fan noise is less than the drives themselves chattering away under load.
TerraMaster TD2 and D5 Thunderbolt 3 enclosures — Capacity and RAID
The capacity of the TD2 enclosure isn't mind-blowing, but it does have the ability to accept two 16TB drives, giving it an unformatted capacity of 32TB. The five-bay D5 offers a far higher capacity, using up to five 16TB drives for a total of 80TB of storage.
The TD2 uses an onboard hardware raid system, so there are options available for using RAID 0, RAID 1, JBOD, and Single Disk. Depending on the setting, there are benefits available, including striping for speed, mirroring for redundancy of data, and even simple raw storage capacity — but if you're reading this, odds are, you already know the benefits of each.
A rotary switch on the back allows for selection of the RAID level on the TD2. There is no option to use a software configuration tool to manage the enclosure, but you can always set up RAID 0, or RAID 1 with Apple's Disk Utility.
There are five bays in the D5 and no RAID switch on the back. The company provides downloadable RAID management software — which is terrible. Along with RAID 0, RAID 1, JBOD, and Single Disk, there are also options for RAID 5 and RAID 10.
Don't install the TerraMaster software if you buy the D5. We're experienced with installation of low-level software like this RAID driver, but even so, macOS choked on the install four times before finally installing it properly the fifth time. We ultimately had to remove the driver and utility with the Terminal after it failed to initialize the RAID with known-good drives.
We contacted TerraMaster about it, and support representatives told us that it's just the way it is. They put the blame on macOS, which is odd, considering OWC's SoftRAID works fine, the first time.
The RAID software works fine on Windows. But, the RAID is software, and minus the RAID 5 driver, this doesn't carry over to macOS, even if configured on Windows.
We're not hopeful of any big changes in this regard, but we'll see — and will update this post if it happens.
TerraMaster TD2 and D5 Thunderbolt 3 enclosures - Connectivity
Thunderbolt 3 connectivity theoretically allows enclosures to take advantage of up to 40Gbps of bandwidth. As there are two Thunderbolt 3 ports, it can also form part of a daisy-chaining setup of up to six devices, sharing the bandwidth with other hardware.
There is also a DisplayPort on both devices, though the TD2 has DisplayPort 1.4 while the D5 has a DisplayPort 1.2. Both can display a 4K image on a monitor, though the DisplayPort 1.4 is capable of 8K in some situations. Both functioned fine, and we had no issues connecting to an LG 32-inch 4K display. This will also depend on the capabilities of your Mac, so the M1 models will only be able to handle a total of two displays, including any built-in screens.
If you do not have a Thunderbolt 3 connection available, you can still use the TerraMaster TD2 Thunderbolt 3 or D5 with a USB-C or USB port, albeit without the niceties of Thunderbolt 3. This boils down to a lower speed of 10Gbps or 5Gbps, depending on the USB connection used.
Likewise, they are also compatible with Thunderbolt 2, using the requisite adapter. Unsurprisingly, if you do this, you lose the pass-through monitor connection port.
The 90W power supply in the TD2 and 120W version in the D5 are more than enough to handle a pair of mechanical drives and power delivery simultaneously. There is power delivery available, albeit at 15W. This is not useful for recharging a MacBook Air or MacBook Pro at any notable speed, and won't maintain a charge when the computer is under any load at all.
TerraMaster TD2 and D5 Thunderbolt 3 enclosures - Performance
According to TerraMaster, the TD2 is capable of read and write speeds of 810MB/s and 806MB/s. For the D5, the read speeds are marketed as 830MB/s under RAID 5 and 1,035MB/s under RAID 0, while the write speeds are 850MB/s and 917MB/s, respectively.
With SATA SSDs, our testing bore out the claims that the company made for both drives. We were expecting better speeds on read and write for the D5 with five SSDs capable of 500 megabytes per second read and write, though.
With hard drives, however, we saw about 305 megabytes per second read and 315 megabytes per second write on the TD2. The TD5 delivered a read speed of 602 megabytes per second read speed under RAID 5, and a write speed of 556 megabytes per second. This is a limitation of the drives themselves and the overhead for RAID 5, more than a limitation of the enclosure — and it's not that much faster than the USB 3.1 D3-500.
Decent hardware, let down by pricing and software
We like Thunderbolt, and always have. Enclosures with Thunderbolt are speedy and flexible, and daily-chained Thunderbolt peripherals are way more reliable than SCSI ever was — and no goofy termination rules to adhere to.
The design of these enclosures is pretty good, but not fantastic. We've seen far worse, and we've seen some better. They keep the drives cool, but that handle is annoying in a setup that relies on more than one drive array, or in a tight space.
One thing keeps both the TD2 and D5 enclosures from greatness — cost. TerraMaster lists the two-bay TD2 at $259.99, while the five-bay D5 costs $699. The TD2 is on the high-end of reasonably priced, but the D5, especially given the state of the software at present, isn't good and even if that software worked perfectly on macOS Big Sur, it isn't worth the price premium for Thunderbolt. The DisplayPort is nice, sure, but this is offset by the utter lack of charging power for a portable Mac.
And, we can't express strongly enough that the TerraMaster D5 RAID software is a miserable experience. Some of this is because of the OS, but if you've got to go through an arduous experience to install the RAID driver, it needs to install properly the first time — and it needs to work right after you finally get it to take. But, if you're just feeding the drives as-is to macOS, this isn't a show-stopper.
If you need a five-bay enclosure, get the D5-300 that we reviewed before — unless you can find the TD5 on steep sale. USB 3.1 Type C on the $159 two-bay D2-310, or the five-bay D5-300 for $229 won't hugely slow you down with the same quality hardware enclosure. Plus, if you do that, you can pick up OWC's SoftRaid Pro for the price difference and have some cash left over.
Cool and quiet
Compact size
Display support
Fixed handle
Utterly terrible RAID configuration software for the five-bay D5
Cheap plastic drive sleds
Bad balance of pricing to features
TerraMaster TD2 score: 3 out of 5
TerraMaster D5 score: 2 out of 5