Functional Apple-1 sells for $464K, Steve Jobs-signed manual hits $787,484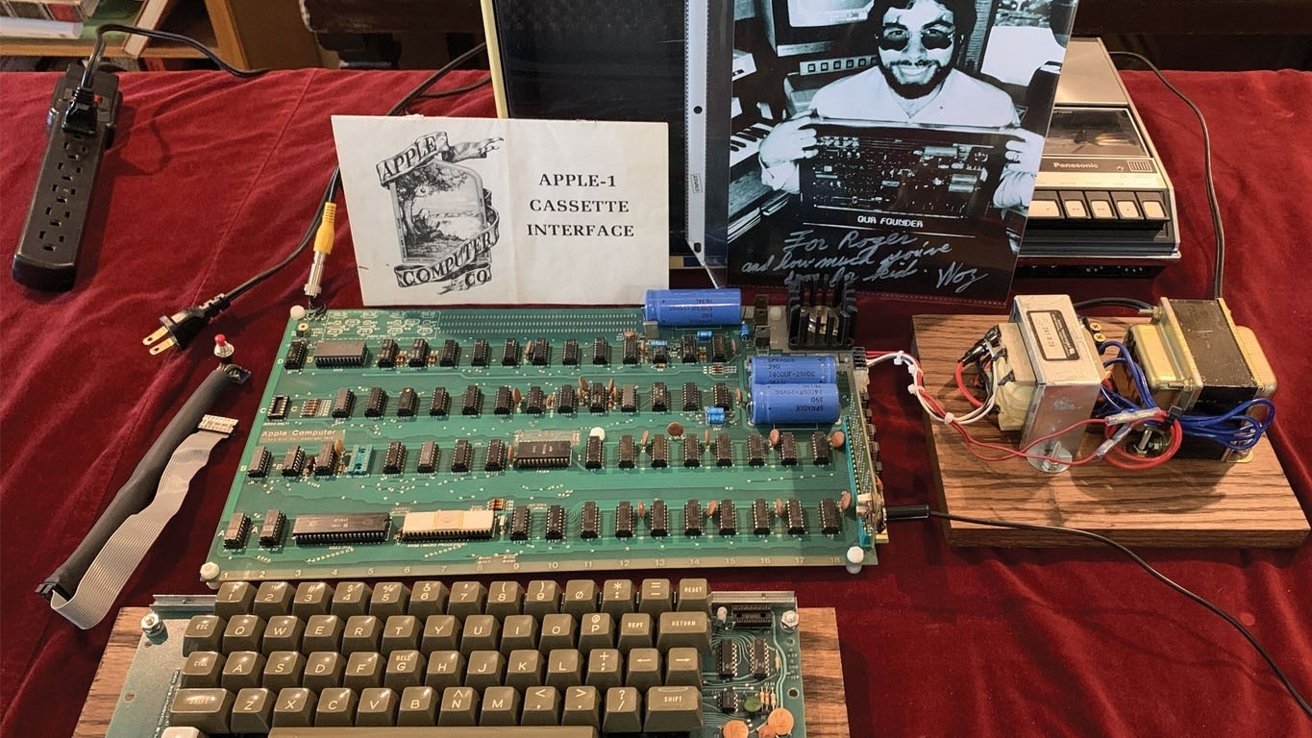 A rare functional Apple-1 went up for auction on Thursday and sold for over $464,000, with a related Apple Lisa listing selling for nearly $76,000.
The Apple-1 example from RR Auction was among the first to be publicly auctioned when it sold to computing pioneer Roger Wagner at the Vintage Computer Festival in California in 2002. Wagner, a personal friend of Apple co-founder Steve Wozniak, wrote the first book on assembly-language programming the Apple II.
Along with the Apple-1 board, which bears stock number "01-0068," an original Apple Cassette Interface (ACI) with manual, original Apple II keyboard with Apple-1 cable adapter, Apple-1 Basic cassettes, Panasonic RQ413S Portable Cassette Tape Recorder/Player, Taxan Model KG-12NU-Y 12 Display Monitor and CFFA1-CF card adapter were included in the lot. Also in the package was a replica Apple-1 Operation Manual signed in black felt tip by Wozniak and 11 original proof pages for the Apple-1 Operation Manual signed by Apple co-founder Ron Wayne.
Bids stood at $254,011 with about two hours to go and ended at $464,876. RR Auction estimated the computer to sell for more than $450,000. A total of 15 bids were placed.
The Apple-1 was part of a larger sale of vintage computer hardware from Wagner's personal collection. An Apple Lisa with rare "Twiggy" drives went for $94,949, while an a signed 128K Macintosh motherboard sold for $132,049.
The auction touted itself as the first Apple-1 sale to accept Bitcoin and other cryptocurrencies.
Also up for sale was an Apple II manual signed by Steve Jobs and Mike Markkula, Jobs' leather bomber jacket and other memorabilia.
A total of 200 Apple-1 computers were made, each hand-built by company cofounder Steve Wozniak in Steve Jobs' garage in Los Altos, Calif. When the product was first released in 1976, it sold for $666.66 without power supply, display, keyboard or housing.
A number of working examples have popped up at auction over the past decade, with one setting a high-water mark of $905,000 in 2014. More recent auctions have drawn bids below $500,000.
Corrected to reflect final sale prices.