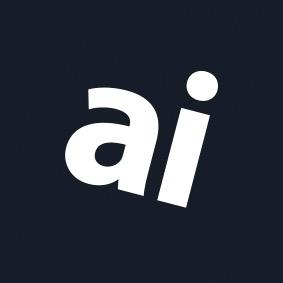 Why you can trust AppleInsider
Yeedi Vac Station review: Sweeps, mops, and even empties itself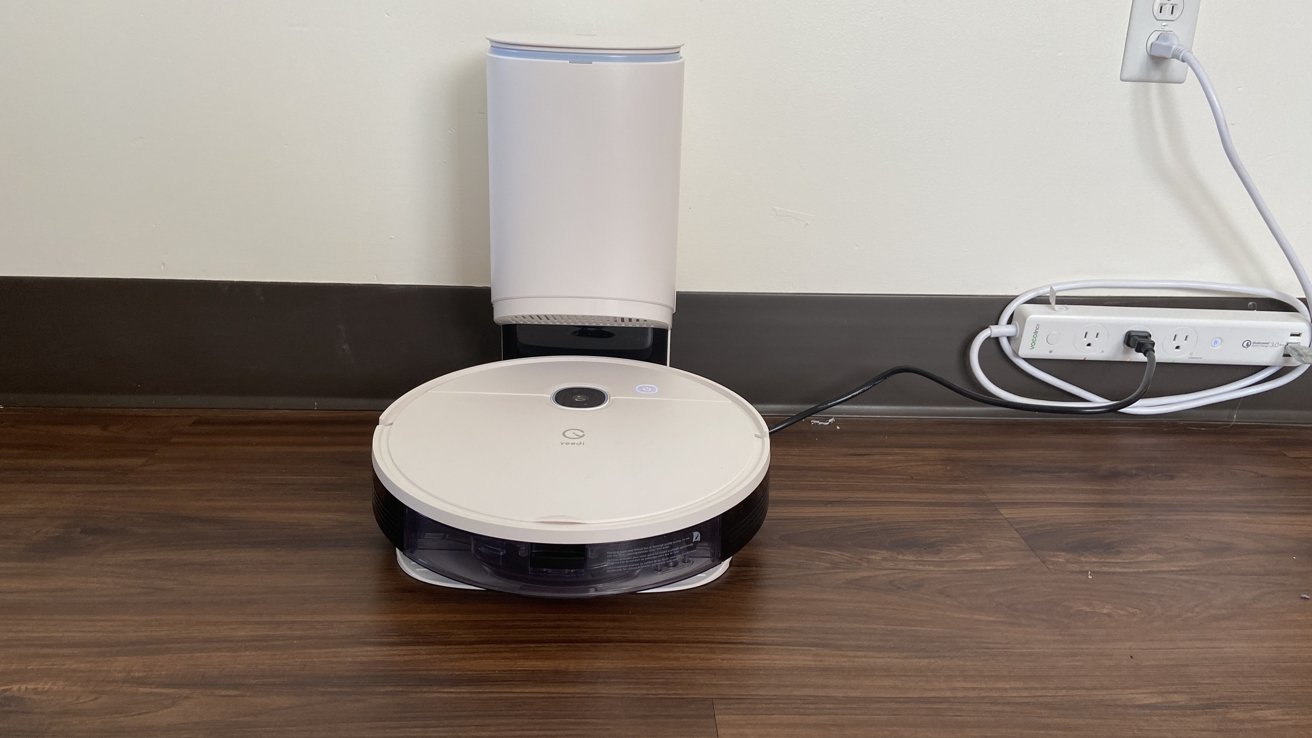 Yeedi Vac Station
4.0 / 5
---
Take control of household dirt with the Yeedi Vac Station, an all-in-one robotic vacuum that sweeps, mops, and conveniently empties its own dustbin.
Keeping your home clean can be a full-time job in and of itself, especially if you've got kids, pets, plants, or other people living with you. A robotic vacuum won't solve all your cleaning woes by any means, but it can help keep some of the mess at bay.
Yeedi has hit the market with its spin on a popular style of robotic vacuum — the set-and-forget kind. It features a high-end robotic vacuum that self-empties into a dust bin after every session.
Yeedi Vac Station - Setup
The Yeedi Vac Station was shipped to us in a large box containing the self-emptying power station, a Yeedi Vac Max vacuum, and a small set of accessories, including a microfiber mopping cloth, an extra vac station bag, a dust brush, and a small screwdriver and replacement screws.
After a quick unboxing process, setting up the vacuum and accompanying station took only a few minutes.
First, you'll need to attach the dust brush to the vacuum. Afterward, clip the top of the station to the charging base and plug it in, position the vacuum on top of it, and then switch the vacuum on.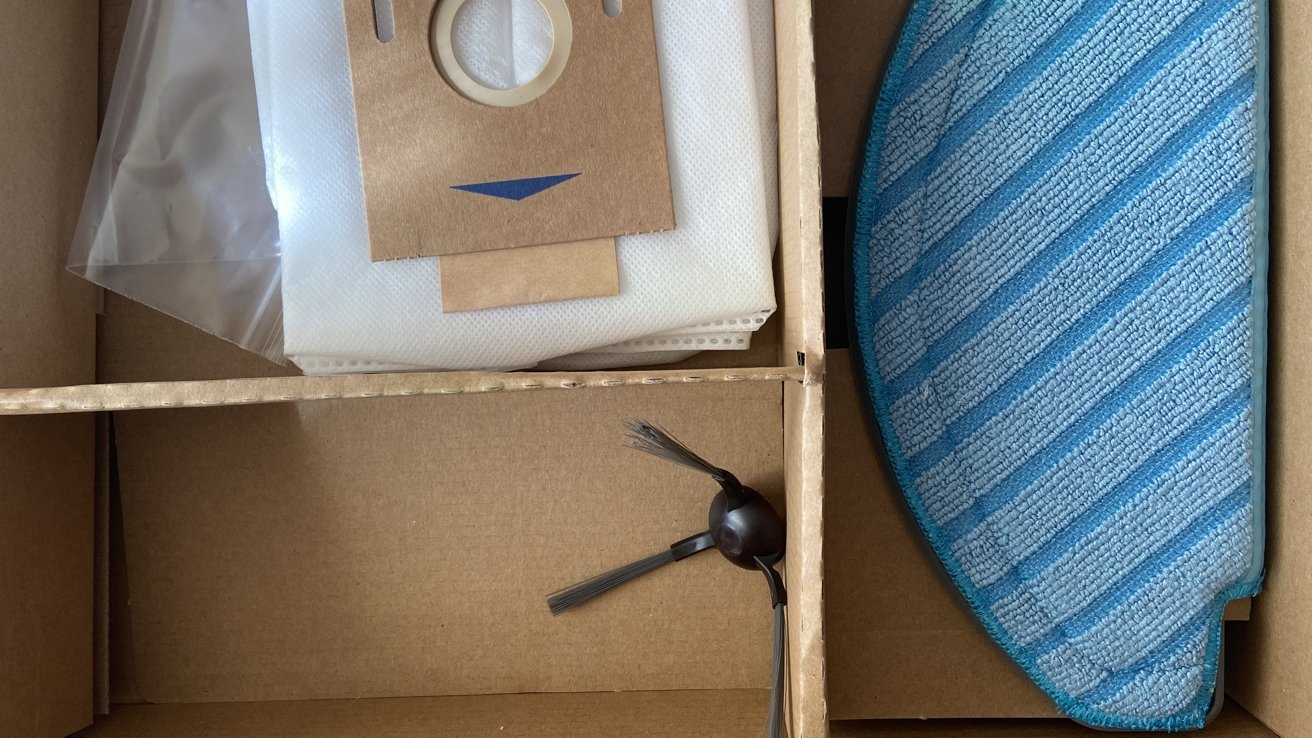 Connecting the Yeedi to your home network isn't terribly difficult and mirrors other smart home devices. You'll need to download the Yeedi app, create an account, then give the vacuum permission to utilize your home network so you can communicate with it remotely.
The whole process took about three minutes, from beginning to end.
It's worth noting that the Yeedi line of vacuums are compatible with Amazon Alexa and Google Assistant, but are not HomeKit compatible.
Yeedi Vac Station - The app
The Yeedi app is pretty easy to navigate, which is always welcome. Inside the app, you can view the vacuum's battery level, cleaning progress, and set auto-cleaning schedules.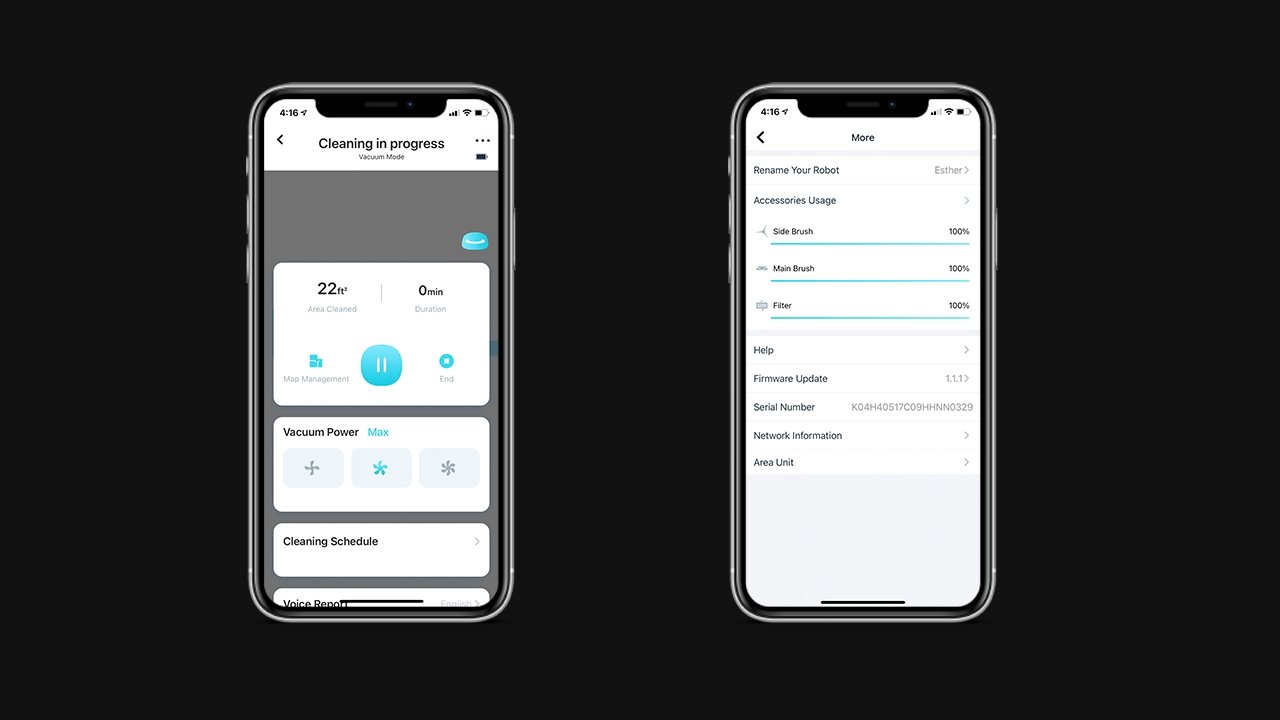 Additionally, there's a section to see the "life" of individual parts before you'll need to clean and replace them.
Yeedi Vac Max
The Yeedi Vac Station comes with one of Yeedi's preexisting vacuums — the Yeedi Vac Max. It's a 13-inch wide, 3-inch tall circular robotic vacuum that resembles other popular vacuums like those in the Roomba series.
It boasts anti-collision sensors and anti-drop sensors to prevent marking up walls or tumbling downstairs. In addition, a carpet detection sensor allows the robot to automatically increase suction when moving from hardwood or laminate floors to carpeted zones. It also aids in preventing the robot from mopping carpeted areas.
It features up to 3000 pascals of suction power, which is 1000Pa more than our current favorite Roborock S4.
A standard upright vacuum cleaner clocks in around 20,000Pa. However, as we've said in the past, a robot vacuum isn't meant to replace your regular vacuum and broom, but rather to reduce the amount you need to use them.
Like most smart vacuums, the first few times you run the Yeedi will take significantly longer than later sessions. This is because the vacuum will need to build a map of your home.
However, once the map is established, future cleanings will be significantly quicker.
The map is also used to establish no-go zones, which is particularly helpful if you have a mess of wires you don't want your vacuum running over.
Yeedi Vac Station - Performance
We were pleasantly surprised at how well the Yeedi vac was when sweeping both rugs and laminate flooring. It had no issue making it over small changes between different floor types.
However, if you have thresholds that exceed more than 0.75 inches, you may need to physically lift the robot over it.
As far as mopping goes, it performed as expected. Fill up the reservoir, attach the cleaning pad, and the Yeedi will scoot itself around your home in an attempt to make your floors look clean.
We appreciated that this vacuum can distinguish between hard floors and carpet because that isn't always the case.
Still, it's not a perfect mopping solution. To mop a floor to an adequately clean state, pick at least two: friction, cleaner, and heat. Robotic mops, unfortunately, cannot do any of these.
When you mop the old-fashioned way, your best tool is elbow grease, or more accurately, friction. Humans do this by exerting a downward force on a mop, brush, cloth, etc.
Unfortunately, robots don't really have this capability. Ideally, a robot would be heavy enough to push down and loosen anything stuck to the floor — but that would make the robot impractically heavy.
The robot also can't heat the water, and thanks to the plastic reservoir, you shouldn't attempt to fill it with hot water either.
Chemical cleaners also help quite a bit, as surfactants prevent hydrogen bonding, and the low surface tension cleaning solution unsticks dirt and grime from the floor.
That's all well and good, but Yeedi vacuum-mop combos can't actually use chemical cleaners. The instruction book warns to avoid using cleaners as they will jam the reservoir.
Still, there are a few things you can do to make your robot more effective.
First, spot treat areas of your floor with an all-purpose cleaner — we chose a solution of hot water, white vinegar, and rubbing alcohol. This helps to loosen up any grime and allows the mop pad to remove them easily.
You can apply a cleaner directly to the cleaning pad, too. But, of course, this can lead to eventual build-up on your floors, so we don't recommend you do this every time you mop, either.
However, the best method is to start with a clean floor. Mop your floors the old-fashioned way before you begin using your Yeedi vacuum to keep them clean.
Then, if you mop your kitchen or bathroom a couple of times a week with the Yeedi Max Vac, chances are you're not going to have any build-up of dirt and grime that will need a lot of effort to clean up. It's a win-win.
In short, if you start with a clean kitchen, the robotic mop will help you keep it clean. As an added bonus, it doesn't leave that nasty build-up that happens if you use an easy-mop like Swiffer.
Yeedi Vac Station
The most significant selling point of the Yeedi Vac Station is, of course, the vac station itself. It offers 30 days of hands-free cleaning by emptying the vacuum directly into the station.
This is easily our favorite feature because, as anyone who has owned a robotic vacuum can tell you, remembering to empty the dust bin every day is the only major downside.
Once your vacuum completes a cleaning cycle, it automatically returns to the Vac Station to recharge. Once docked, the station will suck all the dirt and debris out of the bottom of the vacuum and deposit it into a disposable dust bag.
We advise against setting up schedules to clean at night solely because the Yeedi Vac Station is extraordinarily loud when it empties the robot's dust bin — try to avoid using it during nap time for the kiddos too.
Loudness aside, it really is quite convenient. Once the bag is full, remove it from the Vac Station and throw it away.
The downside is that with the Yeedi Vac Station, they only provide one additional bag with your purchase, meaning that you've only got about two months' worth of sweeping before you need to purchase additional bags.
The 30-day timeframe can shift, obviously, if you've got multiple pets or lots of carpets in your home. Still, an 8-pack of dust bags for the Yeedi Vac Station costs $20 on Amazon, which should last you for more than half a year.
When it comes down to it, we were heartily impressed with the Yeedi Vac Station. Not only did it do an excellent job cleaning our floors, not needing to worry about emptying the vacuum for an entire month essentially eradicates the most tedious part of owning a robot vacuum.
Self-empties
Capable of both vacuuming and mopping floors
Auto-detects carpet when mopping
Will re-dock, recharge, and continue cleaning if battery is low
Setup is easy
Only comes with one replacement bag for the vac station
Self-emptying feature may be a bit loud for some
Not HomeKit compatible
Mopping feature is average, does not clean difficult messes
Rating: 4 out of 5
Yeedi Vac Station - Where to buy