Philips Hue debuts brighter bulbs, multi-color gradient lamps & more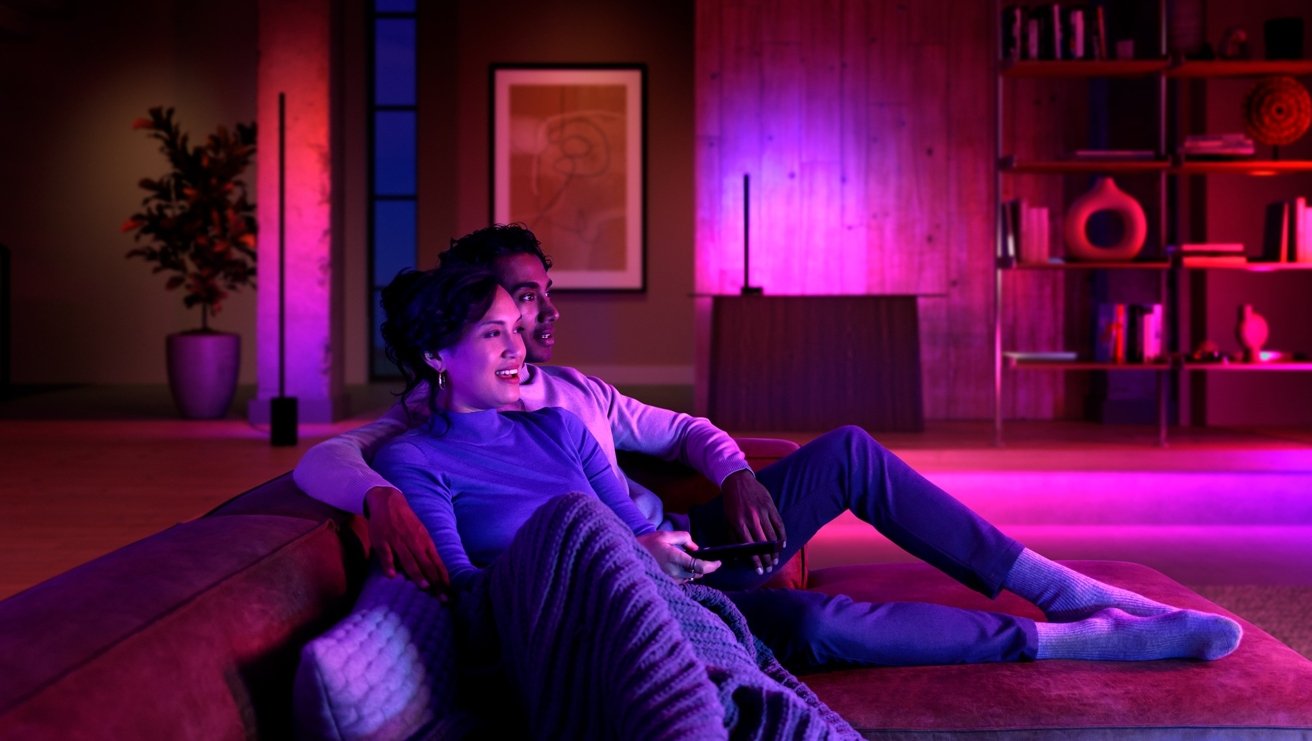 On Wednesday, Signify refreshed much of its Philips Hue portfolio with several new smart bulbs, new multi-color gradient lamps and new software features designed to push the boundaries of the smart home ecosystem.
Updated flagship bulbs
Starting with the company's flagship smart bulbs, the new models are bigger and brighter than ever. Philips Hue's white, white ambiance, and white and color ambiance bulbs will now be available in 1,100 lumen and 1,600 lumen flavors, equivalent to traditional 75W and 100W bulbs, respectfully.
The 1,600 lumen bulb is noticeably larger than the existing 800 lumen bulbs that Hue offers.
The new 1,100 lumen bulbs are available now and run $14.99 for a single white, $24.99 for a single white ambiance, and $49.99 for a single white and color ambiance bulb.
On Oct. 12, the 1,600 lumen bulbs will launch at a slightly higher price point of $19.99 for a single bulb, $39.99 for a white ambiance bulb, and $59.99 for the white and color ambiance bulb.
New filament bulbs
In the retro filament range, all of the popular filament styles are now available in white ambiance, as well as just white. That means that these will be able to color shift from a cool blue white to a warm yellow.
Whether using Adaptive Lighting in HomeKit or Hue's own color-changing features, you can have the bulbs change the light warmth throughout the day. It can be a clean, blue-white during the day to promote productivity and turn into a more sunset-yellow in the evening as you wind down.
New to the line is a White Filament E14 candle bulb that joins an already extensive lineup.
The white and ambience filament bulbs are available now and start at $34.99. The new candle bulb is also available now for $29.99 as a single pack and $49.99 for a two-pack.
Signify will be releasing its bulbs with black bodies now , as well, which match the retro-inspired fixtures that typically house these bulbs.
The gradient lineup expands
Last year, Signify introduced the Philips Hue Play Gradient Light Strip that was designed for the TV. Now that lineup is expanding with the Philips Hue Play gradient light tube. This new light can be placed directly above or below your TV, casting additional light in the remaining area not blanketed by the existing gradient light strip.
It can also be used as targeted accent light as well elsewhere in the home. Since it is part of the gradient collection, rather than one color, the tube can blend multiple colors together at once into different zones.
They will be available in black and white for $179.99 (compact) or $199.99 (large) starting Jan. 18.
Today also sees the introduction of updated Signe lamps. There is a new floor lamp as well as a new table lamp. These minimalists lamps incorporate the new gradient technology, as well, rather than one solid color.
The floor standing lamp will run users $299 and begin shipping Oct. 12 while the table lamp will run $199.
Last for the gradient collection is the new Philips Hue ambiance gradient light strip. This new light strip is very similar to the original but it can be placed anywhere in your home rather than mounted to the TV. Cabinets, tables, beds, and more are ideal placement locations for this updated light strip.
The new gradient light strip will come Oct. 1 for $169 for a two meter base unit and each one-meter extension will cost $69.99.
New lamps and fixtures
Aside from new bulbs, Signify is prepping some additional hardware fixtures. There are several models launching soon, including the new Infuse ceiling light that will be available in January 2022 for $29.99.
Stay tuned for many new Philips Hue ceiling light fixtures on the horizon.
Firmware updates
To bundle with the new hardware, Signify has several new firmware updates coming.
The Philips Hue Play Sync Box is receiving an update that will enable rapid 120Hz support for the latest gaming consoles at 1080p and 1440p. This will roll out in the fall of 2021.
Recently, Philips Hue updated its app to version 4.0, but the app is about to get another update bringing new dynamic scenes. These scenes are programmed to run over a 24 hour period. The first scene being added is designed specifically to mimic the sun's movement. It can even be customized to different time slots based on your day.
Stay tuned for reviews of new Philips Hue products as they become available.