New Pixelmator Pro beta brings Shortcuts & macOS Monterey support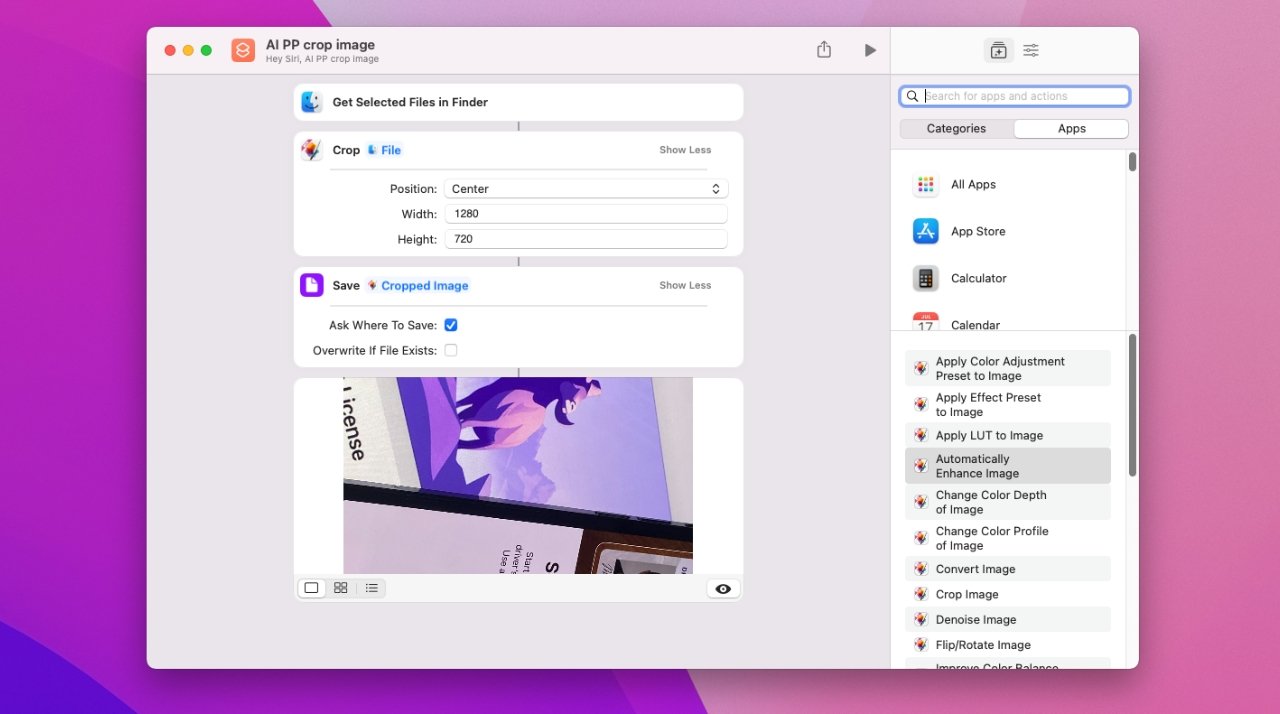 A limited beta test of the new Pixelmator Pro 2.2 with all-new Shortcuts for Mac has been launched ahead of the image editor's release for macOS Monterey.
Following multiple updates, ranging from support for macOS Big Sur, to improving Photoshop support, Pixelmator Pro is now readying its macOS Monterey release. The major added feature is extensive support for Shortcuts on the Mac, and the company has launched a beta test for its new Pixelmator Pro 2.2.
"Pixelmator Pro 2.2 Carmel will be released not too long from now, when the wonderful new macOS Monterey becomes available," says the company in a blog post. "We'll be adding full compatibility support for macOS Monterey and really extensive support for the all-new Shortcuts for macOS with over 24 new shortcuts!"
The 24 initial Shortcuts include automatic cropping and resizing of images, denoising them, rotating, inverting. They also give Shortcuts access to Pixelmator Pro's Machine Learning features, such as improving color balance, and increasing resolution of the image.
It means that Pixelmator Pro gains a partial equivalent of Photoshop's Batch Action via Shortcuts. However, many of the options were previously available via Pixelmator Pro's support for Automator.
Users can create a Shortcut that, for instance, resizes an image and converts from PNG to JPEG. Then select any number of image files in the folder, and the Shortcut will leverage Pixelmator Pro to perform the actions on them all.
It also means that users can make Shortcuts that mix Pixelmator Pro features with ones in macOS Monterey, such as extracting text from images.
These Shortcuts are limited to the Mac, as there is currently no Pixelmator Pro for iOS. This beta also requires the new beta TestFlight for Mac.
"Please bear in mind that you need to be running the macOS Monterey beta and download the beta version of TestFlight from the Apple Developer downloads page," continues the company.
"We've really been looking forward to TestFlight for macOS for a while now so we wanted to be one of the first apps available on it, even if TestFlight itself is still in beta," says the developer.
No release date has been set for the final version of Pixelmator Pro 2.2, but it's unlikely to be before Apple officially launches macOS Monterey. Until then, TestFlight is the only way to try the new Pixelmator Pro features, though note that the beta is limited to 500 users.
Note, too, that this means using a beta Pixelmator Pro image editor via a beta TestFlight distribution app. At the least, it shouldn't be used to replace a user's current working copy of Pixelmator Pro.
The update is expected to be free to existing Pixelmator Pro users when it launches. Pixelmator Pro costs $39.99 in the Mac App Store.