Crews clear encampment, relocate homeless living on Apple land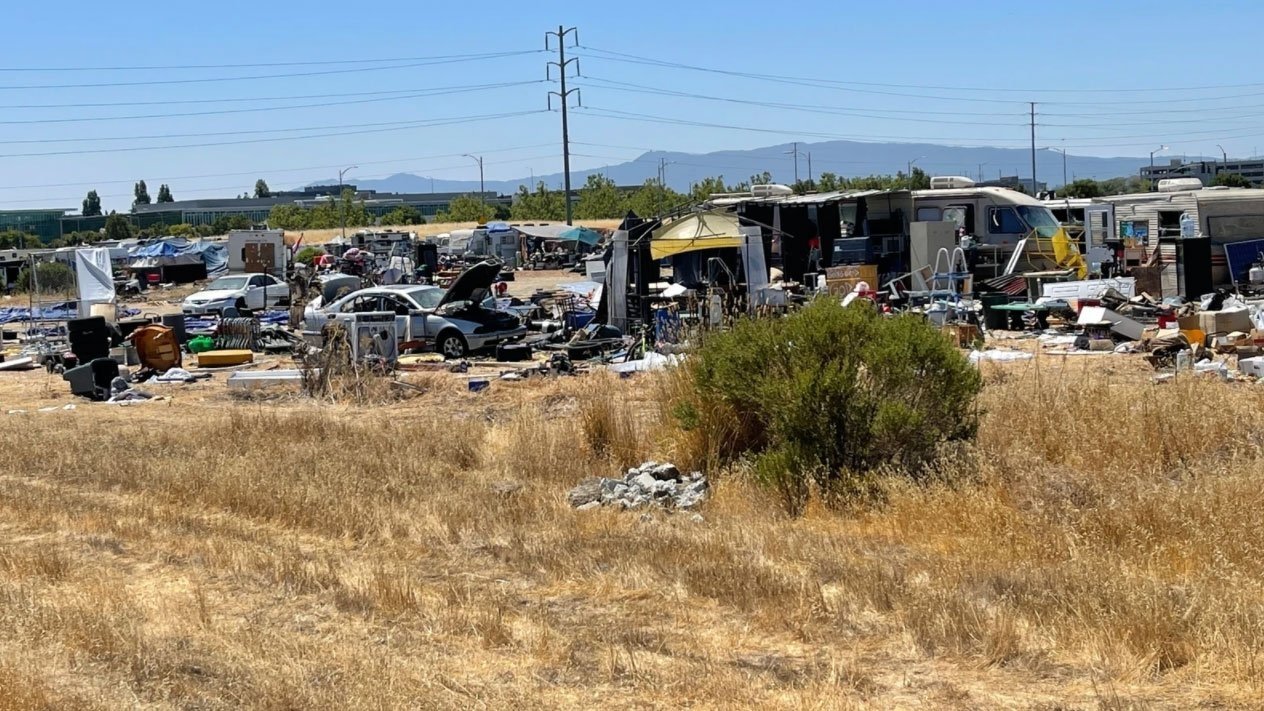 A homeless encampment on 55 acres of Apple's land is now being cleared, with an estimated 60 people relocated at the company's expense.
The growing homeless community that had been living on a tract of Apple's land is being cleared. Crews are removing debris, closing the site, and relocating people.
It comes after Apple announced it would contribute millions of dollars from its $2.5 billion California housing project. In partnership with non-profit organization HomeFirst, the planned clearing is intended to see homeless people relocated, or rehoused.
According to CBS News, flyers were posted at the site saying that closure would begin at 7 a.m. local time on September 2. People living in the encampment were offered three different options for interim housing, each of which would be paid for by Apple for the next nine months.
Residents could choose from a motel room, a bed in an emergency shelter, or what CBS News describes as a safe parking space. Alongside the costs of each option, Apple is also covering the cost of case management for 12 months.
Not all residents have accepted the offers, however. Robert Carlson, who was living in a collection of large vehicles that included an RV, has reportedly elected to move away on his own.
"It's all part of life, ain't it? Trials and tribulations, man," Carlson told CBS News. "Well, we were all a big family here. We were a big family. I miss everybody already."
One person who has accepted a motel room says that Apple and HomeFirst may mean that her story "might have a happy ending."
"They're gonna help me get teeth. Because I don't have any, you know?" she said. "It's easier to get a job when you have teeth."
HomeFirst's CEO, Andrea Urton, said that Apple had been "generous," and that the intervention of corporations like this is now necessary.
"The city and county are doing everything they feasibly can right now, and have been for the past two years," she said. "They're under-resourced and they're tired, just like we all are."
"So by having large companies step in and provide the resources that nonprofits need to be part of the solution, we can actually effectively end homelessness together," said Urton.
The homeless community on Apple's land on the corner of North First Street and Component Drive in North San Jose, had grown because of other clearing efforts. San Jose had undertaken what it described as an "enhanced cleanup" of neighboring areas.
As the encampment population varied from 35 to 70 people, residents lived in a mixture of mobile homes and wooden structures. A recent fire on the encampment reportedly destroyed an RV, and burnt five acres of vegetation.
A new 7-foot black metal fence is being constructed around part of the property. It is guarded by an unknown number of Apple's private security staff.