Roku's $50 Streaming Stick 4K gains Dolby Vision and speed improvements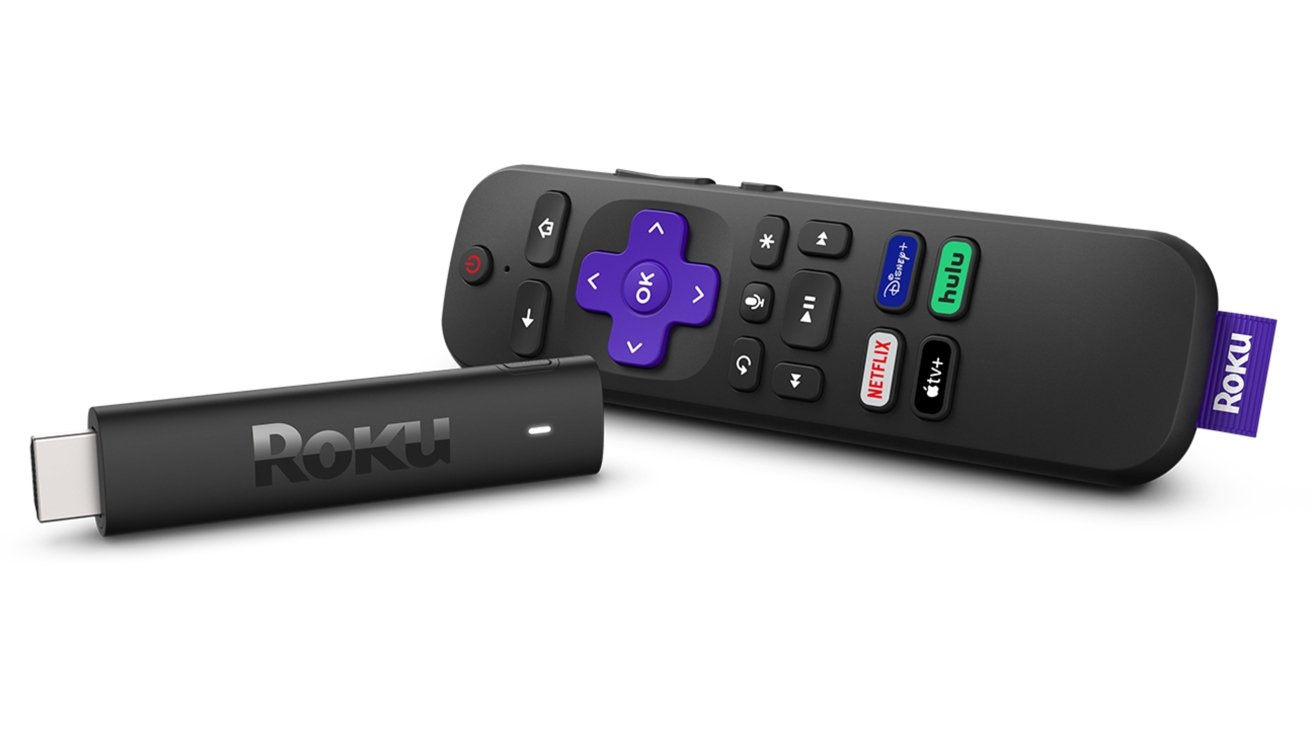 As part of its product line refresh, Roku has introduced its Streaming Stick 4K and Streaming Stick 4K+, a pair of low-cost ways to stream content that include support for Dolby Vision and HDR10+, as well as Apple platforms including AirPlay 2 and HomeKit.
Launched on Monday, the Streaming Stick 4K is an upgrade that boasts multiple improvements over the company's other streaming set-top boxes.
As well as being able to stream 4K content, the Streaming Stick 4K is now 30% faster at booting than previous models, thanks to its new quad-core processor. The chip change is said to help content load faster, and to make navigating content a quicker process.
The streaming box can also handle Dolby Vision and HDR10+ content, while a redesigned long-range wireless receiver is claimed to work at twice the Wi-Fi speed of its predecessors.
The supplied remote can handle controlling both the Roku Streaming Stick 4K and the television, with the addition of Roku Voice allowing for quick content searches. Users can also control the streaming device using Alexa and Google Assistant-enabled hardware.
On the Apple side, there's support for HomeKit, enabling control via Siri and the Home app. AirPlay 2 compatibility means the Streaming Stick 4K can also share content directly from an iPhone, iPad, or Mac.
The Roku Streaming Stick 4K is effectively the same as the non-plus Streaming Stick 4K, except Roku bundles in the Voice Remote Pro. The controller includes a rechargeable battery and a voice-activated lost remote finder, which can be enabled by uttering "Hey Roku, find my remote."
The Voice Remote Pro also has TV controls, personal shortcut buttons, private listening, and hands-free and push-to-talk Roku Voice support.
The Roku Streaming Stick 4K is priced at $49.99, while the Streaming Stick 4K+ costs $69.99. All models will be available from mid-October.
Along with the Streaming Stick 4K, the existing Roku Ultra LT is being updated with a better processor, increased storage capacity, and 50% more range on Wi-Fi. It also gains support for Dolby Vision, Bluetooth audio streaming, and Ethernet support for wired connectivity.
A Walmart exclusive, the updated Roku Ultra LT will cost $79.99, and will ship in the coming weeks.
Roku OS 10.5
As part of the same update wave, Roku OS is being updated to 10.5. The update makes it easier for users to access content, with a live TV channel guide including over 200 free channels.
Roku Voice has been expanded to cover more channels, with practically any channel in Roku Search now working with the feature, including Netflix and Spotify.
A new Home tab in the Roku Mobile app provides more access to content, with users able to save movies and TV shows to the Save List for watching later on the TV itself. Roku Search Music and Podcast Row will help users listen to more songs and audio content, with Spotify a launch partner for the feature.
Setup has been simplified by allowing users to enter email, password, and PIN details by voice, rather than typing their information in manually. A Sound Settings option in the Roku Mobile app can enable automatic volume leveling, speech clarity, and night mode on the device.
Other feature changes include a wireless mobile private listening option for streaming players, new surround sound configurations, and Roku Voice Help.
Roku OS 10.5 will roll out to Roku devices over the coming weeks.