Apple's 120Hz ProMotion display in the iPhone 13 Pro: what you need to know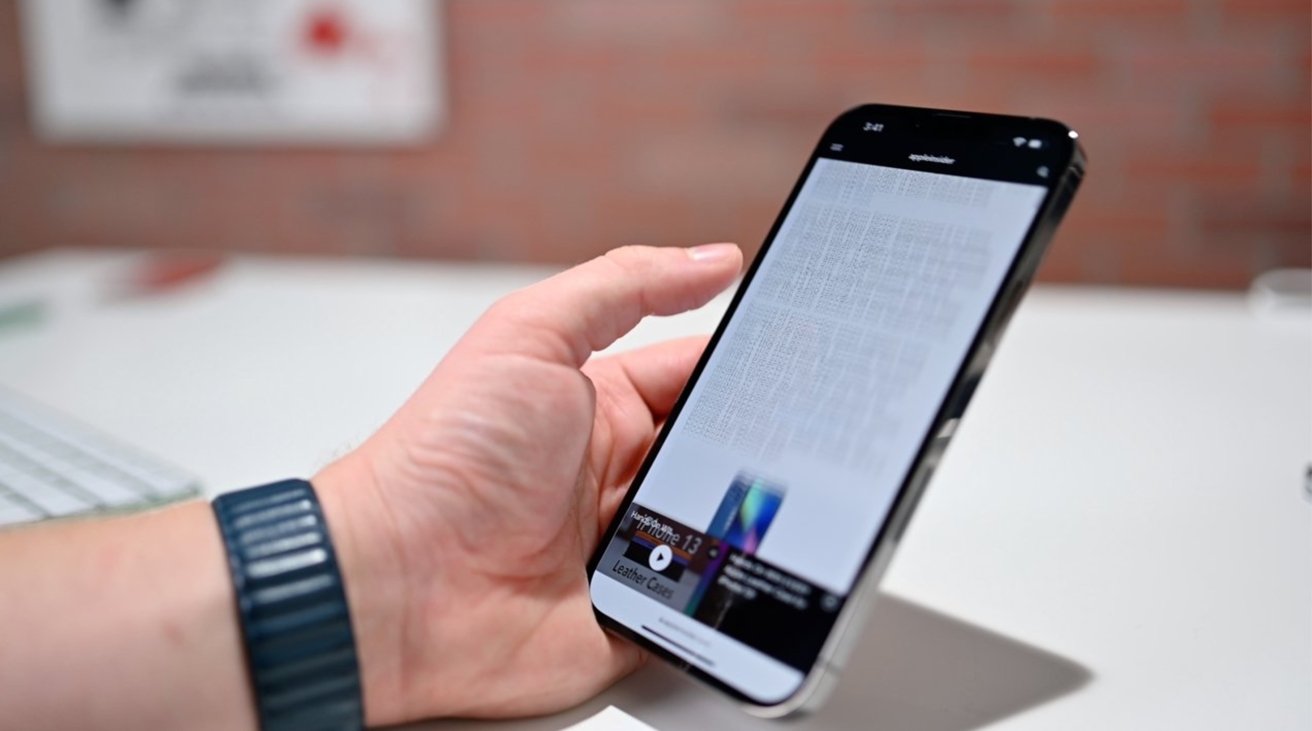 Apple's introduction of ProMotion in its iPhone 13 Pro and Pro Max boasts a 120Hz refresh rate, but what is it and how is it useful? It turns out, it does a lot more than make the interface smoother.
After a long wait and many rumors about its arrival, Apple has brought ProMotion to the iPhone range Capable of displaying an image with a 120Hz display refresh rate, the technology was first introduced four years ago, in the iPad Pro.
Even though it has been around for years, some iPhone users may not have come across the technology before, and may not realize how useful it could be to their mobile experience.
Here's a breakdown of what ProMotion does, and what it means to you.
Refresh Rates
The majority of screens we use in daily life have a refresh rate, which refers to the number of times the display updates. Typically this is noted in Hertz or Hz, a unit of frequency relating to the number of times an action takes place per second.
You could analogize this to the shutter speed of a camera, which can control the amount of motion blur in an image or a video. Faster shutter speeds allow for a crisper image with minimal blur, while slower shutter speeds are typically blurry.
Since video is a series of images played back at a certain speed to depict motion, refresh rates come into play here. A video is smoother when using a sufficiently high number of updates per second, while video with fewer frames per second can appear to be choppy or stilted.
The same principle applies to a computer screen, as movement of a cursor or scrolling a page will be smoother at higher refresh rates than at lower rates.
This has become an important element of modern-day gaming, with competitive PC gamers using high frame rates at up to 144Hz to minimize the amount of lag between performing an action in the game and seeing it appear on screen.
For typical users, the refresh rate of a television or a monitor for normal computing needs usually hangs around 50Hz to 60Hz, which is enough to keep most people happy.
Apple's hardware with displays has also tended to stick to around the same refresh rate over time, with the exception of ProMotion devices, and the Apple Watch Series 5 onwards.
Enter ProMotion
When Apple introduced new models of the iPad Pro in 2018, Apple also included its first 120Hz-capable display, a system it branded as ProMotion.
ProMotion is capable of adaptive refresh rates and response times, in that the screen can dynamically change its refresh rate to accommodate whatever is being displayed.
For still images or near-static content, it may reduce down to a rate of 24Hz, rising upwards to around 60Hz for video playback to match the content. The 120Hz is typically used for interacting with the interface, enabling smoother high-speed scrolls, or for reducing the lag when using the Apple Pencil for drawing.
While the iPad Pro adjusts between five refresh rates, between 24Hz and 120Hz, the ProMotion upgrade in the iPhone 13 Pro boasts 12 rates, between 10Hz and 120Hz. This gives the iPhone seven additional stops of granularity than the iPad Pro.
What's the big deal?
On the iPhone, ProMotion can help the UI feel perceptively smoother than on older models. Users may feel that the iPhone is more fluid to use when scrolling or generally interacting with the screen.
When used side-by-side with an older iPhone model running at 60Hz, it's quite noticeable in many situations when there's a lot of on-screen movement. It becomes even more obvious if you film the two screens at a high frames-per-second.
At the moment, ProMotion can ramp up to 120Hz for the iOS interface itself, stock Apple apps, and when you're scrolling content in third-party apps. For more elaborate animations beyond scrolling, such as splash screens, interface interactions, or games, developers have to update their apps to specifically work with ProMotion.
It may take a few weeks for iPhone developers to catch up and roll out updates to their apps, so you could probably expect many games to not use ProMotion initially, at least until they are updated.
The other end of the scale
ProMotion is not just about offering higher refresh rates and a smoother experience. The wide range can provide an extra bonus: power efficiency.
If there are relatively few screen updates happening, ProMotion can easily slip down to a lower refresh rate, cutting down the number of times it updates the display.
Since there are fewer updates at 10Hz rather than 60Hz or higher, less power is consumed by the display and associated systems, which results on a longer battery life. All without sacrificing the user experience.
For example, Apple says the iPhone 13 Pro is capable of up to 20 hours of streaming video playback, versus 11 hours on the iPhone 12 Pro. While this is partially thanks to the slightly larger batteries in the iPhone 13 Pro models, ProMotion helps increase that battery life to almost double the predecessor.
This is also the same trick that Apple used in the Apple Watch Series 5. On that wearable device, watchOS can reduce the display refresh rate down to as low as 1Hz, as well as dimming the display when in standby mode.
This resulted in the first always-on display for an Apple Watch, while also enabling all-day battery life.
Finally here and very useful
Knowing that ProMotion is a years-old technology, you may be wondering why it took Apple so long to bring it to the iPhone line. While no-one really knows, it's likely down to a number of factors.
This includes the cost of development for the iPhone, engineering the system, incorporating larger batteries into the design, and the related issues of manufacturing at scale. Apple's production pipeline can result in a feature taking well over a year to move from conception to being included in a future iPhone model.
At the same time as ProMotion, Apple also worked on other display changes, including bumping the typical maximum brightness of the display from 800 nits on the iPhone 12 Pro to 1,000 nits on the iPhone 13 Pro. In some cases, it has to weigh up whether to include one feature as complete as possible in a release, over adding multiple features at a lesser capacity.
Long-time Apple users shouldn't be terribly surprised at how long it takes for Apple to implement new features. As the company previously claimed, it releases new technology when its ready to do so. This can mean waiting for the metaphorical stars to align perfectly before features can jump between devices.