Satechi GaN USB-C Wall Chargers: faster, better, cheaper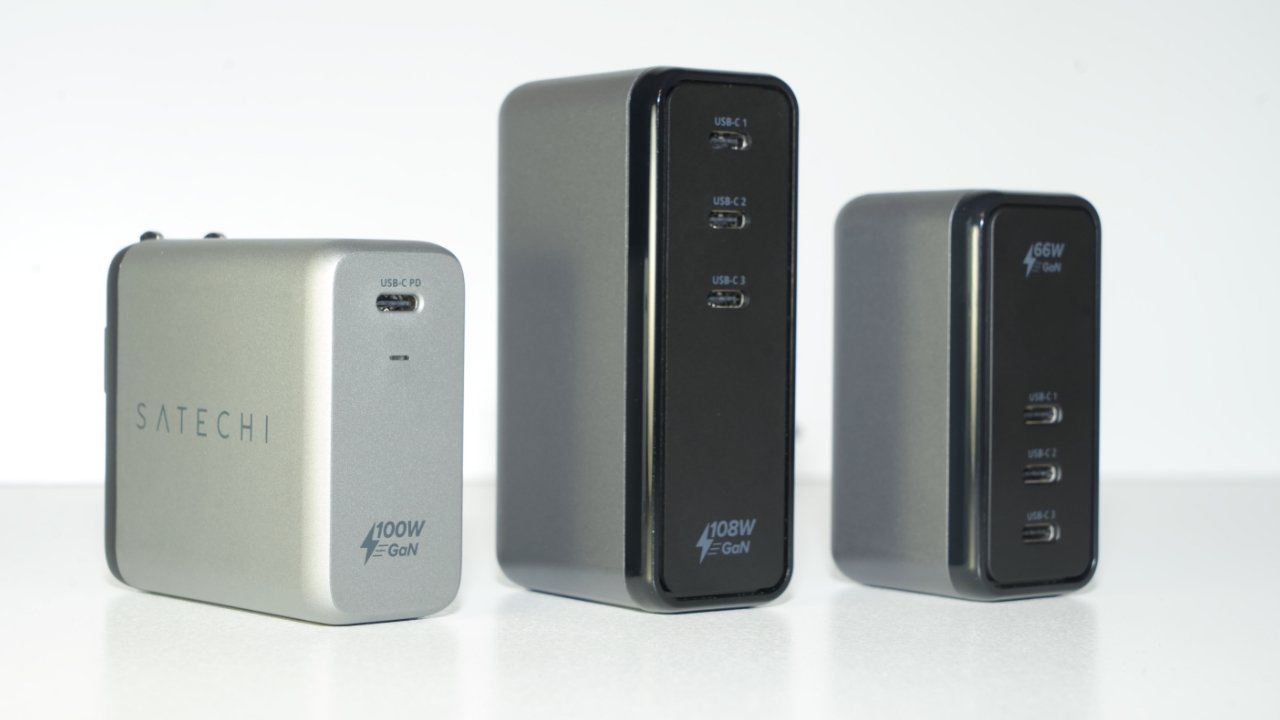 Satechi's USB-C GaN Wall Chargers are the ideal alternative to Apple's aging chargers thanks to faster speeds, smaller builds, and lower prices across the board.
AppleInsider has tested the 108W USB-C 3-port GaN Wall Charger, the 66W USB-C 3-port GaN Wall Charger, and the 100W USB-C PD Wall Charger and found them to be great charging alternatives to Apple's expensive, and large, charging adapters. In addition, Satechi's use of Gallium Nitride has enabled these wall chargers to fit into incredibly compact cases without sacrificing efficiency.
Gallium Nitride (GaN) is relatively new in consumer-facing technology used in power supplies to provide efficient, fast, and compact charging solutions. Any charger using GaN is much smaller and operates at lower temperatures than its silicon counterparts.
Satechi offers three variants of its GaN wall chargers, each offering a different ideal use case. Choosing the correct charger for you isn't always about getting the adapter with the most wattage since many modern devices won't utilize all of that energy.
100W USB-C PD Wall Charger
The 100W GaN charger can charge your 16-inch MacBook Pro at full speed without getting overheated, and in a package one-third the size of Apple's included 96W charger. The Power Delivery standard can safely provide the correct power required to any connected device.
The size difference of this charger is the selling point above all else. It is nearly the same size as Apple's 30W adapter with three times the power output. Among Satechi's wall chargers, this is the best power-to-size ratio.
Like with all Satechi gear, it is built to match your Apple products. It has a space gray-like finish, rounded corners, and a folding plug for better storage. The 100W model is the only one with an LED.
While this charger is powerful, it isn't for everyone. For example, in regards to Apple products, only the 16-inch MacBook Pro has a 100W max charging rate.
We'd recommend only purchasing this specific wall adapter if you have a 16-inch MacBook Pro. It is safe to use with other devices, but the extra power would never be used since only one port is available.
108W USB-C 3-port GaN Wall Charger
The slightly larger 108W Wall Charger has three USB-C PD ports that offer various charging output combinations. Thanks to the multiple ports, this adapter is much more versatile than its 100W counterpart and is the best choice for power output and port availability.
Thanks to the variable nature of USB-C PD, each port can output a different amount of watts based on what is connected. For example, each port can output a full 100W to a 16-inch MacBook Pro if that is the only device connected. So, there is no loss in utility when choosing the wall adapter with more ports.
When charging two devices, the ports can output 60W/45W or 88W/20W. That means you can fully power a 13-inch MacBook Pro and an iPhone via the 15W MagSafe Charger using the 88W/20W configuration. Likewise, the 60W/45W configuration would be ideal for charging a MacBook Air and iPad Pro simultaneously.
When all three ports are in use, the ports output 45W/30W/30W or 58W/30W/20W. Of course, the combinations are endless for these charging outputs, but you'd be able to easily charge a MacBook, iPad, and iPhone using this adapter.
We found that the 108W USB-C Wall Charger is the obvious choice for anyone looking for a good travel charger. However, it also works great at home if you're looking to simplify your device charging station.
66W USB-C 3-port GaN Wall Charger
The 66W wall charger has three available USB-C ports, but it is slightly less versatile than its 108W counterpart due to the lower wattage. However, what it lacks in power, it makes up for in size and price.
The max output of a single port is 65W. That means you can comfortably provide power to any of Apple's products and charge them quickly. Since the 66W Wall Charger is smaller than Apple's 30W charger and nearly the same price, it is an easy purchase for most.
When powering two devices, the ports can work at 30W/30W or 45W/20W. That's still plenty of power for charging a MacBook Air and iPad Pro simultaneously or a 13-inch MacBook Pro and iPhone MagSafe Charger.
When all three ports are in use, they can output 30W/18W/18W. This combination is ideal for charging an iPad Pro and two iPhones via Lightning.
The 66W USB-C Wall Charger is an ideal travel companion for anyone not carrying the 16-inch MacBook Pro. We'd recommend this adapter to anyone looking for the perfect balance of power, price, and size. However, for only $20 more, you can have a much better, more versatile adapter from Satechi.
Should you buy a Satechi GaN Wall Charger?
Anyone in the market for new wall chargers will find a plethora of choices from many accessory makers. However, we have always chosen Satechi's accessories because of their design aesthetic and consistent quality.
We'd easily recommend any of these three wall chargers and would say the choice comes down to a user's devices and needs. The only charger of the three that isn't an absolute yes is the 100W version since it is only beneficial for 16-inch MacBook Pro owners.
Where to buy the Satechi Wall Chargers