M1 Pro and M1 Max GPU performance versus Nvidia and AMD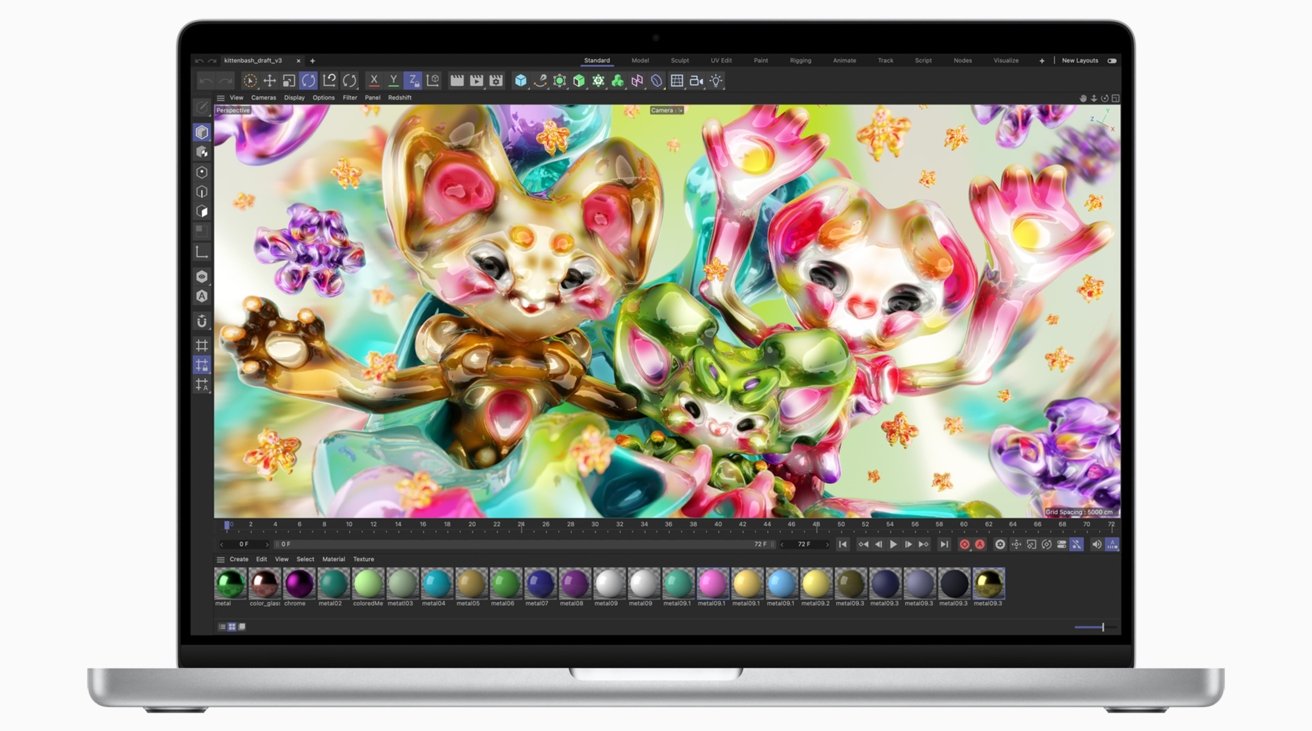 AppleInsider is supported by its audience and may earn commission as an Amazon Associate and affiliate partner on qualifying purchases. These affiliate partnerships do not influence our editorial content.
Apple's M1 Pro and M1 Max have GPU speeds competitive with new releases from AMD and Nvidia, with higher-end configurations expected to compete with gaming desktops and modern consoles
During Apple's keynote, the company boasted about the graphical performance of the M1 Pro and M1 Max, with each having considerably more cores than the M1 chip. It was said that the M1 Pro's 16-core GPU is seven-times faster than the integrated graphics on a modern "8-core PC laptop chip," and delivers more performance than a discrete notebook GPU while using 70% less power.
The M1 Max was said to have even more performance, with it apparently comparable to a high-end GPU in a compact pro PC laptop, while being similarly power efficient.
In estimates by NotebookCheck following Apple's release of details about its configurations, it is claimed the new chips may well be able to outpace modern notebook GPUs, and even some non-notebook devices.
The reference for the publication is the known quantity, namely the M1, which has an eight-core GPU that manages 2.6 teraflops of single-precision floating-point performance, also known as FP32 or float32.
Apple Silicon processor
M1
M1 Pro
M1 Pro
M1 Max
M1 Max
GPU core count
8
14
16
24
32
Teraflops
2.6
4.5
5.2
7.8
10.4
AMD equivalent GPU
Radeon RX 560
(2.6TF)
Radeon RX 5500M
(4.6TF)
Radeon RX 5500
(5.2TF)
Radeon RX 5700M
(7.9TF)
Radeon RX Vega 56
(10.5TF)
Nvidia equivalent GPU
GeForce GTX 1650
(2.9TF)
GeForce GTX 1650 Super
(4.4TF)
GeForce GTX 1660 Ti
(5.4TF)

GeForce RTX 2070
(7.4TF)
GeForce RTX 2080
(10TF)
In the case of the M1 Pro, the 14-core variant is thought to run at up to 4.5 teraflops, while the advertised 16-core is believed to manage 5.2 teraflops. For the M1 Max, the 24-core version is expected to hit 7.8 teraflops, and the top 32-core variant could manage 10.4 teraflops.
If the estimates turn out to be accurate, it does put the new M1 chips in some esteemed company.
The 16-core GPU in the M1 Pro is thought to be 5.2 teraflops, which puts it in the same ballpark as the Radeon RX 5500 in terms of performance. The Nvidia equivalent would be the GeForce GTX 1660 Ti, which is slightly faster at peak performance with 5.4 teraflops.
At the high end, the M1 Max's 32-core GPU is at a par with the AMD Radeon RX Vega 56, a GPU that Apple used in the iMac Pro. Its Nvidia equivalent would be something like the GeForce RTX 2060.
Against game consoles, the 32-core GPU puts it at a par with the PlayStation 5's 10.28 teraflops of performance, while the Xbox Series X is capable of up to 12 teraflops.
For the moment, these are estimates based on what Apple said during its special event and in the following press releases and product pages, and therefore can't really be considered perfectly accurate, aside from the M1's performance.
Tflops are not the ultimate comparison of GPU performance. Real-world performance varies depending on if a task is CPU-bound, or if the GPU has a constant flow of data at the theoretical maximum data transfer rate. The performance estimates by the report also assume that the chips are running at the same clock speed as the M1.
No one outside of Apple will truly know the performance of the new chips until the latest 14-inch MacBook Pro and 16-inch MacBook Pro ship to consumers. At that time, benchmarks will reveal how powerful the new M1 chips truly are.