iOttie Velox car charger review: A luxe MagSafe-compatible Qi vent mount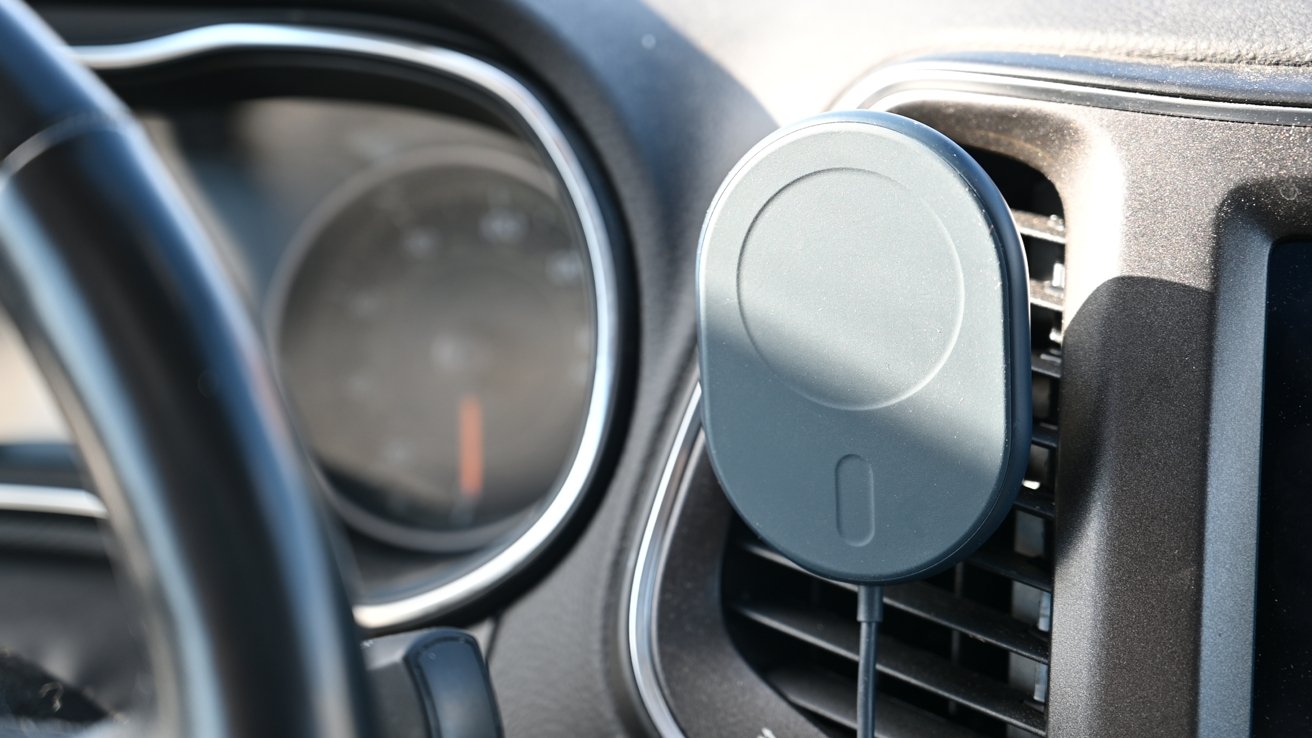 AppleInsider is supported by its audience and may earn commission as an Amazon Associate and affiliate partner on qualifying purchases. These affiliate partnerships do not influence our editorial content.
The iOttie Velox car charger may not be MagSafe-certified, but it is the best magnetic car charger we've tested for iPhone 13 and iPhone 12.
Officially, there is no MagSafe car charger. It just doesn't exist. So while iOttie isn't using official components, no one else in the market is either.
There is in fact, only one official MagSafe car mount and it is the one Belkin introduced at the announcement of the iPhone 12. Here we are, more than a year down the road, and no other car mount has come out with MagSafe support, let alone a MagSafe charger.
It's important to set the stage to realize that without a premium Apple-approved solution, it's a bit of a crap shoot out there with third-party charging solutions. To that end, iOttie has seized the opportunity to launch a premium MagSafe-compatible solution.
A high-end makeup
The iOttie Velox is a vent-style charger. It uses its strong silicone-covered prongs to slide into your car's air vent and hold your iPhone within view. The prongs are connected to a ball joint that allows for a wide range of motion, and reliable tension that won't move on its own.
Around the socket for the ball joint is a gold-chromed ring that adds some accent while the rest of the device is a dark blue color.
Rather than being light plastic, most of the device is made from aluminum. This serves a purpose, as aside from adding to the overall quality of the device, it's also a great heatsink.
In the car, phones get hot quite quickly. Navigating can ramp up the heat, which only increases if you're also streaming music or anything else in the background. In the winter months, hot air will usually come out of those vents so keeping your phone and charger cool is paramount. As soon as the temperature starts to rise, charge speed is slowed to prevent overheating.
The front of the charger is silicone-covered as well with small depressions to represent the ring of magnets as well as the additional alignment magnet that will keep your phone from rotating.
But a vent mount?
We know some people hate vent mounts. If you don't want a vent mount, there are many other solid options you can choose from — just not from iOttie. Vent mounts work well because everyone has a vent. Not everyone has a dash that can hold a suction cup and mounting it on the windshield can make cable routing difficult.
Thanks to the better cooling and strong clips, we haven't had issues with the Velox thus far. We even ran a simulated impact test with the Velox and several competing products.
The Velox held on tight and didn't jostle free. Plus, by attaching to the vent, it was very easy to properly route the wire and keep it out of the way.
Speaking of the cable, that is one rather small downside. It is a USB-C cable but it isn't detachable. The cable is fully built in to the bottom of the charger. This helps keep the device size small, but if something happens to the cable, you can't swap it out. If you wanted a shorter or longer cable, you're out of luck.
Charging your iPhone
This charger is designed to exclusively work via MagSafe-enabled phones. At the time of release, that would be iPhone 13 and iPhone 12 models. Future iPhones will undoubtedly support it as well.
Most chargers max out at 5W for iPhone but iOttie has set up the Velox with a 7.5W charger, the maximum for Qi on Apple devices. Unfortunately, as we discussed, this is Qi and not official MagSafe.
Were this a MagSafe charger, it would be capable of quicker charging up to 15W. MagSafe can suffer from heat, which is why we probably haven't seen any MagSafe car chargers to date. Your phone already gets hot from running wireless CarPlay, navigating, and other in-car duties. Faster MagSafe charging is seemingly a non-starter at this point.
Should you buy the iOttie Velox?
When it comes to vent mount MagSafe-compatible chargers, the Velox is the cream of the crop. There's nothing to dislike here from the soft-touch silicone, metal body, simple chromed accents, easy use, compact size, fast charging, and strong grip.
You can knock a point or two for the integrated cable but there's little chance the cable will get damaged in the car once mounted and we prefer the more compact design instead of the bulk that comes from adding a detachable one.
MagSafe is a great solution for mounting and charging your newer iPhone and this is as close to a premium Apple option as we've come thus far.
Great look
Soft-touch silicone exterior
Aluminum metal body for better feel and heat dissipation
Solid 7.5W of power
USB-C
Movable ball joint
Works great with any MagSafe-enabled phone
Not actual MagSafe
Can't replace cable
Rating: 5 out of 5
Where to buy