More devs earn first $1M in annual revenue from App Store than Google Play
AppleInsider may earn an affiliate commission on purchases made through links on our site.
Over 900 app publishers are expected to earn more than $1 million in net revenue from digital app storefronts in 2021, a report claims, with the App Store minting more million-dollar earners than the Google Play Store.
The app economy has been lucrative for many developers, enabling practically anyone to produce an app and to make money from it around the world. In a new Sensor Tower report, it seems that there will be another 900 developers to be included in the pool of high earners by the end of 2021.
The report forecasts that 906 mobile app publishers will earn their first $1 million in net avenue revenue in 2021. The total figure is nearly double that of the 475 publishers to earn their first annual million in 2016.
While a considerable improvement over 2016, the figures are actually a small reduction from 2020, which saw 1,003 publishers reached the annual net revenue milestone. It is thought that 2020 benefited from a higher number of downloads triggered by work-from-home initiatives in the wake of COVID-19's spread.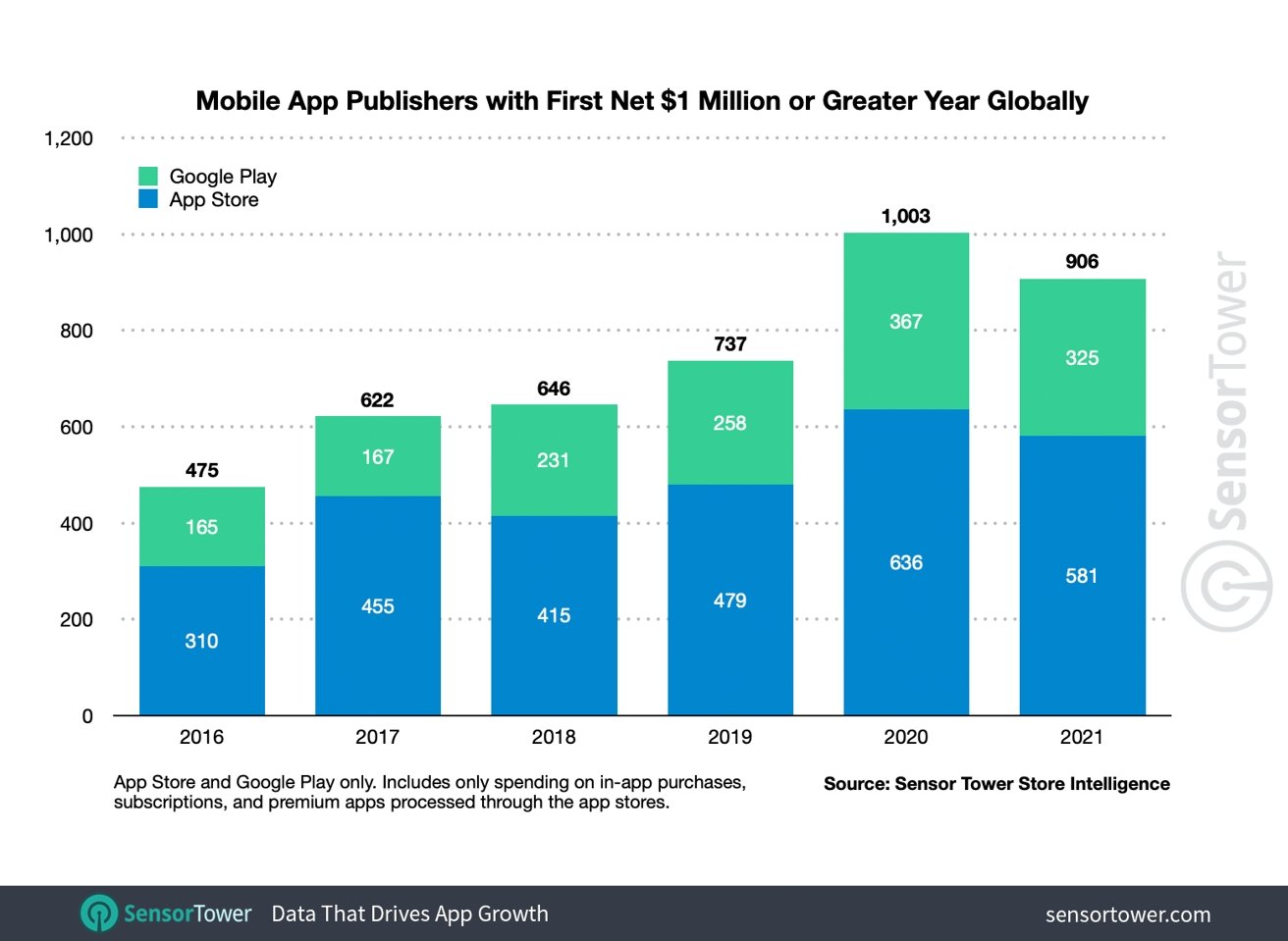 On a per-store basis, Apple's App Store continues to take the lead over Google Play, with 581 publishers reaching the figure for the first time versus 325 for Google Play. However, Sensor Tower believes the gap is starting to shrink.
Drilling down to the U.S. marketplace, it is thought that 408 publishers will make the mark across both stores, with the App Store contributing 274 and 134 for Google Play. This will be a 9% drop from 2020's figures, with the App Store down 10% year-on-year and Google Play down 6%.
In 2017, the App Store produced 2.7 times the number of publishers managing the milestone than Google Play. However, a year-on-year projected spend increase of 23.5% on Google Play for 2021 outpaces the 17.7% growth expected of the App Store, at $85.1 billion in consumer spending .
On an app category basis, games made up 32% of apps in the App Store giving publishers their first annual million-dollar net revenues, up from a 31% share in 2020 and 2019. Social networking apps form 11% of the 2021 figure, followed by entertainment apps and health and fitness apps at 7% each.