Steve Jobs introduced the first MacBook Pro 16 years ago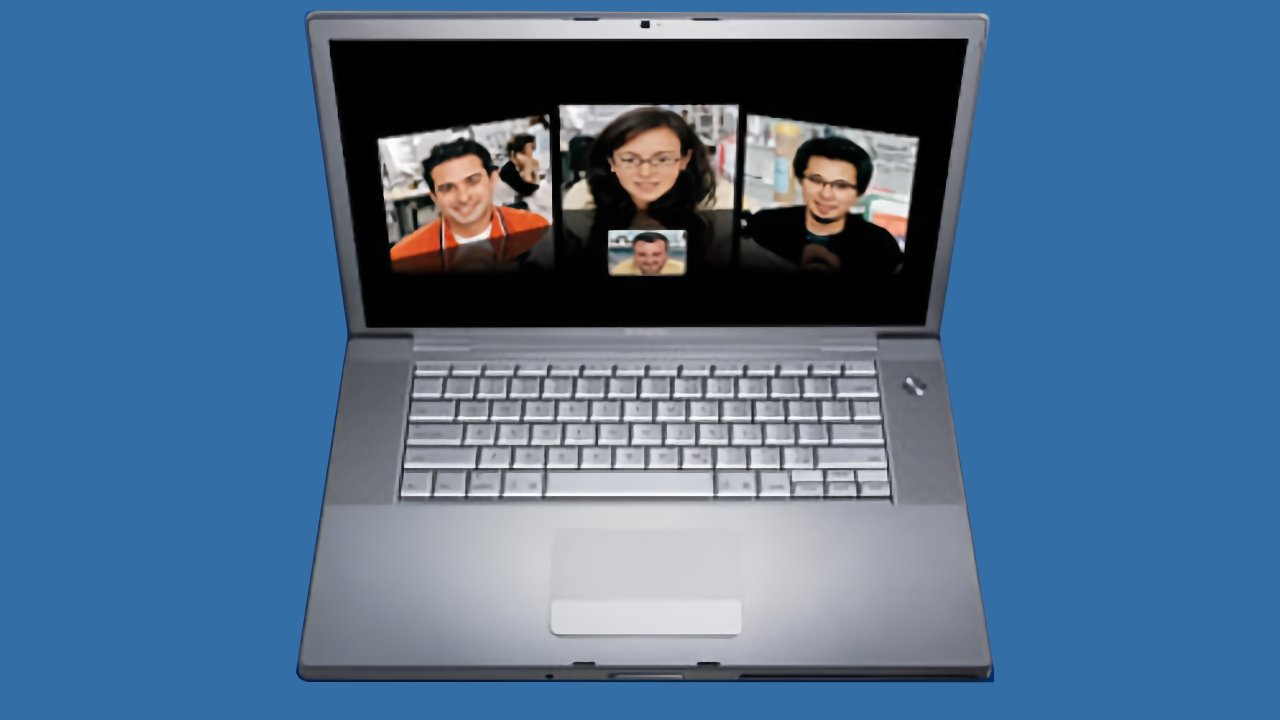 In one moment on January 10, 2006, Steve Jobs said Apple was through with the hit PowerBooks. So, instead, he unveiled the first MacBook Pro with Intel inside.
The PowerBook had been a huge success for Apple from the day the first models were released on October 21, 1991. But the entire range died 14 years, 2 months, and 20 days later as Steve Jobs killed off the PowerBook and replaced it with the MacBook Pro.
It's now 16 years years since he did that, which means we've had the MacBook Pro for longer than Apple's original portables. And where the MacBook Pro was then introduced during the changeover from PowerPC to Intel processors, today the MacBook Pro is a key part of the change from Intel to Apple Silicon.
"It's because we're kind of done with 'power'," said Jobs on stage at Macworld, "and because we want Mac in the name of our products."
If you were a Mac user in 2006, it was hard not to be excited at the promised performance improvements, but impossible not to be sorry the name PowerBook was gone.
That changed over time, of course, but it may have taken longer than it might. It was not until the updated Intel Core 2 Duo models in October 2006 that it felt as if the MacBook Pro was a hit.
The name change did seem to amplify just how big a difference there was between the last PowerBook G4 and the first Intel Core Duo MacBook Pro. It perhaps also hid how the PowerBook range had launched while Steve Jobs was gone.
Jobs had been back at Apple for almost a decade, so it's not as if it were really some petulant desire to stamp his mark on things. Still, tight from the start of the Macintosh, he'd pressed for what he called "Mac in a book," and now he got it.
What you got
There was just one MacBook Pro launched on that day, and Jobs inevitably spent a long time stressing just how much better it was than its predecessor. But he also spent quite a while explaining why this new machine was part of the reason Apple was moving to Intel.
"There's been this pesky little problem on the PowerBooks," he said. "It's not a secret that we've been trying to shoe-horn a G5 into the PowerBook and have been unable to do so because of its power consumption being unrealistic in such a small package."
"We've done everything that was possible engineering-wise," he continued. Showing an image of the Catholic Pope, he added: "We've consulted every possible high authority."
Just as Tim Cook and Craig Federighi would do with the move to Apple Silicon, Jobs emphasized that the issue was the balance between performance power and battery life. According to Jobs, a G5 proved to be a worse option than a G4 because of this balance.
And the Intel Core Duo was, indeed, dramatically better. And it was only a start for the much better Core 2 Duo that came later.
"This is hard to believe, but this is what the numbers tell us," said Jobs. "Four to five times faster than the PowerBook G4. These things are screamers."
The one MacBook Pro had a 15.4-inch screen, which Jobs said was as bright as Apple's then-current Cinema Display, and it came in two configurations. For $1,999, you got:
1.67 GHz Intel Core Duo
Built-in iSight camera
512MB RAM
80GB SATA hard drive
4x SuperDrive
ATI Radeon X1600
Airport Extreme & Bluetooth
ExpressCard Slot
MagSafe power connector
For $2,499, you got a faster 1.83 GHz Intel Core Duo, plus 1GB RAM, and 100GB hard drive storage, "for those folks that need a little more."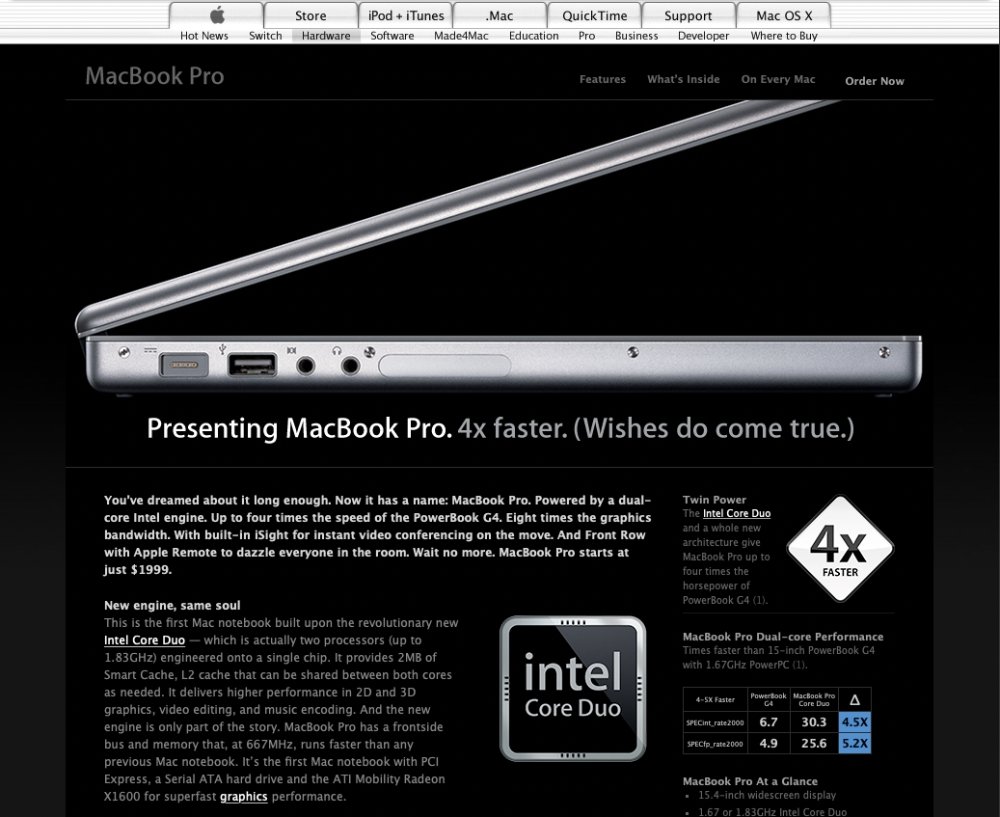 In today's money, that would make the entry-level configuration approximately $2,756. And the higher specification model was what would today be around $3,445.
Video conferencing on the go
Jobs could not have imagined how much the world would be using video conferencing 15 and 16 years after the launch of the MacBook Pro. But he did recognize how the new built-in iSight camera would be a boon, and it did get applause at the event.
"So now you can have video conferencing right out of the box, and on the go," he said. "It's great for those of you that ever carried an iSight camera with you with a PowerBook, boy this is this is heaven."
It wasn't the most high-resolution webcam at 640 by 480 pixels, and arguably Apple still underperforms in this line, but building it in to the MacBook Pro was a big step.
Additions and subtractions
This first MacBook Pro also added an IR sensor in the front, beside the latch to open the case. Apple included a remote control which, together with the sensor, meant users could use Apple's Front Row software for playing back video and audio.
You probably never used Front Row on your MacBook Pro. If the name "PowerBook" is still fondly remembered, Front Row isn't much at all.
And as Apple gave us more performance with one hand, it also took away some convenience. The new MacBook Pro lacked the FireWire 800 port of the PowerBook for one thing, while the SuperDrive dropped support for dual-layer DVD+R media.
At this distance, the 80GB and 100GB hard drive sizes seem like typing mistakes, they were also even smaller than users could get with the previous PowerBook.
How far we've come
"So the new MacBook Pro is the fastest Mac notebook ever, obviously," said Jobs. "It's also the thinnest. It's an inch thin and it's even a hair thinner than the 17-inch PowerBook."
The full dimensions were 1.0 inches by 14.1 inches by 9.6 inches, and it weighed 5.6lbs. The screen's maximum resolution was 1,440 by 900 pixels.
Its 15.4-inch display means it sat right between today's 14-inch MacBook Pro and 16-inch MacBook Pro for screen size. It was, though, the top of the range — at least while there was only one MacBook Pro — so the most useful comparison is with the 16-inch Apple Silicon MacBook Pro.
That actually has a 16.2-inch display. Its maximum resolution is 3,456 by 2,234 pixels.
As for physical dimensions, the current 16-inch MacBook Pro is 0.66 inches by a slightly slimmer 14.01 inches, and a slightly greater depth of 9.77 inches. It weighs 4.8lbs with the M1 Max processor.
Speaking of processors, it's not truly possible to compare such different chips, but both the 2006 and 2021 MacBook Pro are "screamers." Where Jobs championed that every MacBook Pro would have dual processors, the fewest you can get in today's machine is 10 CPU cores and 16 GPU cores.
Plus the minimum RAM is now 16GB, and the minimum storage is 512GB SSD.
The legacy of the MacBook Pro
It is still easy to be nostalgic for the PowerBook name, but that nostalgia tends to obscure how the original laptop range had as many misses as hits. There were recalls, there were overheating PowerBooks.
Yet sixteen years ago, Jobs and Apple did genuinely make a big leap in performance, and a big leap in usability for Mac users on the go.
Then if it seemed as if the MacBook Pro took a few wrong turns — such as dropping MagSafe, adding unreliable keyboards — today it's back to its roots and again making huge leaps.