How to tell the difference between real AirPods Pro and counterfeit ones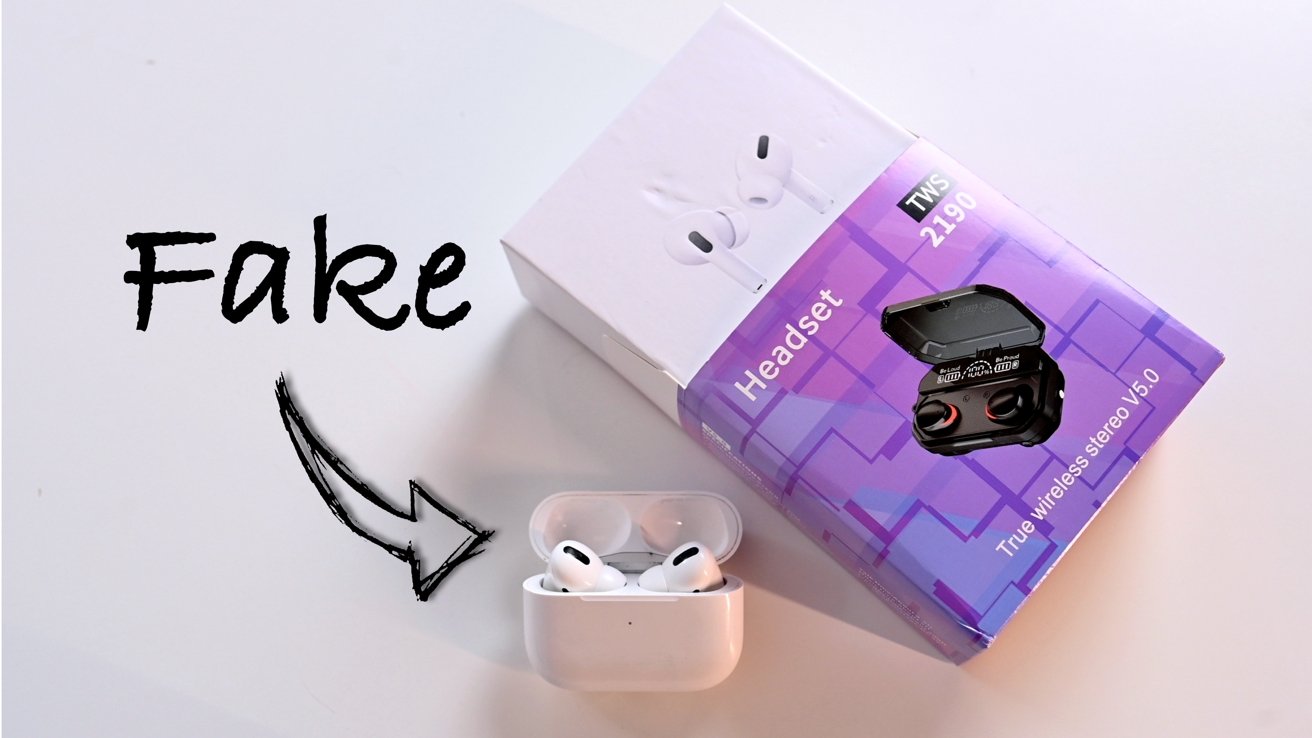 Details are key in spotting a fake set of AirPods or AirPods Pro. We picked up a set of widely available clones and compared them to genuine AirPods Pro so you can better protect yourself from getting scammed by counterfeit Apple earbuds.
The markets are inundated by fake AirPods and AirPods Pro. With the incredible popularity of Apple's earbuds, it comes as no surprise. They've become available through shady third-party websites as well as person-to-person resale sites.
We've already covered how to tell if your AirPods are genuine, but here we'll be taking a look at a known knockoff set of AirPods Pro to point out all the red flags you can watch out for.
It's also a great example of how well disingenuous parties can recreate many of Apple's software features and hardware.
Packaging
When our earbuds arrived, they didn't come like your usual AirPods. As you open the cheaply-produced box, nestled inside was a sealed AirPods box. This is already a red flag that things aren't on the up and up.
Before opening the AirPods Pro box, we noticed that the plastic wrap wasn't taut. Apple's shrink wrap is tight around the box, whereas the fake version is thinner and baggy in places. They recreated the pull tab for easy opening that Apple employs.
The box itself is eerily similar to Apple's, though it isn't as thick, causing the sides to bow slightly. Inside, you'll find all the usual suspects: the manual, Lightning cable, and the headphones themselves.
We noticed that the getting started guide is printed on slightly thinner paper than the legitimate version. The bundled Lightning cable is also out of whack, looking repacked.
AirPods hardware
If you look at the physical hardware, the differences are equally difficult to discern. We have to nitpick and look at the smallest details to identify the fake.
Apple's tolerances on hardware are second-to-none, so while the rear button is close, it doesn't sit as flush to the case as the official version does. The inside of the case and each earbud are printed with a darker ink than what Apple uses.
The bottom cap below the charging contacts on the fakes isn't as smooth on the earbuds, and you can see the seam from the mold. Each of the ear tips is slightly stiffer than the silicone Apple employs.
These details are so minute that unless you have an official set of AirPods Pro next to you for comparison, you may never be able to tell. The best takeaway is if you see anything that looks off, you should be skeptical of its origins.
Software and features
The software doesn't provide many other clues as to which set is fake. Expertly produced knockoffs can mimic nearly all of Apple's features.
When you open the fake AirPods Pro case, a modal popup will appear just like the real deal. This used to be an identifying feature, only available on real AirPods.
Once paired, they will show in Control Center, show in the Settings app, and appear genuine. If you copy the serial number out, this has been spoofed too. When you enter it on Apple's website, it will say it is an actual serial number though the coverage has expired.
On this particular set of fake AirPods Pro, one dead giveaway is that the active noise cancellation will not work. In Control Center, you can toggle between off, ANC, and Transparency modes, but the earbuds won't reflect what you've chosen.
That isn't to say all fakes have broken ANC. ANC appears in even cheap earbuds, so a barely functioning or even just getting them to switch the label in iOS seems reasonable to accomplish.
Where to buy, while still saving money
Amazon itself is also an Apple Authorized Reseller, and the company often has the steepest discounts in effect on wireless earbuds. For peace of mind, shop through the official Apple store on Amazon and look for models that are shipped and sold by Amazon directly.
If you do find yourself buying them on a secondhand market, be sure to check every little detail before paying and ask questions. Ask when they were purchased, check the serial number (if purportedly purchased less than a year prior), and try them out for yourself if possible.