Apple's 16-inch MacBook Pro with 1TB SSD gets $200 discount, in stock today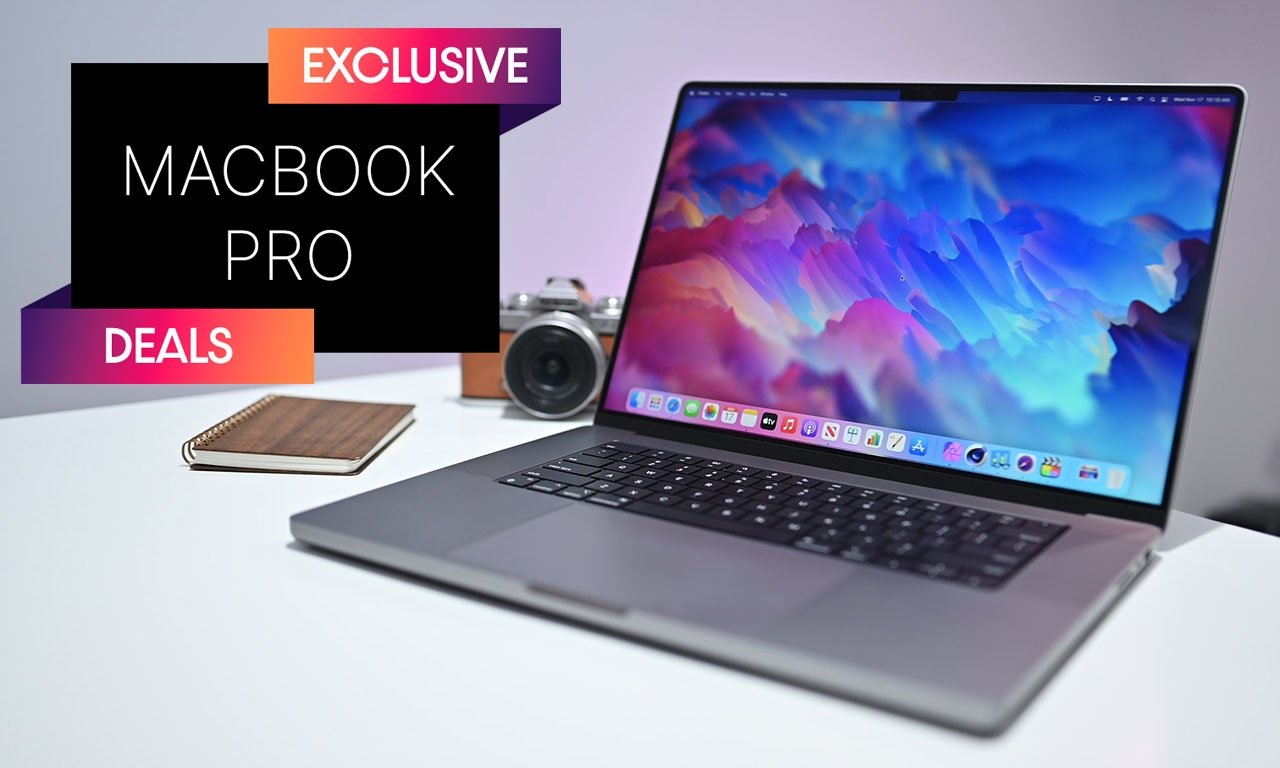 AppleInsider is supported by its audience and may earn commission as an Amazon Associate and affiliate partner on qualifying purchases. These affiliate partnerships do not influence our editorial content.
Equipped with a spacious 1TB SSD, Apple's new 16-inch MacBook Pro is now $200 off in addition to $80 off AppleCare. Units are in stock and ready to ship, beating Apple's late March delivery estimate by over six weeks.
Steeper 16-inch MacBook Pro discount
We reported on a $200 discount on Apple's standard 16-inch MacBook Pro in January, and today the 1TB model in Space Gray is also eligible for the steep discount at Apple Authorized Reseller Adorama using this activation link with promo code APINSIDER.
The spacious 1TB configuration is equipped with Apple's M1 Pro chip with a 10-core CPU and 16-core GPU, along with 16GB of RAM, and is in stock and ready to ship, beating Apple's late March delivery estimate by well over six weeks.
Prefer another set of specs? The same APINSIDER coupon works on every 14-inch and 16-inch MacBook Pro carried at Adorama, with a total of 6 models in stock across the Late 2021 range.
Need help with the APINSIDER coupon? Step-by-step activation instructions can be found here.
AppleCare is also $80 off when purchased alongside the 16-inch MacBook Pro using the APINSIDER code, bringing the cost down to $319 compared to Apple's $399 MSRP.
This MacBook Pro deal delivers the cheapest price available on the ugraded model, with the AppleCare discount proving to be icing on the cake. To compare prices on every configuration, visit our 16-inch MacBook Pro Price Guide, which is updated daily.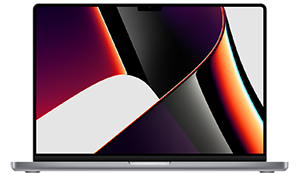 MacBook Pro 16-inch Prices
AppleInsider may earn commission on products purchased through affiliate links.
---
Configurations
Discount
M1 Pro (10-core CPU, 16-core GPU), 16GB, 512GB, Space Gray

$2,499.00

Coupon

Price with $100 promo code APINSIDER. Plus, save $80 with the same coupon code. If you have any issues with the coupon, reach out to us at [email protected] and we'll try and help.

$100.00
M1 Pro (10-core CPU, 16-core GPU), 16GB, 512GB, Silver

$2,499.00

Coupon

Price with $200 promo code APINSIDER. Plus, save $80 on AppleCare with the same code. If you have any issues with the coupon, reach out to us at [email protected] and we'll try and help.

$200.00
M1 Pro (10-core CPU, 16-core GPU), 16GB, 1TB, Space Gray

$2,699.00

Coupon

Price with $200 promo code APINSIDER. Plus, save $80 on AppleCare with the same code. If you have any issues with the coupon, reach out to us at [email protected] and we'll try and help.

n/a

$200.00
M1 Pro (10-core CPU, 16-core GPU), 16GB, 1TB, Silver

$2,699.00

Coupon

Price with $150 promo code APINSIDER. Plus, save $80 on AppleCare with the same coupon code. If you have any issues with the coupon, reach out to us at [email protected] and we'll try and help.

n/a

$150.00
M1 Pro (10-core CPU, 16-core GPU), 16GB, 2TB, Space Gray

$3,099.00

Coupon

Price with $150 promo code APINSIDER. Plus, save $80 on AppleCare with the same coupon code. If you have any issues with the coupon, reach out to us at [email protected] and we'll try and help.

n/a

n/a

n/a

$150.00
M1 Pro (10-core CPU, 16-core GPU), 16GB, 2TB, Silver

$3,099.00

Coupon

Price with $150 promo code APINSIDER. Plus, save $80 on AppleCare with the same coupon code. If you have any issues with the coupon, reach out to us at [email protected] and we'll try and help.

n/a

n/a

n/a

$150.00
M1 Pro (10-core CPU, 16-core GPU), 16GB, 4TB, Space Gray

$3,699.00

Coupon

Price with $200 promo code APINSIDER. Plus, save $80 on AppleCare with the same code. If you have any issues with the coupon, reach out to us at [email protected] and we'll try and help.

n/a

n/a

n/a

$200.00
M1 Pro (10-core CPU, 16-core GPU), 16GB, 4TB, Silver

$3,699.00

Coupon

Price with $200 promo code APINSIDER. Plus, save $80 on AppleCare with the same code. If you have any issues with the coupon, reach out to us at [email protected] and we'll try and help.

n/a

n/a

n/a

$200.00
M1 Pro (10-core CPU, 16-core GPU), 16GB, 8TB, Space Gray

$4,899.00

Coupon

Price with $200 promo code APINSIDER. Plus, save $80 on AppleCare with the same code. If you have any issues with the coupon, reach out to us at [email protected] and we'll try and help.

n/a

n/a

n/a

$200.00
M1 Pro (10-core CPU, 16-core GPU), 16GB, 8TB, Silver

$4,899.00

Coupon

Price with $200 promo code APINSIDER. Plus, save $80 on AppleCare with the same code. If you have any issues with the coupon, reach out to us at [email protected] and we'll try and help.

n/a

n/a

n/a

$200.00
M1 Pro (10-core CPU, 16-core GPU), 32GB, 512GB, Space Gray

$2,899.00

Coupon

Price with $150 promo code APINSIDER. Plus, save $80 on AppleCare with the same coupon code. If you have any issues with the coupon, reach out to us at [email protected] and we'll try and help.

n/a

n/a

n/a

$150.00
M1 Pro (10-core CPU, 16-core GPU), 32GB, 512GB, Silver

$2,899.00

Coupon

Price with $150 promo code APINSIDER. Plus, save $80 on AppleCare with the same coupon code. If you have any issues with the coupon, reach out to us at [email protected] and we'll try and help.

n/a

n/a

n/a

$150.00
M1 Pro (10-core CPU, 16-core GPU), 32GB, 1TB, Space Gray

$3,099.00

Coupon

Price with $150 promo code APINSIDER. Plus, save $80 on AppleCare with the same coupon code. If you have any issues with the coupon, reach out to us at [email protected] and we'll try and help.

n/a

n/a

n/a

$150.00
M1 Pro (10-core CPU, 16-core GPU), 32GB, 1TB, Silver

$3,099.00

Coupon

Price with $200 promo code APINSIDER. Plus, save $80 on AppleCare with the same code. If you have any issues with the coupon, reach out to us at [email protected] and we'll try and help.

n/a

n/a

n/a

$200.00
M1 Pro (10-core CPU, 16-core GPU), 32GB, 2TB, Space Gray

$3,499.00

Coupon

Price with $250 promo code APINSIDER. Plus, $80 off AppleCare with the same code. If you have any issues with the coupon, reach out to us at [email protected] and we'll try and help.

n/a

n/a

n/a

$250.00
M1 Pro (10-core CPU, 16-core GPU), 32GB, 2TB, Silver

$3,499.00

Coupon

Price with $250 promo code APINSIDER. Plus, $80 off AppleCare with the same code. If you have any issues with the coupon, reach out to us at [email protected] and we'll try and help.

n/a

n/a

n/a

$250.00
M1 Pro (10-core CPU, 16-core GPU), 32GB, 4TB, Space Gray

$4,099.00

Coupon

Price with $200 promo code APINSIDER. Plus, save $80 on AppleCare with the same code. If you have any issues with the coupon, reach out to us at [email protected] and we'll try and help.

n/a

n/a

n/a

$200.00
M1 Pro (10-core CPU, 16-core GPU), 32GB, 4TB, Silver

$4,099.00

Coupon

Price with $200 promo code APINSIDER. Plus, save $80 on AppleCare with the same code. If you have any issues with the coupon, reach out to us at [email protected] and we'll try and help.

n/a

n/a

n/a

$200.00
M1 Pro (10-core CPU, 16-core GPU), 32GB, 8TB, Space Gray

$5,299.00

Coupon

Price with $200 promo code APINSIDER. Plus, save $80 on AppleCare with the same code. If you have any issues with the coupon, reach out to us at [email protected] and we'll try and help.

n/a

n/a

n/a

$200.00
M1 Pro (10-core CPU, 16-core GPU), 32GB, 8TB, Silver

$5,299.00

Coupon

Price with $200 promo code APINSIDER. Plus, save $80 on AppleCare with the same code. If you have any issues with the coupon, reach out to us at [email protected] and we'll try and help.

n/a

n/a

n/a

$200.00
M1 Max (10-core CPU, 24-core GPU), 32GB, 512GB, Space Gray

$3,099.00

Coupon

Price with $150 promo code APINSIDER. Plus, save $80 on AppleCare with the same coupon code. If you have any issues with the coupon, reach out to us at [email protected] and we'll try and help.

n/a

n/a

n/a

$150.00
M1 Max (10-core CPU, 24-core GPU), 32GB, 512GB, Silver

$3,099.00

Coupon

Price with $150 promo code APINSIDER. Plus, save $80 on AppleCare with the same coupon code. If you have any issues with the coupon, reach out to us at [email protected] and we'll try and help.

n/a

n/a

n/a

$150.00
M1 Max (10-core CPU, 24-core GPU), 32GB, 1TB, Space Gray

$3,299.00

Coupon

Price with $150 promo code APINSIDER. Plus, save $80 on AppleCare with the same coupon code. If you have any issues with the coupon, reach out to us at [email protected] and we'll try and help.

n/a

n/a

n/a

$150.00
M1 Max (10-core CPU, 24-core GPU), 32GB, 1TB, Silver

$3,299.00

Coupon

Price with $150 promo code APINSIDER. Plus, save $80 on AppleCare with the same coupon code. If you have any issues with the coupon, reach out to us at [email protected] and we'll try and help.

n/a

n/a

n/a

$150.00
M1 Max (10-core CPU, 24-core GPU), 32GB, 2TB, Space Gray

$3,699.00

Coupon

Price with $200 promo code APINSIDER. Plus, save $80 on AppleCare with the same code. If you have any issues with the coupon, reach out to us at [email protected] and we'll try and help.

n/a

n/a

n/a

$200.00
M1 Max (10-core CPU, 24-core GPU), 32GB, 2TB, Silver

$3,699.00

Coupon

Price with $200 promo code APINSIDER. Plus, save $80 on AppleCare with the same code. If you have any issues with the coupon, reach out to us at [email protected] and we'll try and help.

n/a

n/a

n/a

$200.00
M1 Max (10-core CPU, 24-core GPU), 32GB, 4TB, Space Gray

$4,299.00

Coupon

Price with $200 promo code APINSIDER. Plus, save $80 on AppleCare with the same code. If you have any issues with the coupon, reach out to us at [email protected] and we'll try and help.

n/a

n/a

n/a

$200.00
M1 Max (10-core CPU, 24-core GPU), 32GB, 4TB, Silver

$4,299.00

Coupon

Price with $200 promo code APINSIDER. Plus, save $80 on AppleCare with the same code. If you have any issues with the coupon, reach out to us at [email protected] and we'll try and help.

n/a

n/a

n/a

$200.00
M1 Max (10-core CPU, 24-core GPU), 32GB, 8TB, Space Gray

$5,499.00

Coupon

Price with $200 promo code APINSIDER. Plus, save $80 on AppleCare with the same code. If you have any issues with the coupon, reach out to us at [email protected] and we'll try and help.

n/a

n/a

n/a

$200.00
M1 Max (10-core CPU, 24-core GPU), 32GB, 8TB, Silver

$5,499.00

Coupon

Price with $200 promo code APINSIDER. Plus, save $80 on AppleCare with the same code. If you have any issues with the coupon, reach out to us at [email protected] and we'll try and help.

n/a

n/a

n/a

$200.00
M1 Max (10-core CPU, 24-core GPU), 64GB, 512GB, Space Gray

$3,499.00

Coupon

Price with $200 promo code APINSIDER. Plus, $60 off AppleCare with the same code. If you have any issues with the coupon, reach out to us at [email protected] and we'll try and help.

n/a

n/a

n/a

$200.00
M1 Max (10-core CPU, 24-core GPU), 64GB, 512GB, Silver

$3,499.00

Coupon

Price with $200 promo code APINSIDER. Plus, save $80 on AppleCare with the same code. If you have any issues with the coupon, reach out to us at [email protected] and we'll try and help.

n/a

n/a

n/a

$200.00
M1 Max (10-core CPU, 24-core GPU), 64GB, 1TB, Space Gray

$3,699.00

Coupon

Price with $200 promo code APINSIDER. Plus, save $80 on AppleCare with the same code. If you have any issues with the coupon, reach out to us at [email protected] and we'll try and help.

n/a

n/a

n/a

$200.00
M1 Max (10-core CPU, 24-core GPU), 64GB, 1TB, Silver

$3,699.00

Coupon

Price with $200 promo code APINSIDER. Plus, save $80 on AppleCare with the same code. If you have any issues with the coupon, reach out to us at [email protected] and we'll try and help.

n/a

n/a

n/a

$200.00
M1 Max (10-core CPU, 24-core GPU), 64GB, 2TB, Space Gray

$4,099.00

Coupon

Price with $200 promo code APINSIDER. Plus, save $80 on AppleCare with the same code. If you have any issues with the coupon, reach out to us at [email protected] and we'll try and help.

n/a

n/a

n/a

$200.00
M1 Max (10-core CPU, 24-core GPU), 64GB, 2TB, Silver

$4,099.00

Coupon

Price with $200 promo code APINSIDER. Plus, save $80 on AppleCare with the same code. If you have any issues with the coupon, reach out to us at [email protected] and we'll try and help.

n/a

n/a

n/a

$200.00
M1 Max (10-core CPU, 24-core GPU), 64GB, 4TB, Space Gray

$4,699.00

Coupon

Price with $200 promo code APINSIDER. Plus, save $80 on AppleCare with the same code. If you have any issues with the coupon, reach out to us at [email protected] and we'll try and help.

n/a

n/a

n/a

$200.00
M1 Max (10-core CPU, 24-core GPU), 64GB, 4TB, Silver

$4,699.00

Coupon

Price with $200 promo code APINSIDER. Plus, save $80 on AppleCare with the same code. If you have any issues with the coupon, reach out to us at [email protected] and we'll try and help.

n/a

n/a

n/a

$200.00
M1 Max (10-core CPU, 24-core GPU), 64GB, 8TB, Space Gray

$5,899.00

Coupon

Price with $200 promo code APINSIDER. Plus, save $80 on AppleCare with the same code. If you have any issues with the coupon, reach out to us at [email protected] and we'll try and help.

n/a

n/a

n/a

$200.00
M1 Max (10-core CPU, 24-core GPU), 64GB, 8TB, Silver

$5,899.00

Coupon

Price with $200 promo code APINSIDER. Plus, save $80 on AppleCare with the same code. If you have any issues with the coupon, reach out to us at [email protected] and we'll try and help.

n/a

n/a

n/a

$200.00
M1 Max (10-core CPU, 32-core GPU), 32GB, 512GB, Space Gray

$3,299.00

Coupon

Price with $150 promo code APINSIDER. Plus, save $80 on AppleCare with the same coupon code. If you have any issues with the coupon, reach out to us at [email protected] and we'll try and help.

n/a

n/a

n/a

$150.00
M1 Max (10-core CPU, 32-core GPU), 32GB, 512GB, Silver

$3,299.00

Coupon

Price with $150 promo code APINSIDER. Plus, save $80 on AppleCare with the same coupon code. If you have any issues with the coupon, reach out to us at [email protected] and we'll try and help.

n/a

n/a

n/a

$150.00
M1 Max (10-core CPU, 32-core GPU), 32GB, 1TB, Space Gray

$3,499.00

Coupon

Price with $200 promo code APINSIDER. Plus, save $80 on AppleCare with the same code. If you have any issues with the coupon, reach out to us at [email protected] and we'll try and help.

n/a

$200.00
M1 Max (10-core CPU, 32-core GPU), 32GB, 1TB, Silver

$3,499.00

Coupon

Price with $200 promo code APINSIDER. Plus, save $80 on AppleCare with the same code. If you have any issues with the coupon, reach out to us at [email protected] and we'll try and help.

n/a

$200.00
M1 Max (10-core CPU, 32-core GPU), 32GB, 2TB, Space Gray

$3,899.00

Coupon

Price with $200 promo code APINSIDER. Plus, save $80 on AppleCare with the same code. If you have any issues with the coupon, reach out to us at [email protected]ppleinsider.com and we'll try and help.

n/a

n/a

n/a

$200.00
M1 Max (10-core CPU, 32-core GPU), 32GB, 2TB, Silver

$3,899.00

Coupon

Price with $250 promo code APINSIDER. Plus, $80 off AppleCare with the same code. If you have any issues with the coupon, reach out to us at [email protected] and we'll try and help.

n/a

n/a

n/a

$250.00
M1 Max (10-core CPU, 32-core GPU), 32GB, 4TB, Space Gray

$4,499.00

Coupon

Price with $200 promo code APINSIDER. Plus, save $80 on AppleCare with the same code. If you have any issues with the coupon, reach out to us at [email protected] and we'll try and help.

n/a

n/a

n/a

$200.00
M1 Max (10-core CPU, 32-core GPU), 32GB, 4TB, Silver

$4,499.00

Coupon

Price with $200 promo code APINSIDER. Plus, save $80 on AppleCare with the same code. If you have any issues with the coupon, reach out to us at [email protected] and we'll try and help.

n/a

n/a

n/a

$200.00
M1 Max (10-core CPU, 32-core GPU), 32GB, 8TB, Space Gray

$5,699.00

Coupon

Price with $200 promo code APINSIDER. Plus, save $80 on AppleCare with the same code. If you have any issues with the coupon, reach out to us at [email protected] and we'll try and help.

n/a

n/a

n/a

$200.00
M1 Max (10-core CPU, 32-core GPU), 32GB, 8TB, Silver

$5,699.00

Coupon

Price with $200 promo code APINSIDER. Plus, save $80 on AppleCare with the same code. If you have any issues with the coupon, reach out to us at [email protected] and we'll try and help.

n/a

n/a

n/a

$200.00
M1 Max (10-core CPU, 32-core GPU), 64GB, 512GB, Space Gray

$3,699.00

Coupon

Price with $200 promo code APINSIDER. Plus, save $80 on AppleCare with the same code. If you have any issues with the coupon, reach out to us at [email protected] and we'll try and help.

n/a

n/a

n/a

$200.00
M1 Max (10-core CPU, 32-core GPU), 64GB, 512GB, Silver

$3,699.00

Coupon

Price with $200 promo code APINSIDER. Plus, save $80 on AppleCare with the same code. If you have any issues with the coupon, reach out to us at [email protected] and we'll try and help.

n/a

n/a

n/a

$200.00
M1 Max (10-core CPU, 32-core GPU), 64GB, 1TB, Space Gray

$3,899.00

Coupon

Price with $250 promo code APINSIDER. Plus, $80 off AppleCare with the same code. If you have any issues with the coupon, reach out to us at [email protected] and we'll try and help.

n/a

n/a

n/a

$250.00
M1 Max (10-core CPU, 32-core GPU), 64GB, 1TB, Silver

$3,899.00

Coupon

Price with $200 promo code APINSIDER. Plus, save $80 on AppleCare with the same code. If you have any issues with the coupon, reach out to us at [email protected] and we'll try and help.

n/a

n/a

n/a

$200.00
M1 Max (10-core CPU, 32-core GPU), 64GB, 2TB, Space Gray

$4,299.00

Coupon

Price with $300 promo code APINSIDER. Plus, save $80 on AppleCare with the same code. If you have any issues with the coupon, reach out to us at [email protected] and we'll try and help.

n/a

n/a

n/a

$300.00
M1 Max (10-core CPU, 32-core GPU), 64GB, 2TB, Silver

$4,299.00

Coupon

Price with $200 promo code APINSIDER. Plus, save $80 on AppleCare with the same code. If you have any issues with the coupon, reach out to us at [email protected] and we'll try and help.

n/a

n/a

n/a

$200.00
M1 Max (10-core CPU, 32-core GPU), 64GB, 4TB, Space Gray

$4,899.00

Coupon

Price with $300 promo code APINSIDER. Plus, save $80 on AppleCare with the same code. If you have any issues with the coupon, reach out to us at [email protected] and we'll try and help.

n/a

n/a

n/a

$300.00
M1 Max (10-core CPU, 32-core GPU), 64GB, 4TB, Silver

$4,899.00

Coupon

Price with $200 promo code APINSIDER. Plus, save $80 on AppleCare with the same code. If you have any issues with the coupon, reach out to us at [email protected] and we'll try and help.

n/a

n/a

n/a

$200.00
M1 Max (10-core CPU, 32-core GPU), 64GB, 8TB, Space Gray

$6,099.00

Coupon

Price with $200 promo code APINSIDER. Plus, save $80 on AppleCare with the same code. If you have any issues with the coupon, reach out to us at [email protected] and we'll try and help.

n/a

n/a

n/a

$200.00
M1 Max (10-core CPU, 32-core GPU), 64GB, 8TB, Silver

$6,099.00

Coupon

Price with $200 promo code APINSIDER. Plus, save $80 on AppleCare with the same code. If you have any issues with the coupon, reach out to us at [email protected] and we'll try and help.

n/a

n/a

n/a

$200.00
Additional tech deals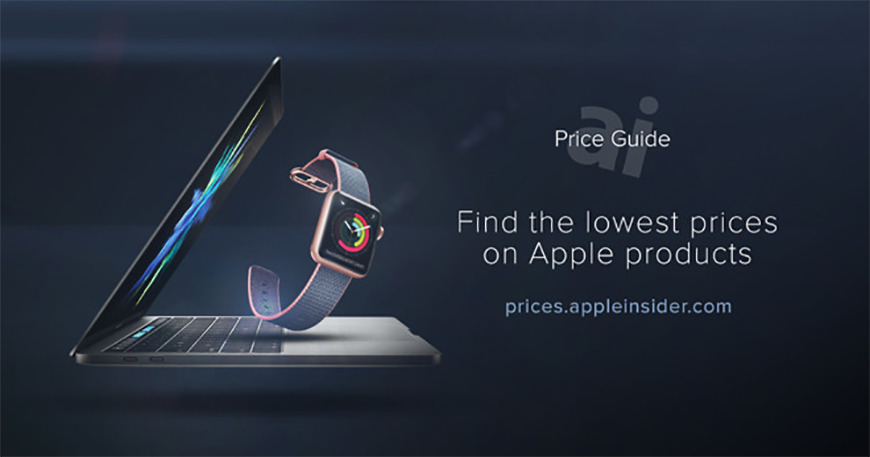 AppleInsider and Apple Authorized Resellers are also running specials on other Mac and iPad hardware that will not only deliver the lowest prices on many of the products, but also throw in bonus savings on accessories, software and more. Here are just a few of the deals running this week: