Mac Studio, Podcasting Setups, and iPad Pro wishlist with Jason Snell on the AppleInsider podcast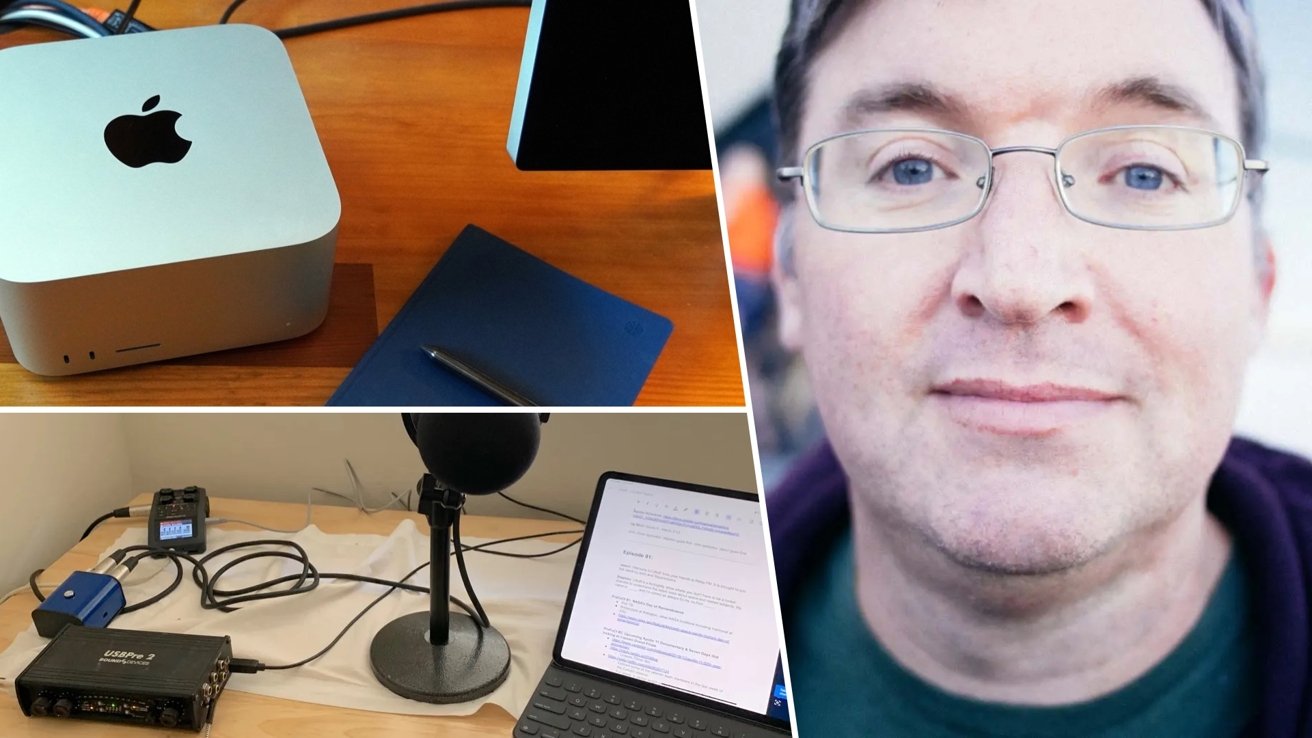 AppleInsider may earn an affiliate commission on purchases made through links on our site.
On this special episode of the AppleInsider podcast, former lead editor of Macworld and creator of The Incomparable podcast network, Jason Snell reviews the Mac Studio, Studio Display, and shares his wishlist for iPad Pro.
Award-winning writer and podcast creator Jason Snell was the lead editor for Macworld covering every major Apple product release for more than a decade. In 2014 Jason launched his website covering Apple, Six Colors, launched a pop culture podcast network called The Incomparable, and continues to write a weekly column for Macworld.
As a long-time Mac user, Jason gives us his review of the Mac Studio and Studio Display. Coming from an iMac Pro, the jump to Apple Silicon has been a noticeable improvement, and he appreciates the port selection on Mac Studio. Jason also has an unconventional under-the-desk mounting system for his system.
Being an experienced podcast creator, Jason walks us through his hardware setup and comments on editing podcasts using the iPad app Ferrite. Podcast editing with the Apple Pencil is a great experience, but iPadOS still holds the device back from being a great all-around podcast production machine.
We round out the interview asking by Jason what he hopes to see at WWDC 2022, what Apple can do to improve the iPad experience, and a lightning round of Mac preference questions.
Interview transcript with Jason Snell
Welcome to a special episode of the AppleInsider podcast. My guest today was the lead editor from Macworld, then founded and writes on his website today, sixcolors.com. He's the host of the upgrade podcast with Mike Hurley and creator of the incomparable podcast network as well as hosting that show. Thanks so much for joining me, Jason Snell.
Hello. It's good to be here. Thanks for having me.
Absolutely. When I think of the patriarchs of the Mac, Jason. I think of John Gruber, John Siracusa and a third "J" name, Jason Snell. You guys are like the Mac guys, in my mind. Do you feel that way?
It's good company. We've been around a long time. I mean, I've been around longer than those guys writing about the Mac, but yeah, I mean, we're people who've been doing this. A lot of people got into this stuff, you know, in the 2000s. We've been around that whole time. So I think that give us a little bit of a you know, you wait around long enough you people remember you from back in the day.
Yeah, I have been feeling older because some of the younger guys, the young whippersnappers. I tell them my first Mac was in 2004. And they think I'm old. So I don't know. Do you remember what year you got your first Macintosh computer?
My first Mac I bought in college. So it would have been the spring of 1990.
Oh, in the 90s. You know, the young people call those the 1900s. I don't like that but that's how they refer it to.
Yeah, I mean the 20th century.
I prefer that too. But as a Mac person as someone who has a long history with it. I've heard your thoughts on the new Mac Studio. I think you have one of those and the studio display on your upgrade program. I believe you refer to it as a homely computer.
I thought that was a wonderful description. I too have a Mac Studio I have the M1 Max version. And so it's been about a month. How's your one month review of the Mac Studio computer?
I also have the M1 Max version. Not the Ultra version. It's been great. You know on the desktop I was not using Apple silicon before I was using iMac Pro and so it's even though I have experience with Apple silicon because I've gotten in one MacBook Air having it in the context of being on my desk I am reminded again and also having it be the max of just how how powerful it is and how fast it is.
And so it's just been really nice to have for the first time in four and a half years ish you know, a new computer a new desktop computer that's faster and it does all the things. I was de-noising some very long audio files which is one of the most processor intensive things I do yesterday and I was noticing that every step of the way it was just that much faster than it was before which was great.
Yes, there was a recent update Final Cut Pro 10.6.2, I believe, came out and that has made a significant difference in my final cut workflow. Really love the Max for that. Do you still feel like it's a homey design? It is very utilitarian. We'll talk about like ports in a moment but has it grown on you or just don't feel kind of hmm.
I mean, everybody gets their own aesthetic belief and everybody else can choose how they interpret words if they want to. I chose homely it's just the word that struck me. I think that things that are homely are not conventionally attractive but they may grow on you. But it's not something that out of the box, you're like, oh, look at this. It's more like out of the box you like yeah, yeah, that's like a big tall Mac mini. It's like it doesn't excite me.
Would you have preferred Space Gray instead of silver?
Oh, I literally don't care. In fact, it's under my desk now it's attached to the bottom of my desk so I don't even see it now which is just fine with me. But yeah, I would still say I mean it's in the eye of the beholder obviously, as the saying goes, but I think the beauty of the Mac Studio is that it was designed for a function and not form and if you like how it looks, that's great. But the point is if you're Apple you don't put ports in a slot on the front if form is your priority over function and it's not with this thing.
Right, which is interesting because the newest Mac Pro which new back in 2019 the only ports are on the top not the front. Does have a more striking design than the Mac Studio you know when you see that thing with the trypophobic circles on the front it's at least something to look at you know I will say the Mac Studio is a nondescript. It's a block of aluminum.
Yeah, it's a block of aluminum but it's got the two vertical lines and then the one longer horizontal line that are the ports and the slot. So it's got like again, yeah, I mean it is what it is. It is a fat Mac mini that's got a lot of power. And the whole point of it is, that's what it is. It's about the power and it's great. It's a great little computer. It's really quite remarkable.
Yeah. And mine sits on top of the desk and like you alluded to, I heard on the upgrade program you have mounted yours under the desk. I don't know if it's precarious or if you feel very confident in this plastic holder that you have but how exactly do you mount it under the desk?
Well, I mean, there's a whole realm of under desk computer mounts and equipment mounts where you get a shelf and you screw it in to your desk and you know, I tried, I actually use one of these for my audio interface because I tried to use it with a velcro attachment. And that didn't work.
So I bought a metal thing that was meant for some little PC. And it now sort of sits on a shelf in there. This thing is from the plastic thing from OWC that was made for a basically a Mac mini within another Mac mini or a Mac mini footprint hard drive to go together. And so it fits.
And I'd prefer probably metal, but the plastic is fine. It fits. It's secured by four screws into my desk. If it falls out, I feel like I have bigger problems, because it probably means my desk is falling apart at that point.
Structural integrity is the kind of question then.
Yeah, so it's just hanging in there. But I mean, but it really is, it's just essentially on a little shelf under my desk. And it's very stable, the only catches are, if I want to plug stuff into the back, I do have to kind of raise my desk and slide under there and look around. But I can see if I look, you know, if I kind of like tilt my head, I can see the front of it.
So I can plug into those two ports very quickly if I want to. And I can reach around back and turn it on. And those are the things that you know, I need access to but otherwise, it's just off my desk. And I've got a couple of cables just running out of the back of the display and the whole little grommet on my desk and they plug in underneath.
I got a whole little world underneath my desk. I've got that USB audio interface, I've got a USB hub, I've got a bunch of different cables, I got a power strip down there. There's lots of stuff. That's my solution to desk clutter and cord management is just make the clutter on the underside of the desk where you'd never look.
Well, I love that idea. I'm actually constructing a new home down here in Central Florida. And I will actually have an office for the first time. And so I'm gathering all these ideas. I see this under desk solution you have and it's tempting me.
But my next question was going to be port wise. One of the wonderful things about the Mac Studio is the number of ports, even USB-A. And I have managed to use all of them in the back, say for the HDMI port. But I do use a thunderbolt dock and one to expand some of that storage. So I'm curious, have you filled all the ports on the back? And have you been able to get rid of any docks or do you still use some kind of hubs and docks with the Mac Studio?
Yes. So I had this moment, the other week where I realized that maybe I don't need that USB-A hub under my desk anymore. And then I looked and it has four USB- A plugged into it. And I thought oh, I actually, I am full. In fact, I think I might have one Thunderbolt on the back that's open. Not sure about that. And the ports on the front are open. But it's pretty full, I have done a pretty good job of filling it up with everything, including USB-A. And some of that is mix and match.
It's like well, I've had an open USB-A. And I've got some stuff that doesn't matter. So I'll plug it in there. But I still have a USB-A hub under my desk that it's feeding it for various reasons. Like I have a wired keyboard, I have a stream deck that requires a USB plug, I keep my Magic Trackpad plugged in, mostly because I don't want to have to charge it and then drain it down and then charge it again. And I'm sitting, it doesn't need to be wireless, it can be wired, so I just make it wired. And those all need to go somewhere. And they go to that USB hub that is not any, anything exciting at all.
But that's all they need to do. And it used to be very cleverly under the desk and then one cable would come out and go to the iMac and now it just stays under the desk and plugs into the Mac Studio. But so I've kept that around. And that's about it. I haven't had any other hubs for a long time.
Okay, wonderful. Yeah, I'm using one CalDigit Element's Thunderbolt hub strictly for some external hard drives, because I had multiple external hard drives. And it was like, right, rather than unplugging and plugging from the Mac Studio itself. Let me do the doc akita.
Oh, let me tell you I have so the Mac Studio is there in this under, you know, basically shelf right under my desk. And there are a bunch of cables coming out that are going including two that are going to the grommet that comes up to the top of the desk and one of them's going to power.
So there's a whole like bunch of cables that are coming right out of the back, right. It's actually pretty sizable. One of the items that's plugged into my Mac Studio back there is my backup drive, which is an SSD external SSD. And it's literally just laying on top of the cables that are coming out the back.
Because SSDs are so light, and there's just nothing to them. And there are so many cables coming out of the back that are going places that I haven't even needed to velcro it or something. It's just laying there, because I forgot it was there and I was back there plugging something else in and I thought oh yeah, right. That's where that is.
Looking at that thing. It's just hanging out.
It used to be tucked in the back of the Vesa adapter on my iMac Pro like just and I would forget it, it was there.
Because it's not even visible. And so that's what I have right now. So if you had a bigger drive, then it's a different story. But I have a server, I have a Mac Mini server that's got a big raid and that is in another room because I didn't want to hear it anymore. And so that's not part of this equation.
Speaking of hearing things. Has the fan noise on the new Mac Studio come to bother you since you've gotten?
No, I mean, I'm not really bothered by fan noise. I would say that I was one of the people who noticed that it does make fan noise at all times because I was sitting in my office and it was very quiet and I could hear it on the desk. And I realized that was the Mac Studio, I find it funny that people argue about this. And they're like, well, it does make noise, it doesn't make noise. It does make noise, it doesn't make noise.
If a tree falls in a forest.
If you don't hear it, it means you don't hear it. And that's okay. It means that either the background noise in wherever you're listening, or perhaps your hearing suggests that you can't hear it. That's okay. But don't tell me that I don't hear it. Because I tell you, I wasn't listening for it. I was doing something else. I was slid over to the left a little bit away from my display with it sitting on the desk.
So I got closer to it. Not thinking about it at all. And I turned to my left to get something off of the desk that are the table basically that's off to my left. And I heard on my right, a sound and I thought what is that? And it was the Mac Studio. And it's just, you know, I wasn't like aha, I'm gonna get Apple, we're gonna catch them. Like it makes a noise. I think somebody at Apple decided better to blow it at a constant sound, then to have it ramp up and down.
And if the constant sound is pretty quiet, and it doesn't ramp up and down, maybe that's what we should do. And that's how I actually felt my iMac Pro always behaved, is that I never heard it. And I'd be a core model. So I'm sure if you had a maybe a higher core model, you heard it more, but I never heard it.
But I could always feel air blowing out of the back. And when I really put it under load, the air was hotter. But that was it. It didn't crank up like a standard iMac would. And this thing doesn't do that either. I think there is some argument to be made that that's good. If people who are really sensitive about it, maybe it bothers them. But now that it's under the desk, it's even further shielded from my ears. So I don't hear it.
I hear it pretty much only when I really export something from Final Cut Pro. And there's nothing else happening in the room.
Interesting. So you can hear it ramp up?
A little bit. A little bit. If I'm exporting, like an hour 4k video. Yeah, just a hair like very, very miniscule.
You would think I might have to blow some hot air out. If you're recording 4k video for an hour, there's probably some waste heat that needs to get dumped into your room physics.
So I want to do a bunch of podcasts. I feel like if it doesn't affect that, then the noise really isn't. It's not a big deal.
Yeah, I mean, you'd have to be very close to it with your microphone for it to be a problem. And yeah, it's not a big deal. I think it's a really remarkable computer. And people are always going to find what's the Achilles heel of this particular computer. And Apple makes a whole bunch of different computers.
And they all have their quirks. But I think this one is pretty great. And if you need absolute silence, I guess the answer is probably get a 16 inch MacBook Pro that is probably going to be quieter in most instances and then probably louder in some instances.
Or go MacBook Air that doesn't even have a fan to blow.
Well, speaking of other things on your desk, I believe you have a Studio Display there as well.
And there has not been an update that Apple's announced about the webcam or anything which, you know, varying reports, but again, month in what are your feelings about Studio Display?
You get the feeling that when they promised a software update, to fix issues with the Studio Display, maybe that was taking some people by surprise, who were involved in doing the software update, I wonder about that.
It's one of those FaceTime's going open source kind of things.
It was a little bit kind of like not part of their plan. But that's what they got there. I I like it. I think it fills a very particular niche. Again, I am fascinated by the fact that certain things Apple does will just create controversy on the internet. And that's just how it is.
A lot of people, including, you know, a bunch of people I respect who basically laid into this thing. And their response, you know, what they said was, you can get cheaper monitors. It's like, well, yeah, but I can't get this monitor. And like if you've listened to certain parts of the Mac world, for the last seven years, you have heard people complain about the LG ultra fine and more specifically complained that there's basically no other option.
If you want what Apple considers retina resolution at 5k, they just don't exist. And so I find it kind of rich that somebody kind of rolls in who's not been paying attention and says, You guys are a bunch of suckers. There's lots of cheap monitors out there, you should just buy one of those because like we know.
And if the cheap monitor does the job, and I don't care about the Apple specific level of resolution that you know Apple wants to have, then great. Like those people already bought a monitor, they have not been waiting for seven years for something that's essentially a 5k iMac and a standalone Apple monitor.
But that audience has been there and has been feeling the pain of not having the Apple option for all this time. And I think it's not a surprise that this thing is backordered because it's not like those others. I get the criticism, but I would really understand the criticism more if there was a product that did what it did for $500.
But there isn't, and there hasn't been. And that was Apple's whole premise seven years ago was we're not gonna even make a monitor anymore. We're gonna let our panel partner LG make one and we're going to open it up to the market and let the market decide. And the market decided it was not interested in catering to Mac users.
That's what the market decided. So here we are. And is this overpriced? Sure. It's an Apple product. Of course, it costs more than you want it to. But to say that it's a bad product, because the competition is out there for cheaper. It's like, well, you missed the point. Like, there is a very particular market for whom this is the perfect product for them. Great.
And then for everybody else, yeah, if you just want to get a 4k display at 30 inches, or like, I have a friend who's got a big curve, 32 inch curved display, and he doesn't care that it has lower resolution, and that it doesn't have quite the number of points that that are on an Apple laptop on his desktop, he doesn't care. Like this product is not for those people.
And it's like saying you can get cheaper bluetooth headphones. So don't get air pods, to which I will say I was at a gas station with my son. And he saw white bluetooth headphones that closely resembled air pods, and they cost $15. And I tried my best to convince him otherwise, but he just wanted to get them. And I can tell you from personal experience, they are garbage.
They sound terrible. And they have terrible connectivity. And so you can buy Bluetooth wireless headphones that are white and look like air pods and will fool 90% of the people but they are also garbage.
Yeah. I find it very funny that everybody's got their needs, like if you only have $15 and you need a pair of Bluetooth headphones.
There they are right. And for the displays. It's very much like you know, everybody's different. Products aren't fundamentally good or bad right. Products are for a particular audiences and the Studio Display is for a particular audience. What I find funny is like I think there are things to criticize about it. And they're not the ones that most people are criticizing about it. Like I see people raving about the speakers, but they're raving about it in the context of it's the best sounding built in speakers I've heard.
They sound great for built in speakers. Are they revolutionary, great sound. I don't actually think they sound better than my iMac Pro speakers, if I'm honest. Apple claims they are the best sounding Mac speakers ever. I don't think I agree with that. But very impressive in such a small space that they put the speakers in. The microphone, it's very good. The microphone array, very good for what it is they learn a lot of lessons from cramming these things into MacBook Pros.
So they did that. But I don't think they're any great shakes. I think it's a joke that they call them studio quality. I don't think they're anything like that. It really is like you got the gold medal for this very particular sub sub category. But if you step out into the broader category, like would I not use external speakers because of this? No, like not not a chance that it's not that good. It's just good for what it is. The webcam which everybody's making a big deal about.
First off, I suspect that most of the people who wrote the reviews that ripped into the webcam have not spent a lot of time with centerstage camera on an iPad, which I have. I do two FaceTime family video conferences a week, where we use the centerstage on webcam on the iPad. And so I'm well aware of its issues.
And the benefit is that it follows you around the room. I think there's a strong argument to be made that maybe Apple got too caught up in its own hype about the that camera and said it better to put a lower quality camera that follows you around in this thing than a just a kind of standard but beautiful 4k webcam and so you can make the argument that maybe this is the wrong context for centerstage or they should have done a better quality camera.
There are some image processing issues that are very weird and my office is well lit enough that I didn't really see them but I've definitely seen them in weird lighting conditions. So I do know that they exist that might be somewhat addressable by software. But again, I think way blown out of proportion for what the details are while other things that I took issue with nobody mentioned which I think is hilarious. So it's all in the eye of the beholder in the end.
Right. Yeah, I have an LG 4k Ultra Fine. And I'm choosing to suffer a little longer. I basically have to because you can't get a Studio Display anyway. But yeah, well it's yeah, we'll see if some 7k Glorious other XDR comes out later this year, some of the rumors say. We'll see. I really want to hear about your podcasting world because again, you do a lot of podcasts that's in the Venn diagram of when I think of Jason Snell, I think of Macs and I think of podcasting.
And so real quick, can you run me through kind of your hardware chain you know, you've talked about some of those USB devices you have plugged into that Mac Studio. Can you run me through like from mic to interface to any other peripherals you have in the podcasting space?
Sure. I mean, I don't think I would recommend my setup to anybody because I have a Shure SM7B which is a very expensive microphone that requires a very expensive USB audio interface because it's very quiet so I have a SM7B and I have a sound devices USBPre 2 which is built like a tank and cost like 700 bucks. So for anyone else I would recommend something else. I would recommend a cheaper microphone and I would recommend a cheaper interface.
Shure actually makes a mini version of the SM7B. I forget what it's called.
Yeah, right, I have one of those and I travel with it and it's a USB and XLR microphone, so you can plug it into an interface or just plug it into a computer via USB.
It works great. There are some other good ones out there too. The Audio Technica makes a combination XLR USB microphone, that's pretty good. Although it's audio settings, leave some things to be desired.
And there are a lot of great like cheap XLR mics, and then you just need to find an interface that works. So I have a very expensive thing that I don't think I would recommend to people, but that's what it is. It's the SM7B to the USB Pre2 to straight into my Mac Studio at this point. And then I have some ear headphones.
The USB Pre2 is actually still USB-A if I know correctly. So that's one of those
It is. I think technically it's USB-B.
Because it's on the one end, it's just a USB, it's one of the square like a printer cable.
I think it's a USB-3 connector, but it's not really. They just did that for stability. So if you have a bigger, one of those little bigger kind of chunky square ones, you can put it in there and it'll be a little more secure, but it doesn't actually do anything different. And so you can buy a cable that goes from the USB-B to USB-C just as easily as A. But you know, it's an audio interface. That's all you really need.
And that one is actually very difficult to find right now. I think it's also over $1,000. Now, I think it's like $1,200, if you try to get it on Amazon.
People shouldn't buy. I mean, it's great. It's great. It's very impressive, because it doesn't require any special software and it's got all the buttons and dip switches and stuff. So you set it up and you kind of forget about it. And it's a great piece of hardware.
You know, you really only need it if you're dumb enough to buy a good sounding microphone that requires like an enormous amount of gain, which is what the SM7B does.
So like, again, don't do it. Don't do it. Don't be like me. Don't do it. I discovered that I was making more money from podcasting than writing. And I had some limited hardware. And so I talked to somebody who said, this is a good microphone for you. And you'll need this thing. And I said, okay, I'm gonna spend the money, because this is what I do now.
And I don't regret it. I think it's a great setup, but I do not recommend it for literally anyone.
Well, I literally want it to be like all the cool kids. And so I had an SM7B for a long time. I have it sitting next to me now. I use an Earthworks Ethos currently, which I really love. You don't need an expensive interface for that microphone. But I got the Sound Devices MixPre-3 made by the same company as the USB Pre-2. But it's even weirder to have this because it's like a field recorder.
But I got it because you can record to an SD card in addition to using it as a USB interface.
Again, when we talked about redundancy before we started recording. I'm recording to the SD card and that plus Audio Hijack plus Riverside?
That's just how I do it. I like that.
So I know people who do that. I don't think I want to use a field recorder as my primary interface. I do have a field recorder. It's a Zoom H6. But I've decided, yes, I'm going to live on the wild side and only record in two places.
Three is two. Two is one.
Because honestly, all my podcasts are on the internet when we record them. And so if my computer dies so badly that I lose my recording.
I'm not talking to anybody at that point, either, like it totally has died. And so having the backup recording won't necessarily matter. I did learn that at some point, I was using a piece of software that recorded in QuickTime format. And it turns out that QuickTime format if you pull the plug on the computer while it's recording the QuickTime format, you can't get the file back.
It's recoverable. And since then, I've recorded everything as waves because those even if you pull the plug, you can read every single bit of sound that was written in the file until the moment that the power got plugged, or got pulled.
That's very good. And so also going into the editing side of podcasts. I believe it was you who inspired me to do this. I edit all of my shows, I do three to four week and I edit them in ferrite on the iPad.
I love editing on Ferrite with the Apple Pencil. And I know you had been doing that for a long time. Do you still edit yours on the iPad?
I do when I edit podcast. I'm editing fewer podcasts than I have in a while. One of the things I did sort of as a not quite a New Year's resolution, but looking at 2022 and trying to think of how I was spending my time. I realized that when I went out on my own I took on you know you start a new business and you take on all the tasks that are required.
The new business and you learn how to do them. And then after it's been seven years, you look at it and you say I should stop doing things just because I can do them. Because there's too many things. So I offloaded a lot of my editing. I don't do as much of it as I used to. But yeah, the editing I prefer especially if I'm going to do a more kind of opinionated detailed edit of a podcast is ferrite using an Apple pencil. I love it.
These days I do more editing and logic but that's mostly because I'm just using logic to you know, trim to the beginning in the end and put on the music and output it on my Mac and I can do that. I'm not really doing much editing there, right, I'm just more assembling the show.
But like one of the things I loved about ferrite is that with the Apple Pencil, you have this really the ability to, I mean, not only is it hands on in a way that it isn't when you're using a keyboard and a mouse, but I really liked being able to edit like specific things people say using the pencil to sort of like strike part of a you know, a hesitation and then quickly select everything else and drag it back and you make a perfect edit that no one will ever even know that you made.
It just feels so tactile and fun to do it that way. And ferrite is great for that. Also, when I travel, if I have a podcast that's going on. I was traveling somewhere. And it was not even a podcast I was on but it was a podcast I was producing. And they you know, put the files in Dropbox, I put them in ferrite.
I did a quick edit, put it out. It didn't bring my computer with me on that trip. Just use my iPad.
That's great. So that brings me to my next question, because when I travel, I edit in ferrite, traveling or not. But when it comes to recording a show, I've been beating this drum for a while recording a podcast on iPad is still not great.
It's not a great experience. And really, you can't and probably shouldn't do it.
Now, as we look to WWDC coming June 6 in a couple months. One of the features I hope Apple allows, which I don't know if you've ever tried this, but on iPad OS, if you connect a USB audio device, even if it's just a USB microphone two apps cannot access that device simultaneously.
You can record in ferrite. But if you try to open FaceTime or Skype, like in Split View, it'll throw up an error and it'll tell you this device is already in use. And so just little things like that. I'm hoping Apple can address, that fixes some of those weird things.
I've been hoping for that, like five years now.
It is a legacy of the original iPhone OS where they thought why is there more than one app needed access to the audio subsystem.
And you still see it in weird places like, okay, podcasting is a niche thing, right?
It's absolutely true. I would really like to be able to imagine just the basic thing of like, okay, I'm gonna go into voice memos and press record. And then I'm gonna go to Skype, or zoom. No.
Won't let you do that. There's no functionality to do something like that. But a more mainstream thing might be something like you're on the phone with somebody.
And you're saying, I have a problem here. My refrigerator is blinking. And it's weird. Can I send you a video of it? They're like, all right. And then you open the camera app. And the video option isn't there.
Why isn't it there? The answer is because the video subsystem is going to record video and audio and you're on a phone call. And it's barred. It's also the same way sometimes, you know, if you're listening to music or a podcast, and you want to shoot some video in the camera app, the audio stops. And on the Mac, like if you have five different apps playing audio guess what they just all overlay.
They just do. Have you seen the hack for how if you're listening to music, how to take a video well and continue the audio?
Yeah, I mean there's workarounds but I think they're bugs basically. They're essentially bugs.
They are bugs. I mean basically if you're playing music or listening to a podcast on your iPhone, you can open the camera app and in the photo area like if you're going to take a photo you tap and hold on the shutter button and then you drag it upwards or rightwards depending on you're holding your phone which starts recording a video and all of a sudden you're recording a video and the music or podcast never stopped playing. Weird.
Right. That's like the quick Shortcut. That's a new feature.
That was added. That does bypass this. And yet you can be in that moment, you're like why am I not seeing it? Am I missing video? Why is it not?
Right. You feel like a crazy person.
Because you're on the phone, which makes no sense. But there you are.
Aside from these, again, you've been asking for five years still not happened? Who knows?
Final Cut Pro on iPad is another one. But what are you hoping to see big feature wise Apple does at WWDC, maybe both on the iPad and also on the Mac. On your new Mac Studio.
Oh, you know, on the Mac, I'm honestly more interested in the new hardware coming out. I mean, I think I just want the Mac software to be stable and for them to fix bugs. And I'm a little less concerned about inventing things. I mean, Shortcuts, I come back to Shortcuts and automation on the Mac, like they started this process of moving user automation to Shortcuts on the Mac and said it's the future.
But they said it's going to be a process. I want them to work on that. And I especially want them to work on their apps doing better to support Shortcuts, because there's all sorts of parts of Mac OS that just are not automatable without a third party utility, like keyboard Maestro and doing weird things like simulating clicks on a screen and stuff, which is not good.
It's not good. So I want to see on the Mac, I really want to see a broader commitment to automation and maybe even get them to say what the future of scripting is. Are they going to embrace JavaScript as a scripting language, thinking that AppleScript is not going to survive forever?
Or are they going to invent some sort of like light version of Swift that they want you to use to script applications because there's a lot of stuff that you can't really do with Shortcuts that Apple script can do.
That's just little detailed kind of stuff of like get this thing, in this give me a list. I mean, are you if you could do it in Shortcuts, it would be so broke of like piling up commands that it would just not be a good situation. So I'm hoping that they advance the ball there.
I assume they'll announce a bunch of things that are across all the platforms, and the Mac will pick it up. But I would like to see the Mac more intelligently implement stuff like focus mode. I hope they go back and make the focus mode stuff more relevant on the Mac. My fear is that they'll just move on to the next thing and ship something that's sort of half thought out. Which would be too bad. And then on iOS, I mean, I'm a big supporter of it.
And I'm gonna say it again and again and again until they do it, which is not only do I yes, want to see pro apps on the iPad from Apple, but I want to see external desktop support, because right now, if you plug a display into an iPad Pro, you can plug the Studio Display into the iPad Pro, and it shows a mirrored version of what's on the iPad screen, pillar boxed. And that's an M1 and I just want them to get away from mirroring.
And actually it has full support for keyboard and trackpad now, right like that OS can do it. And the next step is, let me plug it into a screen. And let me put multiple apps on that screen. And that's going to require new multitasking concepts. And that's what I'll hope for. I don't know if it's going to happen, but I'm gonna hold out hope.
They really complicated the matter putting M1 in the iPad Pro. I have the 12.9 inch iPad Pro.
That's one terabyte 16 gigs of unified memory, literally the same innards as the 13 inch MacBook Pro.
And yet does not do many of the things that that Mac can do Final Cut Pro, namely an external display support. I'm curious, there's been a recent rumor that Apple is going to make some version of iPadOS that depending on what device you connect it to, whether it's a magic keyboard, or an external display, it will somehow enable additional features when it's connected to that device.
So like if you're a Pro iPad user, and you want to connect it to that external display, you'll all of a sudden be able to float windows around and do a different kind of multitasking than just stand alone on the iPad. What do you think about that?
I would argue they're already moving down that path. I think the whole idea of the iPad and iPadOS has been it adapts to what form you want it to take. And what they will never do with the iPad is say you can't just hold one in your hand and use your hands on the screen. Right? They're never going to say that that's the fundamental base functionality of an iPad.
When you attach an iPad to a keyboard case, the software keyboard doesn't come up anymore. And if you attach it to the magic keyboard, you get a cursor. Or if you attach a Bluetooth pointing device, you get a cursor or a USB keyboard, you get a cursor. So all we're really saying is what if it changed its
Format, when you attach it to an external display. Or did more things like more windowing and kind of things when you attach it to the magic keyboard beyond just having a little cursor and having the keyboard like it's already or the Apple Pencil, right? The Apple Pencil changes the equation in a bunch of ways to when you have one of those attached?
So I'd say that's not breaking the metaphor of iPadOS at all. The question is just how much they want to push that. But I think you could argue that if somebody is putting an iPad and a keyboard and trackpad case, a magic keyboard, or attaching it to a big display that they have their big boy pants on, and want to do more with it, and that the OS should adapt to that. And I'd say, oh, no, no, no, no, we're still four by three touch based operating system like they're not.
So they need to, I think they should embrace that.
I agree. Selfishly, I had the 12.9 inch iPad Pro. I also have an M1 pro MacBook Pro, because those were incredible laptops, and I wanted one of those. But now I feel like I have a little bit of device, not a little bit, a lot of Device Overlap, where I have a Mac Studio, a MacBook Pro and an iPad Pro. And I would love to offload on those devices.
And I would love for it to actually be the MacBook Pro because I really do love the iPad Pro for many things. When I want to watch something at night. I want to do it on the iPad Pro. When I want to edit a podcast, I do it in ferrite. But they still just need that one or two extra things like Final Cut on the iPad Pro and things like being able to record a podcast when I'm traveling.
Just a few simple things like that. And I feel like the iPad Pro could actually be that computer that Apple advertised it to be several years ago, you know when they announced the magic keyboard?
Yeah, I think the real question is with Apple silicon on the Mac now have they recalibrated what the Mac is? I think we would say yes. Does that mean they've also recalibrated with the iPad needs to be.
Oh no, but they just put a M1 in it.
I know. And I think you made a really good point there that the truth is they could have called that they didn't need to call it M1. They could have called it a 14x or a 15x or whatever and they could have lied. Essentially, people would have accelerated and said, "aha," this looks exactly like the M1. But they could have just not talked about it but they thought calling it the M1 is good branding and like, look how impressive this is. But it makes you question all the other things about their software, not keeping up. And I choose to be optimistic about it.
Especially about like the windowing and multitasking, I feel like the multitasking changes they made last fall were very much to create a new base on which to add features. Like people were complaining, like, oh, they just rearranged everything and it's the same functionality. Like I didn't see it that way. I saw it as that they realized that the current metaphor for multitasking wasn't going to let them do other stuff with multitasking, like multiple windows, and maybe even like floating windows or tiling multiple apps, like they had stuff they wanted to do that the old metaphor didn't work with.
So they built a new thing with the little dots at the top of an app and all of that stuff is trying to build a new system that they can take and add more stuff, too. So my optimistic side says, next step is to actually add those things in. My pessimistic side comes out with things like the podcasting thing you mentioned, which is, I don't understand why they haven't made attempts not to not to just please podcasters. But the audio subsystem is so primitive.
And I do wonder, in fact, if it's one of the reasons why logic and Final Cut Pro aren't on the iPad. Is it that it requires some fundamental changes to the base parts of the operating system that have gone largely untouched since the iPhone days, right? Because the iPhone was originally and still kind of is a you use one app at a time kind of device. And so why would you need multiple audio streams or different apps having access to the microphone or anything like that, but time has moved on.
And that's just sat there. So perhaps it's so buried so deep, that it's a difficult problem, and it's going to be a lot of work. And maybe they think it's not worth it. But I do sometimes wonder if all these things are bound up together. And there's like, OS limitations that mean when the people who do Final Cut Pro, look at the operating system and are like, we really don't want to do this. At the same time ferrite exists.
And that great editing app whose name now escapes me.
Yeah. LumaFusion. That's it on iPadOS, and Apple is not there. And so what's the excuse? I guess, I don't know. So that's, that's my, that's my frustrated part about the iPad is that I feel like Apple has been selling an iPad Pro for a long time, and they have pro apps. And yet, when it comes to their iPad Pro, they tell you to use GarageBand and iMovie. Just as a owner of an iPad Pro, I actually kind of find it offensive that they claim that it's a pro product. And yet they won't deign to put their pro products on it. It's so frustrating.
Yeah. And I will say those three dots for the multitasking when I'm editing in ferrite.
See exactly, I actually, I added it on the iPad mini actually, because it's so much lighter. And if I'm editing for an extended period of time, I don't want to hold the 12.9 inch. I usually edit because I'm doing two or three tracks at most on the iPad mini.
But I cannot tell you how many times I inadvertently tap those three dots. When I want to move the playhead I just naturally am looking at the center of the screen. And that's how I want to play it and I have triggered it all the time.
So I talked to Canis, who is the developer of Ferrite. And there is a setting now that lets you change the behavior up there that is designed because it's a problem. And I found that it makes it less bad.
But it's still bad. All my muscle memory is to put the playhead in the center. And if you miss it by a millimeter, you tap the multitasking button.
Oh my goodness. So well. I'm gonna have to ask him for that setting because it is crazy making.
Ok, I'll ask him. Real quick. Audio Hijack 4 was just announced. I imagine you are using it as we speak. I'm using it to record as well.
And you had a couple of great articles talking about the automation features, which is new to Audio Hijack 4. So I'm just curious how you have been using automations maybe also tied with the Shortcuts when you do your podcasting? Is there any automations that you're like this, I'm so glad it does this now it's made the whole process a lot easier.
Yeah, I was trying to automate Audio Hijack 3. And the problem was just that there was no way to do it. And so I mentioned keyboard Maestro earlier, like I could get it to like launch the app and do a keyboard Shortcut and then assume that this window was there and look for something and then when you find it click, what I really just wanted to do is I wanted to be able to like press a button or a keystroke and say start recording.
And you can do all that stuff and Audio Hijack 4. It's fairly easy to do all of that not only do you not even have to have the sessions open in order to activate them. You can activate them from the menu bar.
They don't have to be open windows. That's great. But now that they have they have a JavaScript interface and then you can tie into it with Shortcuts. It lets you do things like say hey, is this thing recording? And if the answer is no, you can say okay.
Start recording you know, or maybe make sure that this thing is turned on and start recording or if it's not recording you do that if it is recording, you say oh well then just stop recording. And then if you wire that to a keystroke, you've just got a toggle of start recording, stop recording and it'll automatically launch the app and it'll start recording and it'll do all those things.
And then yeah, you can, you could script it right down to individual blocks in an individual session, if you want to. And I have, I've created a bunch of different different things that do that, including I think with keyboard Maestro, because keyboard Maestro lets you update the picture on the button on a stream deck. And so I have a macro that basically is combination keyboard, Maestro and Shortcuts where I have a little Audio Hijack icon on my stream deck.
And when I press it, it lights up orange, and starts recording. And then when I press it, again, goes back to its original state and stops recording. And it's a one button press kind of thing. It toggles. It knows what the current state is, which is big, because toggles that toggle but don't know the current state are really dumb because they can get out of sync.
They can get out of sync, right? Where it's like, Well, I think, I'm recording. But now that means I'm not recording. And then later, you're like, oh, now it does, like, it's just the worst. So anyway, I look forward to doing more with that. But I think that's going to be one of the big benefits to people who like to do automation stuff is just if you want it the way you want it.
And you can make that something that you fire off with a macro, instead of having to launch the app and open the thing. And then you know, click a couple of things and then press the button. It's better. Like it's better if you only have to do one thing instead of six. And that's the whole promise of automation. So I'm glad they implemented that I think they were really reluctant to work on automation, before Apple had declared what the future of automation on the Mac was.
And once they embraced Shortcuts on the Mac, that freed up rogue amoeba to move forward. I also think it's interesting, they chose JavaScript. So even if you're not using Mecca with Monterey, you can still Automate, you just can't use Shortcuts. But rather than doing something in Apple script, which I think everybody feels is not long for this world.
They're using the JavaScript engine that's in the system, but they're using it to control all the details of their apps. And that's why I would kind of like Apple to come out maybe even this year and say, yes, JavaScript is the way you should make your app scriptable.
Or invent something new. That would be typical Apple to be like, I know, everybody uses JavaScript.
It's gonna be swift script instead.
And so everybody learned that now. I mean, JavaScript is actually been a peer of AppleScript for years.
In macOS, you can write AppleScripts that are actually JavaScripts that control apps and stuff. So it would not be a wild thing for Apple to say, JavaScript is the way but I don't know, you know, they have they have Swift it would not surprise me if they're like, no, no, Swift is so great. It can be used for scripting too.
I always remember that cartoon where it's like, we're going to develop one more document that will be universal. And everyone can just use this and really just creates one more format that everybody has to learn.
Exactly, add it to the pile. And I don't particularly like JavaScript. But I have to appreciate that it's just ubiquitous. And so maybe we should just embrace it and say, because like I said, I think there are complicated, especially if you're like scripting individual applications with individual features and individual items inside a document, like getting status of a document and moving the cursor to a different place in BBEdit and stuff like that.
Like I tried to imagine how you do that in Shortcuts and it would be awful. Like that's where you want fundamental sort of like scripting language that lets you control items in an app. And that's the missing piece of Apple's automation strategy on the Mac right now. Is that okay, Shortcuts we've got it. But Shortcuts is a replacement for Automator not AppleScript. So what's the replacement for AppleScript? And we don't know. Maybe it's JavaScript or maybe it's something Swifty? Who knows?
This is for me personally. Do you put any audio processing blocks between your input and the recording that's happening in Audio Hijack? Or do you leave it pretty blank?
I had this happen where somebody sent me a recording of a podcast they were on and they had a noise gate on it.
Because they were in a noisy environment and they overdid it and you couldn't hear him and I couldn't use the file. So my recommendation for anybody who's recording an Audio Hijack has all these great features that let you denoise and dereverb.
My recommendation is this if you want to do that, like my friend Glenn Fleishman, he records everything in a noise generation. He's got like three different hum generating machines of various kinds, water heater and a heater and washing machine.
He also is asthmatic so he does breathing. He has this whole chain that gets a surprisingly clean audio file out of it. However, even with Glenn, I say first thing after your microphone is a recording block.
Never don't record the raw audio. Because if your settings are bad like this person who was not Glenn, who will remain nameless who noise gated himself out of existence. If you don't have the original to fall back on, you're doomed. So when somebody asks you to record audio, if you want to do something fancy go ahead but also record the raw.
So you don't even put an EQ there. It's just raw.
To the recorder. It's raw. I mean, because anything you can do live in Audio Hijack you can do later?
In post if you need to. So yeah, I don't. I have some recording things that do get processed, but they're different things. So like the fitting comparable, we have a thing called the bootleg, which ATP does now accidental tech podcast and a bunch of other people do where it's like, it's the live recording.
And it just gets put out as a podcast. And ATP was actually our inspiration, because there were people who would record the ATP livestream.
And then listen to it later. And we started talking about like, oh, my God, there are people like an underground. There was like a group where people would send the file around. So they were literally bootlegging the livestream.
A black market for podcast.
Which now is a member feature, which I love.
But the Incomparable did it first. And then I think Marco forgot that it originated with them. And so he's like, oh, we're gonna do it like the Incomparable. Actually, we're doing it like your fans were doing before.
That's an MP3 file that is posted right after the livestream is over, containing the live stream. And so that all my stuff feeds into a thing. And there's a compressor because I want to level out all the the difference in volume between like my microphone and everybody who's on Zoom.
And then it saves that out as a pre tagged, it's really awesome pre tagged, it's already got the show artwork and everything in it. MP3 file, mono low bit rate, because the quality isn't great, on the Zoom call anyway. So that one's super processed. And the end result is when I press stop at the end of the live stream, I immediately just have a file, I just upload it. And so those bootlegs go up within like a minute.
Of the livestream being over. So I do that with that stuff. But like out of the microphone, don't process it. I beg you.
Yeah, I'm with you there. I just, I see these tutorials on YouTube. Because when Audio Hijack 4 for I was just looking to see what everybody's talking about. And they're putting all these blocks between the mic in the recorder. I know, is this what people do out there. Like I feel like a crazy person. Yeah, don't do it.
Don't do it. No, it's just, I mean, I get it's awesome that you can make your stuff sound better. But like, if you don't have an original to fall back on, it's like, imagine if you were doing a work of art in Photoshop or any kind of art program. And back in the day with Photoshop, once you press Save,
You can't go back. So imagine a situation where you're like, well, all these effects are really awesome. But they flatten all my layers and save it out and I can never get it back. It's like, well don't do that.
Make a copy and then run your filters. Because if you regret it, it's too late.
You know, anybody who has been through the wars, like I love talking to people who've done the same things, because it's the same. It's like no, no, no, always keep your originals.
Always, always. Yes. Very good. Well, if you would allow, I'd like to do a quick lightning round at James Lipton Inside the Actor's Studio lightning round. All right, number one, what speed do you listen to podcasts?
One tick up on Overcast so whatever that is 1.1 I don't listen to 100% but I listen only very slightly more than that. And then with SmartSpeed and voice boost turned on. So it's it, you know, essentially 1.1 or 1.2, something in there.
Gotcha. Mouse or trackpad?
Trackpad. I used to use a trackball.
In the early days, I got into a trackball, the Kensington turbo mouse, and I loved it. But once you start doing like scroll wheel and stuff trackballs, they did not fit that metaphor and Apple came out with a Magic Trackpad.
And I was like, oh, yeah, well, this is great because right I use it on my laptops all the time. And now I can just use it everywhere. And so I've been exclusively Magic Trackpad for I don't know, as long as the Magic Trackpad has existed.
Okay. Okay. And with that, natural scrolling or unnatural?
Yeah, because it really does sort of feel right when I think when using a Trackpad.
Correct. Default web browser?
Ah, right. If you're going to say, remind me to get milk at the store?
Well, I would use AnyList for milk because we have a grocery app that shared between my wife and I and it also talks to the Amazon Echo.
So we can be in the kitchen and tell the Amazon Echo to add it to the shopping list. And it's added to our shopping list.
You can do that with the HomePod too. Oh, yeah, you have to set up a Shortcut but you can do it.
With AnyList. It's more complicated.
Because you've got to have your actions linked to your phone and I don't. For most things though, it's reminders. Actually, I have like all my story ideas I have a list called story list in reminders and I write all of my ideas for stories that I want to write in there. And occasionally tasks will go in there and the other place tasks will go is in my calendar.
I'm a mess when it comes to tasks.
Oh, Merlin Mann would have something to say about that.
Oh, Mike Hurley has lots of things to say about it too. I'm not as bad as I used to be about it. But when I worked at IDG I hid my day was full of calendar, calendar items for meetings. And so if I needed to do something I would literally block out time to do it.
Because otherwise it wouldn't get done. And that kind of stuck with me for a long time in terms of saying I need to do this. I'm going to just put an hour down and say do this. And I still do that actually from my Macworld column. Ironically, I have a recurring event on Tuesdays at 2pm that says write your column.
There you go. All right. Final question on your Mac, what position is your doc in and do you auto hide?
Always visible. Right side.
I'm a right side docker. It's true.
Are you left handed or right handed?
The only problem is that if you try to put another external display to your right, you lose the doc.
That's what I was gonna say.
I hate it. I'm only a single display user most of the time. But every time I try to put it like an iPad running sidecar something on the right I'm like, oh, no, my doc, it's gone. I have to use switch glass instead by John Siracusa. But yeah, I prefer, right side, no hiding and just scale animation. I know you didn't ask that. But I'm not a genie effect person either. It's too fancy.
Yeah, don't do the genie I do scaling. Well, very good. Jason Snell, thank you so much for coming on the show. We will put links to your Twitter to sixcolors.com Where else would you like to direct people?
Six colors has most everything I do at least linked to from there, my weekly macro column, my incomparable podcast and upgrade. But yeah, the incomparable.com for pop culture podcasts. It's a network that I started and my podcasts are on there too.
Relay FM I have upgrade about Mac stuff mostly and Apple stuff and downstream, which is about the business of streaming media, which is a new podcast. That's a lot of fun. And so yeah, check those out, along with six colors.
Very good. We'll put links to all of that in the show notes. Once again. Thanks so much, Jason.
Contact our host
Submit anonymous tips on Signal: +1 863-703-0668
Sponsored by:
Support the show
Support the show on Patreon or Apple Podcasts to get ad-free episodes every week, access to our private Discord channel, and early release of the show! We would also appreciate a 5-star rating and review in Apple Podcasts
Links from the show
More AppleInsider podcasts
Tune in to our HomeKit Insider podcast covering the latest news, products, apps and everything HomeKit related. Subscribe in Apple Podcasts, Overcast, or just search for HomeKit Insider wherever you get your podcasts.
Subscribe to AppleInsider on:
Keep up with everything Apple in the weekly AppleInsider Podcast — and get a fast news update from AppleInsider Daily. Just say, "Hey, Siri," to your HomePod mini and ask for these podcasts, and our latest HomeKit Insider episode too.If you want an ad-free main AppleInsider Podcast experience, you can support the AppleInsider podcast by subscribing for $5 per month through Apple's Podcasts app, or via Patreon if you prefer any other podcast player.