M2 and beyond: What to expect from the M2 Pro, M2 Max, and M2 Ultra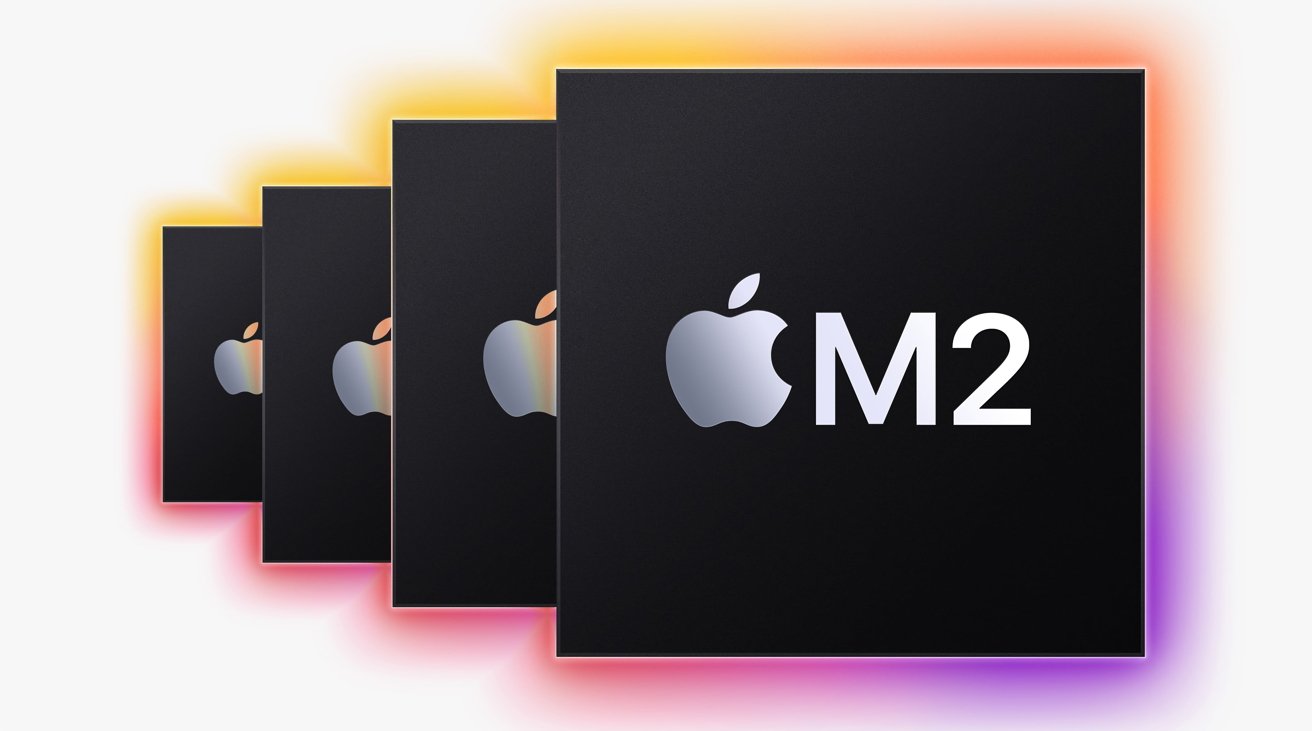 AppleInsider may earn an affiliate commission on purchases made through links on our site.
With the launch of M2 at WWDC, thoughts turn to what the rest of the next chip generation will look like. Based on the M1 lineup's progression, here's what M2's future chip releases could offer users.
Apple's launch of the M2 for its updated MacBook Air and 13-inch MacBook Pro offer users a lot over the M1 versions. Just for the system-on-chip alone, there's higher computing performance, better graphical capabilities, more memory bandwidth, and even borrowing the Media Engine from the upper-tier M1 chips.
As a new generation of chips starts, the attention naturally shifts toward what's to come. With M1, we saw even more performance gains with the introduction of the M1 Pro and M1 Max and then the stratospheric M1 Ultra.
Apple inevitably has chips on the horizon that will be part of the M2 range. Apple won't reveal what it has planned, but we can take a guess by looking at what's already been released.
The past is key
Like many other companies as well as people, Apple has habits. It likes reusing names and concepts, in part because it makes marketing products to customers easier.
Since customers may already know different types of hardware in a previous generation, keeping the same general concept for a new generation makes sense. Especially so when the differences aren't seismic.
This gives Apple an excellent reason to stick to tried and true ideas without making what may be perceived as too much of a change.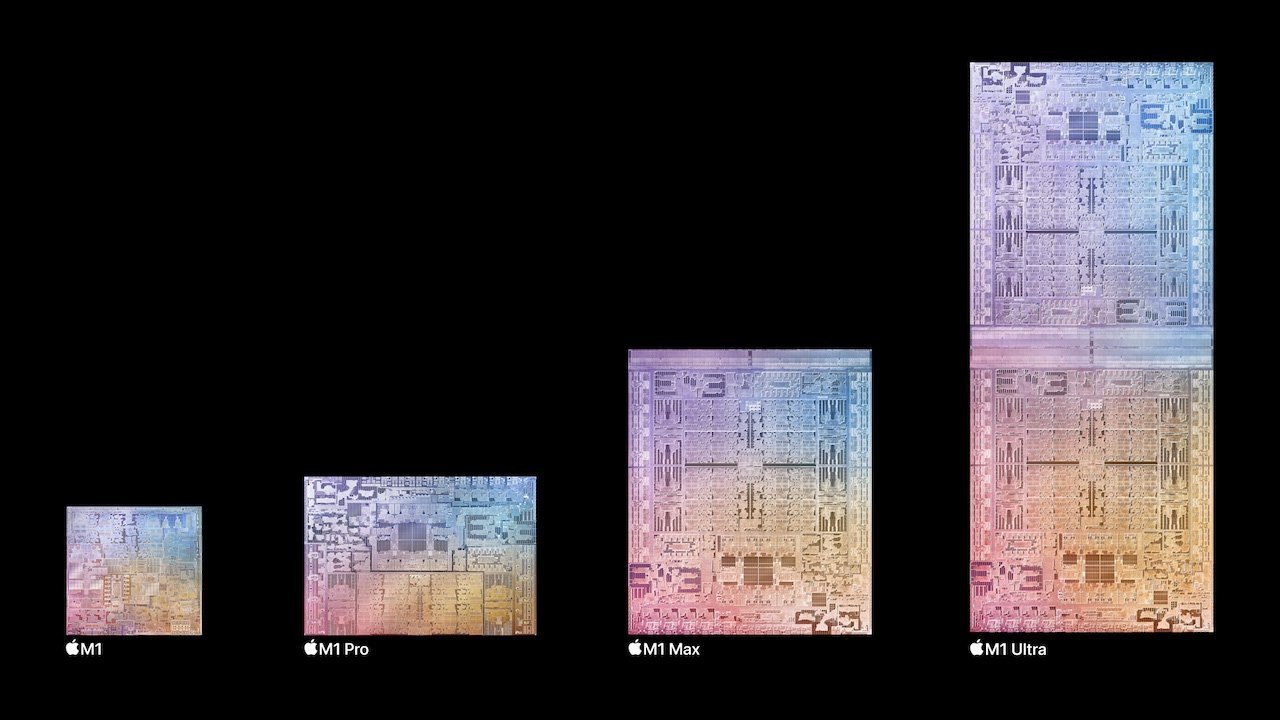 That leads us to the first problem of determining the types of chips Apple could bring out in the future. If we're employing Occam's Razor, the next ones will probably be the M2 Pro, the M2 Max, and eventually the M2 Ultra.
We saw well-defined jumps in the specification for each M1 chip and an overall doubling of everything by the M1 Ultra, so it would be reasonable to expect this pattern to continue for the M2 range.
As for what those Pro, Max, and Ultra chips could offer, we'll be using the improvements of the M2 over the M1 and then extrapolate within reason.
M1 to M2
At face value, the M1 and M2 aren't that different. On paper, many elements aren't quite as much of a change as you'd observe going from the M1 to M1 Pro, for example, but they do exist.
Both the M1 and M2 use eight CPU cores, consisting of four high-performance and four efficiency cores. Made using a 5-nanometer process, Apple says the M2 does benefit from having a chip that's 18% faster for relative power consumption levels.
Then there's the GPU, which is 35% more powerful according to Apple. This is probably down to Apple using 7-core and 8-core GPUs in the M1 and 8-core and 10-core GPU options in the M2, along with other technical improvements to graphics.
The Neural Engine isn't massively different when you consider it still uses 16 cores, but Apple says it's 40% faster in the M2 than the M1 and can handle up to 15.8 trillion operations per second.
M1 Range Specifications
Specifications
M1 (2020)
M1 Pro (2021)
M1 Max (2021)
M1 Ultra (2022)
CPU Cores (Total)
8
8 or 10
10
20
CPU Performance Cores
4
6 or 8
8
16
CPU Efficiency Cores
4
2
2
4
GPU Cores
7 or 8
14 or 16
24 or 32
48 or 64
Neural Engine Cores
16
16
16
32
Transistors (B)

16
33.7
57
114
Foundry process
5nm
5nm
5nm
5nm
Unified Memory Capacities
8GB,
16GB
16GB,
32GB
32GB,
64GB
64GB,
128GB
Memory Bandwidth
68.25GB/s
200GB/s
400GB/s
800GB/s
Media Engine
-
Video decode engine,
Video encode engine,
ProRes encode and decode engine
Video decode engine,
2 Video encode engines,
2 ProRes encode and decode engines
2 Video decode engine,
4 Video encode engines,
4 ProRes encode and decode engines
At this point, things do change a lot for the M2, starting with its use of 20 billion transistors compared to the 16 billion in the M1. This isn't quite as much as the 33.7 billion in the M1 Pro, but it's still a hefty increase.
Unified Memory is also boosted, as while both offer 8GB and 16GB capacities, you have a 24GB option in the M2. Again, not quite at the 32GB heights for the M1 Pro, but still a step in the right direction.
Again, the memory bandwidth is greater in the M2 at 100GB/s compared to 68.25GB/s in the M1. Once more, it's not quite at the 200GB/s of the M1 Pro, but faster is better.
Then we move to the addition of a Media Engine, which the M2 gains but the M1 doesn't have. This is pretty much the same system used in the M1 Pro, complete with video decode and encode engines and ProRes encode and decode engines.
Muddying the water here is Apple's claim that the video decoder in the M2 is higher-bandwidth with capabilities of handling 8K H.264 and HEVC video.
Lastly, there are enhancements to the Secure Enclave and a new image signal processor for better noise reduction.
Extrapolations
Since we know how much of a difference there is between the M1 and M2, we can use them as a rough guide for other increases in those numbers. A simple mathematical increase would work as a base, but some will have to be massaged to be more rounded or acceptable figures.
We need to adjust the figures for a few reasons. For a start, a direct mathematical increase isn't necessarily a neat number, so rounding down or up to the nearest level is fine to do.
Then there are increases that seem to be a little too high to be believable. If a resulting figure seems unfeasible, it should be rounded down to something more expected and feels more "correct," which Apple would go for.
M2 Extrapolations
Specifications
M2 (2022)
M2 Pro*
M2 Max*
M2 Ultra*
CPU Cores (Total)
8

8 or 10

10

20
CPU Performance Cores
4
6 or 8
8
16
CPU Efficiency Cores
4
2
2
4
GPU Cores
8 or 10
16 or 24
32 or 48
64 or 96
Neural Engine Cores

16
16
16
32
Transistors (B)

20
42.1
71.3
142.5
Foundry process
5nm
5nm
5nm
5nm
Unified Memory Capacities
8GB,
16GB,
24GB
16GB,
32GB,
48GB
32GB,
64GB,
96GB
64GB,
128GB,
192GB
Memory Bandwidth
100GB/s
300GB/s
600GB/s
2,000GB/s
Media Engine

Video decode engine,
video encode engine,
ProRes encode and decode engine
Video decode engine,
2 Video encode engines,
2 ProRes encode and decode engines
Video decode engine,
4 Video encode engines,
4 ProRes encode and decode engines
2 Video decode engine,
8 Video encode engines,
8 ProRes encode and decode engines
CPU Cores
The first estimate would be for core counts. Since Apple kept to the same core configuration as the M1 for the M2, but with optimizations and other changes, its plausible that Apple would go for something similar for the M2 Pro, Max, and Ultra.
The M2 Pro would have the same 8 or 10 core count as the M1 Pro, complete with two efficiency cores and the remainder being performance cores. The M2 Max may also stick with ten cores, split 8 to 2 for performance and efficiency.
Since the M1 Ultra is a pair of M1 Max chips connected together, it's reasonable to assume something similar could happen for the M2 Ultra.
If it wants to, Apple could certainly go for a higher core count on the M2 Max, and therefore M2 Ultra, but it probably won't be that much of a rise.
GPU Cores
Since Apple shifted from 7 or 8 cores in the M1 to 8 or 10 cores in the M2, you could probably guess that similar upgrades could be made for future chips. Since the M1 to M2 increase seems to be more centered around smaller stepped core count improvements, applying the same logic here is not unreasonable.
From 14 or 16 cores in the M1 Pro, the M2 may go for 16 or 24 core options. The M2 Max may translate 24-core and 32-core iterations into 32-core and 48-core versions.
As the doubling chip, the M2 Ultra could have 64 or 96 cores.
Neural Engine
Of all the parts, the Neural Engine is probably the easiest to make sense of, due to how it was handled in the M2. It has the same core count as the M1, but it's working 40% faster.
Apple didn't change Neural Engine cores across the range of M1 chips, except for 32 on the M1 Ultra. Probably, the Neural Engine won't see any core changes again for M2, as that performance boost is undoubtedly going to be more than enough for what Apple wants for ML.
Transistors
An analog for how big the chip is, the general idea is that the more transistors are used, the more potential performance the chip can offer, and the larger the physical chip size.
Here, we can go down the mathematical route with no adjustments, as beyond the M1, transistor counts aren't neat at all.
The M1 uses 16 billion transistors, rising to 20 billion in the M2. This equates to a 25% increase, which we can apply directly to each other transistor count.
The 33.7 billion transistors in the M1 Pro could rise to 42.1 billion in the M2 Pro. Likewise, the 57 billion for the M1 Max could translate to 71.25 billion in the M2 Max. Lastly, the 114 billion transistors in the M1 Ultra may become 142.5 billion in the M2 Ultra.
They may not necessarily be spot on, but if the M2 lineup follows the M1, you're going to see proportionately comparable chip sizes at least.
Unified Memory Capacity
In the M1, Apple included 8GB and 16GB Unified Memory options. For the M2, Apple added a third option to the mix, but instead of doubling to 32GB, it went for 24GB.
It works out that 24GB is midway between 16GB and 32GB and can be formed by two more typical memory values: 8GB and 16GB.
Beyond M2, Apple could easily retain the same memory capacities as its M1 counterparts, but with that additional third value.
From 16GB and 32GB in the M1 Pro, Apple may add a 48GB option. Likewise, the M2 Max could use 32GB and 64GB but add a 96GB option. The 64GB and 128GB memory of the M1 Ultra may see the addition of 192GB in the M2 Ultra.
It is entirely plausible that Apple could go with the standard doubling for the models, making the extra options 64GB, 128GB, and 256GB, respectively, but the cost will be a factor.
Going for high amounts of memory is costly with Apple hardware, with the potential cost of massive memory options in the M2 Ultra reaching nosebleed territory.
At that sort of level, people planning to use such significant amounts of memory may gravitate towards whatever Apple dreams up for its next Mac Pro, which may have something completely different as its SoC.
Memory Bandwidth
The second-messiest category behind transistors for mathematics is memory bandwidth, a big defining element of the performance of a Mac. At the same time, it's also one of the more logical elements that doesn't require too much number massaging.
The 100GB/s of the M2 is a 46% improvement on the 68.25GB/s of the M1. Taking 46% as the improvement further along, that makes the 200GB/s M1 Pro turn into 292GB/s for the M2 Pro, nigh on 300GB/s.
Likewise, 400GB/s of the M1 Max can translate into 584GB/s in the M2 Max, or practically 600GB/s. The 800GB/s of the M1 Ultra turns into 1,168GB/s in the M2 Ultra, but that could be considered close to 1,200GB/s.
Media Engines
When Apple introduced the idea of a Media Engine for video encoding in the M1 Pro and M1 Max, it brought out a feature that was completely absent on the M1. For the M2, Apple has already included the same sort of Media Engine as you would find in the M1 Pro, except with higher performance.
As for where Apple could go beyond this, it could do so in the same way it did for the M1 Max by adding more. The M1 Max has two video encode engines and double the ProRes encode and decode engines of the M1 Pro.
Since M2 already has the M1 Pro's Media Engine, it could feasibly do its doubling of the ProRes encode and decode engines to two apiece for the M2 Pro. The doubling could happen again for the M2 Max, making it four video encode engines and four each of the ProRes encode and decode engines.
If we are following the similar doubling-M2-Max rule for the M2 Ultra, then it'll be two video decode engines and eight each of the video encode, ProRes encode, and ProRes decode engines.
This may be a little extreme, but it's quite probable that someone will justify having so many encode and decode engines in a Mac.
Performance
Aside from the specifications of the chips, we can try to work out how fast each could be. Again, we do have a reference point to work with for the M2, as an early Geekbench benchmark recorded by CPU-Monkey has surfaced, claiming the M2 managed 1,869 for the single-core test and 8,900 for the multi-core.
We also know that the M1 in a 13-inch MacBook Pro manages 1,707 in the single-core and 7,395 for the multi-core. This works out to be percentage improvements in the M2 of roughly 10% and 20%, respectively.
If we followed the same logic, the ten-core M1 Pro in the 14-inch MacBook Pro could go from 1,738 and 12,009 in single and multi-core tests to around 1,911 and 14,410 apiece.
Likewise, the ten-core M1 Max's 1,747 single-core and 12,165 multi-core results can turn into 1,921 and 14,598. Lastly, the M1 Ultra in a Mac Studio's 1,754 single-core score could go to 1,929, and the 23,357 multi-core test could hit 28,028.
While we can take a stab at guessing the CPU benchmarks since we assume the cores will be the same types, with improvements, the same cannot be said about GPU performance. The high number of cores can result in more variance than the more readily acceptable CPU versions.
This all said, Geekbench isn't a perfect benchmark. Its calculational benchmark is a more "bursty" one for everyday use, and doesn't model loads drawn for an extended period of time. Apple's implementation of the M1 Max and M1 Ultra processors excel at those because of low-power demands and therefore lower heat loads.
And the Mac Studio exchanges heat even better than the MacBook Pro does.
It's All Napkin Math
Do bear in mind that this is all extrapolation and modest estimates based on the data we have on hand. It is not a full-blown prediction of what Apple will release but a best guess of what it could bring out.
Apple could easily make significant changes to its chip lineup, including the names, the number of chips, and making more considerable alterations to specifications with target users in mind. Extrapolations are our own — but they make sense given what we saw with the M1 evolution over a year and a half.
The launch of M2 through today shows Apple learned quickly about how to improve Apple Silicon and acted to improve upon an already favorable position. Even in our conservative estimates, Apple stands to provide even bigger improvements to the rest of the lineup.
Whatever Apple decides to bring out in the future, M2's stablemates will offer potential users masses of performance. Even if our extrapolations are different from the eventual reality, it should still be a massive win for Mac users who make the jump.