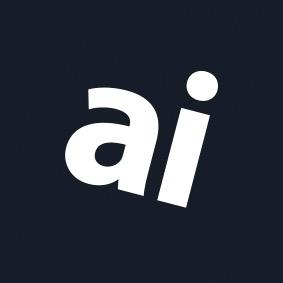 Why you can trust AppleInsider
Hyper 245W GaN Desktop Charger review: All the bells and whistles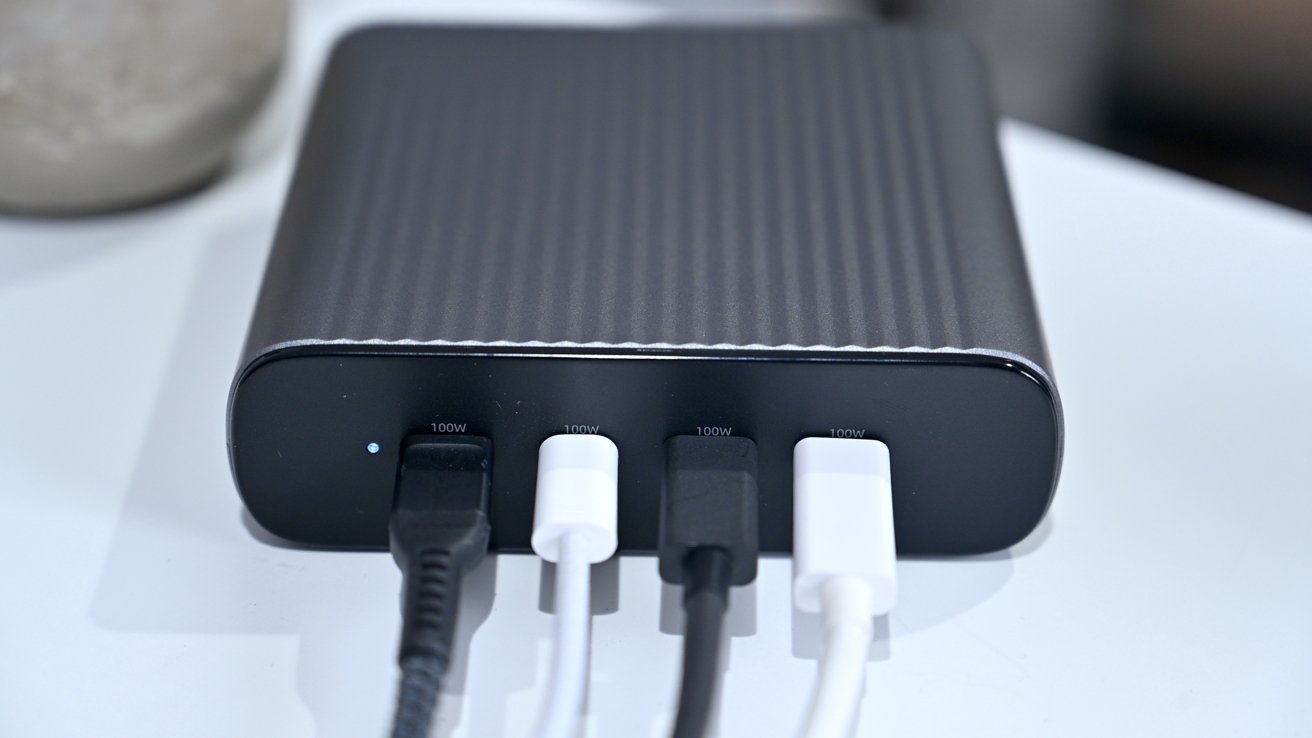 Hyper 245W GaN Desktop Charger
4.5 / 5
---
The new Hyper 245W GaN Desktop Charger is compact, sleek, and the most powerful multi charger you can have at the ready. You'll have no issue charging your USB-C gear with four outputs, including multiple Apple laptops at full speed.
As devices grow in size and performance, the power requirements also drift upward. Here in 2022, Apple has its highest capacity charger to date outputting 140W.
Power users who are using a power-hungry 16-inch MacBook Pro, 12.9-inch iPad Pro, a 100Wh battery pack, and more can benefit from a desktop charger with enough juice to power all of this gear at once.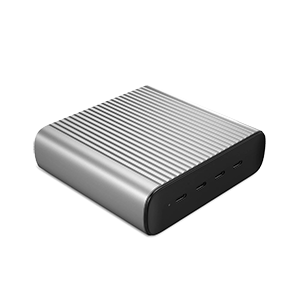 Hyper 245W GaN Charger
---
The HyperJuice 245W GaN Desktop Charger has four 100W USB-C Power Delivery ports.
Impressive design
We're big fans of the Hyper 245GaN Desktop Charger in terms of design. Hyper is using GaN tech to keep the design small. It's not much larger than the Zendure SuperPort 100 we reviewed in 2019 that had 120W of power.
The body is plastic with small ridges along the top and bottom. It has a very smooth finish that feels great in your hand. There are subtle seems running down the left and right sides though they aren't noticeable unless under bright light.
This is a four-output charger and each of them is effectively the same. Each port is a Type-C port capable of 100W of power. Many multiport chargers will offer only one or two high-wattage outputs with others relegated to slower speeds.
In total, you can get up to 245W of power from the charger. How much you get from each will be dictated by the power draw for each device. For example, you can't connect four 100W devices and get 100W from each simultaneously and each will be slowed down proportionally.
Many devices don't draw the max power at once, so the power output will change on the fly. The quartet of ports goes along the front of the device with a small "100W" designator above each of them.
Around the back is where the power cable connects. Hyper has chosen to use a very common C7 power cable for its powerful charger. This is the one that looks like a figure eight.
Should the cable get damaged, it will be easy to replace. Or, if you travel, you can swap for a local variant instead of the U.S. version.
While reasonable in size, it does have some substantial weight to it. It would easily fit into our gear bag but we wouldn't want to be hauling this around with us for extended periods of time. We'd pack this with us for a trip, but probably not carry it around the city all day.
Only limited by PD 3
There's only one downside we see with the new Hyper charger. We'd love it if it supported the latest USB PD 3.1 spec, rather than only USB PD 3.0. With the USB PD 3.1, chargers are capable of up to 240W of power output.
We don't need this charger capable of that maximum output, but we're looking for at least 140W. If the number sounds familiar, it is what is needed to fast charge Apple's 16-ich MacBook Pro.
The latest 16-inch MacBook Pro comes bundled with a 140W GaN charger with a braided USB-C to MagSafe cable. You need MagSafe and a 140W charger to be able to fast charge this machine. Apple's 140W GaN charger is one of the few to support this latest USB PD standard.
With a 245W maximum output, it seems Hyper could have handled 140W output with plenty of bandwidth to spare.
Should you buy Hyper's 245W GaN Desktop Charger?
This is without a doubt the most capable desktop charger we've tested to date. It has an unparalleled output wattage, Apple-inspired Space Gray aesthetic, and is compact enough for travel.
In our use, the charger wasn't overly hot either. It certainly gets warm during maximum load, but felt reasonable and always safe to the touch.
The only reason to not consider this charger is if you don't need this amount of power. A charger that supplies 245W is rare, about three times what you need for the iPad Air, a MacBook Air, an iPhone, and an Apple Watch to charge simultaneously.
For any users with larger power requirements, this charger is a must-have for reducing desk clutter and increasing charging performance.
Pros
Sleek, space gray body
Four USB Type-C outputs
Massive 245W max output
All ports are capable of the same output
Swappable and widely-used AC power cord
GaN tech for smaller footprint
Cons
Doesn't support USB PD 3.1
Rating: 4.5 out of 5
Where to buy
The HyperJuice 245W GaN Desktop Charger retails for $149.99 and can be ordered from Hyper directly. B&H Photo also stocks the charger, with free expedited shipping within the contiguous U.S.