Design the iPhone 14 of your dreams — or your nightmares — with this site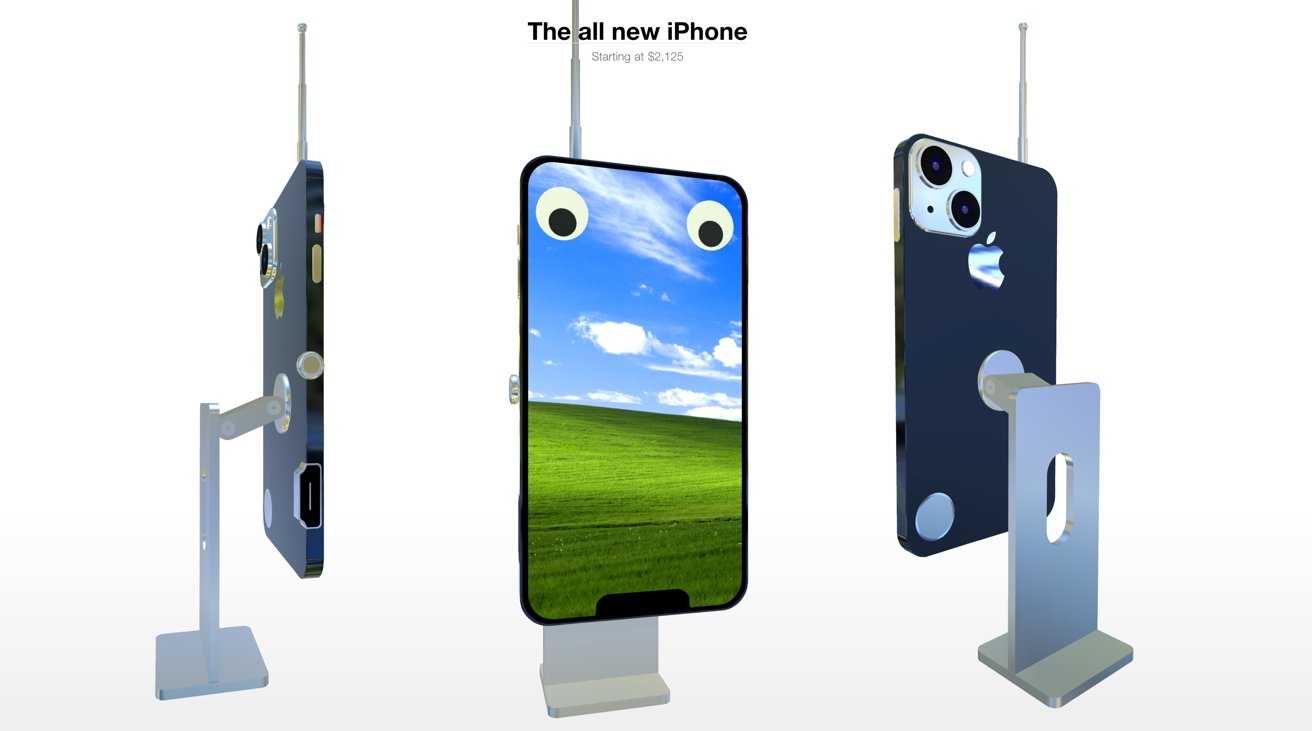 AppleInsider may earn an affiliate commission on purchases made through links on our site.
A developer has created a website enabling anyone to produce a render of what the iPhone 14 could look like, or at least how they want it to look.
Renders of upcoming devices are big business, taking advantage of the rumors and leaks that flow months before launch to potentially show off what could actually launch. While renders can take a lot of work and skill to produce, developer Neal Agarwal has made it easier for anyone to quickly make their own mock-up iPhone, all from their browser
Titled Design the Next iPhone, the site offers the chance to do just that, starting with a basic iPhone shape rendered in 3D. Users can add a variety of different external features to the iPhone body, compiling a model of their own design.
Various elements can be dragged from the bottom of the screen onto the iPhone, positionable practically anywhere on the smartphone's body. The list includes typical items such as volume buttons, the Lightning port, camera bumps, and the notch, but it also allows users to come up with oddball designs that would never come to fruition.
For example, while you could add an Apple Logo to the back, you could also do the same with the Android logo, or a "Pear" logo. You could use one camera bump, or maybe two, but you could add a chunky "Pro Max Camera" on the rear as well.
Then there are other elements such as an HDMI port, the Pro Handle and Pro Wheel from the Mac Pro, an antenna, an Apple Watch Digital Crown, and a Pro Stand from the Pro Display XDR.
More extreme examples include adding a Click Wheel, a rotary dial, a steering wheel, a cup holder, and googly eyes.
Users also have the freedom to change the color of elements however they want, as well as using Microsoft's green hill wallpaper.
Once completed, users can watch their creation spin, accompanied by a Tim Cook comment. If you're so inspired, you can also download a video to share with others online.
Despite the existence of the website, AppleInsider's resident 3d modeler's job is still quite safe. As well as making renders of rumored upcoming Apple products, they also made an AR render of Apple's VR headset that you could see placed on your desk.
"Design the Next iPhone" is available to try out on Agarwal's website, Neal.fun.
As for what is likely to launch during the September event, Apple is believed to keep the design of the iPhone 14 close to the iPhone 13 in many respects, with most of the design changes set to be made in the iPhone 14 Pro range. Those changes include switching the notch for a pill-and-hole design, an always-on display, and an upgraded rear camera, among other alterations.