macOS Ventura with Stage Manager, Continuity Camera & more now available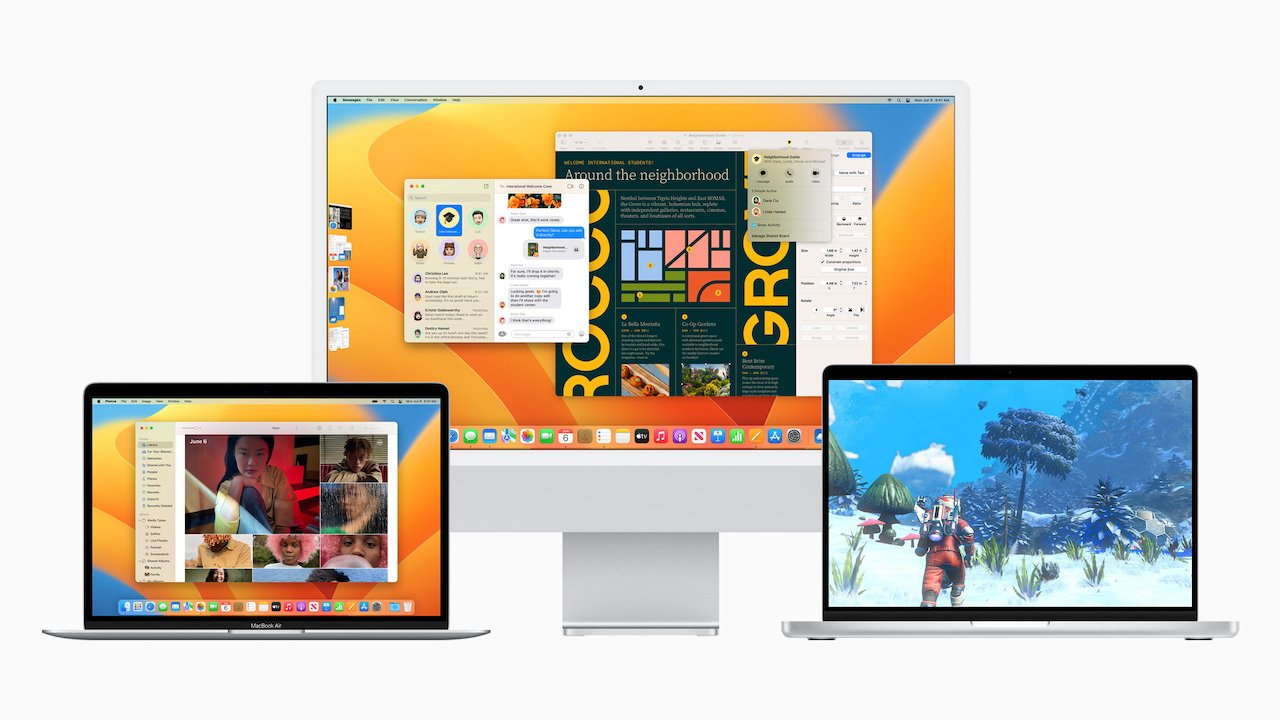 Apple has officially released macOS Ventura, which brings new features and improvements like Stage Manager and the ability to use your iPhone as a webcam.
First announced at the company's WWDC 2022 keynote event in June, macOS Ventura has been through multiple rounds of beta testing since then. Now it's officially available to users.
Here's everything you need to know about the next iteration to macOS, as well as where to download it.
Stage Manager
Stage Manager is a feature that allows users to more cleanly organize their desktops while using apps. Instead of forcing users to manage a slew of open windows in a single desktop, Stage Manager intelligently creates smaller workspaces.
Active apps are shown in the middle of the display, while previously used apps are moved to an App Switcher-like list view on the side of the screen. Users can quickly switch between different "stages" with a click without needing to resize or move windows.
When users switch to another app group in Stage Manager, everything goes back to the way it was before you switch away. That includes window size and position.
In other words, it's a workflow feature aimed at simplifying desktop management.
Spotlight & Search updates
Apple has also updated Spotlight and macOS search capabilities to make looking for stuff on your Mac much easier.
Users can now search for content within apps, find images by searching with text, and view content pulled directly from web search results. You'll find more detailed results when searching for brands, people, or media.
In addition, Live Text will allow users to search for the text inside of images. Search results will also display in a full window for richer searches.
You can also perform quick actions from the search bar, including features within apps. Search for "Shazam" and you'll get the option to quickly start a song recognition search. Users can also start timers or run shortcuts directly in Spotlight.
Continuity Camera
One of the other standout features in macOS Ventura is a new addition to the existing Continuity Camera feature that lets users scan documents with their iPhone. While it previously replaced your scanner, it's now a replacement for your webcam.
The Continuity Camera upgrade allows users to turn their iPhone into a high-quality webcam with nearly no setup. While there are existing apps that offer similar capabilities, Continuity Camera promises to be seamless — and offer additional features.
For example, Continuity Camera will use the iPhone's Ultra Wide rear camera to bring Center Stage capabilities to the Mac. Users can also apply various Portrait and Stage Lighting effects to their Zoom and FaceTime calls.
As long as you have a clip to attach the iPhone to the top of your monitor or MacBook lid, you'll very likely have a camera that outperforms any built-in webcam.
Core app updates
In addition to new features, Apple also brought a plethora of updates to its existing apps, including Safari, Messages, Mail, and Photos.
Safari, for example, is getting a new Passkey feature that will allow users to replace their passwords with more secure keys. There's a new collaboration tool with Shared Tab Groups, which will allow tabs and bookmarks to be quickly shared with others.
Messages, like in iOS 16, will get the ability to unsend and edit messages. On macOS, it'll also get SharePlay, letting users start a session with others directly from Messages.
Users can also batch edit content and pull subjects directly from images within Photos. A new iCloud Shared Photo Library feature will allow family members to see a unified collection of photos in a separate place.
In Mail, users will get the ability to unsend a sent email. Mail is also getting general improvements across it search capabilities, as well as the ability to recover recently deleted messages up to 30 days after they're trashed.
Other updates
There are also a range of other assorted or minor improvements coming to macOS Ventura, such as the following.
The System Preferences app is now called System Settings and has been redesigned to more closely resemble the iOS version.
Rapid Security Response will allow for software updates that don't require a reboot, increasing macOS security in general.
New Weather and Clock apps.
A collaboration tool called Freeform that allows multiple users to view and edit a large "whiteboard" in real time (due later in 2022)
Improved macOS gaming with Metal 3
The ability to handoff FaceTime calls from iPhone to Mac, or vice versa.
New Reminders templates for quickly creating reminders.
Live Captions now supports paused videos and FaceTime calls.
Where to get macOS Ventura
macOS Ventura is now available as a free download for Mac users running compatible hardware.
It's currently available for the following Macs.
iMac: 2017 or later
iMac Pro
MacBook Air: 2018 and later
MacBook Pro: 2017 and later
Mac Pro: 2019 and later
Mac mini: 2018 and later
MacBook: 2017 and later
Mac Studio
AppleInsider has confirmed that the release is being served to users. It can take some time for Apple's content delivery network to fully populate, and servers will be under load. Both factors impact local visibility for any given user.