Workers flee Foxconn's COVID-hit iPhone factory over poor conditions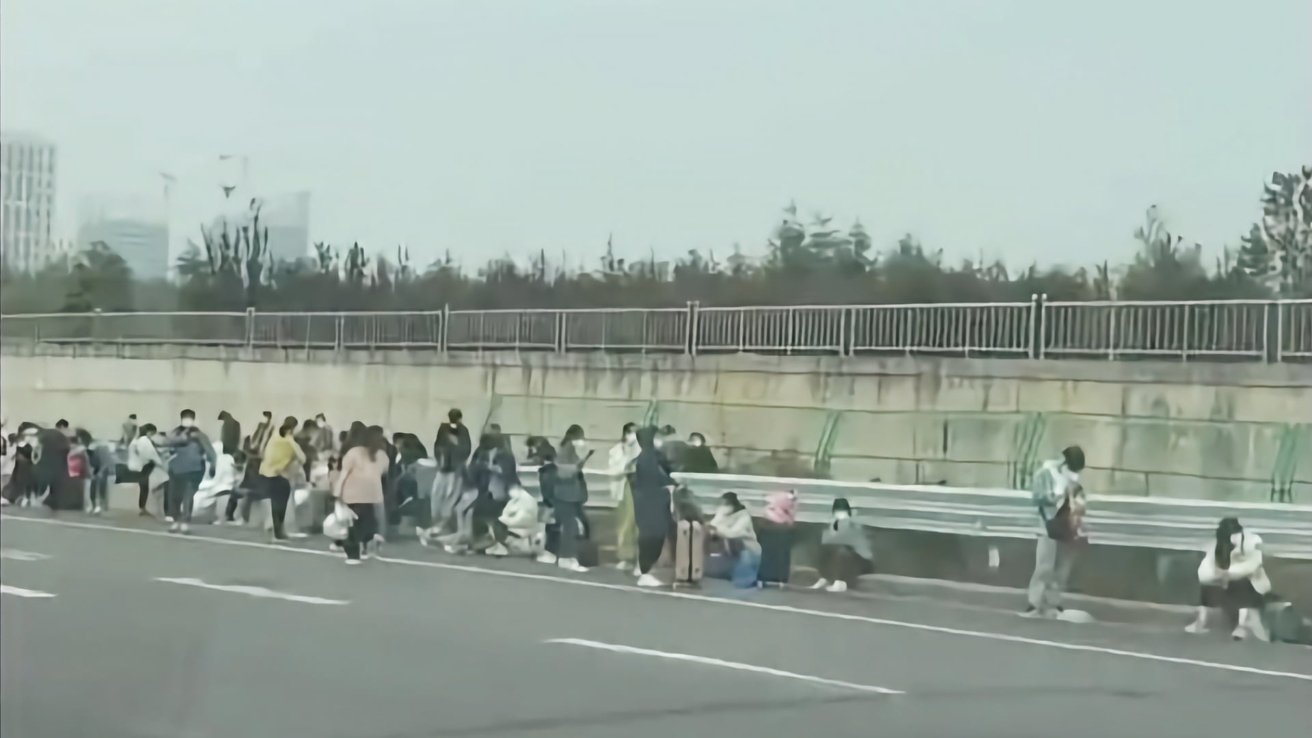 Workers at Foxconn's major iPhone factory in Zhengzhou, China are choosing to leave the facility currently operating as a closed-loop during a COVID outbreak, with social media showing employees traveling home instead of staying.
Following an outbreak of COVID at the Zhengzhou facility in late October, Foxconn has implemented a "closed loop" that keeps employees in the campus. While the policy and other initiatives are intended to curtail the spread of the virus, some workers at the factory don't want to have their freedom curtailed.
Posts to local social media claim to show workers walking home and riding on the back of trucks to get away from the locked-down factory. The Washington Post reports some videos show workers climbing over fences to exit the factory.
Not all videos were able to be verified as genuine. Also, it was unknown if the workers were departing after being allowed to leave or if they were actively escaping.
Some incredible images circulating on Weibo right now. Young Foxconn workers WALKING home from the factory in Zhengzhou, where an outbreak is causing lockdowns. Some picked up by truck drivers, riding in the back of the bed. Looks like a different era pic.twitter.com/BvnxcBn6JW

— Alexander Boyd (@alexludoboyd) October 30, 2022
In one video, volunteers from a nearby village put out food and drink for the workers. The villagers reckoned the walkers came from the factory, as the road in use was one leading to the facility.
The Financial Times quotes one worker as claiming "it was total chaos in the dormitories. We jumped a plastic fence and a metal fence to get out of the campus."
Workers told the publication the factory's conditions had deteriorated since closed-loop production began. Food and medical supplies were apparently running low, and workers were locked in dormitories as a quarantine measure.
Following the scenes, city authorities worked to organize buses to help workers travel, and to take them to a central quarantine location. Officials said on Sunday they would start "the point-to-point return of employees to their hometowns."
The city also published a notice from Foxconn, promising to "improve the living and work conditions" for those working in the facility. This includes higher quality meals with the canteen reopening from November 1, medical care, transport for infected workers, and bonuses to stay.
As the largest iPhone factory, the workforce can swell up to 350,000, though it is unclear how many workers were in attendance, nor how many decided to leave.
It is thought that the outbreak at the facility could impact production of iPhones by up to 30%. Foxconn has also apparently delayed a planned seasonal reduction in output to a later time.