DBPower Portable Power Station review: A balance of utility, portability, and price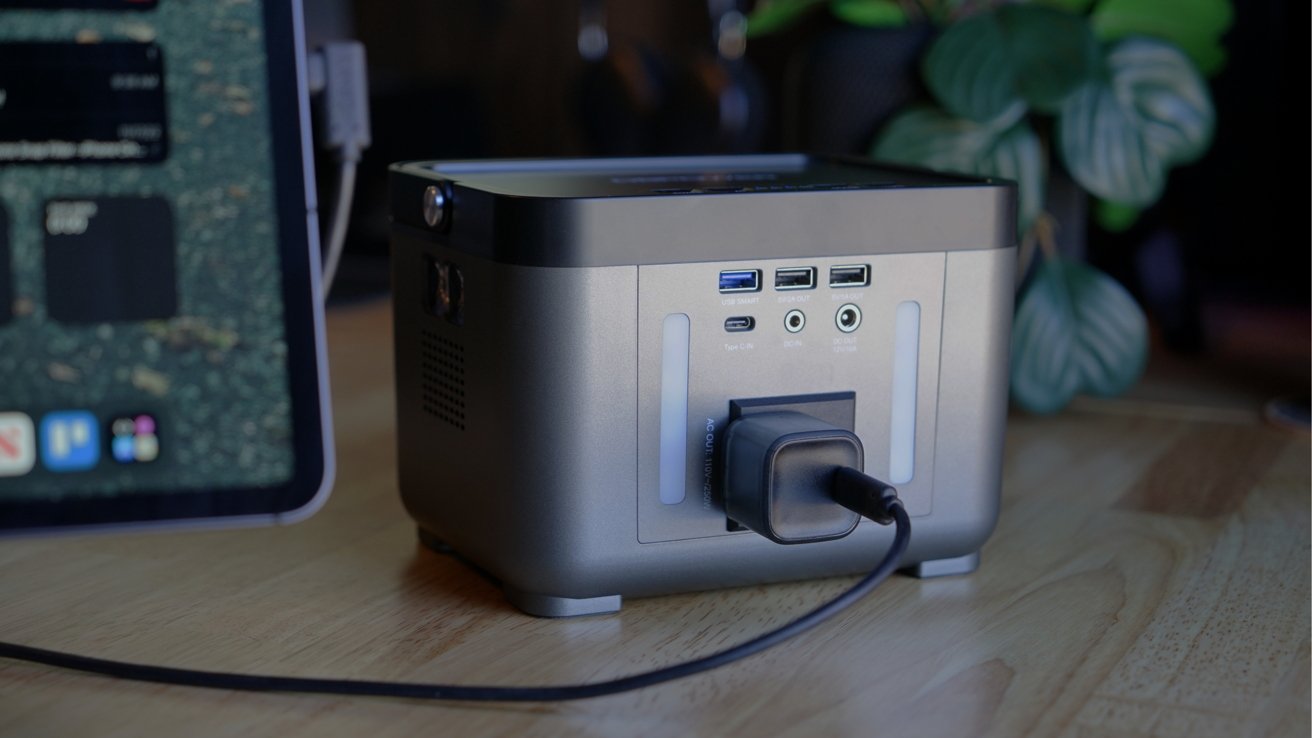 DBPower Portable Power Station
3.0 / 5
---
AppleInsider may earn an affiliate commission on purchases made through links on our site.
The DBPower Portable Power Station isn't a perfect product, but it gets the job done with a tiny footprint and a relatively low price.
If someone mentions a portable power station, people will likely immediately think of those 30-pound boxes with a bunch of outlets. But portable batteries can come in all shapes and sizes, and the DBPower 250W station might have found a sweet spot.
The DBPower 250W battery is a portable power station in miniature but still bigger than the products in the battery pack category. It can recharge an iPhone about 25 times or a MacBook Pro twice.
This isn't an emergency power backup tool like other portable power stations. It can power some lights for 24 hours but doesn't have enough wattage to power a refrigerator or other large loads.
It makes up for its lack of useful ports and low-wattage output with bright flashlights and a single universal outlet. It is a good companion for a weekend camping trip where minimal tech use is expected, but backup battery power is desired.
DBPower portable power station features and design
The DBPower portable power station is small at 7.16 inches by 5.39 inches by 5.04 inches. It weighs 4.4 pounds and has a foldable carrying handle similar to a small lunchbox.
The lithium-ion battery has a 250Wh capacity or 67,200mAh. That's enough capacity to fully charge a 16-inch MacBook Pro twice.
The case is a soft-touch plastic material with exhaust vents on both sides. Fans will kick on after a certain internal temperature is met, which can occur from large loads or operating the lights.
Like other power stations, this one isn't water resistant and shouldn't be used in wet environments or in the rain. Extreme heat or cold can also reduce efficiency or prevent expected operation.
Ports, controls, and lights
The small size and low price of this battery pack mean that the interface is quite simple. There are buttons on the top of the unit to toggle power to the device, ports, and lights.
One large light emits a flashlight-like beam on the left side of the unit, and two light strips on the front produce diffused light. Both lights are controlled with a single button using a single press or double press.
A single press toggles between on, strobing, and SOS mode for the side light, and a double press toggles the front lights on and off.
A power button for the battery turns on with a press and turns off with a long press. Toggles for providing power to the AC outlet or DC/USB ports are also on top that are operated with a single press.
There are three USB-A ports, a USB-C port, the DC charging port, and a DC out port. Below those is a large AC outlet that works with multiple outlet types.
The first USB-A port is a "smart" port, which can output up to 18W. The other two USB-A ports are 10W and 5W ports. The USB-C port is an input port and can only provide up to 15W to the battery.
The DC port can operate from 9V to 12V at 10A, which is used for certain kinds of DC lights and other products. The AC outlet is capable of 250W with a 350W surge.
Charging the power station can take up to 6 hours when using the built-in power supply. There isn't any method to speed this up, and larger power supplies won't help.
Using the DBPower portable power station
Frankly, the port situation on the DBPower portable power station is abysmal for 2022. However, this product is saved by the AC outlet, which is much more versatile than any single USB port.
There will be limited use cases when three low-wattage USB-A ports might be useful, but they at least offer some versatility. The addition of a USB-C port that is only used for power-in is baffling, especially since it'll only charge it at a 15W trickle.
All that being said, having a tiny portable battery pack with an AC outlet is quite useful. It doesn't matter that the USB ports are terrible if users can fast charge a 16-inch MacBook Pro from the outlet.
We've tested multiple portable power supplies from tiny MagSafe batteries to hulking aluminum bricks with 190W of total output. The DBPower portable power station lands in an odd place just outside of that spectrum — too big for a backpack but too small for serious power needs. It's even tough to qualify as a "power station."
What you get with this DBPower 250W battery is something with a large capacity that doesn't break the bank. Its size and weight are directly attributable to the lithium-ion battery inside, and you're not going to find a more compact version with the same technology.
We have three major complaints. First, the terrible USB wattage can't be understated. Three USB-A ports, and all of them incapable of fast-charging a modern iPhone.
Second, the fans are quite audible when they kick on. It doesn't seem to take much for the fans to operate, especially if the lights are in use.
Finally, this power station doesn't recommend using power passthrough since it could degrade the battery faster. Also, passthrough doesn't work with the AC outlet, only with the USB ports.
Should you buy the DBPower portable power station
The DBPower portable power station seems like the perfect camping companion. Other short-term outdoor activities come to mind, like fishing or cooking out in a park.
Situations where a top-off would be handy, but anything more would need a larger battery.
The added lights reinforce this. It is a portable lantern that just happens to charge your iPhone.
If a four-pound battery with a built-in flashlight sounds appealing, you can't go wrong for under $200. We can recommend this product, though it isn't for everyone. Most people would be better off with a battery pack that fits in a bag.
DBPower portable power station Pros
250Wh capacity is great for the price
Small size and weight make it an easy travel companion
Built-in lights are a useful touch
DBPower portable power station Cons
Awkward product — too small to be a power station, too big to be in a backpack.
USB-A ports offer minimal charge speeds.
Six hours to charge isn't ideal, especially since it doesn't have good passthrough charging support.
Fans are loud in such a small product. Slightly smaller batteries don't require fans.
Rating: 3 out of 5
If this product included a 30W USB-C out we'd score this battery much better. However, the USB ports we've been given would probably have been better off not being there.
This isn't a bad product. It does what it sets out to do for a low price and offers a decent capacity. The 250W output of the AC outlet is also very useful.
So, this product is scored right in the middle — a 3.
Where to buy the DBPower portable power station
Buy the DBPower portable power station directly from the DBPower website for $179.99. It is on sale at the time of this writing, and the regular retail price is $219.99.
Amazon is offering a $50 off coupon for a limited time. Its listed price is $179.99, but it can be purchased for $129.99 with the coupon — an excellent value.