Razer Edge 5G gaming handheld — hands on at CES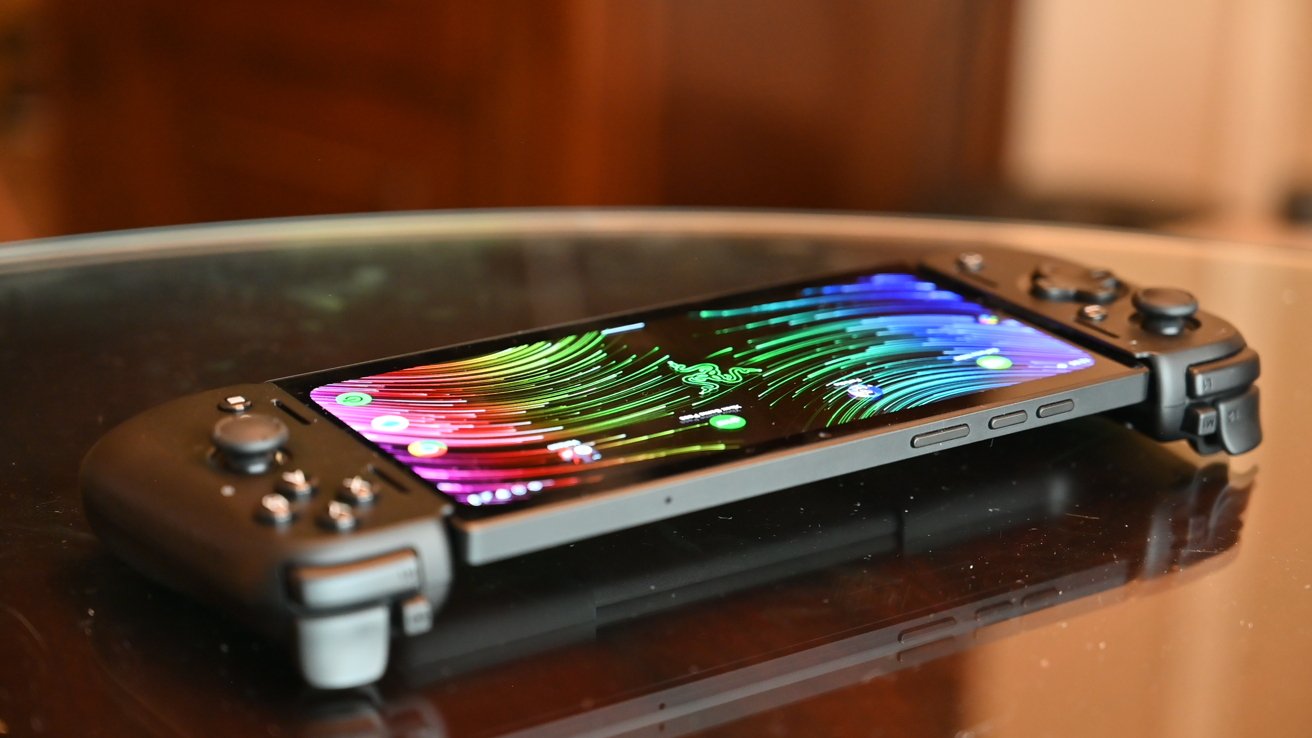 AppleInsider may earn an affiliate commission on purchases made through links on our site.
Razer Edge is a streaming-centric gaming handheld launching later in 2023 — and we got to try it before its public release.
Powered by Android, Razer says that the Edge is the first 5G gaming console available on the market. Between connectivity options, a high refresh rate, excellent colors, and a reliable controller, this device is tempting even for Apple users.
Razer Kishi V2 Pro
Unlike some other mobile gaming devices, a controller isn't mandatory. Razer bundles the Kishi V2 Pro mobile controller with the Edge.
The Kishi V2 is an amazing mobile controller. We reviewed it back in September during the launch. It uses advanced microswitch buttons, analog triggers, HyperSense haptics, and supports programmable macros.
The controller fits perfectly around the handset and is ultra-comfortable to use. It connects directly over USB-C, leaving the controller's USB-C port for charging while playing.
A 3.5mm headphone jack is also on the controller if you prefer to use a wired headset.
Fast, portable gameplay
Most users are happy using their iPhone or iPad for mobile gaming. There's something tempting about the Razer Edge.
It beats out iPhones with a larger 6.8-inch AMOLED touch display that has a 144Hz refresh. It also has active cooling to ensure peak performance out of its Snapdragon G3x Gen 1 chipset and 3GHz Kryo CPU.
In all our time demoing the handset, we never felt the device get warm or even stutter. We can't confirm if use with 5G cellular will yield equally as cool performance, but it's impressive nonetheless.
When gaming was more resource-intensive, we could feel the fan on the back cycling cool air. It's incredible to see active cooling on such a compact gaming device.
For gaming sources, there are plenty to choose from, even if Apple's own Apple Arcade isn't one of them. Razer is touting Xbox Game Pass as an ideal companion but Steam Link and Google Play are also options.
You can play Halo Infinite, Fortnite, Diablo Immortal, and more from anywhere. During our demo, we wanted to play something a bit nostalgic that'd appeal to plenty of users — so, clearly we went with Lego Star Wars: The Skywalker Saga via Game Pass.
The game streamed incredibly smoothly with nary a hiccup during gameplay. The screen looked fantastic with crisp details, though it does have a slightly lower pixel density than iPhone 14 Pro.
Apple uses a pixel density of 460 PPI versus 387 PPI on the Razer Edge. Both are fairly high and we noticed the decrease in sharpness primarily when reading text.
More specs and features
The Razer Edge has a 5MP front-facing camera which is good enough for streaming and can stream at 1080p but is otherwise just average.
There is 8GB of LPDDR5 RAM and 128GB of internal storage. For added storage, you can add a MicroSD card with up to 2TB of additional capacity.
For audio, there are dual speakers with THX spatial audio as well as dual microphones for in-game chat. It sports Wi-Fi 6E and Bluetooth 5.2.
A good buy, for some
We had a limited time with this handset, not nearly enough for a full review. But we've become infatuated with this device. For serious gamers, a 5G option is also very tempting.
We suspect most users will have to debate whether or not just using their iPhone is good enough or whether they need a dedicated device.
After using the Razer Edge, our impression was that for gaming, this device is better than iPhone. You also get the best of both worlds — Android games and the other platforms on the Edge, plus all of Apple Arcade and iOS exclusives on your iPhone.
It may be expensive just to get a second, similarly-sized mobile handheld but gamers are also known to spend hundreds of dollars and vivid RGB lights. What doesn't make sense for some, is yearned for by others.
Available soon
Razer has preorder reservations available for the Razer Edge which will start at $399. Razer expects to ship this quarter and are limited to one per customer.