Nomad High Volta accessories review: Help your iPhone & Apple Watch stand out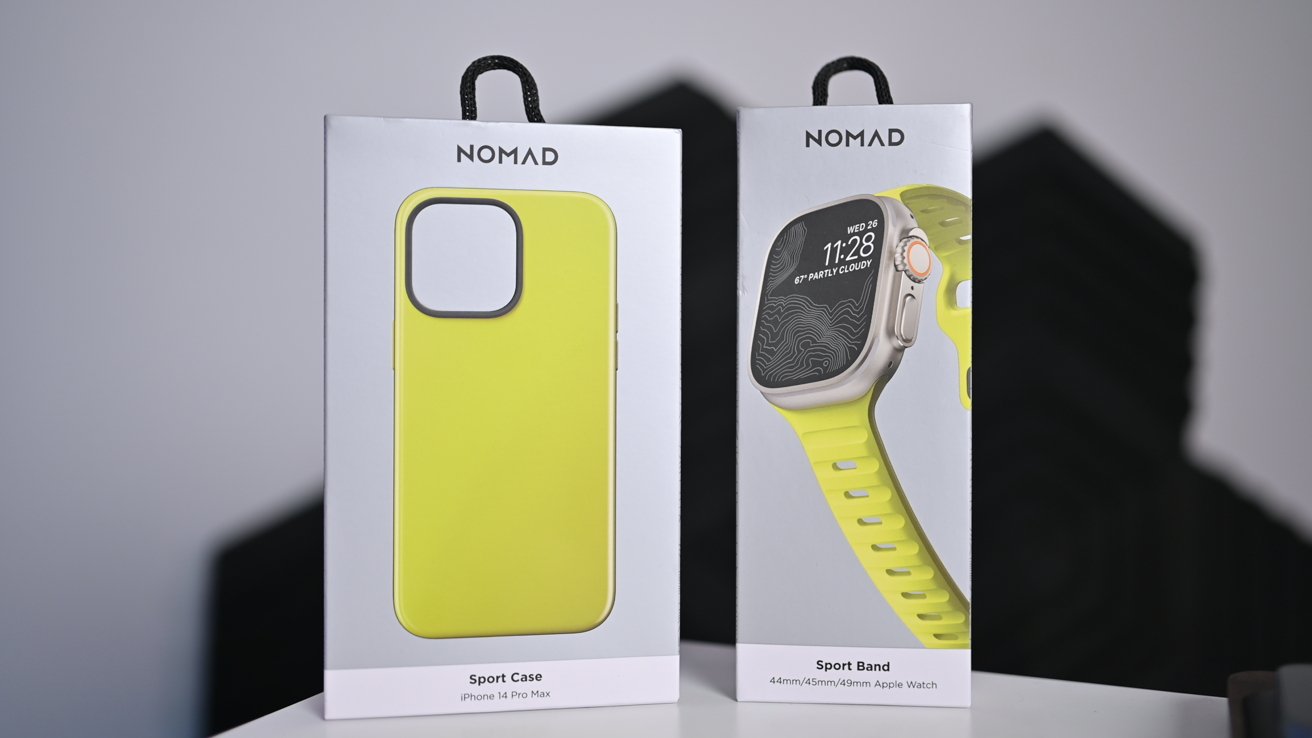 ---
AppleInsider may earn an affiliate commission on purchases made through links on our site.
Nomad has just launched a new, eye-catching color for its Sport Case and Sport Band. We put them to the test with our iPhone and Apple Watch.
The Sport Case and Sport Band from Nomad aren't new, but the color is. High Volta is debuting as a limited-time offering, exclusive to these two Nomad SKUs.
Nomad tells AppleInsider that it plans to release new limited edition colors regularly throughout the year.
If you're familiar with Nike's Volt color, you'll be somewhat familiar with what Nomad is offering.
When compared to Nike's signature Volt, the High Volta from Nomad skews slightly more yellow. Still, it's exceptionally bright and matches well with any of the Nike watch faces on your Apple Watch.
Other faces look great as well and Apple gives you lots of options between the various styles and color choices in watchOS.
Nomad's Sport Case
Nomad has been well-known for its dark, patina-covered leather goods but in the last couple of years, it has branched out. We've seen new case styles with other materials besides leather.
One of the new styles is its Sport Case. It initially launched in a few masculine colorways such as Marine Blue, Ash Green, Lunar Grey, and black with High Volta being the latest limited edition option.
Nomad's Sport Case has a high-gloss finish on the back, bringing the vivid High Volta color to life. It still attracts fingerprints, though they are less noticeable than on the darker color options.
The body is a run-of-the-mill TPE that provides added grip and black contrast to the back. Looking closely at the sides, you'll notice the buttons are an anodized aluminum.
All three buttons — side button and the two volume buttons — are anodized a light yellow color to compliment the High Volta back.
Inside you have a soft microfiber lining with Nomad's logo and a circle — emblematic of its MagSafe support. We tested a bunch of MagSafe accessories and all worked, though the slippery back felt a little less reliable than the leather counterparts.
Nomad Sport Band
As mentioned, we also got to try out the High Volta edition of the Sports Band. It's made for all the larger Apple Watch models including the 42mm, 44mm, 45mm, and 49mm.
We tried it out with our other watches but used it primarily with our new 49mm Apple Watch Ultra. With its bright yellow color, it looks striking with the rugged Apple Watch Ultra.
The Nomad Sport Band uses a flexible FKM rubber which is a fluoroelastomer similar to what Apple uses in its sports bands. Between this and Apple's, this feels slightly more rubbery and a little stiffer.
Wearing it, it's on the stiff side but we like that it isn't too thick which would probably make our wrists hurt.
There's a metal clasp that has the Nomad logo on the wrist-worn side and a pin that fits into the receiving end of the watch band. The surplus strap tucks into the band, sitting comfortably close to your wrist.
The underside of the band has vented channels that help allow water and air to move through that also aid in comfort.
Available now
We're big fans of this high-octane colorway from Nomad that has been used on two of its most popular products. It won't be around for long so if you'd like to test it for yourself, you should act sooner rather than later.
Pros
Great, fun new color
Nomad promises more limited edition colors to come
Case and band match colors
MagSafe support on the iPhone case
Cons
Won't be around long
Cases only available for iPhone 14 Pro and iPhone 14 Pro Max
Band is a little stiff
Rating: 4 out of 5
Where to buy
Pick up the limited edition Nomad Sport Case and Sport Band directly from the brand's store. The Sport Case for iPhone 14 Pro and iPhone 14 Pro Max is $39.95 and the Sport Band is $59.95.